Three Cardueline finches can be seen throughout much of Britain and Ireland, but numbers of each are in decline, with all three Red-listed as Birds of Conservation Concern, so seeing any of them will brighten up a day's birding. They can appear confusingly similar – small, brown and streaky. Breeding males are the most distinctive, but other plumages are much trickier. Andy Stoddart provides all the information and advice you need to recognise each in the field, in all plumages.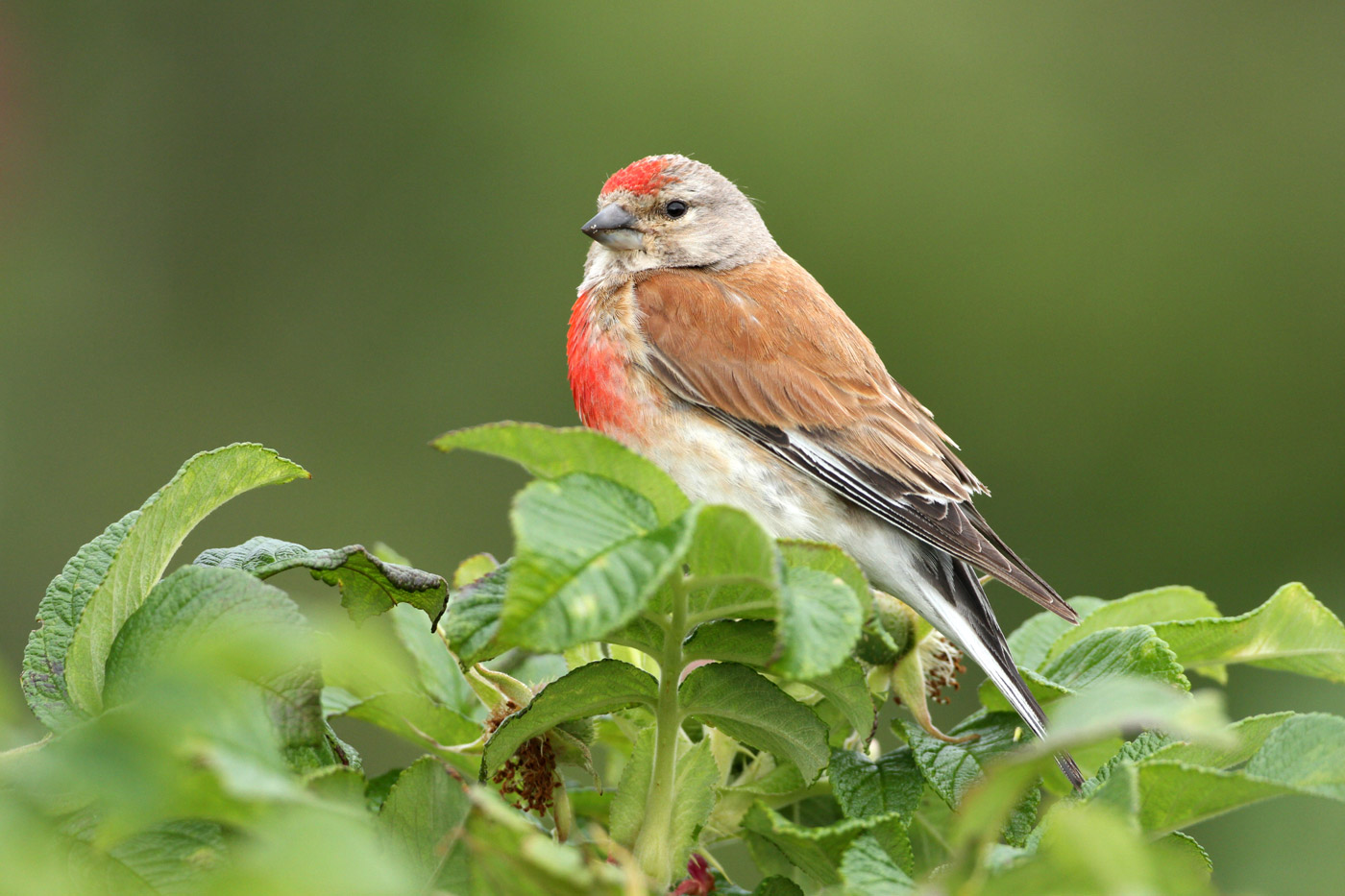 Male Common Linnet (Norderney, Germany, 25 June 2011). It is little wonder that the small finches have always been popular cagebirds. With its brilliant red forehead and breast and rich russet upperparts, this male Common Linnet is indeed a thing of beauty (Stefan Pfützke / www.green-lens.de).
The small finches are all charming and charismatic. Among them, the group of three small brown species – Common Linnet, Twite and Lesser Redpoll – can, however, sometimes cause identification difficulties. This guide seeks to untangle the problems.
Common Linnet
This species occurs across the whole of Europe (apart from the far north), and more patchily in North Africa, southern Russia and Central Asia. It is both a resident and partial migrant, with northernmost populations withdrawing south in winter.
In Britain Common Linnet breeds in open country with bushes and is particularly associated with heathland. In winter it is a declining but still characteristic farmland bird and in some locations may be encountered in flocks of up to several hundred. It also winters in coastal areas, however, for example on saltmarshes.
Linnets are typical small finches with a slightly long-tailed appearance and a deeply forked tail. Adult males are beautiful, and were understandably once popular as a cagebird. Most eyecatching is a bright carmine pink patch on the breast, but there is also a pink patch on the forehead. The head is largely pale grey, the upperparts are a rich chestnut and the white fringes to the primaries form a prominent white patch on the closed wing.
Females, by contrast, are much duller, with no pink in the head or underparts, showing instead a streaked breast, a streaked grey head, with diffuse whitish areas above and below the eye and in the ear coverts, and much duller chestnut-brown upperparts. In all plumages the bill is grey.
In flight the species looks warm brown with conspicuous whitish fringes to the primaries and tail feathers which, at distance, blur into pale patches.
The call is a cheerful tittit tittit.
Twite
This is a bird of northern and mountain regions. In Britain the endemic subspecies pipilans (small, dark and heavily streaked) breeds uncommonly in upland areas in the Pennines, North Wales and Scotland, while in continental Europe the nominate subspecies breeds in montane parts of Scandinavia. Further subspecies inhabit the Caucasus, Central Asia, Tibet and Mongolia.
Most Scandinavian birds winter south into north-central Europe, while British birds winter around our own coasts, typically in saltmarsh habitats. This is a declining species in Britain, however, and although in the past large flocks could be found it is now likely to be encountered only in small numbers and at traditional wintering sites.
Twite most closely resembles Common Linnet and the latter is often claimed as this species, particularly when encountered in coastal habitats. In reality, however, the two species are not hard to separate. Twite is similar in size and structure to Common Linnet, although it is a little smaller headed and longer tailed.
It is, however, best identified by plumage. It shows an overall rather bright buff-brown appearance in winter, although it appears duller in summer; it is particularly bright around the face and breast. Otherwise it is 'small, brown and streaky', with a rather prominent greater covert wing-bar and lacking grey in the face, pink in the underparts and chestnut in the upperparts.

Furthermore, adult males show delicate pink hues in the rump. However, its white primary fringes are similar to those of Common Linnet, and a source of possible confusion, particularly in flight. The bill is grey in the breeding season but yellow in winter.
The call is a distinctive bleating, plaintive, nasal twaaait, from which the species derives its name.
Lesser Redpoll
Lesser Redpoll breeds patchily throughout Britain, but not in Orkney or Shetland. Further afield, it has a relatively restricted range, breeding only in southern Norway, Denmark and northernmost parts of France, Belgium, The Netherlands, Germany and Poland, and also in the Alps. In Britain it is a partial migrant, with some leaving in autumn for the Continent.
The species breeds in pioneer woodland, particularly favouring birch, alder, hawthorn and young conifers. It winters in coniferous and deciduous woodland (again especially in birch and alder) but also in weedy fields and gardens where it is increasingly attracted to nyger seed feeders. Its population is highly erratic, with periods of abundance and expansion followed by periods of rapid decline and retreat.
This is the smallest of the three species treated here and looks both small bodied and long tailed by comparison. It is nimble in the high branches of trees and can hang upside down like a tit.
All post-juvenile birds show the characteristic red 'poll' and black lores, chin and forehead, while adult males shown extensive pinky-red in the lower face, breast and flanks. Otherwise this is a rather drab warm brown species with a bright buff suffusion to the face and upper breast. The flanks are heavily marked with blurry streaks, there is an obvious buffy or white wing-bar on the greater coverts and some birds may show a little red or white in the rump. The bill is yellow.
The calls are a metallic, repeated chet chet chet and a rising djoooeee.

Male Common Linnet (Segovia, Spain, 29 April 2014). This male bird shows the classic combination of characters: a bright red forehead and breast, grey face and nape, russet upperparts, subtle russet hues in the underparts and white fringes to the wing and tail feathers. Note also the very weak face pattern comprising pale arcs above and below the eye and a further pale area in the lower ear coverts (Carlos Bocos).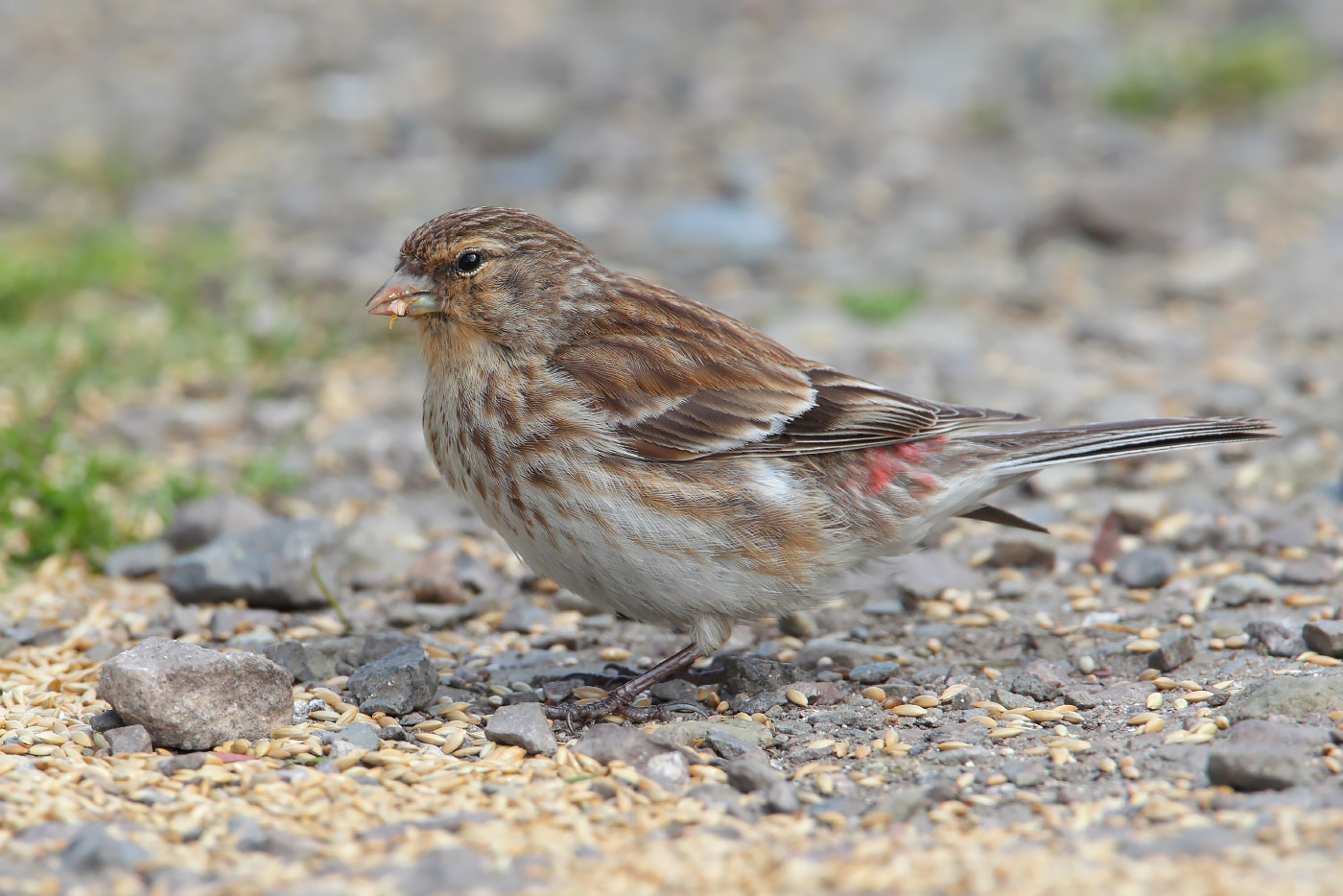 Male Twite (Sumburgh Head, Shetland, 24 June 2011). While it resembles a Common Linnet in its small size, this Twite is a trifle smaller headed and longer in the tail. The plumage is very drab – 'brown and streaky' – but note the splash of brilliant pink peeping out on the exposed sides of the rump. In the breeding season the bill is grey (Kit Day).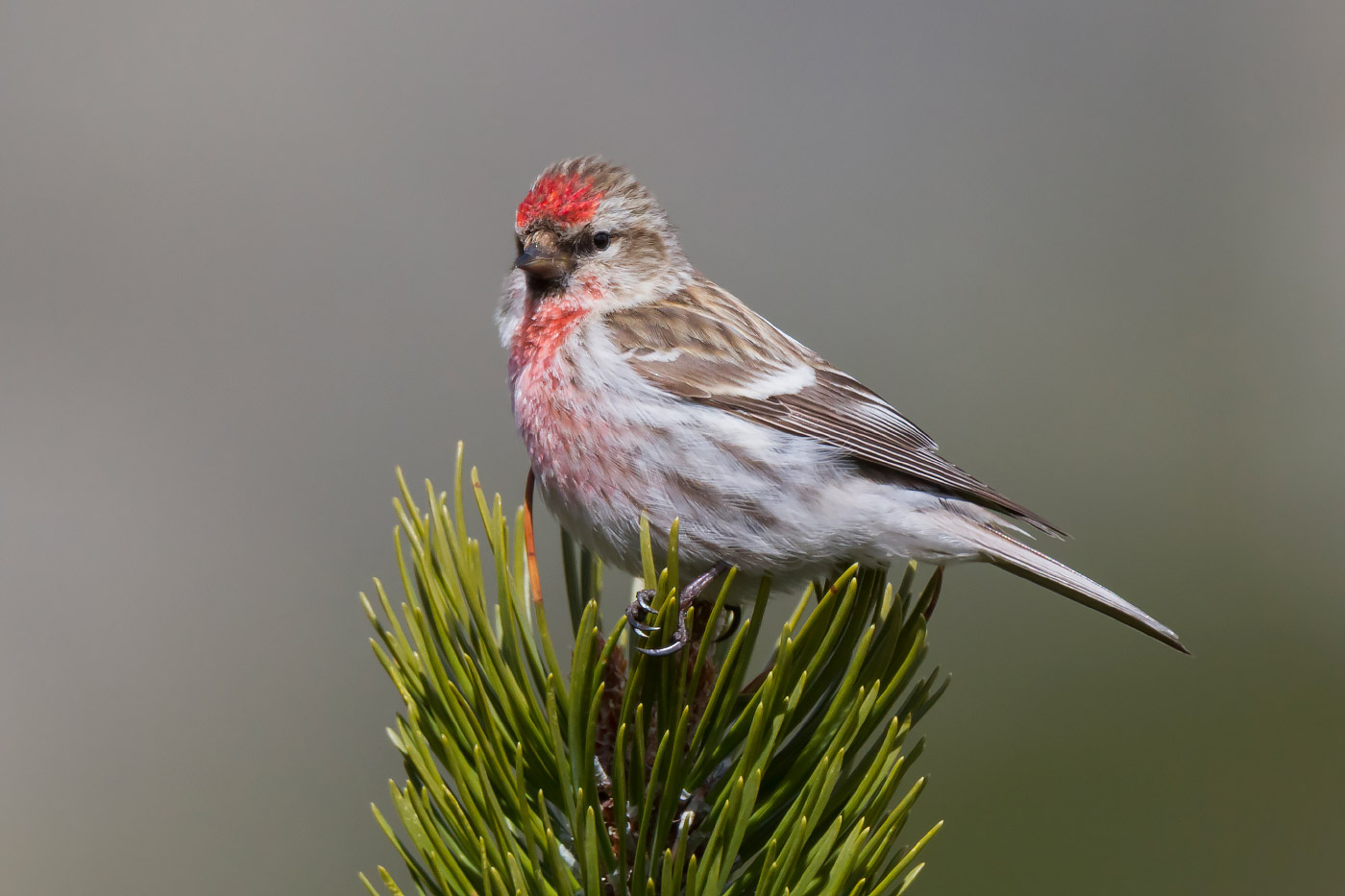 Male Lesser Redpoll (High Tatra Mountains, Slovakia, 5 May 2014). This small finch has a bright red forehead and breast like a Common Linnet, but the colour is a deeper, more pinky-red. Note also the blackish feathering on the forehead, lores and chin and the presence of blurry grey streaking in the flanks, both clues that this is a redpoll species. Lesser and Common Redpolls can be hard to separate, but the Slovakian location indicates that this is a Lesser Redpoll. As with Twite, the bill in the breeding season is grey (Ralph Martin / www.agami.nl).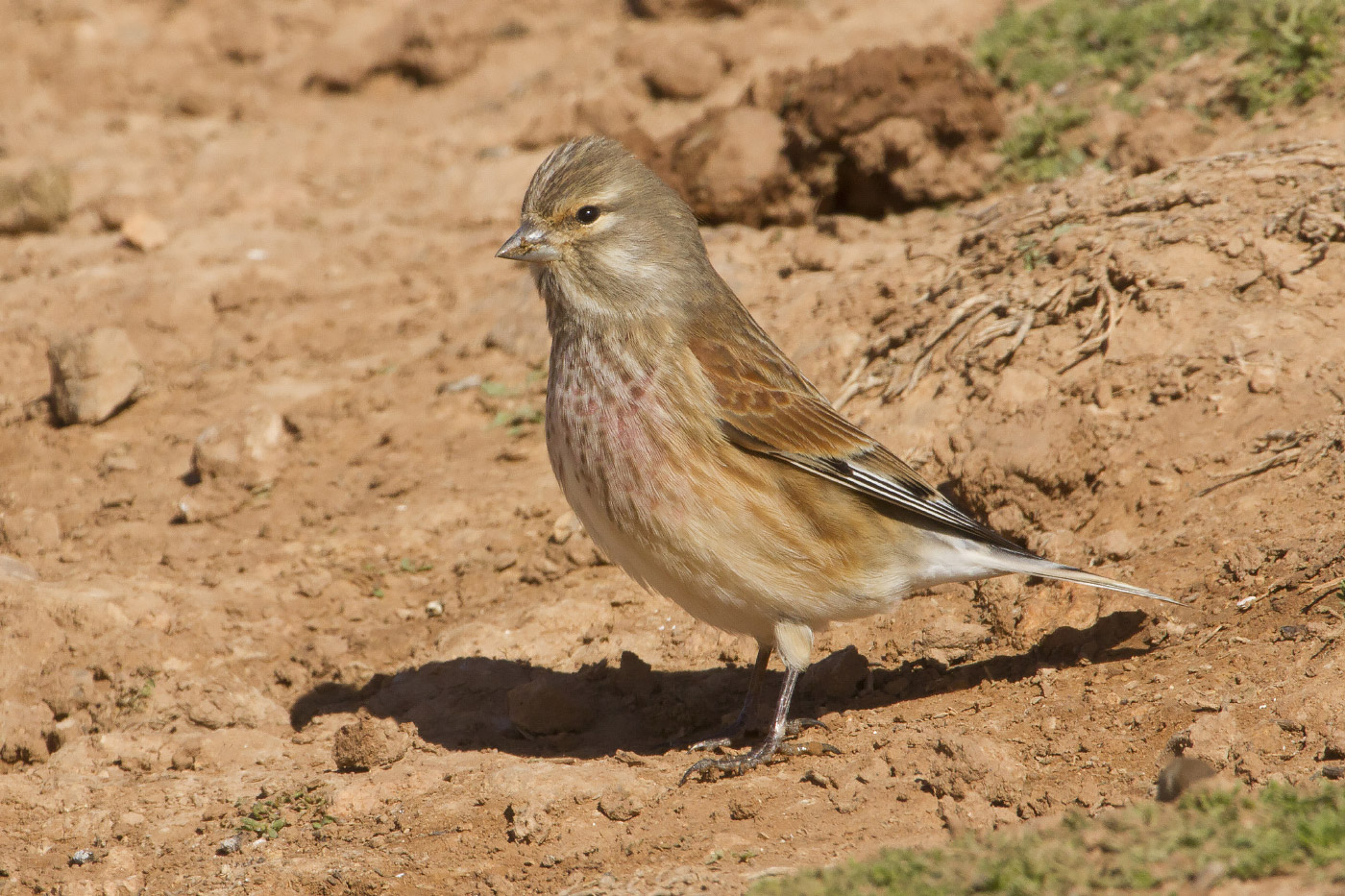 Male Common Linnet (Oukaimeden, Morocco, 29 November 2012). This winter Common Linnet looks a little more subdued than the birds pictured earlier, but the flush of red in the breast indicates that it is a male nonetheless. All the other expected Common Linnet features are present here too – a greyish head with diffuse paler areas, rich russet upperparts, russet washes in the flanks and white fringes to the wing and tail feathers (Rosl Roessner / BIA).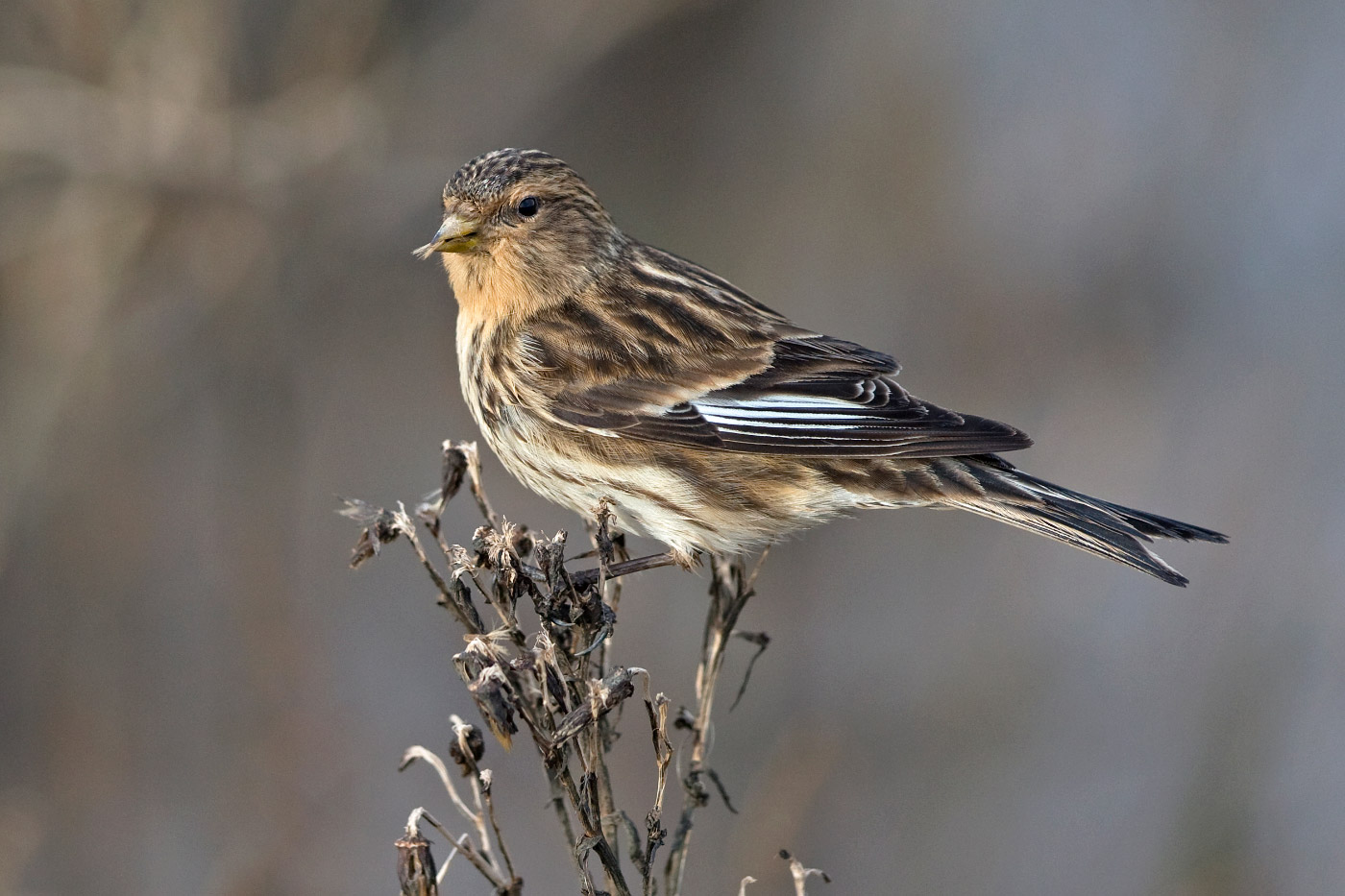 Male Twite (Thornham Harbour, Norfolk, 19 January 2018). The combination of dark streaky plumage, white flash in the closed wing, soft coppery wash across a relatively plain face and a yellow bill readily identifies this bird as a winter-plumaged Twite. Note also that, compared with Common Linnet, it looks a little longer in both the body and tail and smaller headed (Robin Chittenden).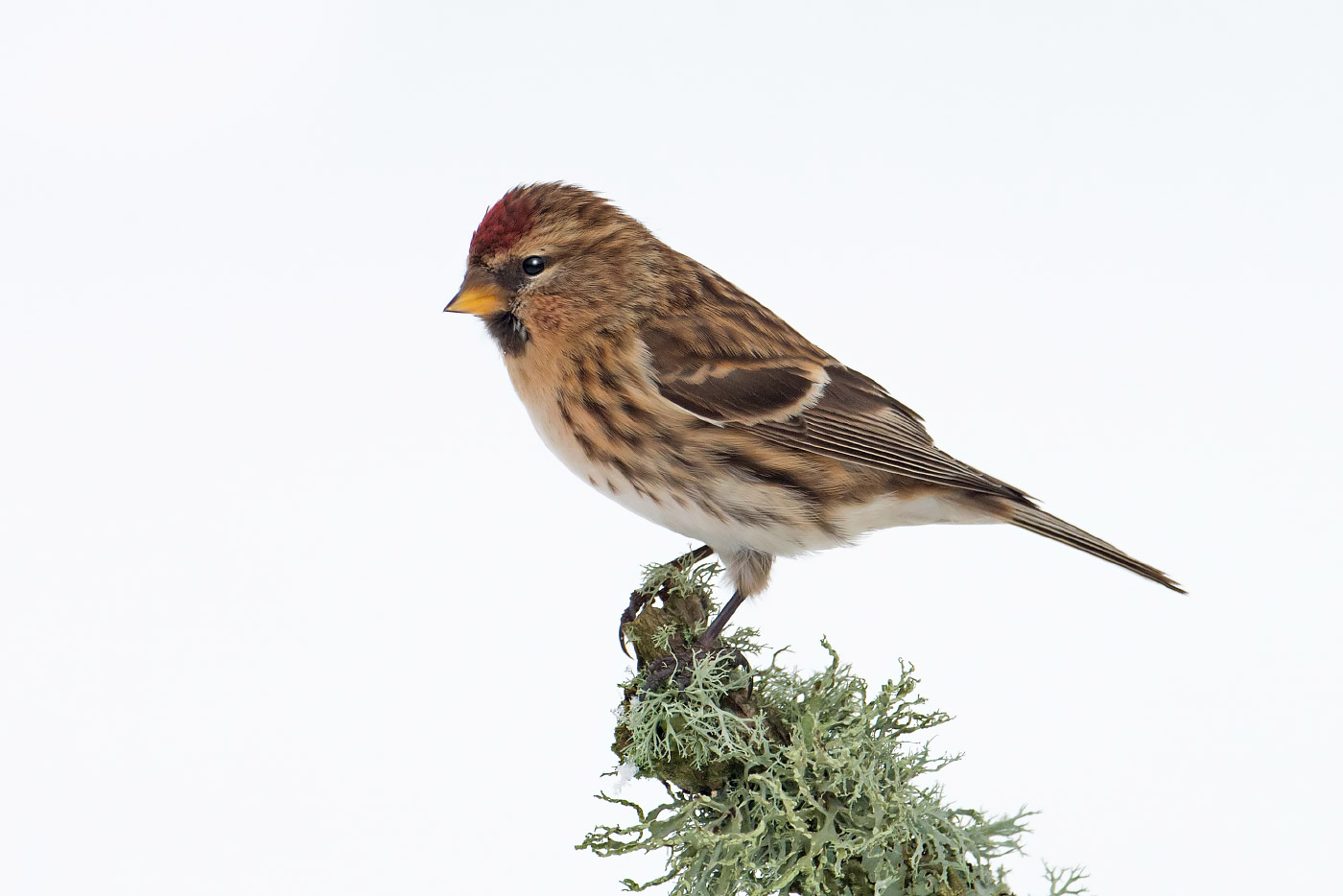 Male Lesser Redpoll (Ringmer, East Sussex, 19 January 2013). The bright red 'poll', slight pink hues in the malar area and dark forehead, lores and chin immediately identify this as a redpoll, while the small, compact appearance and rich, warm brown plumage with heavy blurry streaking down the flanks clinch it as a Lesser Redpoll. Note that, like Twite, the bill is yellow in winter (Lisa Geoghegan).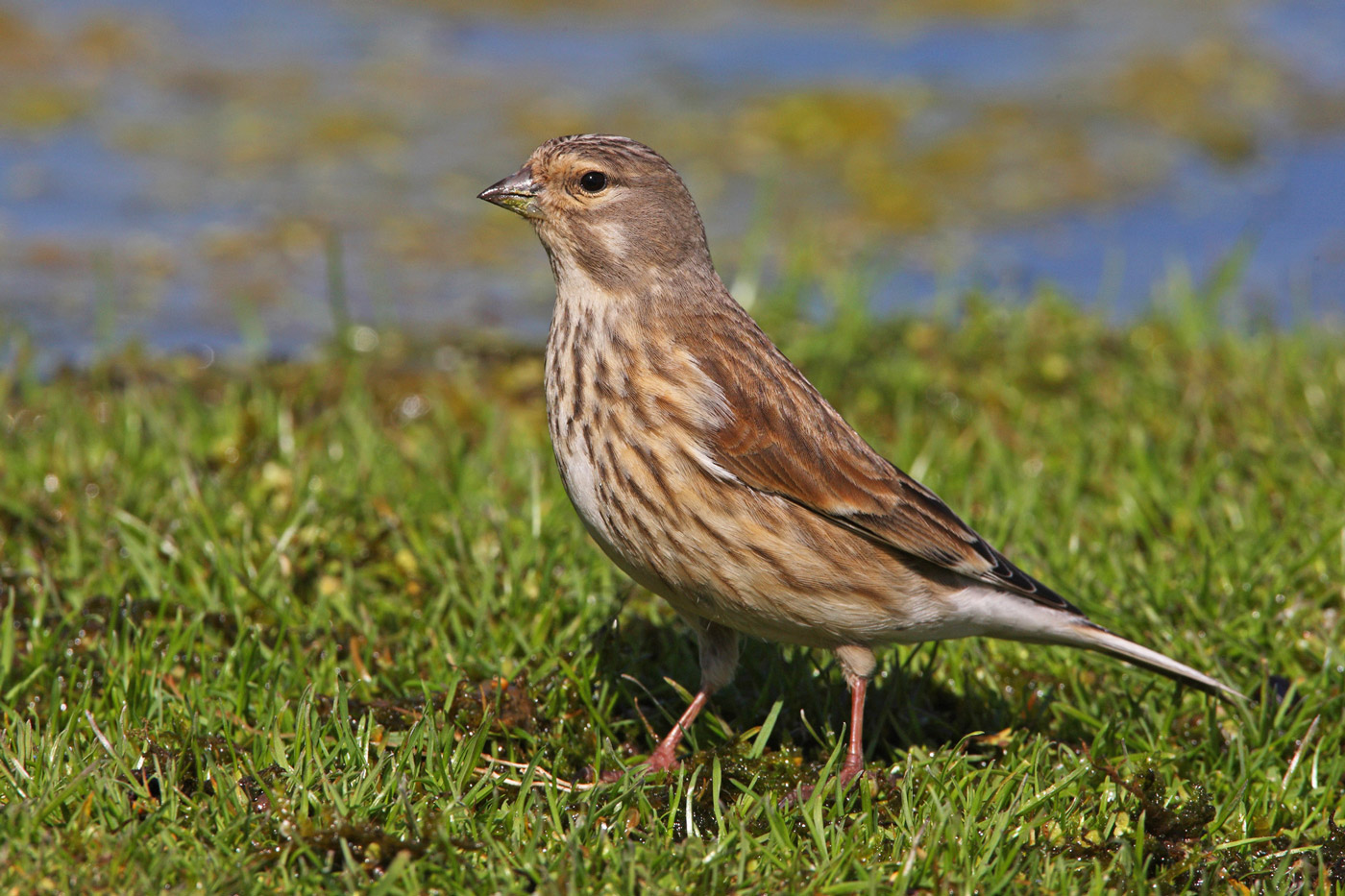 Female Common Linnet (Eccles-on-Sea, Norfolk, 27 April 2010). This female Common Linnet resembles the male but is much more drab and streaky, with the rich colours much subdued. The grey head retains the same patterning as the male but is more streaked, while there is no sign of any red in the forehead or breast. Instead the underparts are liberally streaked, while the upperparts are drab and streaky also (Neil Bowman).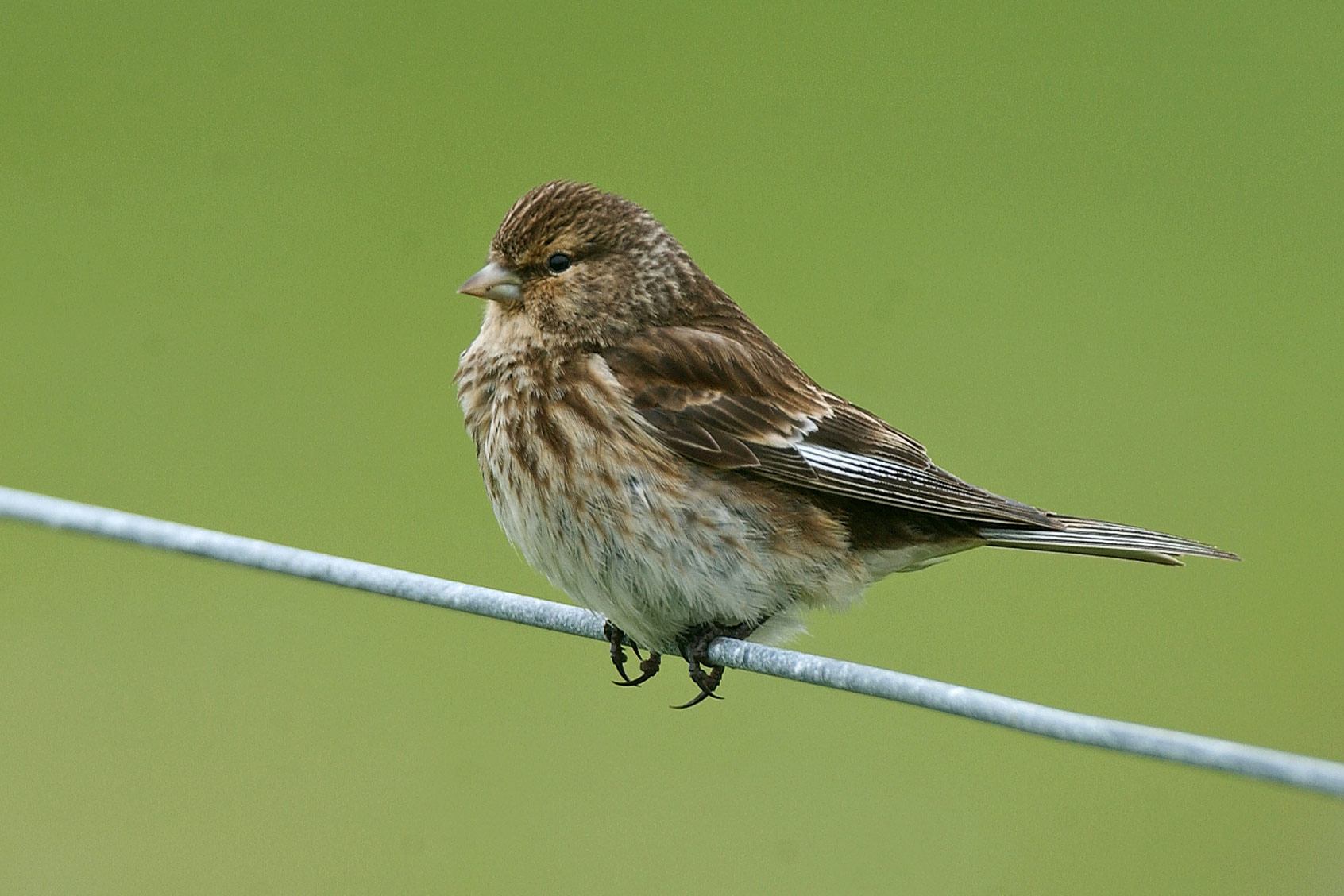 Female Twite (Fair Isle, Shetland, 28 June 2003). The small-headed and long-tailed appearance of this bird, together with a very dark, drab, streaky plumage, immediately suggest Twite. This is further confirmed by the bold white flash in the closed wing. Note once more the grey bill in the breeding season (Steve Young / www.birdsonfilm.com).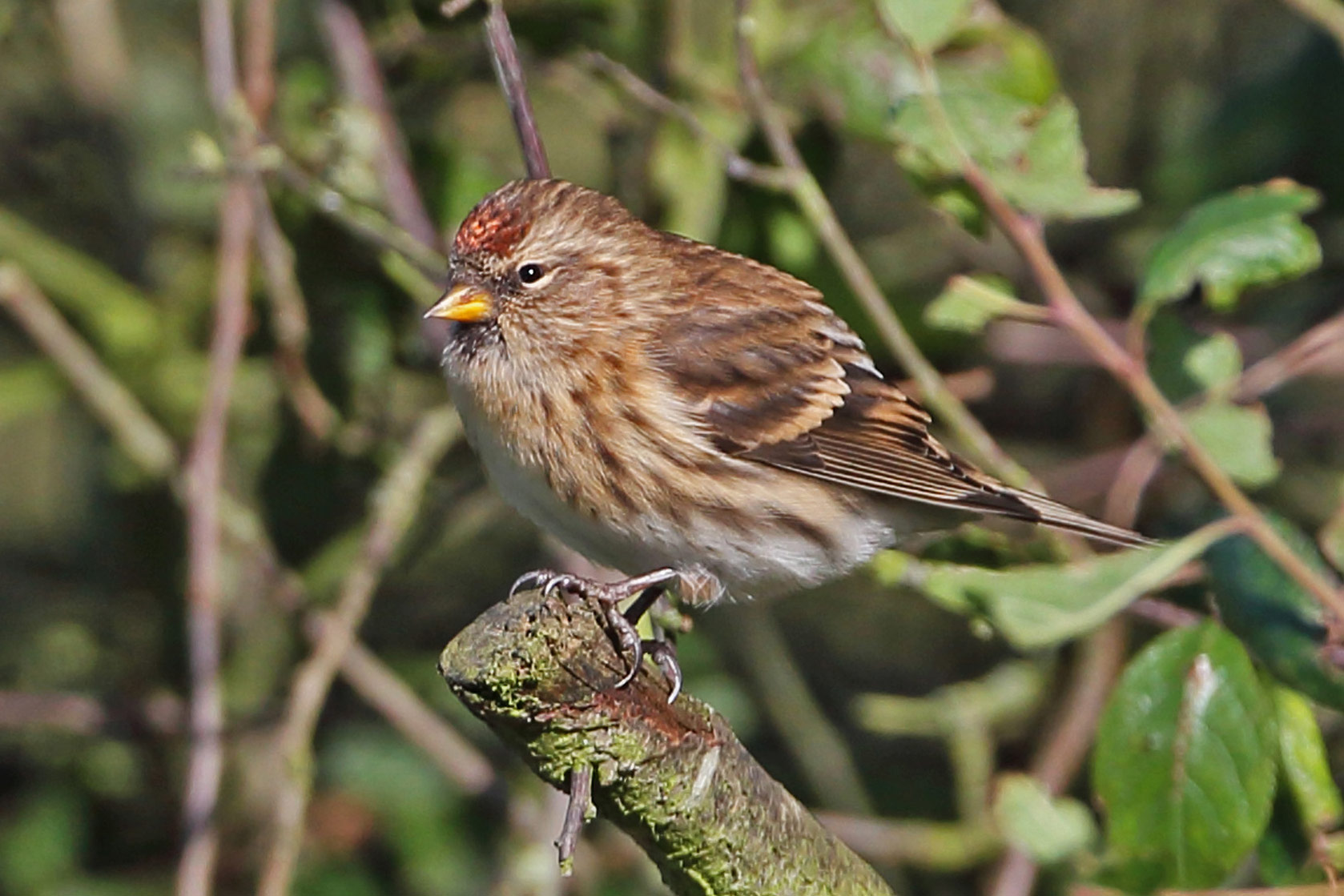 Female Lesser Redpoll (Eccles-on-Sea, Norfolk, 2 November 2012). This bird is easily identified as a redpoll thanks to its red 'poll' and dark facial markings. As above, the compact appearance and warm brown hues with very strong blurry flank markings identify it as a Lesser Redpoll. The rather brown wing-bars and the complete lack of any pinky-red hues in the face or breast are consistent with this bird being a female, and note again the yellow winter bill (Neil Bowman).


Juvenile Common Linnet (Seaforth, Lancashire, 3 August 2008). This juvenile finch looks typically soft and fluffy, but the slightly large-headed and short-tailed structure immediately suggest a Common Linnet. In addition, the grey bill, subtle Common Linnet-like face pattern and warm brown streaked plumage with white fringes to the wing and tail feathers all add up to this species also (Steve Young / www.birdsonfilm.com).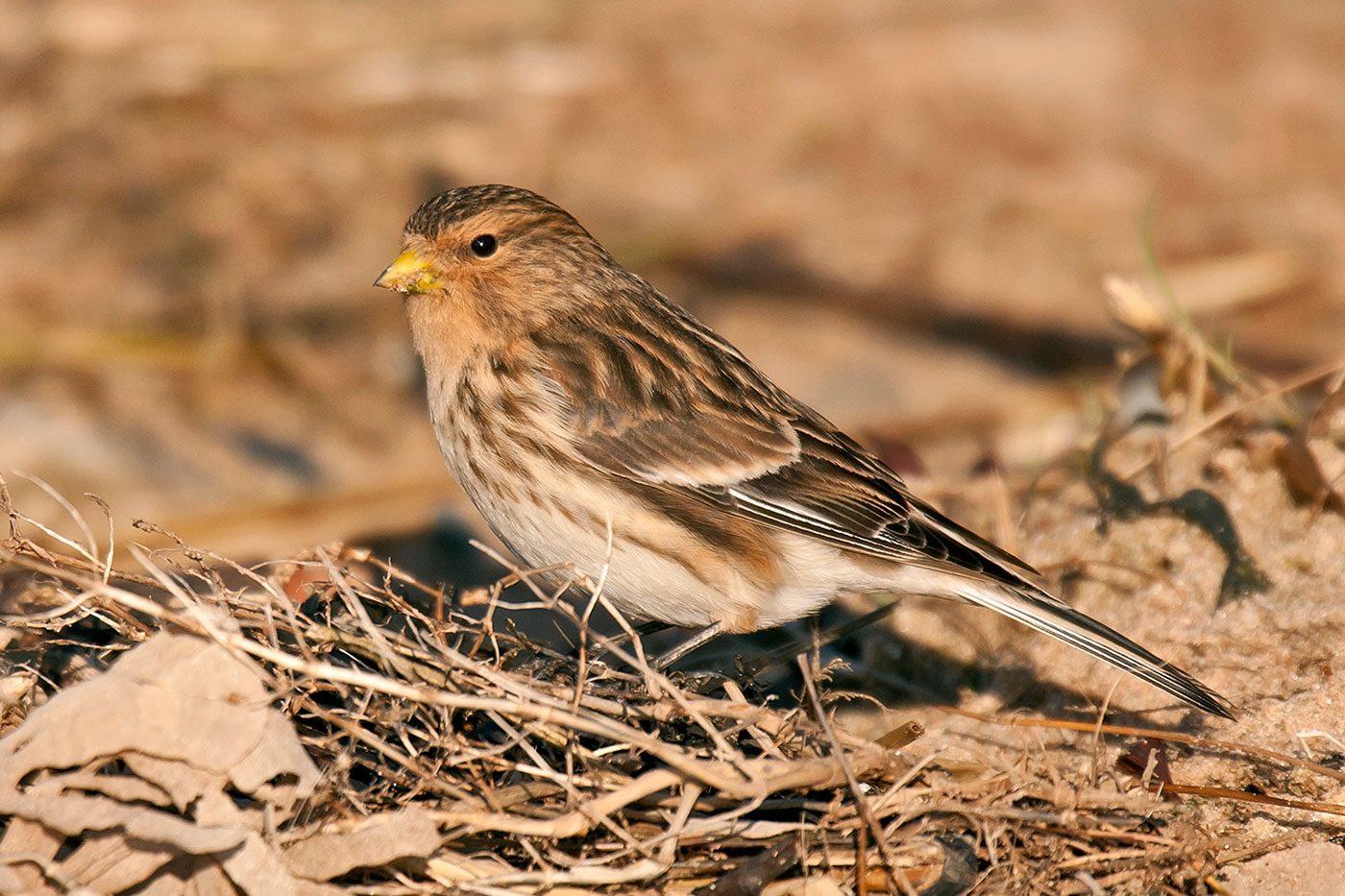 First-winter Twite (Thurstaston, Cheshire, 28 December 2008). This Twite has moulted out of its full juvenile plumage and is now a first winter. Note the rather long-tailed structure, dark, very streaky plumage, a rich coppery wash over a plain face, a prominent white flash in the closed wing and the yellow bill (Steve Young / www.birdsonfilm.com).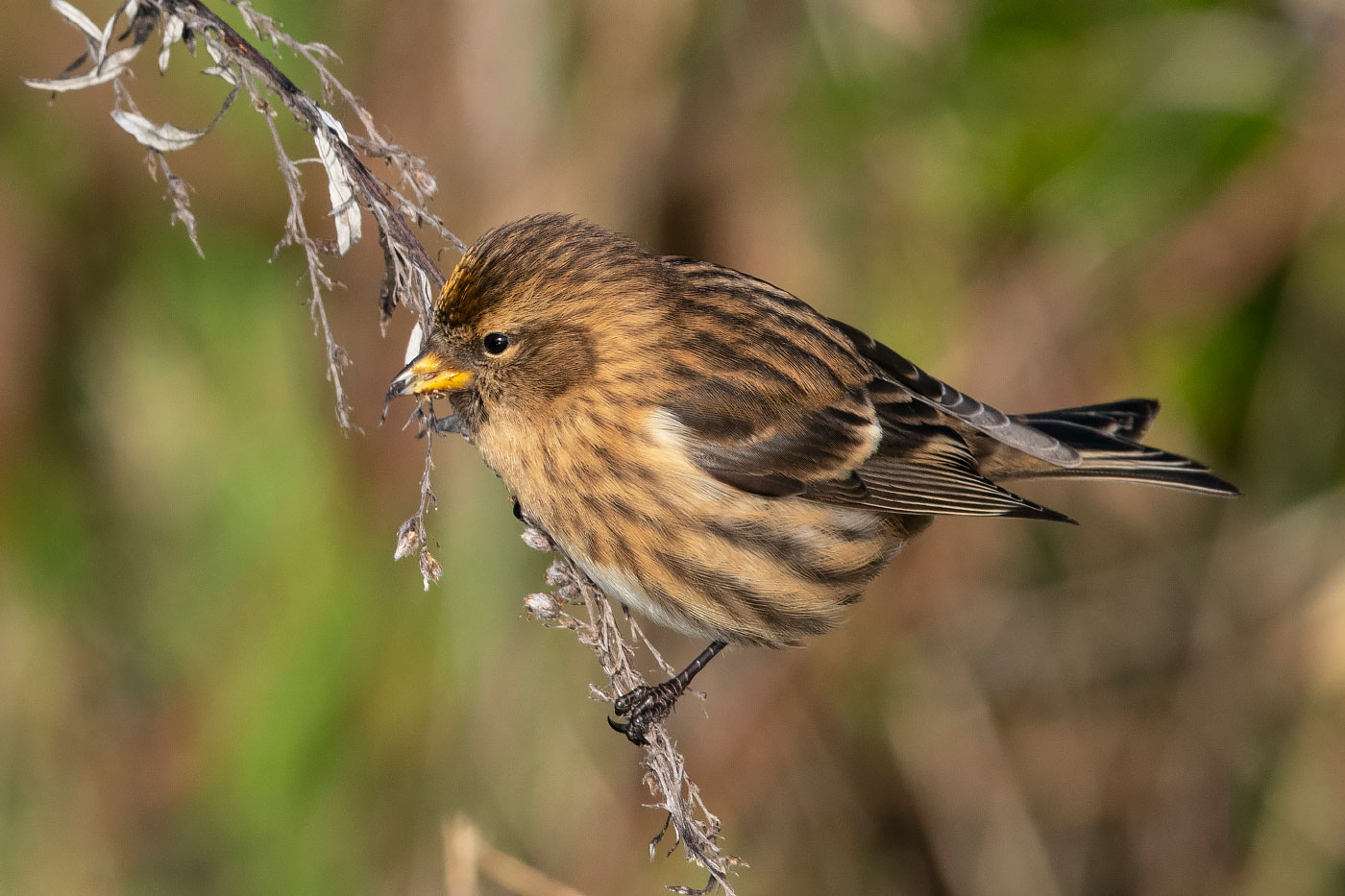 First-winter Lesser Redpoll (Deventer, The Netherlands, 9 December 2017). With its dark, streaky plumage, this bird appears superficially similar to the preceding Twite. However, the bill is a little long and thin, while the dark feathering in the forehead, lores and chin indicates that this is a redpoll. The bird lacks an obvious red 'poll' but seems to be acquiring some yellowish feathering in the forehead, something shown by a small minority of redpolls. As before, the warm brown plumage hues and highly streaked plumage show that this is a Lesser Redpoll (Edwin Winkel / www.agami.nl).