A new study, published in the journal Bird Study, suggests that the occurrence of oilseed rape crops in turn increases the nesting activity, breeding success and therefore population of Common Buzzards due to the influence the crop has on the abundance of their main prey, the Common Vole (Microtus arvalis).
The study, carried out between 2005 and 2012, was conducted across a 38 km² area in western Poland, where oilseed rape plantations cover 18% of land used for agriculture. The number of active burrow entrances was used as an index of vole abundance in various crops, and Buzzard breeding performance, i.e. the occurrence of annual nesting attempts in individual long-term nesting sites as well as the presence and number of fledglings, was estimated by observations of their nests.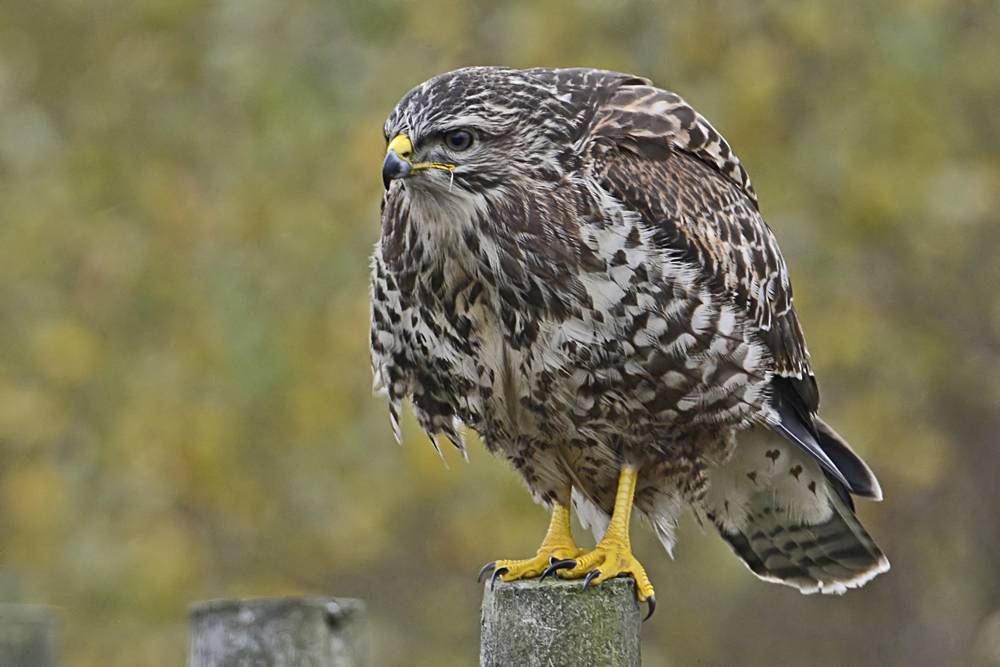 Buzzard (Photo: Kev Joynes)
Content continues after advertisements
The index of vole abundance was highest in oilseed rape and, judging by the proportion of active burrow entrances, the plantations of rape were found to typically support a larger portion of the local vole population than other crops. The acreage of oilseed rape fields around individual nesting sites of Buzzards did not affect the probability of nesting attempts in these sites. However, the probability of successful nesting and the number of fledglings per successful nest increased with the area of oilseed rape around the Buzzard nesting sites.
The researchers concluded that the occurrence of oilseed rape may positively affect prey availability and in turn the breeding success of Buzzards. The spread of oilseed rape may therefore also be beneficial for other vole-eating raptors hunting in the agricultural landscapes. The full study can be read at bit.ly/1paEmct.
In the UK oilseed rape was barely known until the 1970s, when the explosion in commodity prices and targeted support from the Common Agricultural Policy raised the price to a sufficiently high level so that farmers chose to grow it. Now, around 400,000 hectares of oil seed rape is grown annually. The Common Buzzard population increased over the same period to the point that, for the past decade, it has been Britain's most abundant raptor. This in turn has occasionally brought it into conflict with some in the game industry. Based on the findings of the study, it seems logical that this huge increase in oilseed rape cultivation may have played a significant role in the increase in the British Common Buzzard population in recent decades.
References
Panek, M. & Hušek, J. 2014. The effect of oilseed rape occurrence on main prey abundance and breeding success of the Common Buzzard Buteo buteo. Bird Study, vol 61, issue 4. DOI:10.1080/00063657.2014.969192