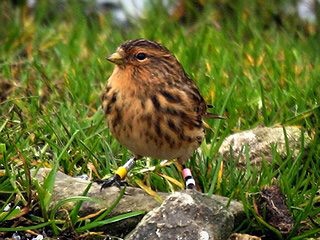 Twite: Halifax, W. Yorks (photo: Sean Gray).
Following recent reports of colour-ringed Twite on BirdGuides, this is a plea to all birders to report all colour-ringed birds you see, even if it is one you have seen in the past, or you think someone else is sure to report it - chances are, no-one will!
All colour-ringed Twite have TWO or THREE colour rings, with TWO on the left leg and a metal ring on the right. In some cases, birds may also have a colour ring ABOVE or BELOW the metal ring on the right leg (see diagram).
Content continues after advertisements
Sightings of these birds have uncovered some great movements, such as a breeding female seen in Snowdon, ringed as a juvenile in the South Pennines, establishing the first connection between these two populations. Observations of winter site-fidelity are also extremely useful, hence the need to report birds even if they've been seen before at the same site. For all colour-ringed birds, it's important to note the colour and position of the rings (including the metal ring), which legs they are on, and the colour of any lettering (on larger rings). For further information on colour-ringed Twite, contact Andre Raine (mobile: 07817 767 997, home: 01284 704 625) or Dave Sowter (mobile: 0795 7265797, home: 01772 749220).
To report any colour-ringed birds in the UK, just go to www.ring.ac and follow the links to our online reporting form (you can also report metal ring numbers). Your report will be sent to the ringer or species co-ordinator, which will be very gratefully received, and if the bird can be traced and identified you'll be sent its history.
For queries or more information on any colour-ringed birds in the UK, contact Kate Risely.
Happy birding!