I first became interested in gulls in 2004, when I worked in a furniture shop in Cobh, Co Cork, with expansive windows overlooking the seafront. Every day I was met with an array of gulls that perched on old wooden posts out the back as I assembled flat-pack furniture, and they just fascinated me. I wanted to know how to identify them and was amazed at the sheer amount of plumage variations. And so it began!
Fast forward 15 years and I now live in Barcelona. I would like to think I have become fairly accustomed to the Yellow-legged Gulls here, but, for me, the ultimate gull has always been Caspian Gull. When a report came out of a Caspian on my local patch at Delta Llobregat in early January 2019, I rushed to the scene yet sadly didn't connect. At this point I had only ever seen one adult, in North-East England, and Caspian Gull was something of an enigma to me. Over the weeks of January I read as much as I could possibly find on the species and went to the Delta every day until I eventually found a candidate I was happy with. The problem was that the gulls at Delta Llobregat are always very distant and so I decided it was time to make a pilgrimage and see these beauties in their home range, to try to better understand their identification criteria in real life and to get some nice photos.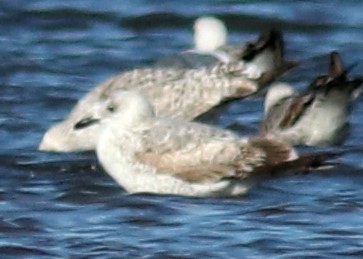 Despite intensive searching, Seán's experience of Caspian Gull around Barcelona was limited to this distant encounter with a sole first-winter bird (Seán Ronayne).
I am blessed to have an excellent local site in Port Vell, Barcelona, where Yellow-legged Gulls occur in high numbers and literally walk around your feet. I wondered if such a site, or at least something close to this, existed for Caspian Gull, somewhere in Europe. After some enquiries online I was directed to a post made by Carl Baggott, who visited Lake Herastrau in Bucharest, Romania, in January 2017, where he produced a fantastic Flickr album of Caspian Gulls of all ages, apparently at very close range, displaying a full array of poses and behaviours, including the wonderful 'albatross posture'. This was the spot!
After some discussion with Cristian Mihai (a Bucharest local) and Carl, my mind was set. I booked the flights and accommodation for a great price, read as much as I could about Caspian Gull in the leading week and made one last visit to my Yellow-legged Gull site, before leaving on the Friday night.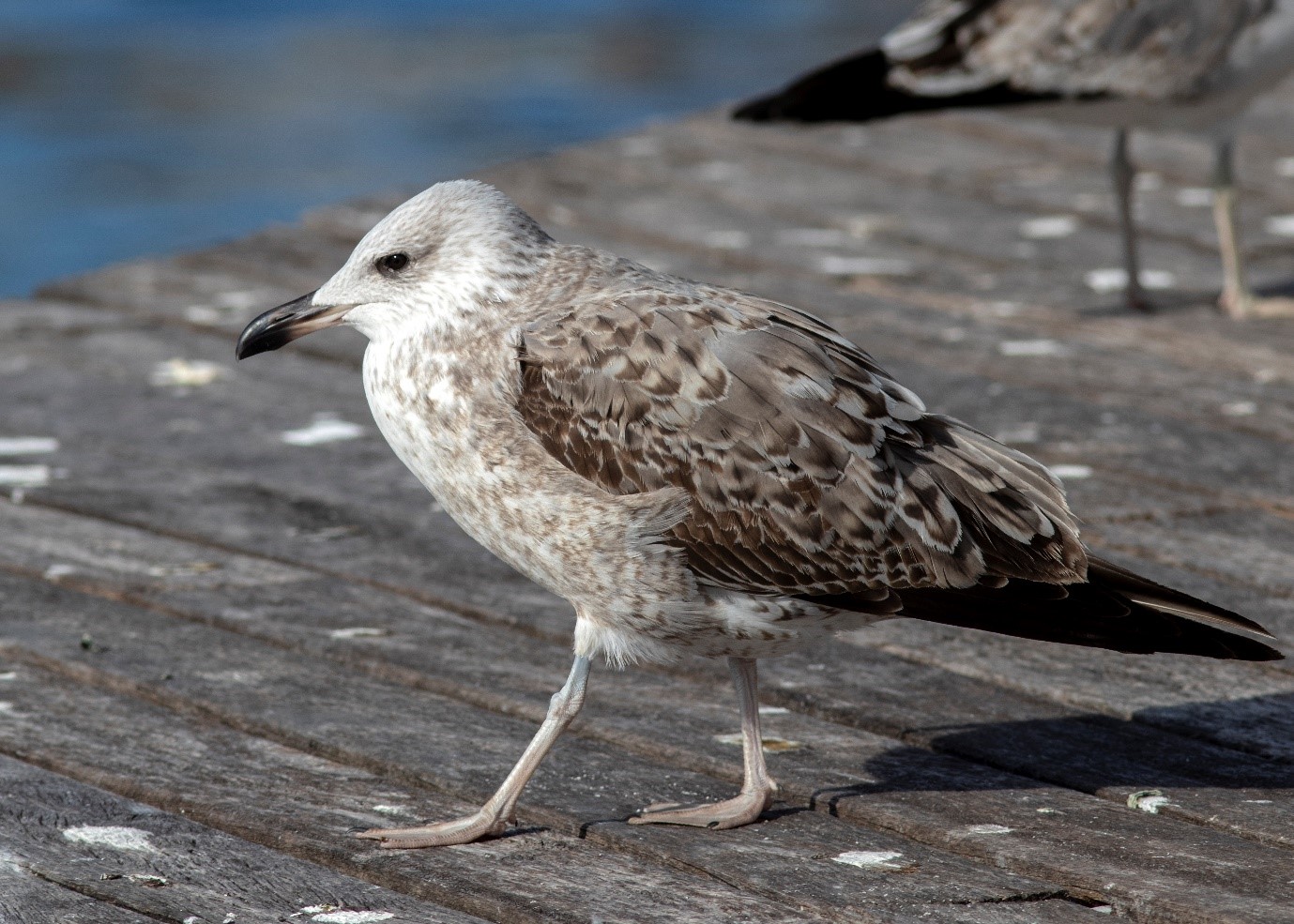 Seán is used to point-blank views of Yellow-legged Gull in Barcelona, but was after similar views of Caspian Gull in Europe (Seán Ronayne).
Herastrau Lake
I woke up at 8 am in my hotel room at the Monte Carlo Palace Hotel and immediately had Caspian Gulls flying over the balcony, along with Hooded Crows. They were heading in the direction of Herastrau Lake, which was just a 15-minute walk from the hotel. As the weather was quite mild I was very apprehensive that the lake would not be frozen, which could potentially be disastrous for close views. I had breakfast and took the refreshing short walk to the lake and was instantly relieved to see it was frozen solid.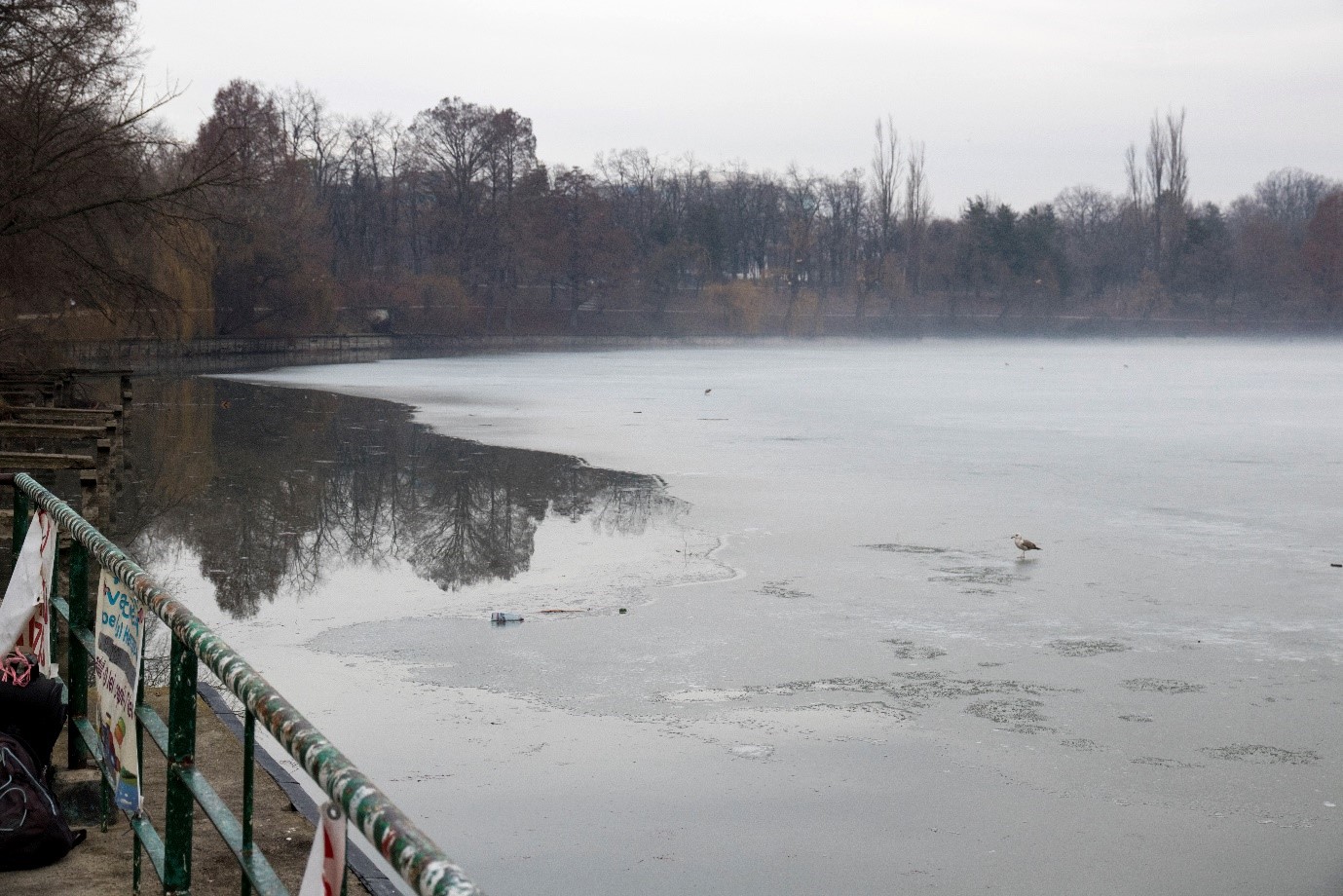 Herastrau Lake frozen over, albeit with ice-free edges where gulls often show closely as they feed on dead fish and other food items (Seán Ronayne).
There were a few Caspians on arrival, but they were distant. I walked the full circumference of the lake over the coming hours and had frustrating views. The site is very popular with runners and it worried me that they were keeping the birds at bay. I naively tried to throw some bread and this actually flushed the first close group I had. I later saw this bread in the same spot frozen into position. It seems like gulls aren't very accustomed to taking bread at this site.
With my worries of disturbance I went in search of a quieter location and found a smaller lake, Parcul Bordei, with no people, directly adjacent to Herastrau. It was here I had my first really close views of both Caspian Gull and Pygmy Cormorant.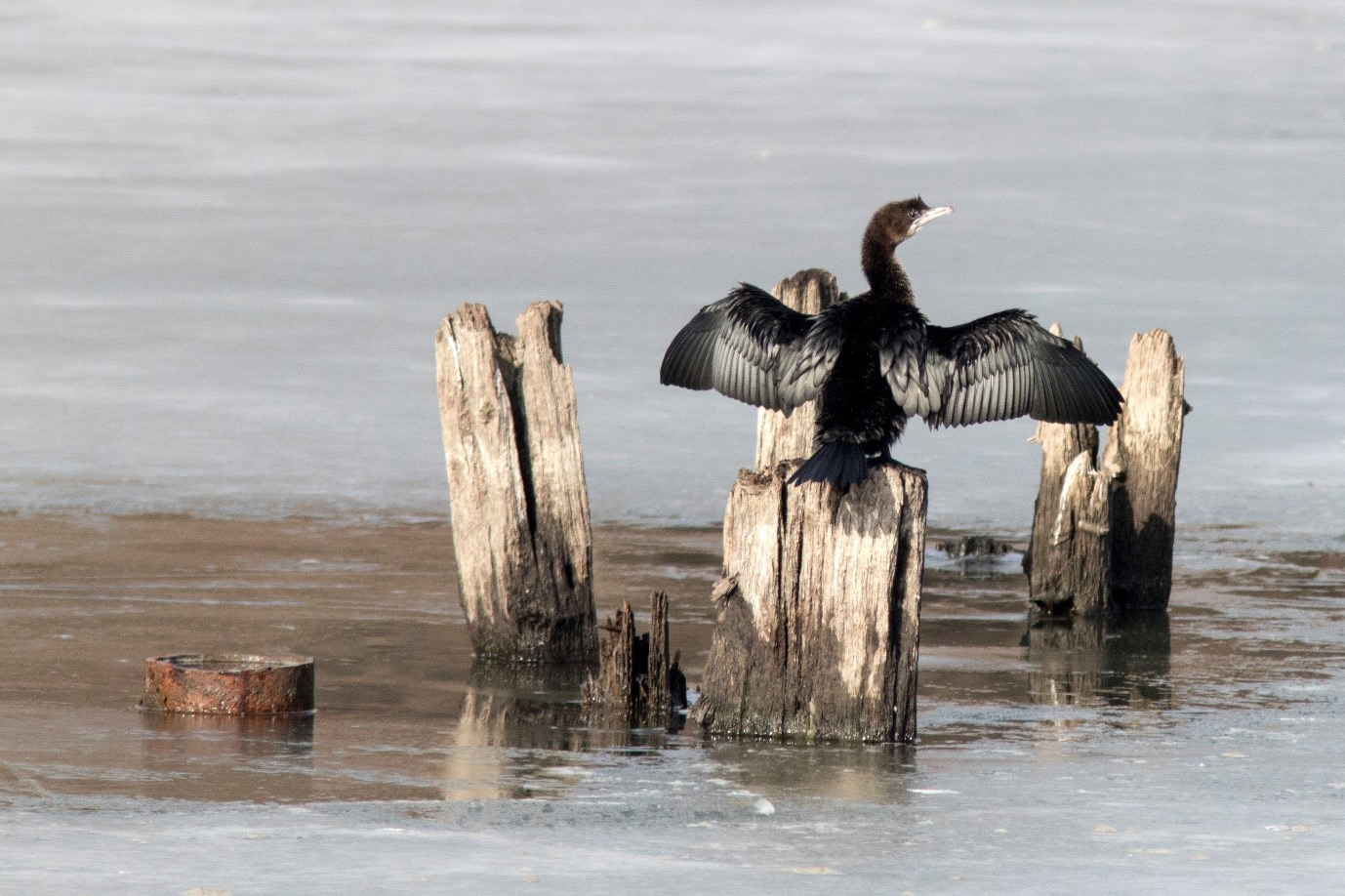 Pygmy Cormorant, Parcul Bordei, Bucharest (Seán Ronayne).
After spending 30 minutes here I decided to go back to the main lake. As the light was against me on the northern side, I opted to go back to my original spot and found that despite the continued presence of joggers, there were many more Caspians present now and at very close range. Over the coming hours I took more than 1,000 images and really studied the species in detail. They were beautiful! Even better was the fact that Caspians occur at a similar density to Yellow-legged Gulls at this site, making for an even more educational experience.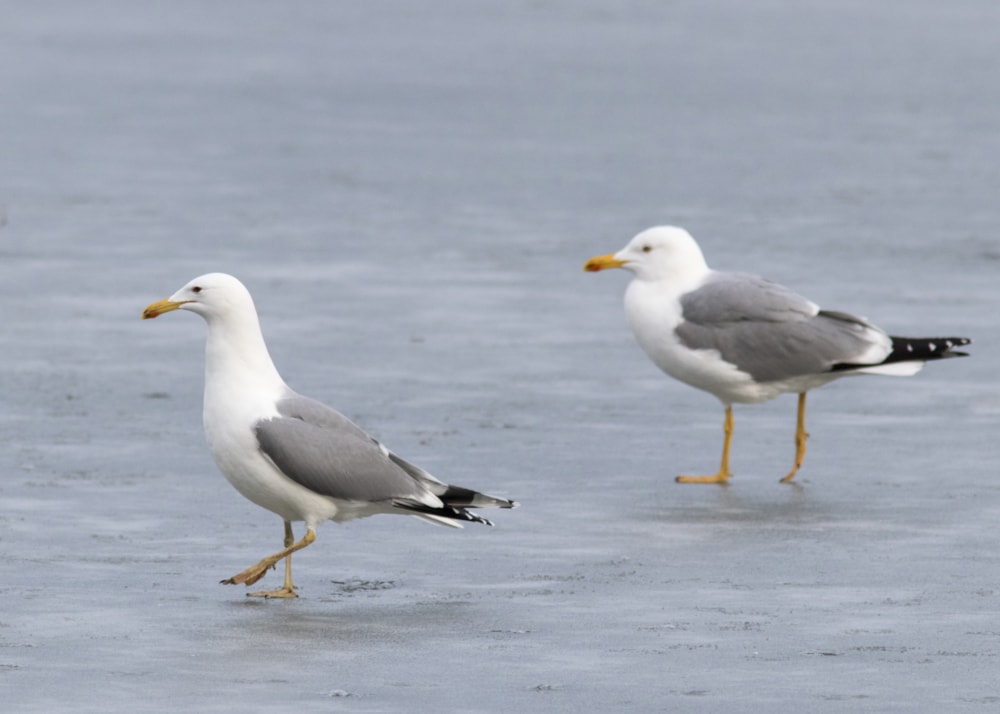 Adult Caspian Gull (left) with adult Yellow-legged Gull (right), Herastrau Park, Bucharest (Seán Ronayne).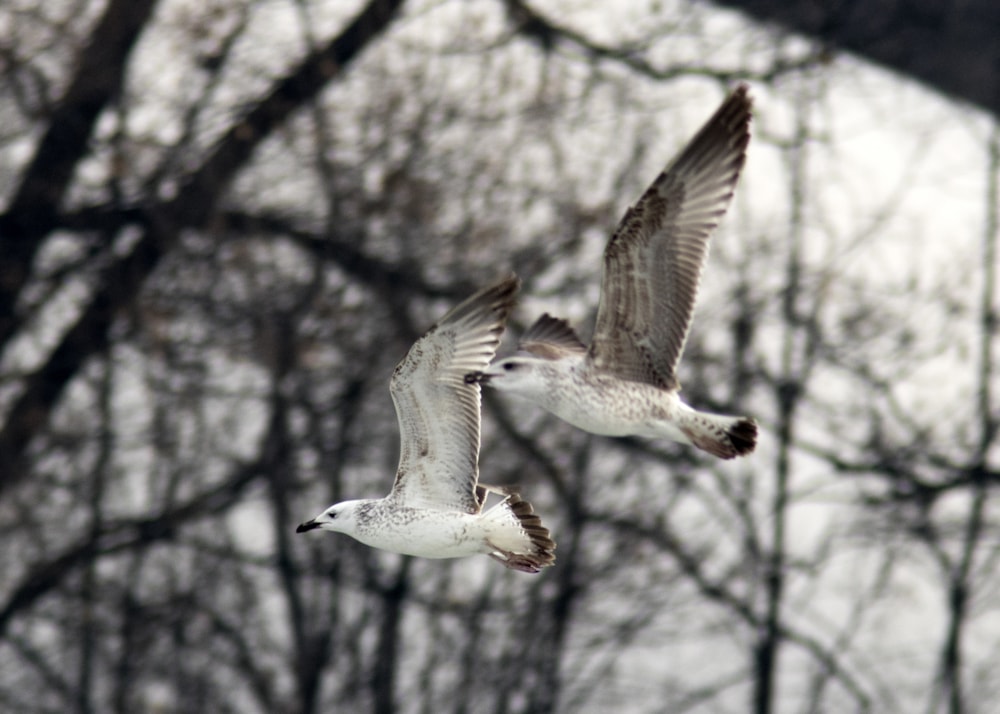 First-winter Caspian Gull (bottom left) and first-winter Yellow-legged Gull, Herastrau Park, Bucharest (Seán Ronayne).
The gulls here roam the ice searching for dead fish that have floated to the surface and become trapped under the ice. Upon detecting such fish, they pick at the ice until they reach it and start to feed. This is when the commotion starts. I quickly learned that Caspians are extremely aggressive. Other birds inevitably fly in to try to feed from the find and they fight, displaying with the impressive and aggressive albatross posture, and give their distinctively hoarse call, as well as the laughing long call.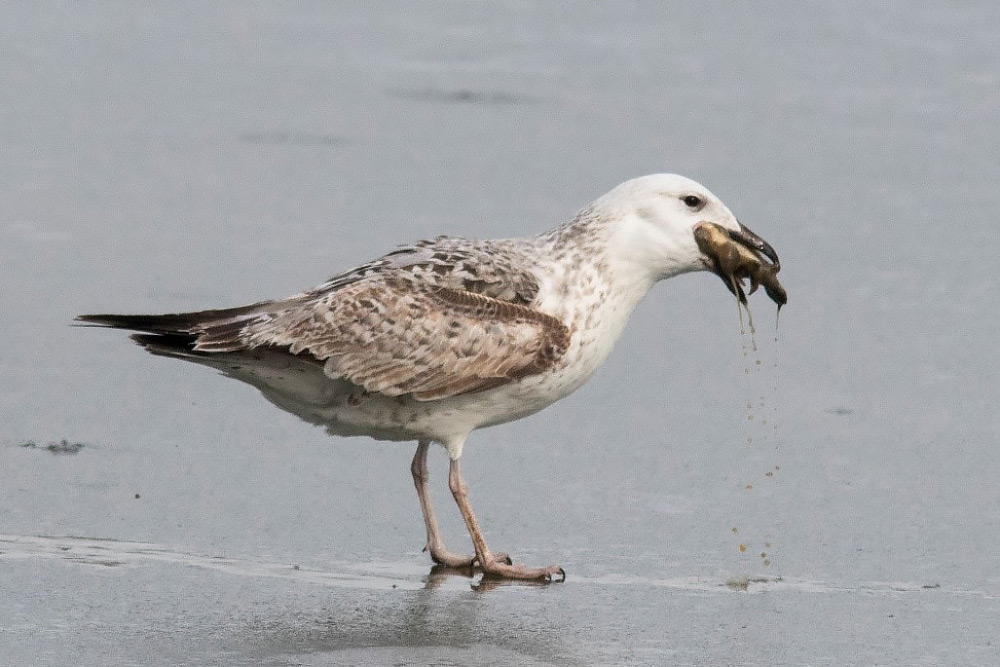 First-winter Caspian Gull feeding on a dead fish it had picked from the ice at Herastrau Lake (Seán Ronayne).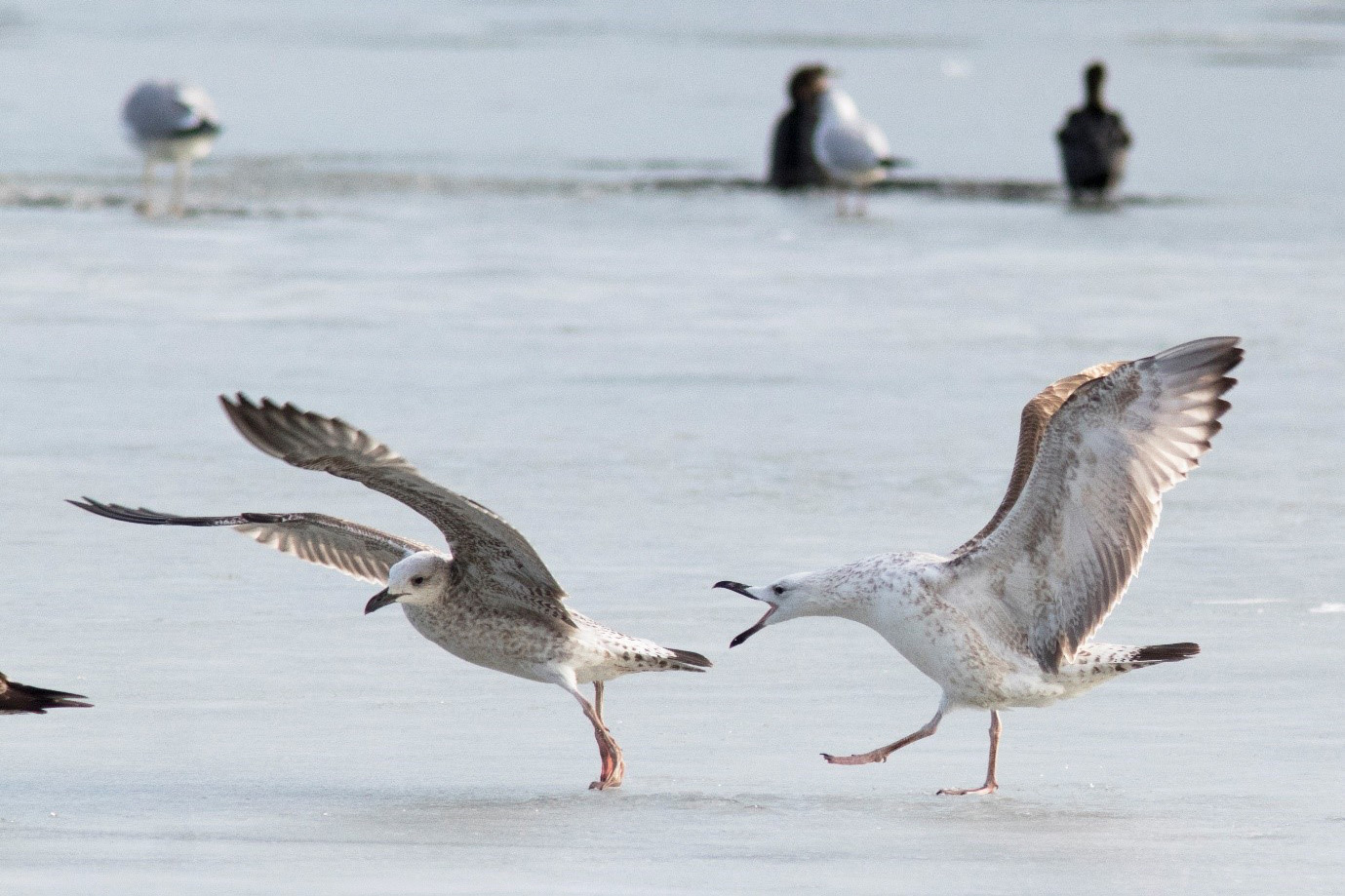 Typically aggressive behaviour from a first-winter Caspian Gull (Seán Ronayne).
I returned the following morning with my suitcase and took a relaxed stroll in the earlier hours as it seemed birds were fewer in number then and didn't approach as closely. Again at about 12 pm I had excellent views of many birds in the same location.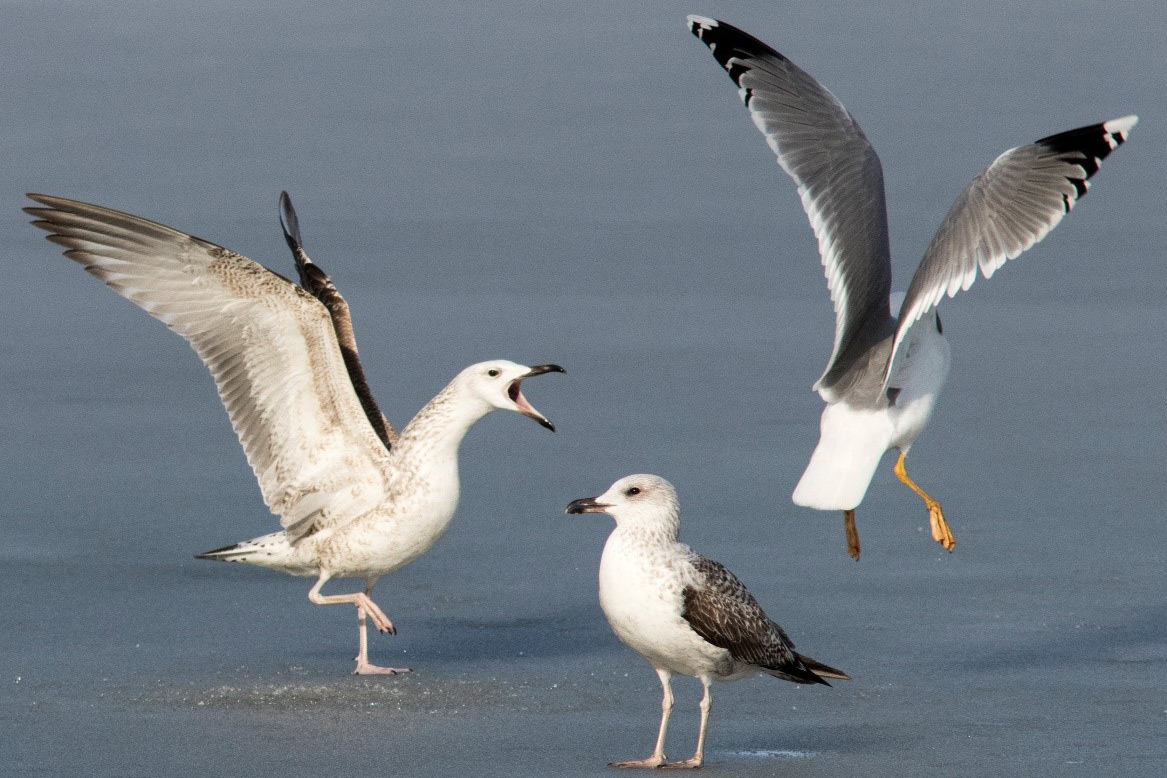 A typically combative first-winter Caspian Gull showing the whitish underwing seen in a good proportion of birds this age (Seán Ronayne).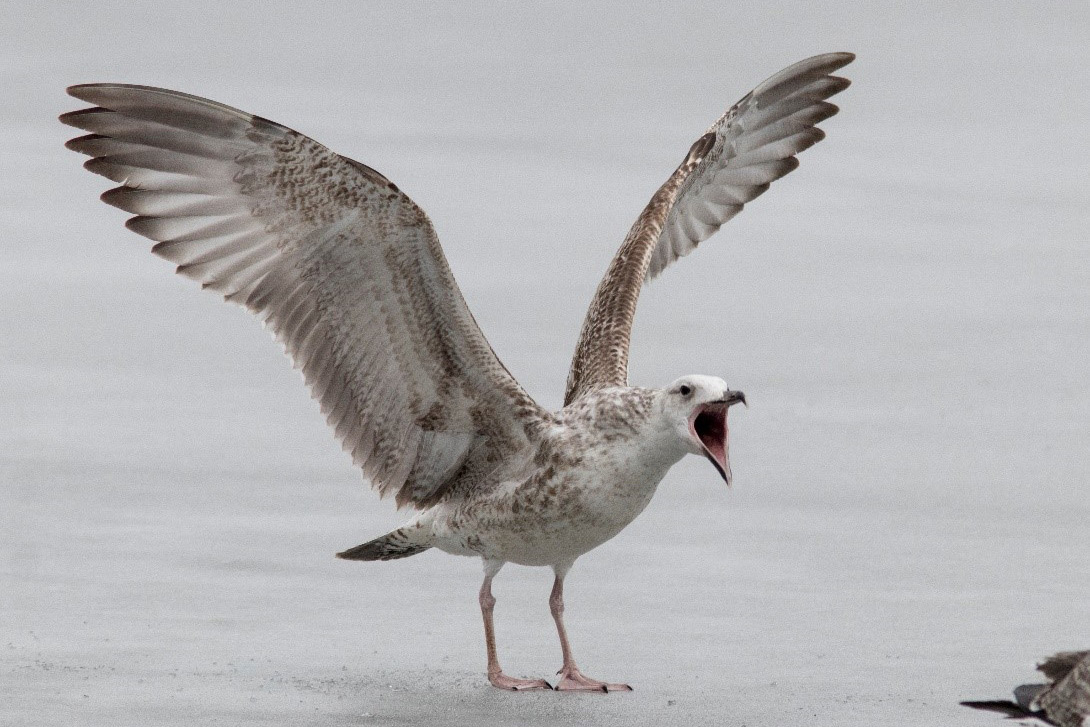 First-winter Caspian Gull giving the long call while assuming the 'albatross posture' (Seán Ronayne).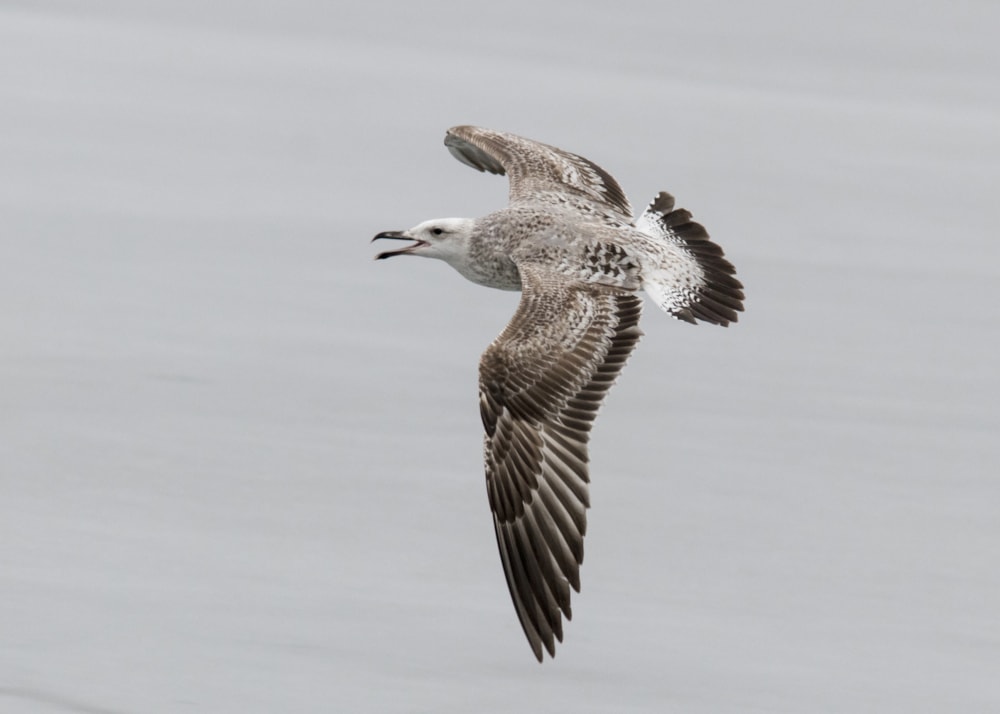 First-winter Caspian Gull from above (Seán Ronayne).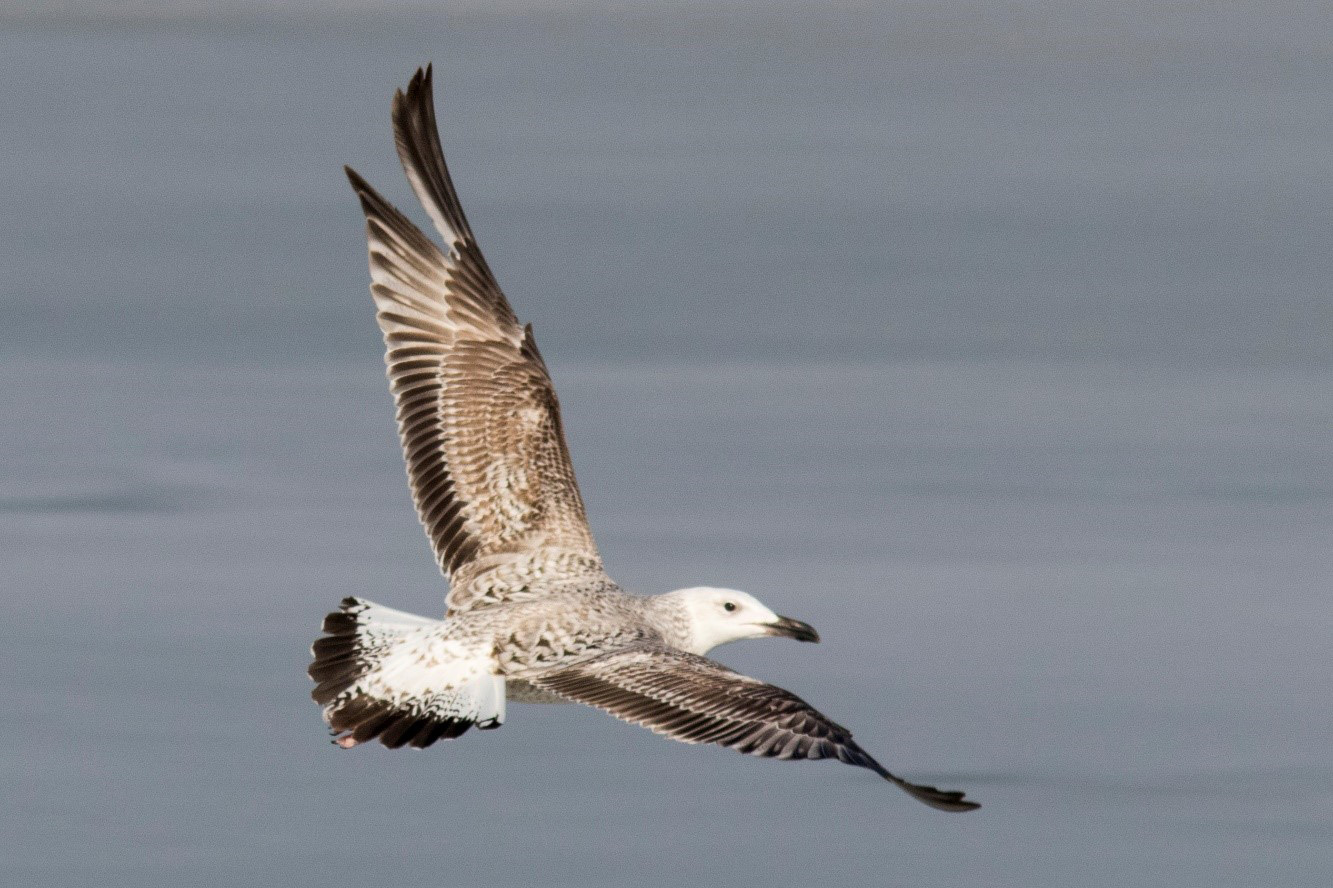 Another typical looking first-winter Caspian Gull showing pale 'lozenges' on the outer webs of the inner primaries – a trait which is common in, but not restricted to, the species (Seán Ronayne).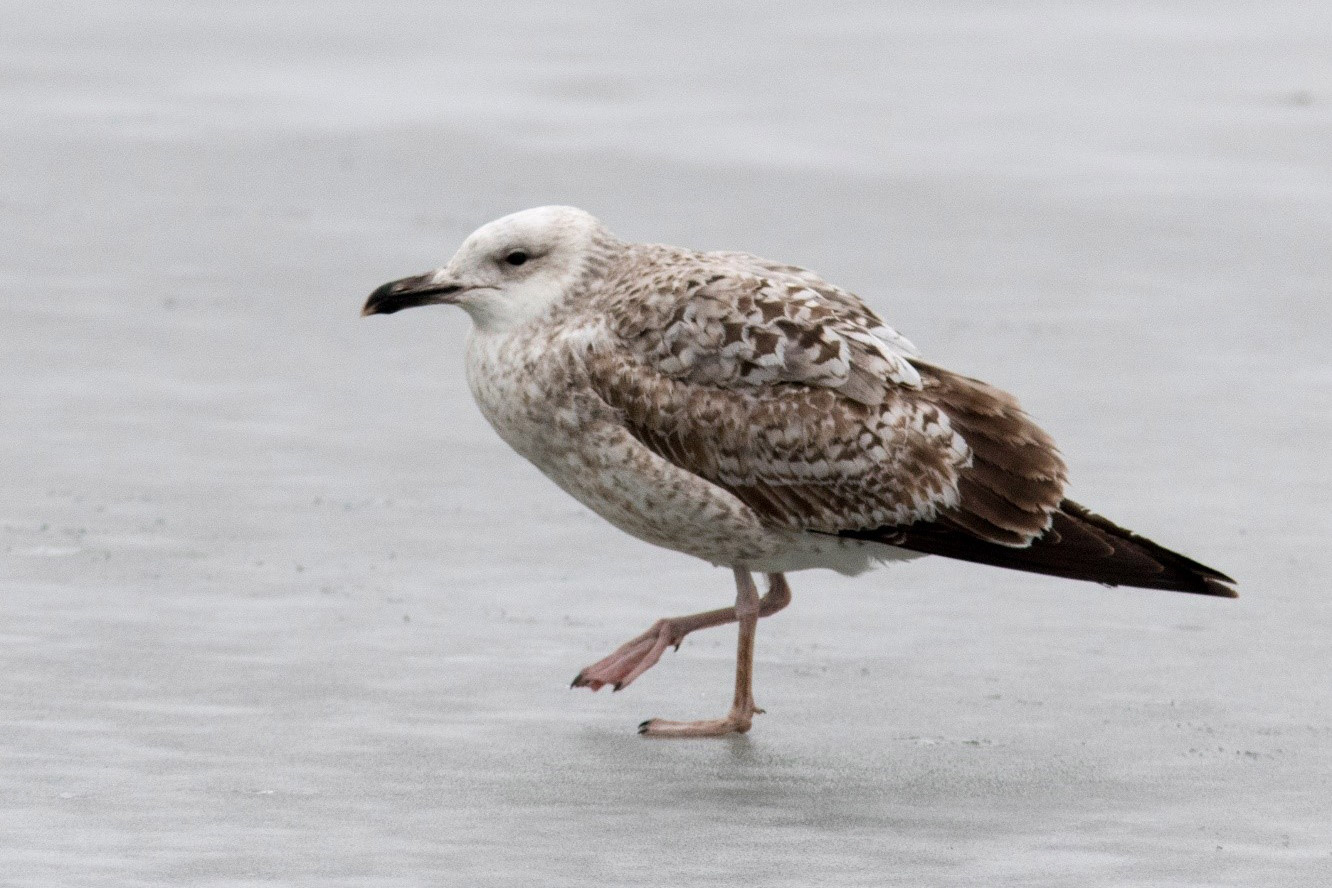 First-winter Caspian with overall 'mucky' plumage and dark internal markings on some scapulars, but showing the typical paler head and covert pattern (Seán Ronayne).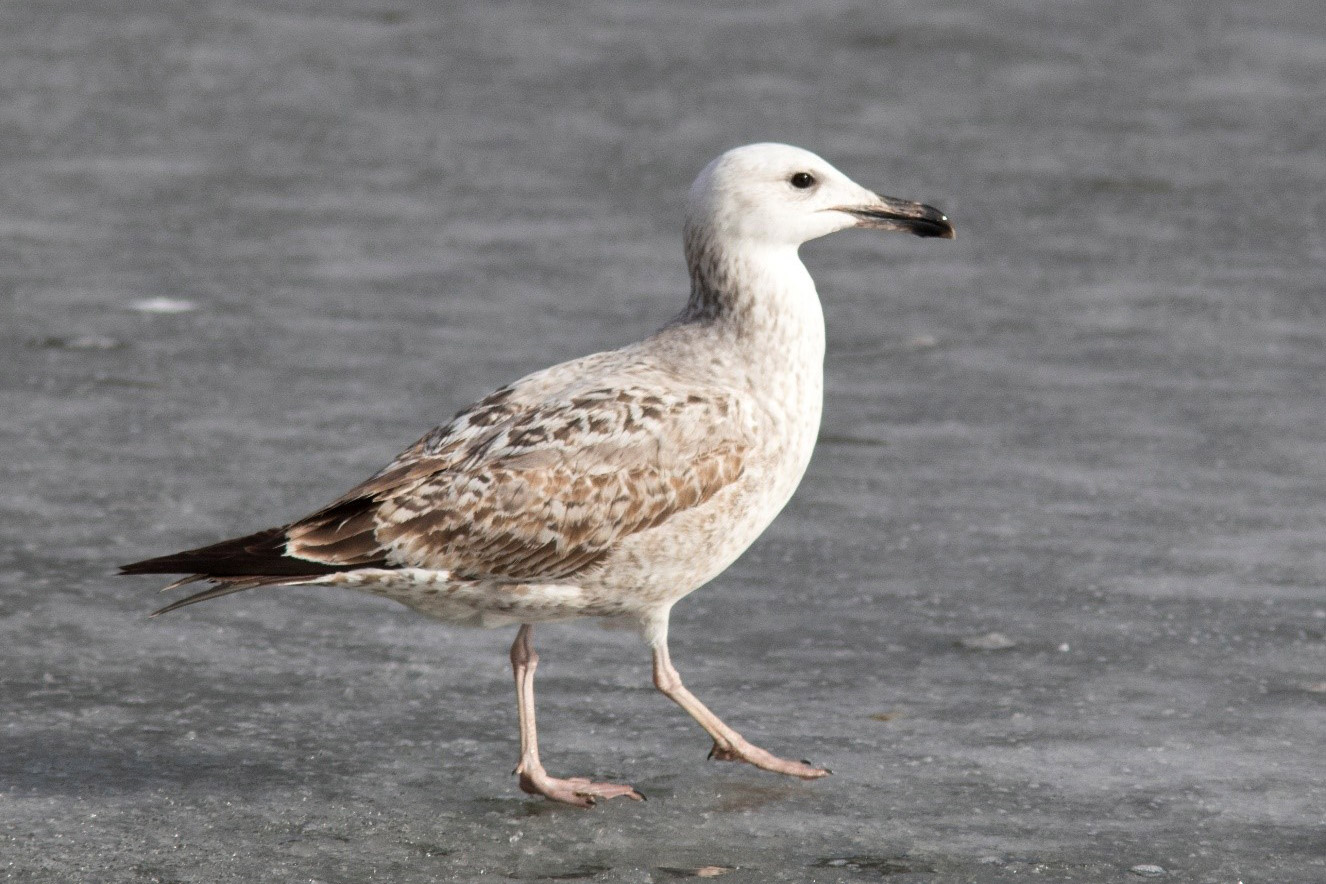 First-winter Caspian Gull (Seán Ronayne).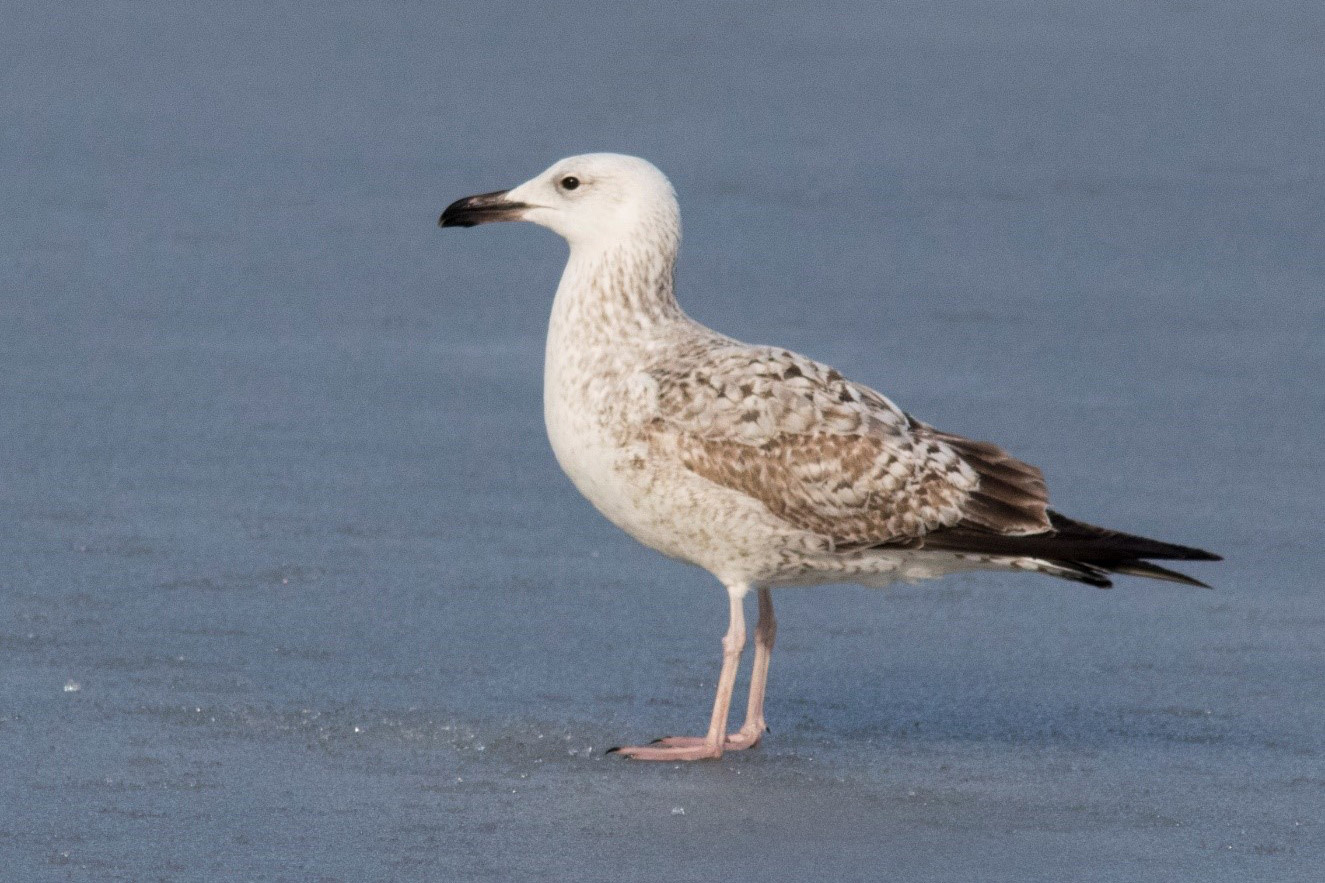 A particularly hefty-billed (presumably male) first-winter Caspian Gull (Seán Ronayne).

An interestingly pale second-winter Caspian Gull (Seán Ronayne).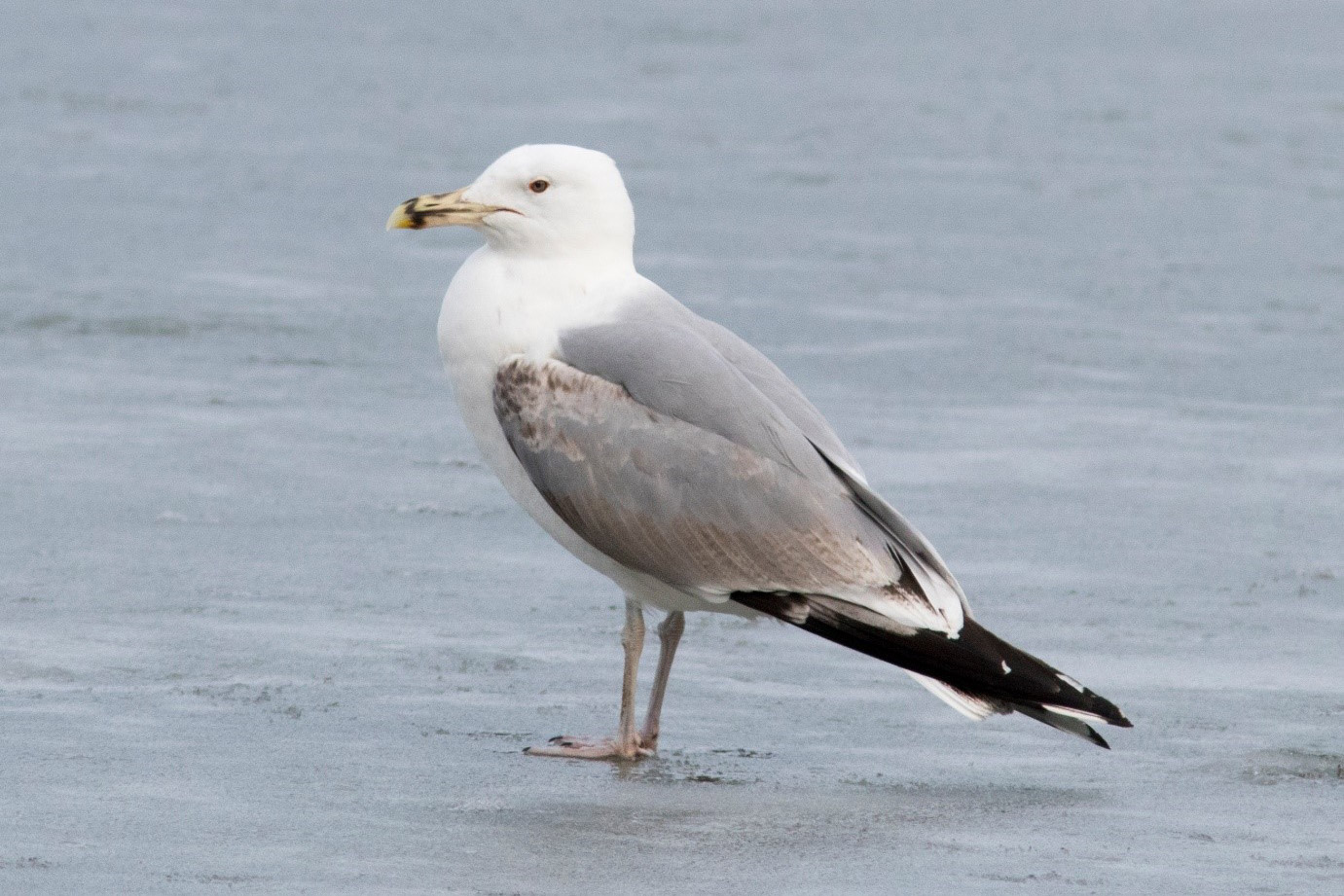 Third-winter Caspian Gull (Seán Ronayne).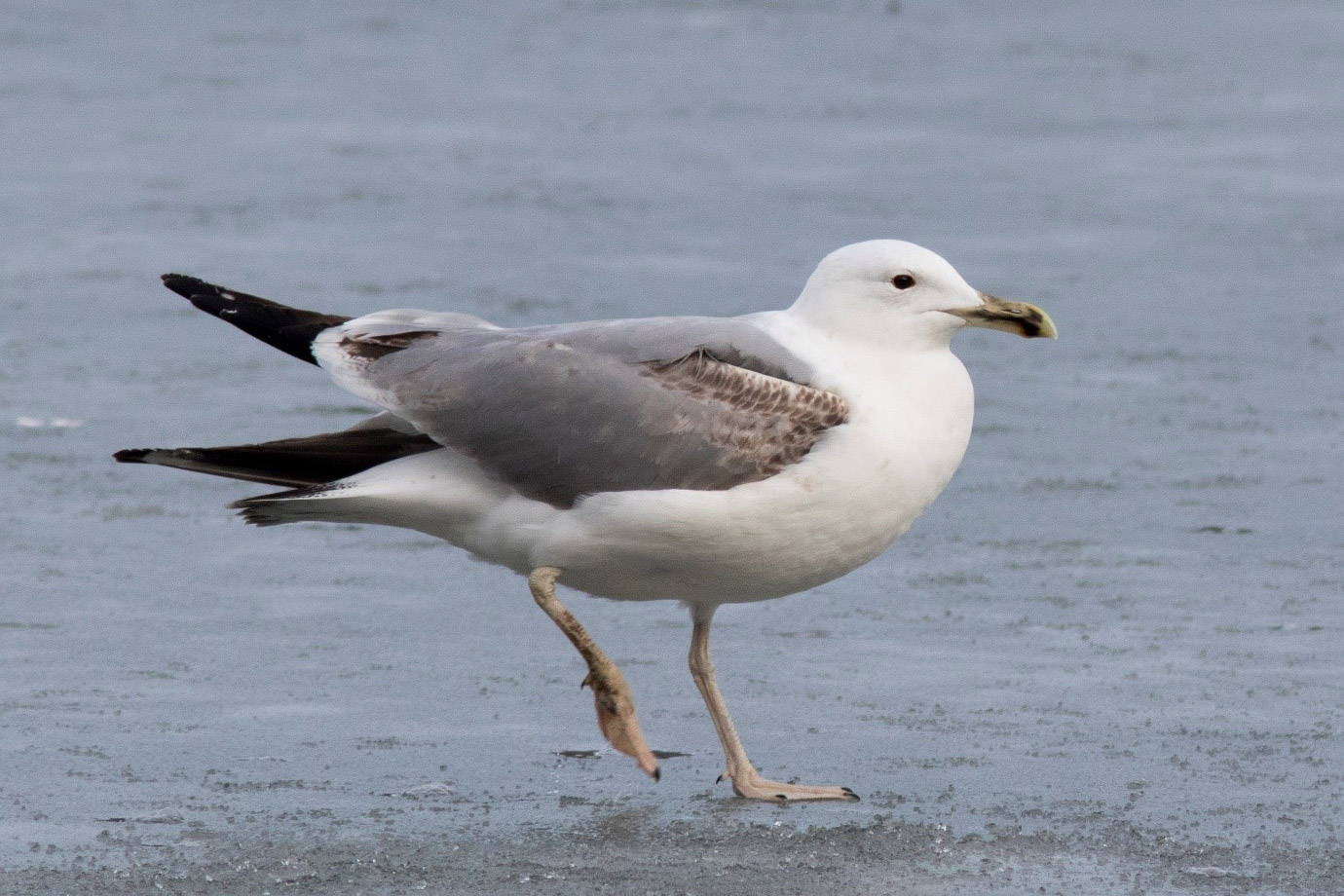 Third-winter Caspian Gull (Seán Ronayne).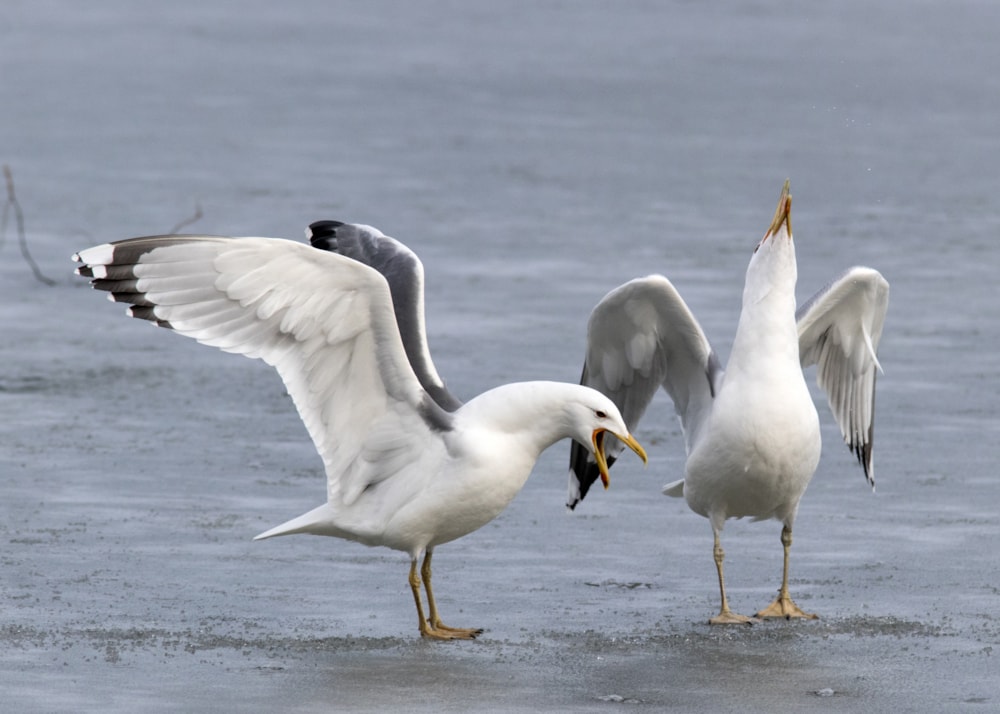 Adult Caspian Gulls calling in the 'albatross posture' (Sean Ronayne).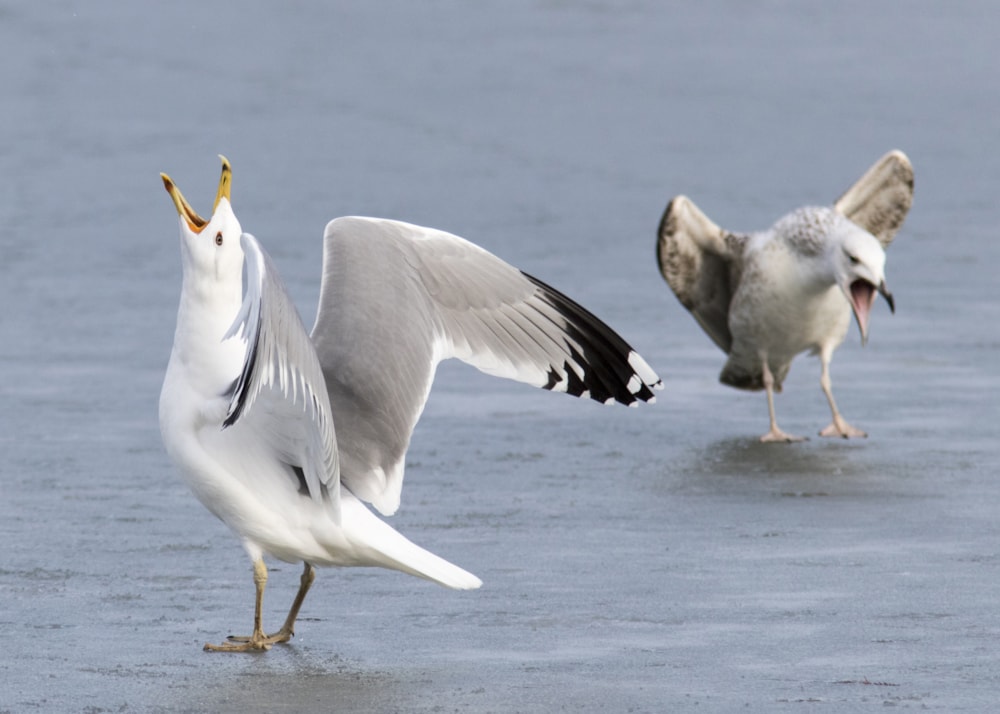 Adult and first-winter Caspian Gulls calling in the 'albatross posture' (Sean Ronayne).
This spot is a dream come true for anyone wanting to see Caspian Gulls in all their glory and I could not recommend it highly enough.

Logistics and tips
Flights: Very reasonable for me at €130 return, flying from Barcelona to Bucharest, with Wizzair. I'm sure they could be sourced much cheaper though (depending on where you are travelling from), as I booked this just five days before I left. I saw return flights for as cheap as €60-70 for a few weeks in advance.
Taxi: I wouldn't recommend using a taxi in any touristic city – download Uber and you will travel at a fraction of the cost. I was told that taxi drivers try to rip off tourists at the airport – just avoid them. My Uber journey cost approximately €5 for a 15-minute ride to my accommodation. A taxi would cost quite a bit more.
Accommodation: I stayed two nights in the Monte Carlo Palace Hotel at €25 per night. This was a lovely hotel – everything was really clean and modern, the room was spacious and had a nice balcony. They do a great breakfast and it was also just a 15-minute walk to the park, though you could get an Uber there for a few euros if you didn't want to walk. There are some hotels within Herastrau Park itself for ultimate convenience but, at the time of booking, these were more expensive.
Food: The food here is really good and incorporates a lot of pork. I tried one of main local dishes – a cabbage roll filled with pork and other ingredients (Sarmale) – well worth a try. Food is also generally very cheap, which is always good!
Other species: Great Spotted, Middle Spotted, Lesser Spotted, Syrian, Green and occasionally Grey-headed Woodpeckers, as well as lots of (often very tame) Pygmy Cormorants.
Content continues after advertisements

Where and when to watch gulls
This information below is based on my own two-day experience of Herastrau Park. The most productive area was the north-west end of Lake Herastrau, which is where most gulls foraged at close range, and where the light was best for photography (A and, to a lesser extent, B on the map below). The area marked A is a nice little pier which breaks away from the main path, away from passers-by and gives you an extra bit of reach into the lake. The north-eastern shore (D) also had gulls come close but not as many, and the light was worse. The area marked C also had some close gulls, but the light was usually bad here. The area marked E is where gulls roosted during the day quite distantly, but in good numbers. It was here I had a Herring Gull, which is somewhat rare in Bucharest. The area marked F is a smaller park which was totally devoid of people and had small numbers of close Caspian, Yellow-legged Gulls and Pygmy Cormorants. This spot is a good early-morning alternative while you wait for the main sites to become more productive. Early morning wasn't great as there weren't many gulls and they were often distant. From around 12 pm onwards they seemed to increase in numbers and feed much closer to shore, allowing for detailed studies.
Further notes
In total I took over 2000 images, and my full album can be found on my Flickr page.
I also took recordings of both adult and immature calls, examples of which can be found below.

Long calls from adult Caspian Gulls, Herastrau Park, Bucharest, February 2019 (Seán Ronayne).

Vocalisations of several squabbling first-winter Caspian Gulls at Herastrau Lake, Bucharest, February 2019 (Seán Ronayne).
Acknowledgments
I would like to thank Cristian Mihai and Carl Baggott for their invaluable help and advice in making this excellent trip a possibility for me.