The sight of a Puffin, beak full of sandeels, might be a little harder to come by this summer as they struggle to survive the recent storms that have wracked the Bay of Biscay. The British Trust for Ornithology (BTO) has received a record number of reports of Puffins, wearing uniquely-numbered metal rings, being washed up dead on the coasts of France and Spain. In a normal winter, the BTO would expect two or three ringed Puffins to be found in France and Spain, but during the last few weeks, over 35 have been reported. The previous highest number of ringed birds found was back in 1979 when 17 dead Puffins were reported.
It is well known that British Puffins head out into the Atlantic for the winter months, riding out the worst that the weather can throw at them. As the winter progresses, our Puffins make their way into the Bay of Biscay before heading back to their breeding colonies and the burrows that they used the previous summer. Birds found in this current wreck have come from colonies in west Wales, northern Scotland, Orkney and Shetland.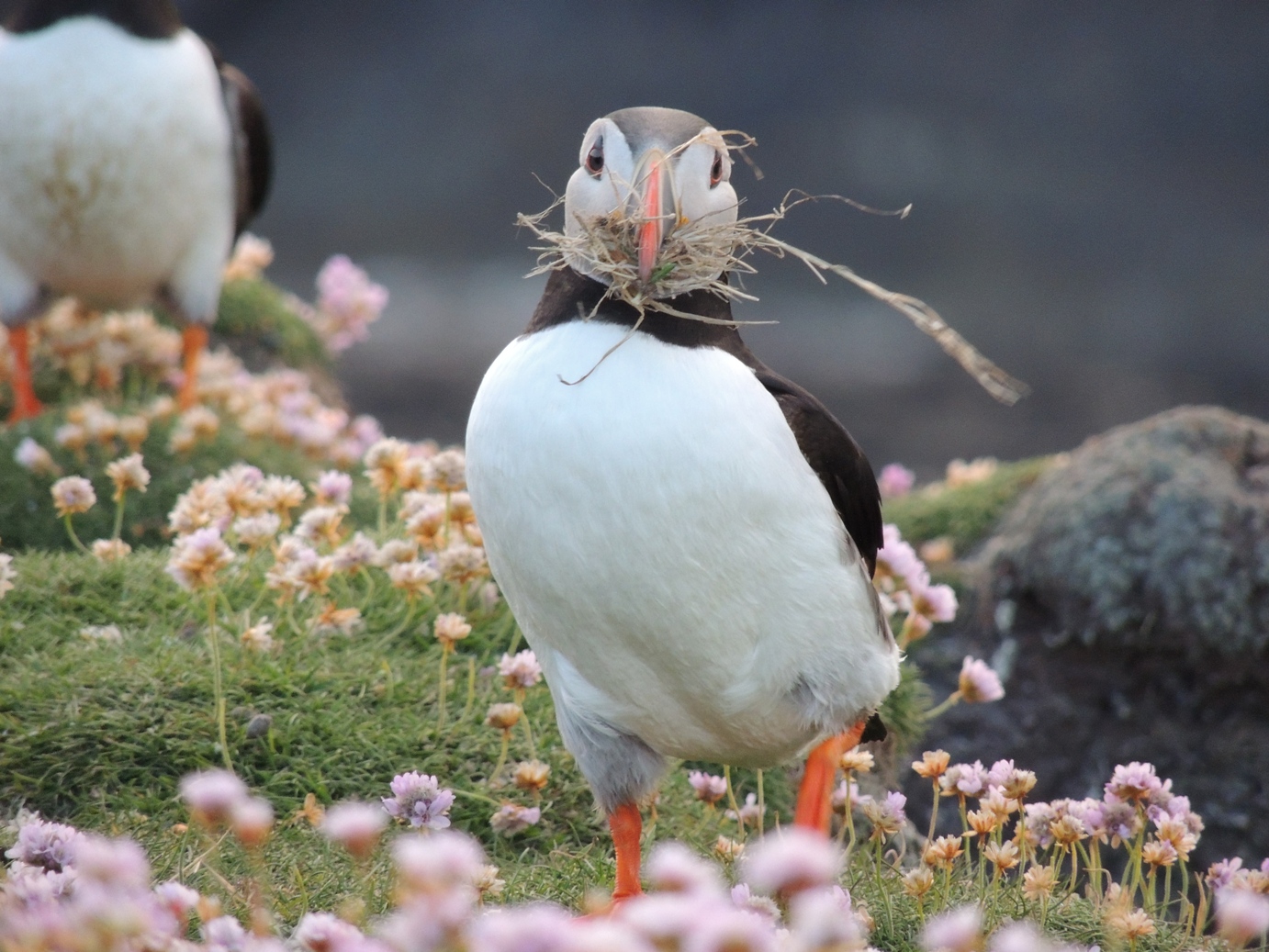 Puffin, Fair Isle, Shetland (Photo: N Thomas)
Mark Grantham, Ringing Officer at the BTO, commented: "Up until the last couple of weeks it seemed that our Puffins might have survived the worst of the winter. However, from the reports of ringed birds that are being washed up on the Biscay beaches it would seem that the recent storms were just too much for many of the birds. It is still early days and the number of ringed birds found is likely to rise further, but we must remember that if over 35 ringed birds have been found, many unringed birds must have been affected too."
Bird ringing in the UK is organised by the British Trust for Ornithology and is carried out by licensed volunteers, who ring over a million birds of a wide variety of different species every year. It is the information received from these rings, when found and reported to the BTO, that enables scientists at the Trust to chart events such as this.
For more information and to report a ring number to the BTO, please visit www.bto.org.
Update, 27th February:
We received the following from Eugene Archer, who is based in France:
"Last weekend [22nd/23rd February] a coordinated count from Finistere to the Spanish border took place resulting in 21,341 dead birds and another 2,784 brought to veterinary centres. On top of that must be added several thousand dead birds counted from earlier in February and reports from fishermen etc. that there were "carpets" of dead birds still floating at sea. The vast majority were Puffins with smaller numbers of Guillemots and a lesser percentage of Razorbills and Kittiwakes. Obviously the numbers are expected to increase in the coming days and weeks as more birds are washed ashore."
"There is an LPO press release on the discovery available online."