Some stay, some go, but 2013 to 2014 was a good year for many of Britain's birds. The latest results from the Breeding Bird Survey (BBS) brought some short-term, positive news for a suite of both migratory and resident species against a backdrop of long-term declines for many, long-distance migrants in particular.
The possible reasons for these short-term increases vary between species. There is no evidence that the 2013 breeding season was a particularly good one, and for some species it was a poor season, probably related to the fact it was the UK's coldest spring since 1962.
Lesser Whitethroat (+ 34%), Common Whitethroat (+ 18%), Tree Pipit (+ 31%), Willow Warbler (+ 6%) and the familiar Cuckoo (+ 27%) are among the long-distance species, that travel south of the Sahara for the winter months, to have increased between 2013 and 2014.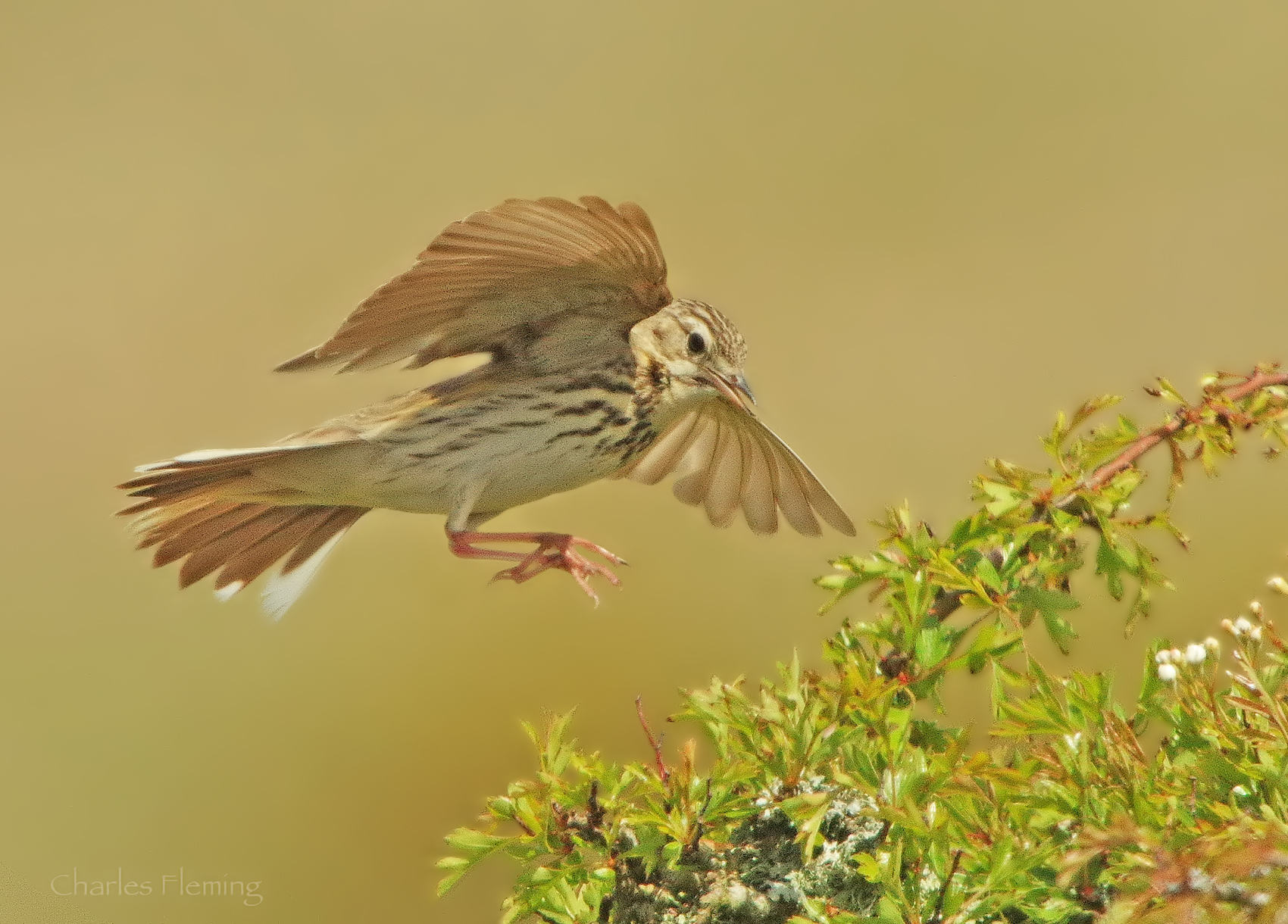 Tree Pipit showed a short-term increase of 31 per cent (Photo: Charlie Fleming)
The survival of migratory species is thought to be influenced by rainfall levels in the Sahel, just south of the Sahara. This applies for species that spend the winter there, such as Lesser Whitethroat and Whitethroat, and those that use the region as a stop-over site (a place to rest and refuel before continuing further south), such as Tree Pipit, Willow Warbler and Cuckoo. Rainfall levels affect the availability of insect prey on which these species rely. Rainfall in the region during the summer of 2013 was just below the long-term average, so this doesn't provide a ready explanation for the respite seen in this year's BBS report, but the three years previous to this included two that were amongst the wettest since the late 1960s, possibly leading to generally better conditions in the area in the winter of 2013/14.
Despite the favourable short-term trends revealed in the BBS report, the long-term trends for many of 'our' migratory species are not so positive. Between 1995 and 2013, Cuckoo declined by 46%, Spotted Flycatcher by 47%, Whinchat by 54%, Wood Warbler by 58%, Pied Flycatcher by 60% and Turtle Dove by 91%, with large decreases also found in several other species.
There are many factors throughout the migration route and on the wintering grounds that could be playing a part in the alarming decline of long-distance migrants. Wetland loss and degradation and the clearance of wooded savannah is likely to be affecting the wintering grounds of long-distance migrants, and the loss of migration stop-over sites, and hunting and trapping along the way, may compound the problem for some species.
The latest BBS results also have good news for 'partial migrants', species in which some individuals stay in the UK for the winter, while others venture as far south as North Africa. Increases between 2013 and 2014 were found for Chiffchaff (+ 21%), Blackcap (+ 14%) and Meadow Pipit (+ 14%).
There was good news for resident species too, which remain in the UK for the winter. There were short-term increases for Stonechat (+ 76%), Kingfisher (+ 50%), Grey Wagtail (+ 50%) and Wren (+ 34%). In general, the mild winter of 2013/14 is thought to have helped the survival of resident species. Residents are susceptible to harsh weather conditions when life gets tough, both in terms of finding food and expending extra energy just to keep warm.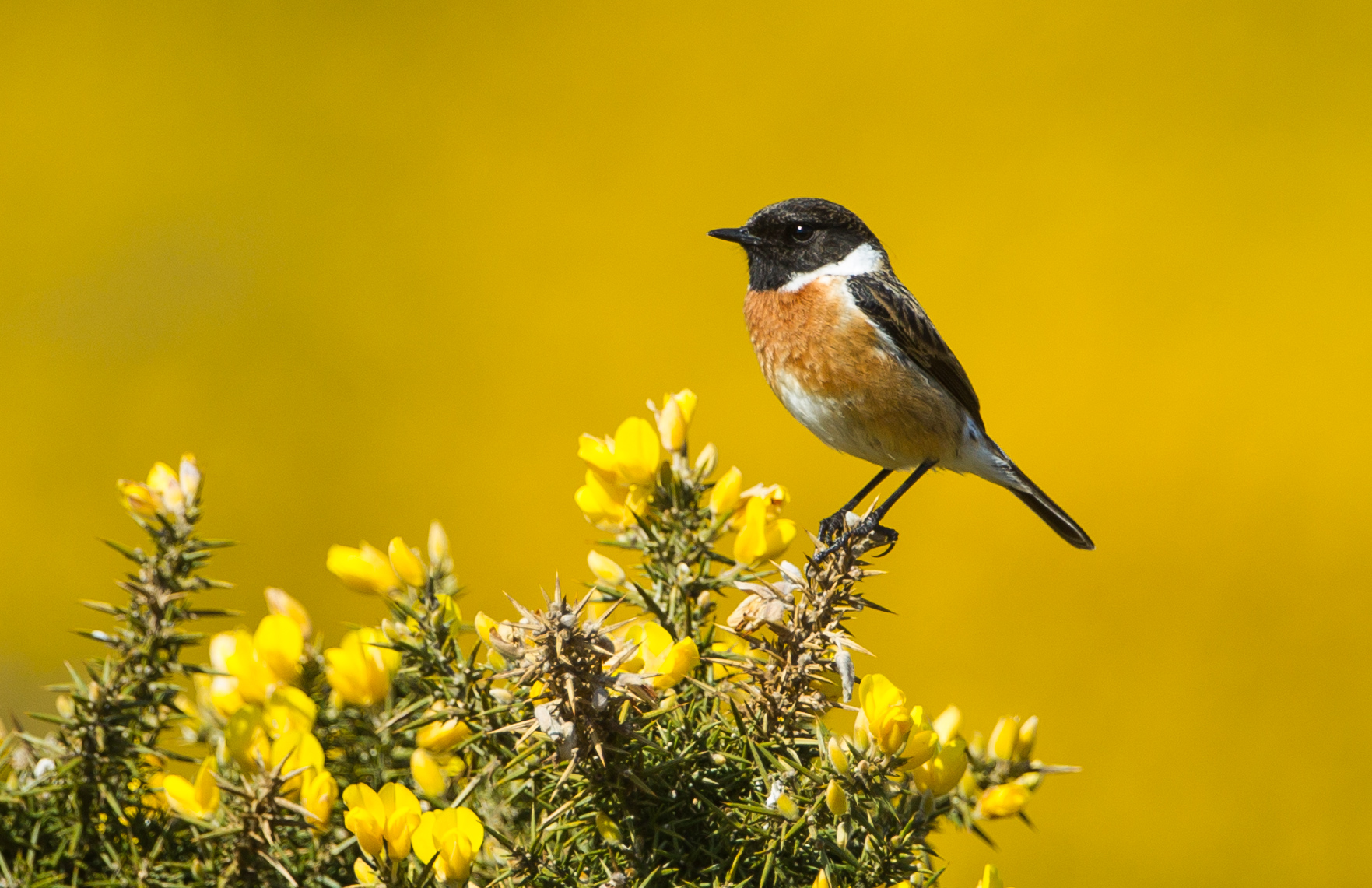 Stonechat has profited as a result of the mild winter of 2013/4 (Photo: David Moran)
Sarah Harris, BBS Organiser at the British Trust for Ornithology, said: "It is refreshing to see some of our resident and migrant birds have had a good year, but this is against a backdrop of long-term declines for many, long-distance migrants in particular. To see Turtle Dove exceed a 90% decline between 1995 and 2013 is very worrying indeed. We cannot thank the dedicated BBS volunteers enough for all their efforts, monitoring our common and widespread birds, their contributions are invaluable."
Deborah Procter, Senior Monitoring Ecologist at the Joint Nature Conservation Committee, added: "Long-term data from the BBS give us a window on to the state of UK biodiversity. The annually updated trends at both UK and country level promote investigation to understand the underlying causes of change in our natural capital assets. Many thanks to the several thousand volunteers who gather the evidence that makes this work possible."
Dr Mark Eaton, RSPB Principal Conservation Scientist, RSPB Centre for Conservation Science, said: "With their travels crossing continents, migratory birds can be affected by many factors on different stages of their amazing journeys. Finding ways of boosting their populations requires international trust and collaboration. A Turtle Dove in Europe requires the protection of the Birds Directive and when it is in Africa need sufficient habitat to feed to fatten for the return journey to Europe. These birds belong to everyone and everyone along their migration routes needs to play a part in these birds survival."