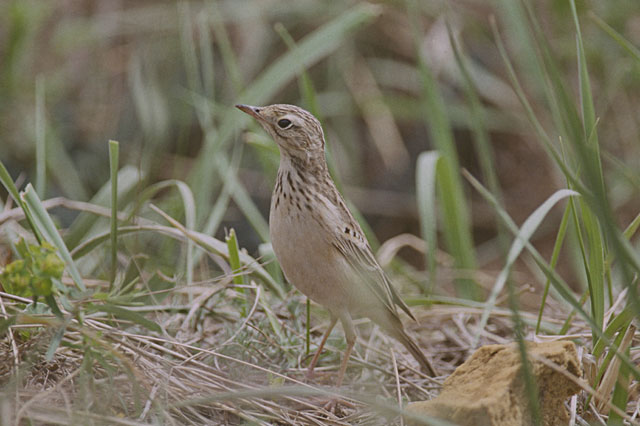 Blyth's Pipit: China, May (photo: Dr Colin Bradshaw).
Introduction
Relatively few birds on the British list can challenge the identification abilities of their finders quite as much as Blyth's Pipit. With just over a dozen accepted records, this species is one with which few of us can claim to be familiar. Earlier claims in Britain generated large amounts of discussion regarding their identification, with the status of this enigmatic species in limbo for quite a few years before a batch of records were finally accepted by the BBRC in the mid–1990s.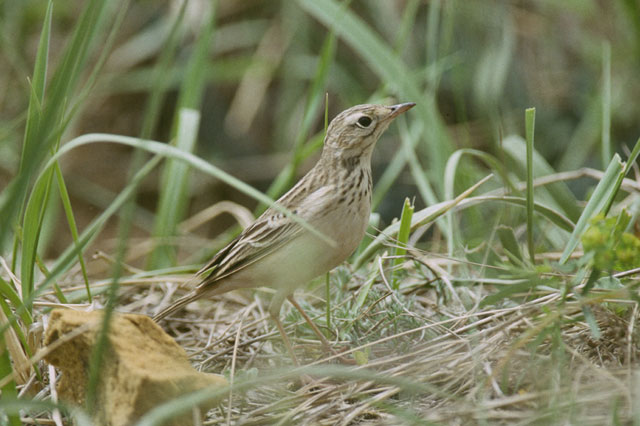 Blyth's Pipit: China, May (photo: Dr Colin Bradshaw).
Range and status
The breeding range lies in Mongolia and adjacent parts of Russia and China. It winters in most of India, Sri Lanka, Bangladesh and Myanmar. As a vagrant to northwest Europe the majority have been in late autumn and early winter, somewhat later than the main arrival of Richard's Pipits. This is perhaps surprising since Blyth's is an early migrant, with most leaving their breeding areas in August, with some lingering to mid-September. Arrival in the winter quarters takes place from early September onwards.
In Britain the first was picked-out by the keen eyes of Kenneth Williamson whilst examining specimens of Tawny Pipit at the British Museum in 1963; it had been obtained at Brighton (Sussex) in October 1882. The accepted British records (to the end of 2004) are as follows:
Content continues after advertisements
2004 Cornwall Land's End, 15th November to 20th December.
2002 Nottinghamshire Gringley Carr, 28th December to 5th January 2003.
1999 Norfolk Happisburgh, 25th to at least 28th September.
1998 Dorset Portland Bill, two, 22nd to 24th November, one to 6th December, both trapped 22nd November.
1996 Norfolk Sheringham and Weybourne area, 14th to 16th October.
1994 Kent South Swale Nature Reserve, 7th November to 11th December.
1994 Suffolk Landguard, 4th to 10th November, trapped 10th; taken by Common Kestrel on 10th November.
1993 Shetland Fair Isle, 31st October to 4th November, trapped 1st November.
1993 Scilly St Mary's, 20th to 22nd October.
1990 Cornwall Skewjack, c. 22nd October to 1st November.
1988 Shetland Fair Isle, 13th to 23rd October.
1882 East Sussex Brighton, found in a collection, 23rd October.
A better understanding of the field features has led to more being identified with confidence. It seems likely that birds are overlooked, due to the subtlety of identification, and despite its apparent rarity it is likely that it will become more regular in the future.
The identification of this tricky pipit has been covered in detail elsewhere, and we are pleased to be able to present a paper on Blyth's Pipit identification first published by the journal British Birds and written by Dr Colin Bradshaw of the British Birds Rarities Committee. Click here to read a PDF of the article (please note that this file is 1.3MB in size).

Blyth's Pipit: China, May (photo: Dr Colin Bradshaw).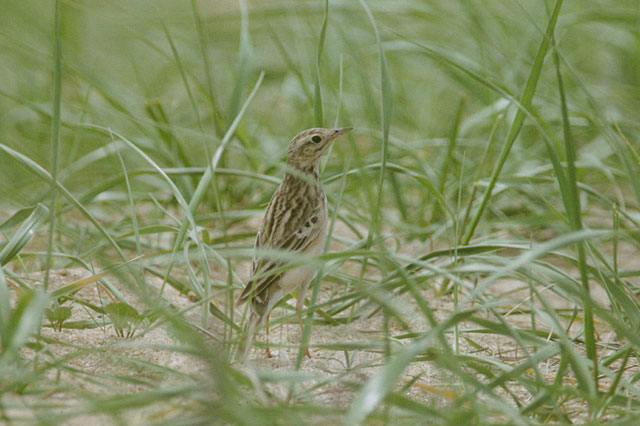 Blyth's Pipit: China, May (photo: Dr Colin Bradshaw).
Support for PDFs is built into many modern web browsers, but if the above link doesn't work for you, you may need to download Adobe Reader (free download) by clicking the following button:

The British Birds Rarities Committee applies uniform adjudication standards to claimed records of rare birds in the United Kingdom, excluding Northern Ireland. The annual report is published in the monthly journal
British Birds
. To find out more about the BBRC, go to the
British Birds Rarities Committee website
, and to see the latest press release from the BBRC,
click here
.
British Birds
(
BB
) is a monthly journal for all keen birdwatchers. Articles are published on a wide variety of topics, including behaviour, conservation, distribution, identification, status and taxonomy. Contributors include both professional and amateur ornithologists, and content is always abreast of current ideas and thinking, yet written in a clear and simple style which is easy to interpret.
BB
is regarded as THE journal of record in Britain, and includes the annual reports of the Rarities Committee and the Rare Breeding Birds Panel. For more information, see the
British Birds website
.