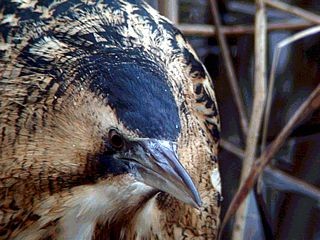 Photo: Richard Jeffree
The (Great) Bittern Botaurus stellaris breeds in suitable habitat across a wide area of Europe and Asia, with an estimated 10,500 pairs in Europe (excluding Russia). Recent figures from the RSPB state that the UK population increased for the fourth successive year in 2001, with 30 booming males at 19 sites – the highest figure since the 1980s. Not surprisingly, most of this increase has taken place at sites where the habitat has been specifically managed for Bitterns.
Thus, the Bittern is an extremely rare breeding bird in the UK and a glimpse of one can be the highlight of a day in the field for many of us. Formerly, as across much of its range, it was much more widespread, but a combination of drainage and persecution rendered it extinct as a breeding bird here by 1900. Subsequent recolonisation took place, but a lack of suitable habitat ensured that numbers were always going to be at reduced levels and a number of environmental factors contributed to another decline from the 1950s onwards. As a breeding species it is very localised and is extremely rare away from the reedbeds of Norfolk, Suffolk and Leighton Moss in Lancashire. However, it is to be hoped that the restoration of habitat and a better understanding of management requirements will contribute to an increasing population over the coming years.
A combination of extreme rarity, specialised habitat and extremely secretive behaviour ensure that most encounters with this wonderful species in their breeding areas consist of one skimming across the top of a reedbed or the distant sound of a booming male. Those fortunate enough to be birding in their breeding areas might chance upon their amazing sky dances, but most of us have to make do with less satisfying encounters.
It is during the winter months that the would-be Bittern-seeker has their best opportunity to see this skulking heron. During these months numbers are supplemented by arrivals of continental birds. Ringing studies have shown that most of these immigrants originate from northwest Europe. In addition, birds from the UK may also disperse to new locations. Radio-tagging of young UK birds in the nest between 1997 and 2001 has shown that the young can travel more than 200km to seek out new sites during their first winter.
Content continues after advertisements
Many winter birds take up residence in favoured reedbeds but are generally less choosy about where they reside, often frequenting the smallest stand of reeds or anywhere where there is food. With their cryptic plumage and ability to 'melt' into their habitat, even wintering birds are difficult to see, and often leave observers with blurred eyesight following a day of constantly staring at a reedbed! Quite often roosting birds are the 'easiest' to see, though this often involves watching several hunched blackened shapes in the gathering gloom.
An analysis of records since the beginning of November 2002 reveals that at least 230 birds have been reported in the UK over the period. This distribution of sightings reveals a distinct bias towards the southeast and good numbers in the northwest. Away from these areas birds would appear to be very rare, with very few sightings in the north and further west.
This figure is likely to be an underestimate, as no doubt many more skulk undetected in stands of reeds out of sight of prying bins and telescopes across many parts of the country. The potential for underestimating the number of Bitterns wintering is illustrated by recent sightings at Leighton Moss during late March-early April. In 2001 five were seen circling over the reedbeds 'gull calling', before gaining height and departing on the evening of 28th March, with further records of 'gull calling' birds on 30th March and two on 3rd April. A maximum of three birds had been seen at the site during January, but the behaviour described above suggests a wintering population of 8 birds at this well known site. Similar behaviour was noted at Leighton Moss during March 1999 and was thought to involve continental birds beginning their spring migration. This behaviour has also been reported elsewhere.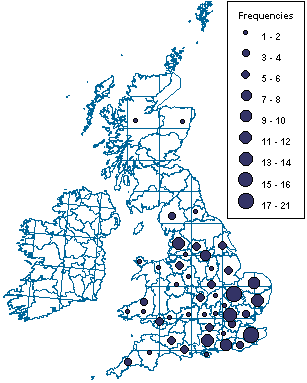 Distribution of Bittern records by county, winter (November 2002 - February 2003).
The following sites (among many others) have produced good numbers of Bitterns over the winter. Several are traditional winter haunts of this species. Use the Bird News Extra search page for up-to-date information, and to search for sightings in your area. Click on search, enter Bittern and the area you are interested in sightings for.
Acknowledgement: Thanks to Pete Crooks for information relating to Leighton Moss.