In Tasmania's south-westernmost corner lies a dramatically bleak and Tolkienesque hinterland. Accessed only via a 90-minute flight, a several-day hike or by boat, visiting Melaleuca feels like a great exploration into the unknown, with almost no signs of humanity until the site's handful of rustic buildings and gravel runway come into view.
From the air, it's possible to appreciate the region's beauty: Button Grass moorland carpets rolling hills and mountains, while the valley floors are a mosaic of grassy heathland, scrub and sedgelands. By day, the grass is alive with the musical rattles of Striated Fieldwren and diminutive trills of the peculiar Southern Emu-wren, while at night, the eerie whistles of the elusive Eastern Ground Parrot are remarkably abundant. Scrub and small stands of eucalyptus host all of Tasmania's endemic honeyeaters, as well as the taxonomically unresolved 'Tasmanian Boobook'. However, these are but a supporting cast for the site's main attraction for visiting birders.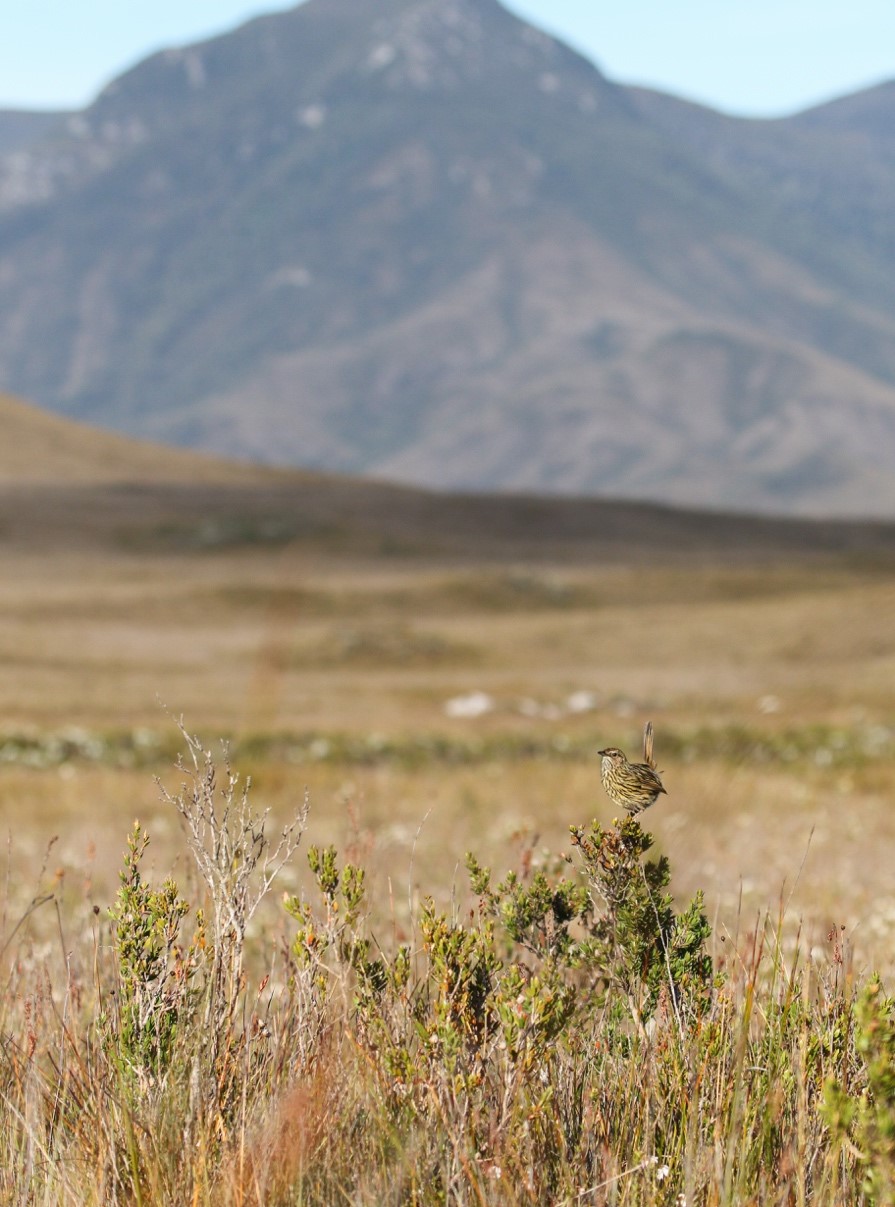 Striated Fieldwren is abundant on Melaleuca's dramatic moorland (Alex Berryman).
One of only two truly migratory parrots in the world (the other, Swift Parrot, is also a Tasmanian endemic breeder), Orange-bellied Parrot spends the summer months (December–February) at Melaleuca, now its sole breeding locality, before undertaking a relatively modest migration across the Bass Strait to overwinter at a couple of favoured sites on the Australian mainland in coastal Victoria and south-east South Australia. It is a member of the Australian endemic genus Neophema and is easily told from its congenerics by its extensive orange belly (in males), vivid green upperparts and dark, blue-tinged remiges. Despite extensive conservation efforts on breeding and wintering grounds however, the species is in real trouble.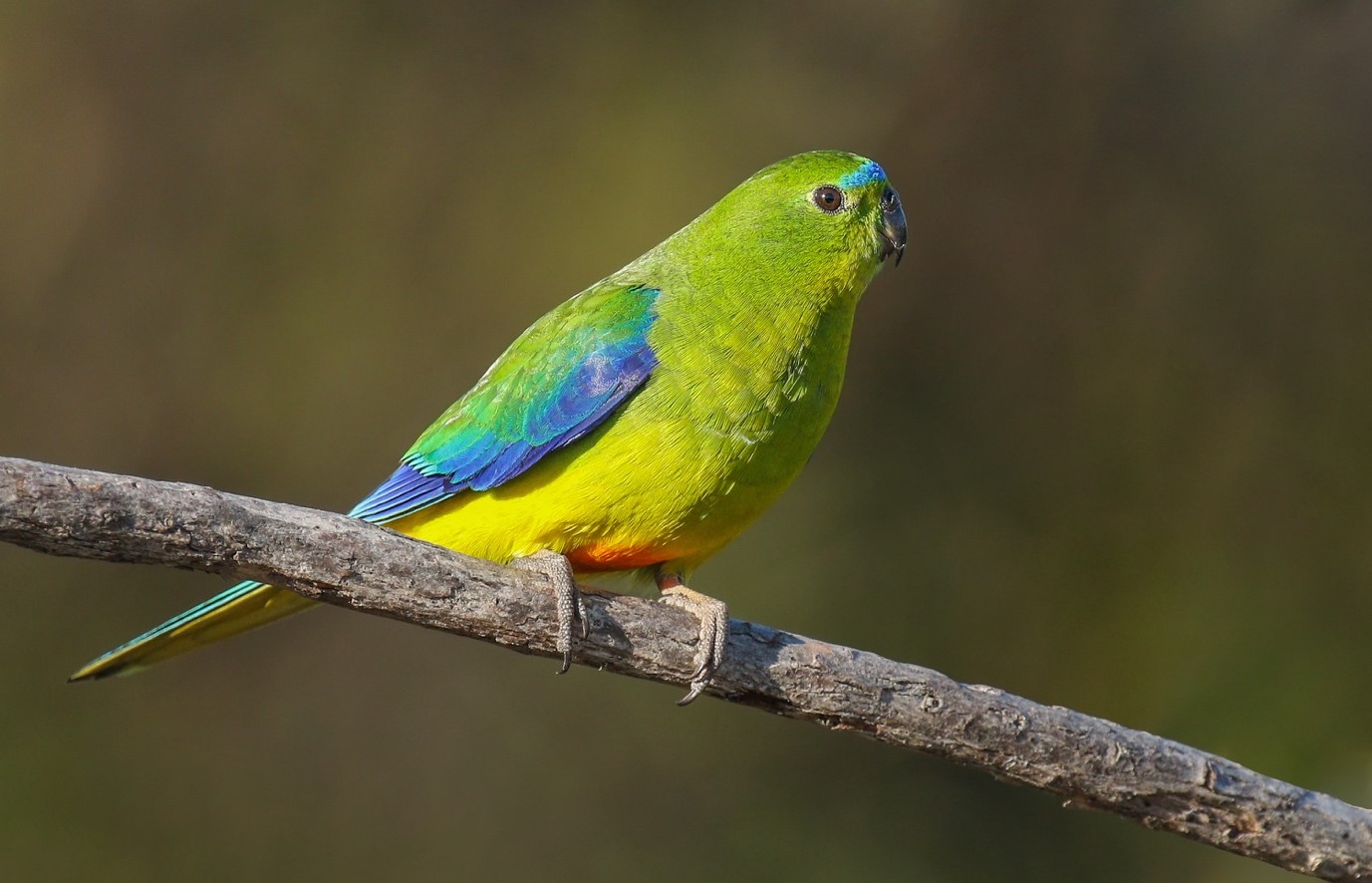 A male Orange-bellied Parrot at Melaleuca, Tasmania, in November 2017 (Alex Berryman).
During his explorations of South Australia in June 1839, John Gould found the birds "in abundance" between Port Adelaide and Holdfast Bay; the marshy ground he spoke of is now entirely concreted over as part of the urban sprawl of Adelaide city. The previous year, Gould also noted the birds as being in relative abundance on the Actaeon Islands (off south-east Tasmania), an observation mirrored by Legge in his visit to the island group in October-November 1886. By January 1923, Giblin failed to find the species there at all and breeding was never confirmed.
Despite their wintering grounds being degraded by clearing, grazing and the construction of salt works, flocks of up to 50 Orange-bellied Parrots continued to be seen into the 1960s and, in 1940, 40 immatures (mostly males) were found in an Adelaide market having been trapped by an Aboriginal. It was not until 1972 that birds were observed summering in south-western Tasmania and the species' breeding grounds were finally discovered. In 1979, monitoring at Melaleuca was established but, by this time, the population was estimated at a meagre 100-140 birds.
A conservation management plan was implemented in 1984, but the population continued to decline markedly in the 1990s and 2000s, and the species has now been listed as Critically Endangered for 20 years. It is among the rarest birds in the world and functionally extinct in the wild.
In the 2018-19 breeding season, just 15 wild-born (11 male and four female) birds survived the migration back to Melaleuca, alongside three captive-bred males and two captive-bred females. There have been reports of bizarre migration behaviour, while no recent successful nesting away from provided nestboxes has been recorded and birds are now reliant on supplementary feeding at Melaleuca. In addition to these problems, breeding habitat at Melaleuca has deteriorated with the decline of Aboriginal burning regimes since European colonisation. The moorlands on which they depend have since become old-growth to the detriment of their favoured food plants (which become at their most abundant around eight years after fire).
Content continues after advertisements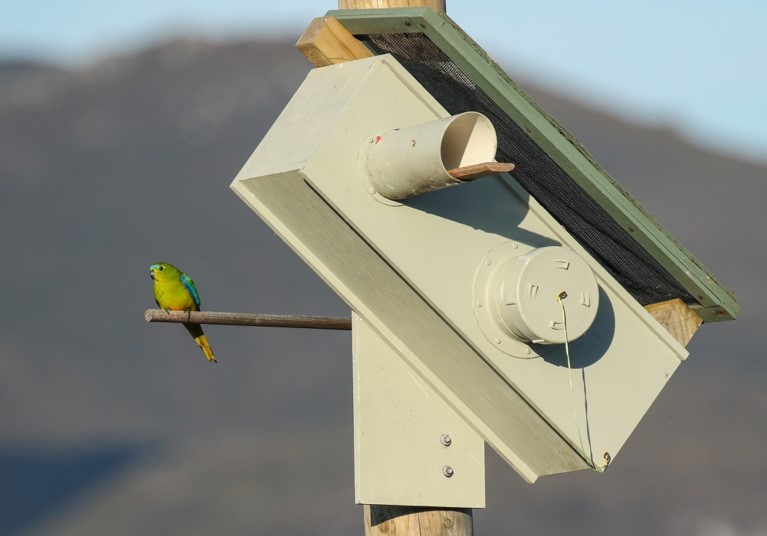 A male Orange-bellied Parrot perched on a specially designed nestbox at Melaleuca (Alex Berryman).
A captive population was established in 1986 but initial attempts at reintroduction and population supplementation were not successful. For example, 423 birds were released between 1999 and 2009 in an effort to establish a new subpopulation at Birch's Inlet but the population quickly died out. Birds have been released at Melaleuca since 2013 but the reproductive potential of these birds is low compared to wild birds (at a ratio of 0.8:3) and migration survival is poor – of 53 captive birds released in 2014 and 2015, just six survived the return journey to Melaleuca.
Birds are now also introduced at their wintering sites. In the 2018-19 season, annual survival of adults reached a historic low of just 53 per cent, while juveniles had an annual survival rate of just 17 per cent. It is inescapable that, as things stand, the species is no longer capable of persisting without direct management.

At the end of the 2017-18 breeding season, 15 wild-born juvenile birds (mostly females) were collected, held in captivity over the winter and re-released back to Melaleuca in late 2018, a process known as 'ranching'. This was repeated in early 2019, when 29 parrots were taken (consisting of 18 wild-born juveniles, four previously ranched wild-born adults, four previously ranched captive-bred birds and three captive-bred released birds from that season); these will be released later this year. Undoubtedly controversial – with the obvious risk of wild migratory behaviours being lost – the method, alongside others, is regarded as a last-ditch attempt to prevent the species' extinction in the wild.
Ecological burning was recently conducted near to the birds' breeding area at Melaleuca, and this will hopefully reduce future reliance on supplementary feeding. The 2018-19 breeding season was relatively successful, with 58 birds thought to have headed north (in addition to those ranched), among them 13 wild-born adults and 15 new releases; with annual survival so low, however, it is remains to be seen how many will return to Melaleuca in the coming months.
The phrase 'on the brink' has become all too prominent in conservation in recent years, but the success of this year's ranching programme and the 2019-20 breeding season as a whole are vital for this species' survival in the wild. Fingers crossed that it isn't already too late. If we can't save a species as striking and charismatic as Orange-bellied Parrot – one that resides in one of the wealthiest countries in the world – with 35 years of (if often ineffectual) conservation action dedicated to it, it's difficult to see how we can unfailingly save the hundreds of other species in urgent need of help.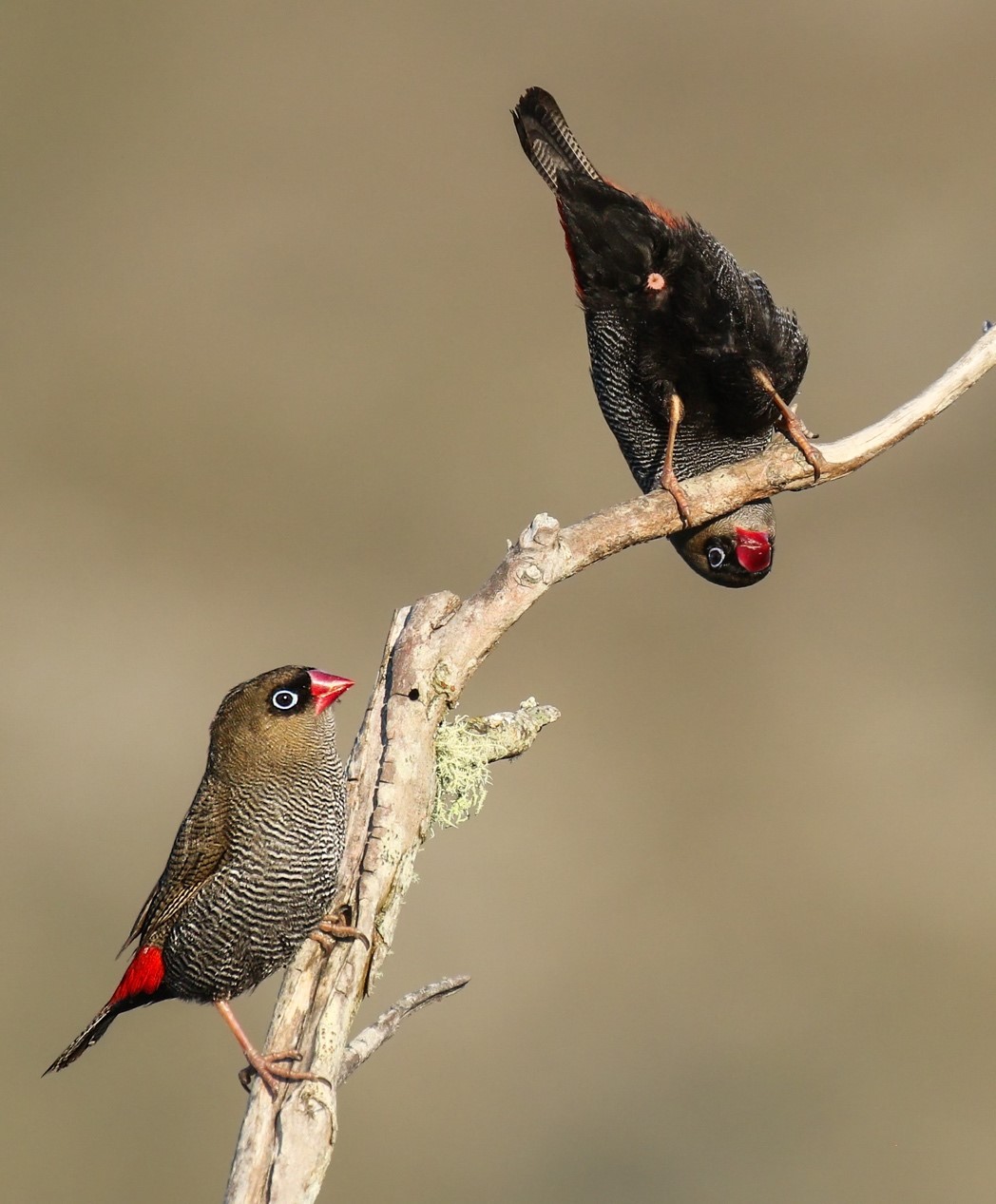 The stunning Beautiful Firetail – photographed here displaying – are one of many species that can be seen easily alongside Orange-bellied Parrots at Melaleuca (Alex Berryman).

How to see Orange-bellied Parrots
Though Orange-bellied Parrots can be seen on the mainland at the Western Treatment Plant, near Melbourne (permit needed) and adjacent areas of coastal saltmarsh during the winter, birds are much easier to see at Melaleuca. Indeed it is, depressingly, more than possible to see the majority of the world population there in a couple of hours!
Access is either via the South Coast track (a several-day hike and usually only advisable to do one way) or, most conveniently, flying with Par Avion from Hobart; note that the remoteness of the region means flights are often cancelled due to inclement weather. While the area can be visited in a day, to fully experience what the region has to offer, it is worth staying overnight in the walker's hut (which is free but requires you to bring own food and sleeping bag). From Hobart, a day-trip to Bruny Island can bag the rest of Tasmania's endemics with ease.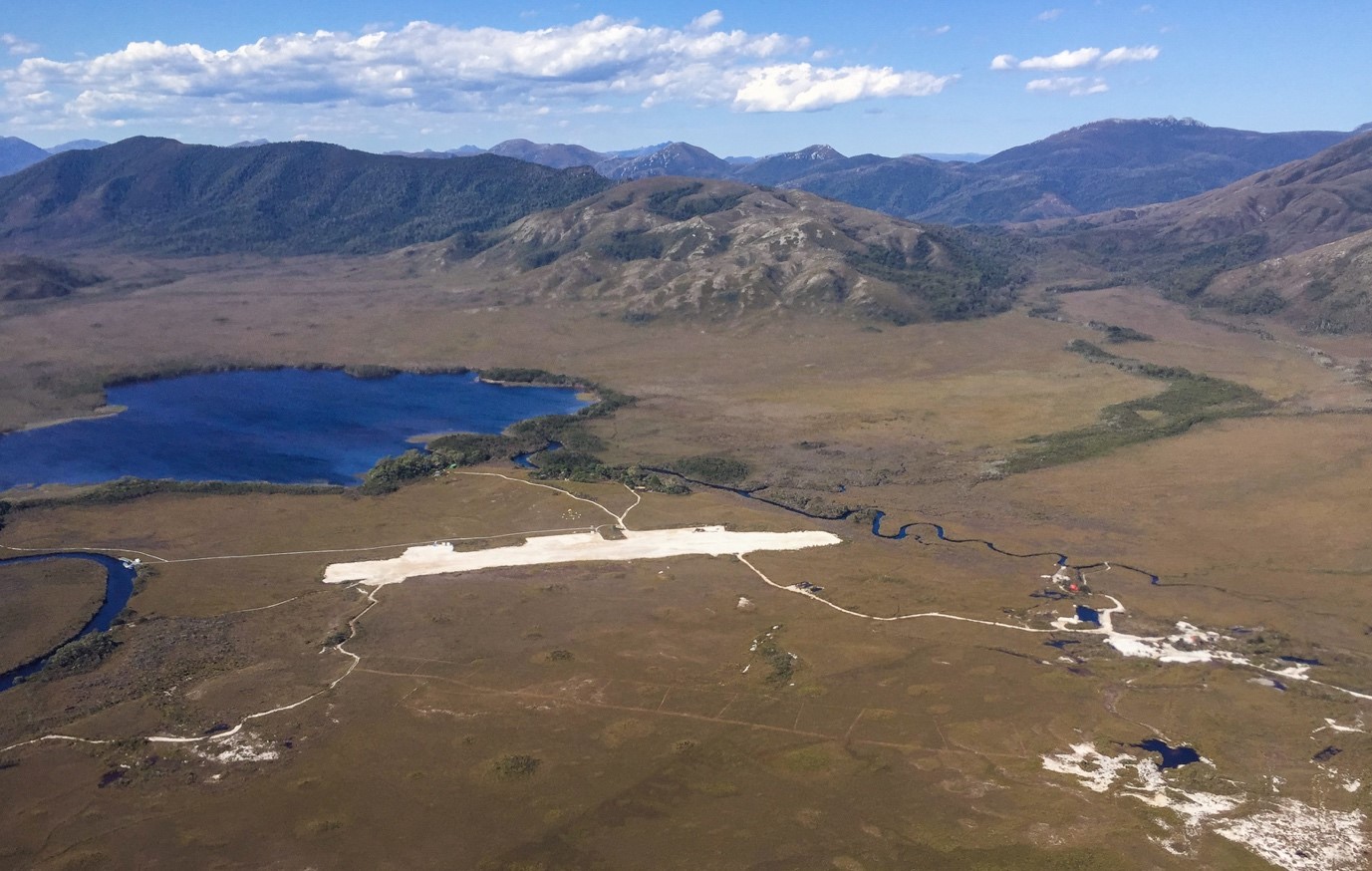 Melaleuca from the air; the gravel runway and tracks break up an otherwise near-continuous landscape of moorlands with scattered patches of woodland (Alex Berryman).

References
Brown, P B and Wilson, R I. 1980, 1981. A survey of the Orange-bellied Parrot Neophema chrysogaster in Tasmania, Victoria and South Australia. Reports for the World Wildlife Fund. Tasmanian NPWS.
Brown, P B & Wilson, R I. 1984. Orange-bellied Parrot Recovery Plan. Tasmanian NPWS.
Crates, R, Rayner, L, Stojanovic, D, Webb, M and Heinsohn, R. 2017. Undetected Allee effects in Australia's threatened birds: implications for conservation. Emu - Austral Ornithology 117(3): 207-221.
Giblin, W. W. 1924. Notes on a Visit to Greater Actaeon Island, South Tasmania. Emu, 24: 133.
Gould, J. 1848. The Birds of Australia, 5: 39, plate 39.
Legge, W V. 1887. Proceedings Royal Society of Tasmania, 1887 : 130.
Smales, I, Brown, P, Menkhorst, P, Holdsworth, M and Holz, P. 2000. Contribution of captive management of Orange-bellied Parrots Neophema chrysogaster to the recovery programme for the species in Australia. International Zoo Yearbook, 37: 171-178.
Stojanovic, D, Alves, F, Cook, H, Heinsohn, R, Peters, A, Rayner, L, Troy, S N and Webb, M H. 2017. Further knowledge and urgent action required to save Orange-bellied Parrots from extinction. Emu - Austral Ornithology. DOI: https://doi.org/10.1080/01584197.2017.1394165