What a fantastic year 2015 was for BirdGuides' Iris galleries, with another huge volume of outstanding material submitted. It was my first full year as Photo Editor, and I thoroughly enjoyed the challenge of browsing through so many submissions. I don't just use the 'Popular' button to see everyone's favourite and then choose from what others are viewing and 'liking' the most; I prefer to make up my own mind, so I view every single image — more than 27,000 of them last year — to make sure I don't miss that potential Photo of the Year!
The ultimate winner of this award is chosen from the 52 winners of Photo of the Week, all of which are automatically in contention for the coveted annual title. Deciding which one should be the ultimate winner was, as usual, a very tough task for the voting panel. I was joined by the returning four judges from last year: Dominic Mitchell, Managing Editor of BirdGuides; David Hosking from Frank Lane Picture Agency; US-based Alan Murphy; and leading Finnish photographer Jari Peltomäki.
All commented on the amazingly high standard of images they had to consider, and "This is more difficult than ever" was a familiar comment during the extended judging process. After a lot of deliberation and two rounds of voting, the final decisions were made, with the winner being an almost unanimous choice: four out of five judges chose it as their top image, while it was placed second by the remaining judge — so overall, a clear winner.
BirdGuides Photo of the Year 2015
Barn Owl by Roy Rimmer
Photographed in Greater Manchester on 3 August 2015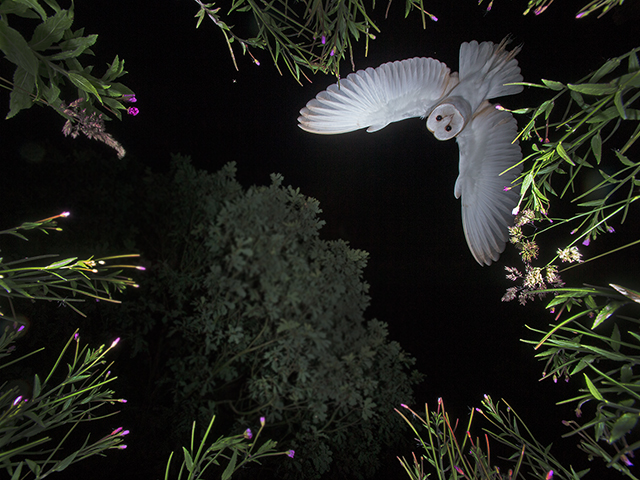 Roy Rimmer's stunning Barn Owl image really did amaze the judges: Alan Murphy described it as "a truly insane image", while Dominic Mitchell commented that it was "an incredible shot".
David Hosking comments: "In 1948 my father Eric took the first high-speed flash picture of a Barn Owl; people were amazed at the grace and beauty of this delightful owl recorded in flight for the first time and they wondered how such a picture could be taken.
The advent of digital photography combined with very quick autofocus has made the recording of most flying birds relatively easy, but what makes Roy Rimmer's image jump off the page is the 'mouse's-eye-view' of this graceful hunter.
Then the technical questions start. How do you attract the owl? How do you know where to focus? How do you light the subject? How do you stop the movement? How do you know when to fire the shutter? Roy is a talented photographer who understands his subject and, like Eric Hosking in 1948, leaves us wondering how he took this picture."
Content continues after advertisements
Runner-up
Hobby by Jack Barnes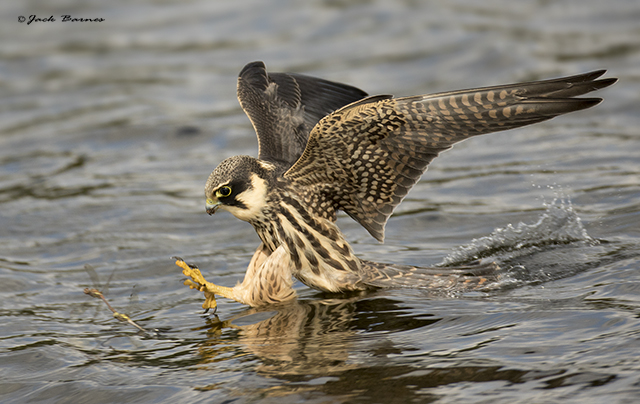 Alan Murphy comments: "Getting a sharp image of a Hobby flying is hard enough, let alone one skimming in the water after its prey, but Jack Barnes has managed just that.
The raised talons and the two dragonflies put this shot over the top; a truly one-of-a-kind image."
Third
Little Auks by John Anderson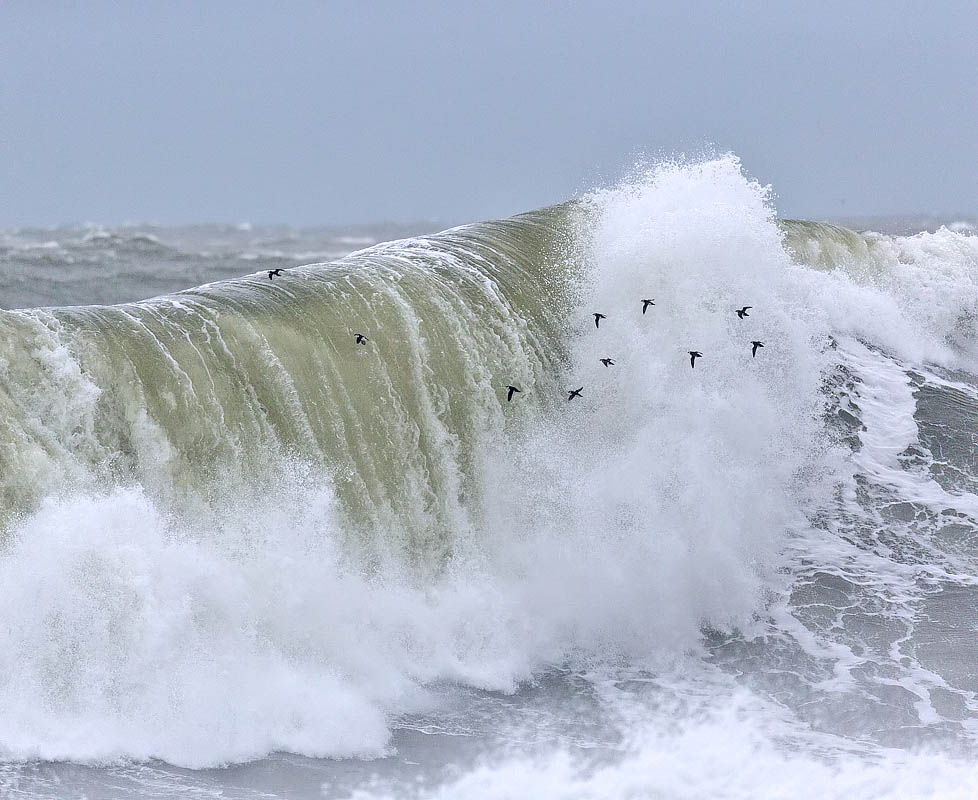 Dominic Mitchell comments: "Little Auks can be hard enough to see, never mind photograph well, and many images show exhausted or stranded individuals at close range in often atypical conditions. This powerful image is the polar opposite — full of drama and movement, it portrays the grim reality of what life must really be like for this hardy but diminutive alcid in horrendous winds and storm-tossed seas."
Fourth
Gannets by Gordon Speirs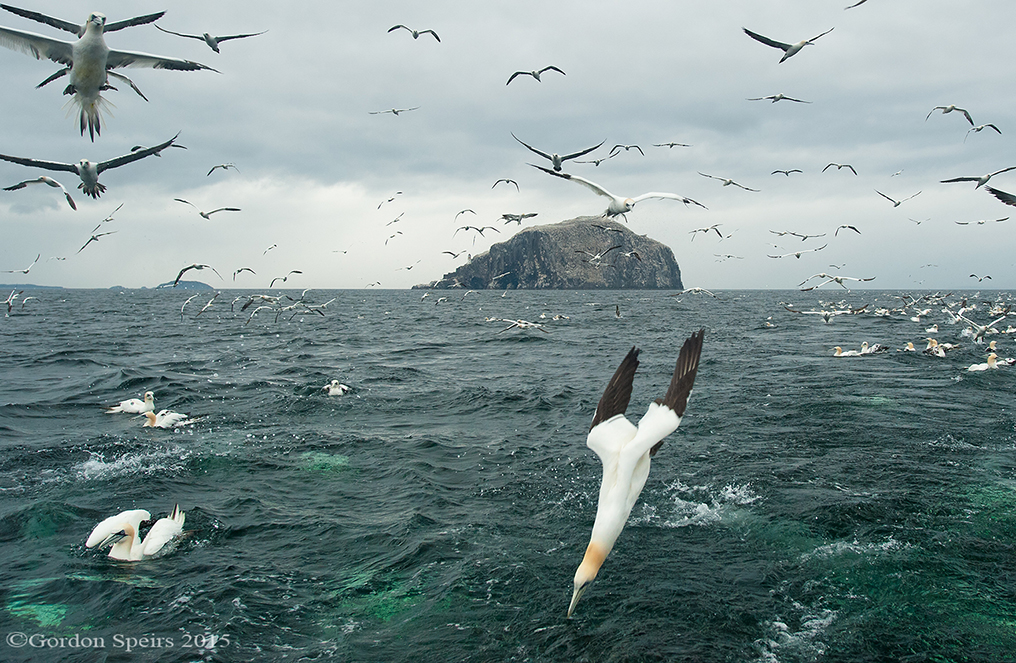 Steve Young comments: "We see many shots of Gannets on Iris, taken both from land and boats, but this is a very different type of image by Gordon Speirs and that was commented on by the judges.
The photographer has taken advantage of the situation, and his technical excellence combined with a bit of imagination shows what can be done in a situation that many people could find themselves in."
Fifth equal
Buzzard by Steve McGrath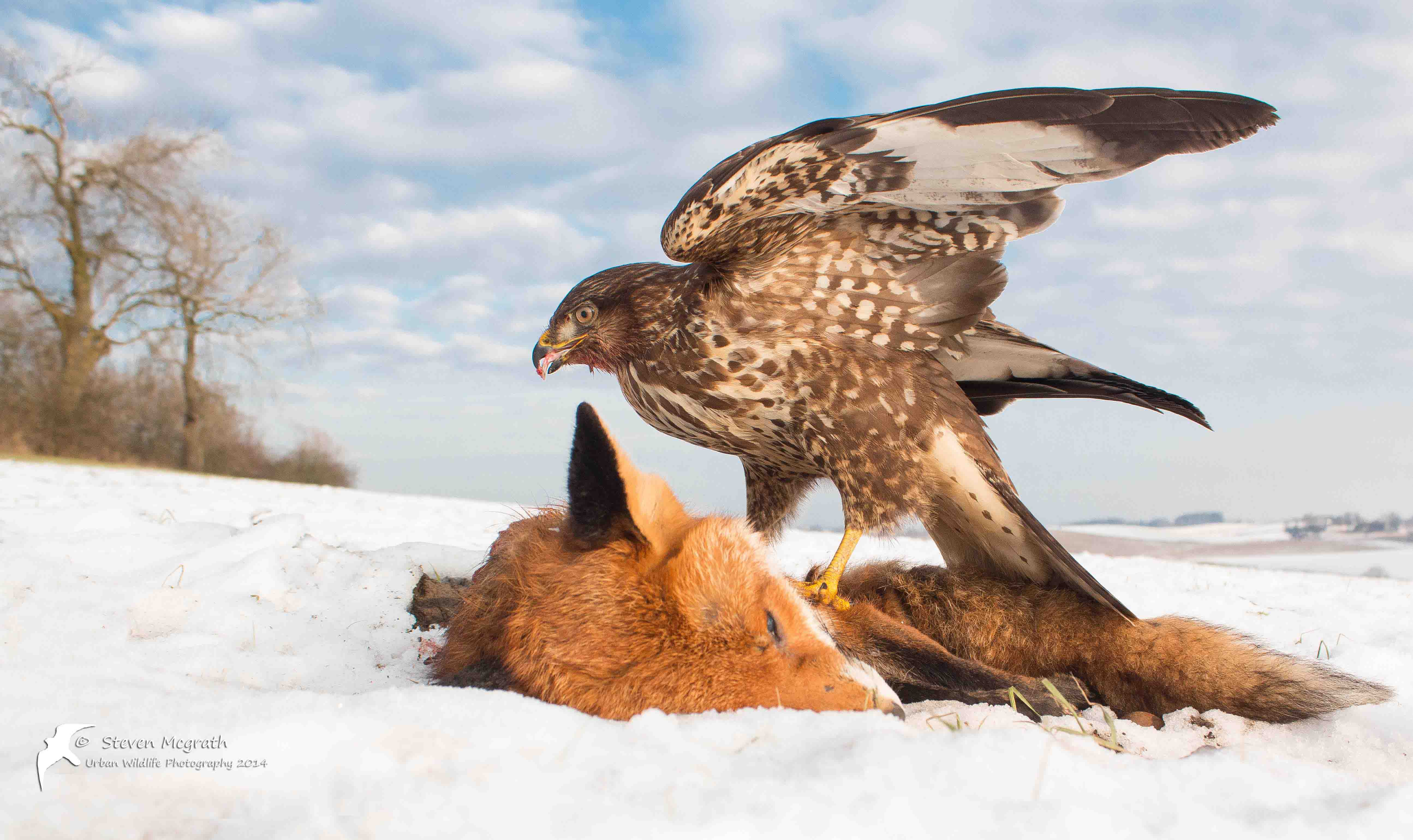 Steve Young comments: "Another wide-angle shot but one that must have taken quite a bit of planning by Steve McGrath, from baiting the area and patiently watching the Buzzard's routine to setting up the equipment and then finally taking the shot — it must have been a very rewarding experience to end up with such a superb final result.
Not all shots have to be taken with a mega-telephoto lens and a converter: great imagination, preparation and execution can also bring great results."
Fifth equal
Mute Swan by Chris Hawes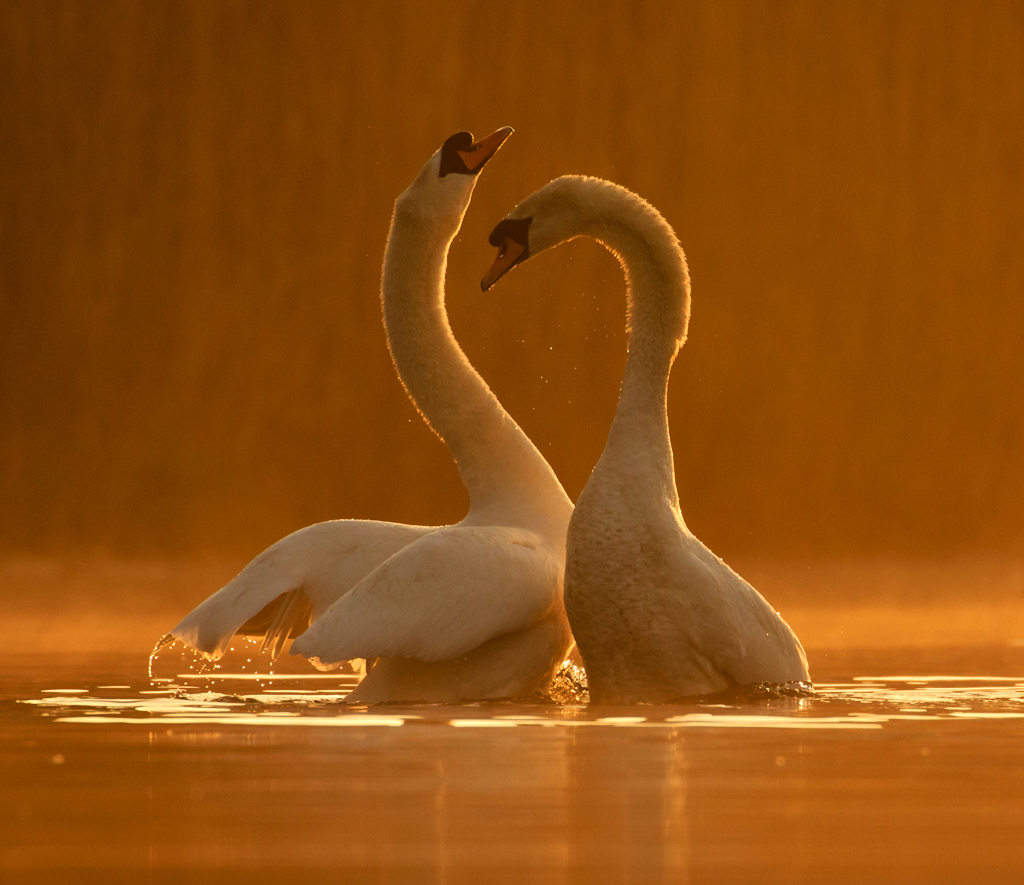 Jari Peltomaki comments: "The photographer was in the right place at the right time to take this lovely Mute Swan image. I loved this shot! Chris has chosen a low angle, which is always very effective in bird photos, and the dark and even-toned background is just right for this kind of image.
Golden light and backlit birds in a beautiful posture make a truly wonderful image, while the square framing works well in this case.
This is good example that shows it is possible to make an attractive image of a very common species."
Commended
The following photos also greatly impressed the judges, as did the standard of images generally throughout the year.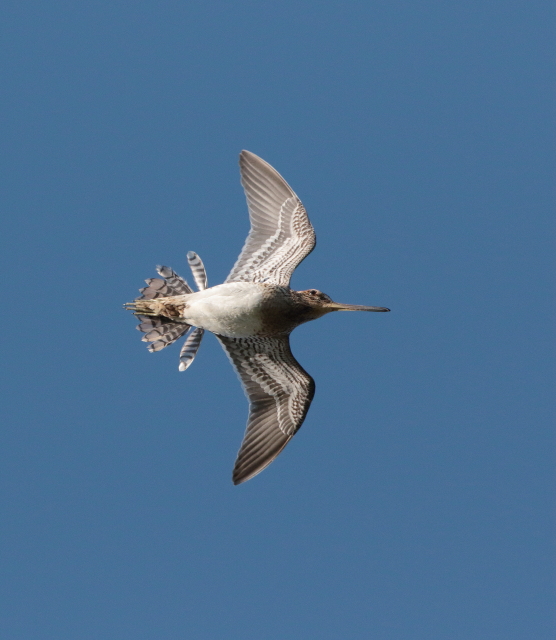 Common Snipe, Funzie, Fetlar, Shetland (Photo: Robbie Brookes)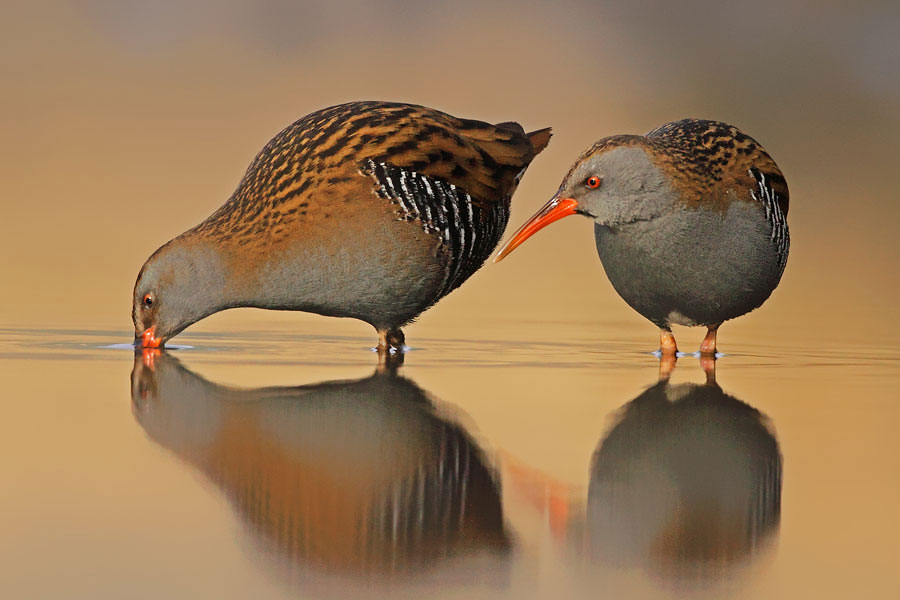 Water Rail, Kirkcudbright, Dumfries & Galloway (Photo: John Dickenson)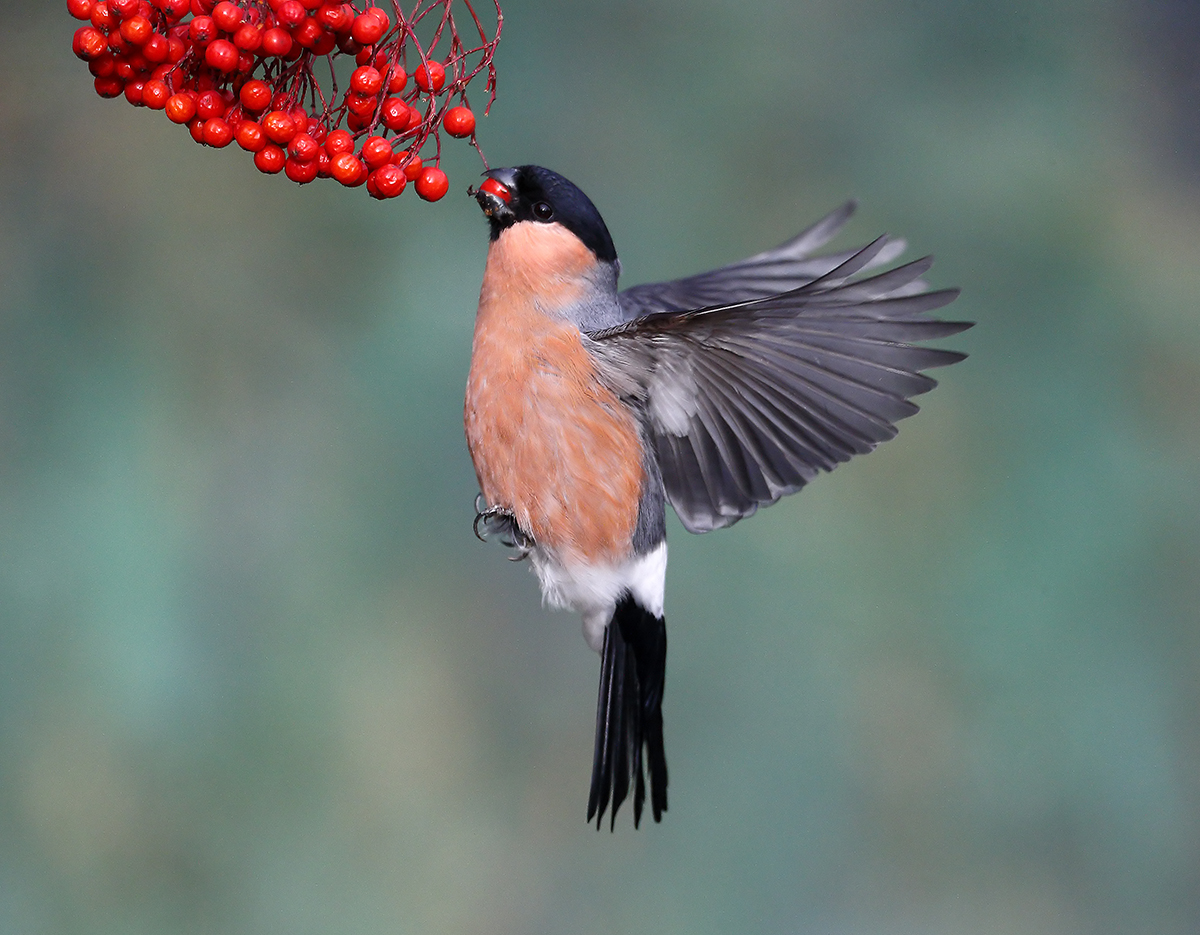 Bullfinch, Studley, Warwickshire (Photo: Mike Lane)

Blackbird, Woolacombe, Devon (Photo: Carl Bovis)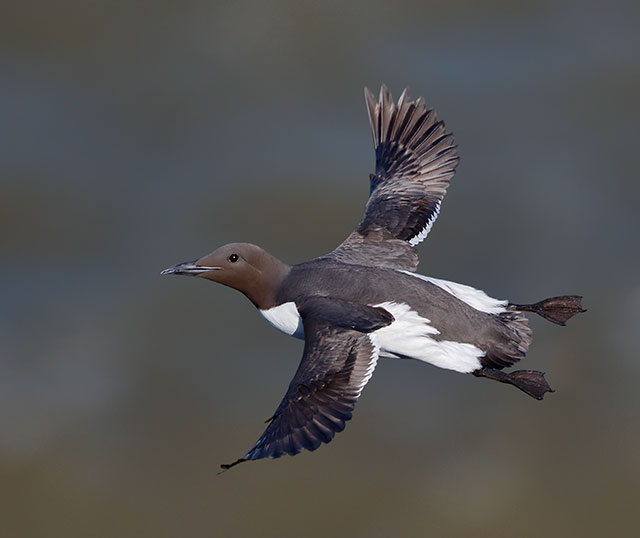 Guillemot, Bempton Cliffs RSPB, East Yorkshire (Photo: Nick Clayton)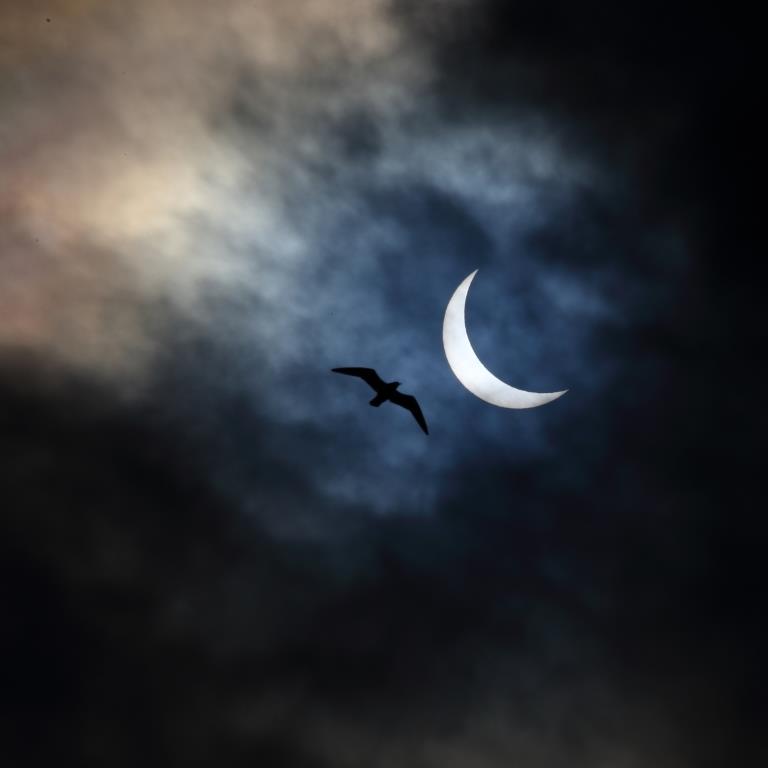 Herring Gull and solar eclipse, Newcastle upon Tyne, Northumberland (Photo: Heiko Peters)
My thanks once again to all the photographers for the images they submitted: without you all there would be no competition.
With so many photographs posted on Iris in 2015, it can be seen as an achievement to be awarded a 'Notable', let alone win Photo of the Week and then Photo of the Year. But as you can also see from this year's top images, the standard appears to be getting higher each year — let's see if the trend continues in 2016, so please keep those images coming in and good luck to everyone for the year ahead.
Judging panel
David Hosking
David is a Fellow of the Royal Photographic Society and has been an examiner on the RPS Associateship and Fellowship Assessment Nature Panel. He is also a Fellow and Vice President of the British Naturalists Association; founded in 1905, the BNA promotes the study of all branches of natural history. With his wife Jean he is a director of FLPA Ltd. Founded by Jean's father in the 1930s, it is the oldest picture agency specialising in natural history and has over half a million images on its website. His photographs have appeared in a vast range of magazines and books, including more than 20 which were the product of his happy and prolific partnership with his late father Eric Hosking OBE Hon FRPS. David's three most recent books in the HarperCollins Traveller's Guides series are Wildlife of East Africa, Wildlife of the Galapagos and Wildlife of Southern Africa. David is also chairman of the Eric Hosking Charitable Trust.
Dominic Mitchell
Having watched birds for more than four decades, Dominic Mitchell has travelled to all seven continents, and never without his cameras. A judge on previous photo contests organised in association with Kodak, Swarovski Optik and other companies, he is Managing Editor of BirdGuides and also Birdwatch, Britain's leading monthly magazine for keen birders, which he founded in 1992. Dominic also leads birdwatching tours and has written and edited a number of books on birds, including A Photographic Handbook of the Rare Birds of Britain and Europe, Where to Watch Birds in the London Area and A History of Birdwatching in 100 Objects. When not studying and photographing gulls in his home city of London, his travels regularly take him to Norfolk, the Azores in the mid-Atlantic, and the Neotropics.
Alan Murphy
Award-winning photographer Alan Murphy grew up in England and is an avid birder. Having emigrated to the United States, he picked up a camera and began pursuing his vision of how birds should be photographed. He has developed a style that is very recognisable, with stunning portraits of birds on beautiful perches. Now a full-time professional bird photographer, he is in demand as a speaker at festivals, conferences and photography clubs around the nation. Alan is the author of bird photography instructional ebooks and videos which have helped thousands of photographers take better images. He also teaches his techniques through highly successful in-the-field workshops with small groups. When not photographing birds, he is busy submitting images to a wide range of magazines, with published credits including National Geographic, Birder's World, Wildbird, Birding and many more.
Jari Peltomäki
Jari is director of Finnature, Finland's leading wildlife tour operator, and a professional wildlife photographer living in Liminka, Finland. He has been taking photographs for more than 37 years, turning professional around 15 years ago. Bird photography is his passion and his main subjects of interest are owls — he is known as the 'owlman' of Finland — though his photo library includes other wildlife as well, taken both in Finland and abroad. His work is used worldwide and he has co-published several books about birds and photography. His images are regularly featured in international competitions including Wildlife Photographer of the Year, for which he was also on the final judging panel for the 2012 competition. Jari has been a Nikon ambassador since 2012. See more at www.jaripeltomaki.com and www.birdphoto.fi.
Steve Young
One of the UK's best-known bird photographers, Steve Young writes a monthly column for Outdoor Photography magazine and is Photo Consultant for Birdwatch magazine. His work has illustrated countless magazines and books, and he was the overall winner of the British Wildlife Photographer Awards in 2010 with a stunning image of a Herring Gull in breaking waves. Based in Liverpool, his favourite subjects include two local seasonal specialities, Little Gull and Leach's Storm-petrel, while his favourite rarity is the enigmatic Ross's Gull, of which he has seen no fewer than 15 in the UK. His work can be viewed at www.birdsonfilm.com.