As ever, we continue to be delighted and amazed at the numbers and quality of photos uploaded to Iris. 2011 saw us break the 4000 "species" barrier (the usual caveats about larid sp. and Aythya sp. apply!). Here is the now traditional and astonishing graph: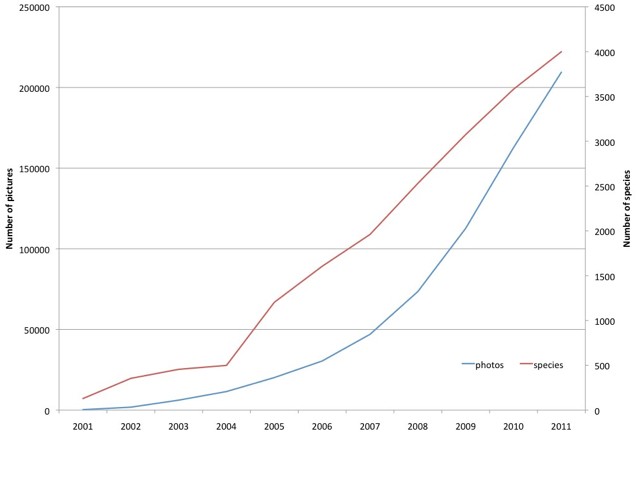 Cumulative number of photos and species approved per year.
The photos we have accumulated over the years now total 212,836, covering an amazing 4056 species and forms, and the associated 685,953 files take up a whopping 64GB on our servers.
Winter 2011 lacked the popular Waxwing invasion of the previous winter, and consequently we saw a welcome change at the top of the "most popular species to photograph" charts. The pink punks were usurped by the more enigmatic and entirely trickier-to-catch-up-with Short-eared Owl.
Although the cold snowy winters of 2009/10 and 2010/11 may have seemed to be detrimental to wildlife, they provided perfect conditions for lemmings in northern Europe — the lying snow forms a surprisingly insulated blanket below which the rodents live through the winter months. The consequence of two winters with lying snow was two years of higher-than-average lemming survival rates leading to a two "lemming years"; as a result, the 2011 breeding season was a productive period for many species of owl. October 13th 2011 saw a remarkable 50 Short-eared Owls come in-off the sea at Titchwell, Norfolk.
2011's favourite species were (with number of uploads):
Short-eared Owl (666)
Waxwing (575)
Northern Wheatear (486)
Common Kingfisher (484)
Common Kestrel (468)
Snow Bunting (456)
Grey Heron (451)
Blue Tit (417)
Sparrowhawk (397)
Great Crested Grebe (386)
Our usual top county (Norfolk) was also pushed into second place, but that crown didn't have far to travel to neighbouring Suffolk.
Suffolk (3073)
Norfolk (3065)
Lincolnshire (1769)
Northumberland (1591)
Lancashire (1427)
Staffordshire (1084)
East Yorkshire (1072)
Essex (1029)
Clyde (999)
Hampshire (934)
The Judges
Julian Hughes
Julian is warden at the RSPB's popular Conwy nature reserve in North Wales, returning to his homeland a few years ago after 18 years in East Anglia. Julian has been a keen birder since the age of 16. Although a decent rarity will still occasionally deprive him of sleep through excessive caffeine consumption, most of his birding is now done in North Wales, both at Conwy and along the coastal headlands such as the Little Orme and Great Orme. He's enjoying getting into unbirded bits of the countryside through BTO Atlas surveys, and is a Council member of the Welsh Ornithological Society.
Mike Toms
Mike Toms has worked for the BTO since 1994. A keen amateur when it comes to photography, he mostly works with macro subjects, thus avoiding the problematic decision of which to take out birding: telescope or SLR and 400mm lens? Married to an artist, he has a strong interest in design and composition, and appreciates photographers who take time to plan and compose such stunning images as those appearing in BirdGuides' growing gallery.
Mike Atkinson
Mike's twin passions for birds and photography have been with him since his teen years. The advent of digital photography has finally enabled him to combine these passions to create a rich collection of images covering over 200 British species, over 1400 of which are featured on his website. His images have appeared in a wide range of publications, both in print and in electronic media. Since suggesting the initiation of the Photo of the Year contest in 2006, Mike has acted as Photo Editor for BirdGuides, encouraging the development of bird photography through the Reviews of the Week and other activities. Having learnt the art and craft of bird photography the hard way, Mike now enjoys passing on his knowledge to others through tutorial articles, workshops and one-to-one training.
Winner of BirdGuides Photo of the Year 2011
Red-footed Falcon taken by Kevin du Rose on 22nd June 2011.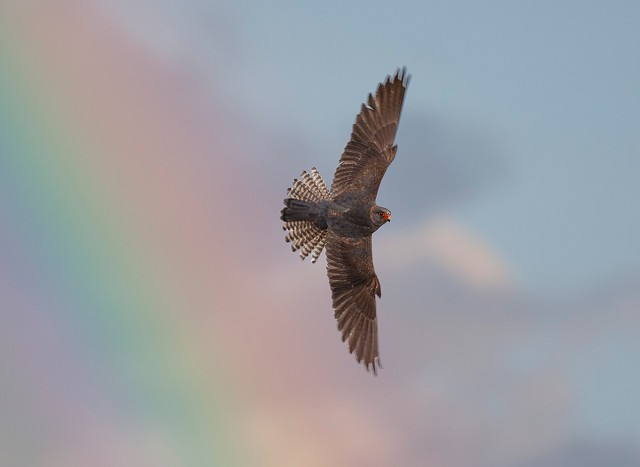 Red-footed Falcon, Horsey, Norfolk (Photo: Kevin Du Rose)
The judges' comments included:
MA: "A stunning first-summer male Red-footed Falcon that spent a couple of weeks at Horsey in Norfolk in June gave several photographers the chance to catch up with a species not often encountered in the UK. Although this bird spent much of its time sitting on a fence post, bird photographer Kevin Du Rose managed to bag a varied portfolio of portrait and flight shots. Persevering through what many would regard as 'unfavourable' weather for bird photography, Kevin showed that showery conditions are an opportunity to capture atmospheric images. Our pick of these is a superb banking flight shot of the falcon flying in front of a rainbow. Who would have thought we'd have seen such an image of this scarce bird at the point when the first reports and photos started coming in? Kevin showed that a classic 'record shot' situation can be turned into a chance to shine."
JH: "Good wildlife photography can capture what the eye doesn't see and the brain can't process quickly enough. I just wish I'd managed to see what Kevin has photographed here. A smart first-summer bird would be good enough for most, but this shows the shape of every flight feather, including the barred outer tail, fanned as the bird banks over Horsey. The primary tips may be slightly out of focus, but this simply accentuates that this is a bird moving at speed. Against a grey sky, this would be a good picture, but the background rainbow complements the splash of deep red at the base of the falcon's bill. Magic!"
MT: "This flight shot of a Red-footed Falcon underlines how unexpected opportunities can sometimes present themselves. While this might be considered a 'record' shot, the atmospheric feel created by the presence of the rainbow make for something more dramatic. As the falcon banks sharply, we are presented with the bird, wings and tail spread, turning towards us."
Kevin said:
"I was trying to obtain flight shots of this bird which chose to spend some time only 15 minutes from my home. I spent an evening dodging torrential showers trying to photograph the bird.
I weathered a really heavy downpour under a brolly, as the bird was about a mile from the nearest shelter. Following the downpour an intense rainbow appeared against the storm clouds. The bird became active hawking moths, eventually hunting in a position where I thought it might fly in front of the rainbow.
I watched the bird as it came in line with the rainbow; by a sheer stroke of luck it swooped towards an insect and as I picked it up in the camera viewfinder it banked round directly in front of the rainbow. I clicked the shutter and immediately reviewed the shot on the back of the camera. It looked sharp but this was only confirmed on arriving home and getting the shot up on my computer."
Equipment
Canon EOS–1D Mark II camera
Canon 400 f/5.6 lens
Settings
ISO 400
Shutter Speed 1/500 second
Aperture f/5.6
Runners-up

Northern Waterthrush, St. Mary's, Isles of Scilly (Photo: Richard Stonier)
MA: "Every autumn, hordes of birders head to the Isles of Scilly off the southwest tip of England to catch up with the reliable influx of exciting vagrants. Over recent years, birders who are unable to experience the 'Scilly season' first hand have become accustomed to vicariously enjoying the photos taken by those who make the pilgrimage. Originally, those photos were a mixed bag of record shots but, nowadays, they have developed into a superb supply of images that would make even casual birders drool. Behind this evolution lie a few bird photographers who don't just expect their avian subjects to 'speak for themselves': they strive to create excellent all-round images. A perfect example is the collection of photos of over twenty species, mostly in the scarce, rare and mega categories, taken by Richard Stonier on his autumn 2011 trip. Our pick of the set is Richard's top-notch portrait of the mega-rare Northern Waterthrush in a natural aquatic setting. As well as great pose, lighting, sharpness and colours, a clear reflection finishes off an outstanding composition."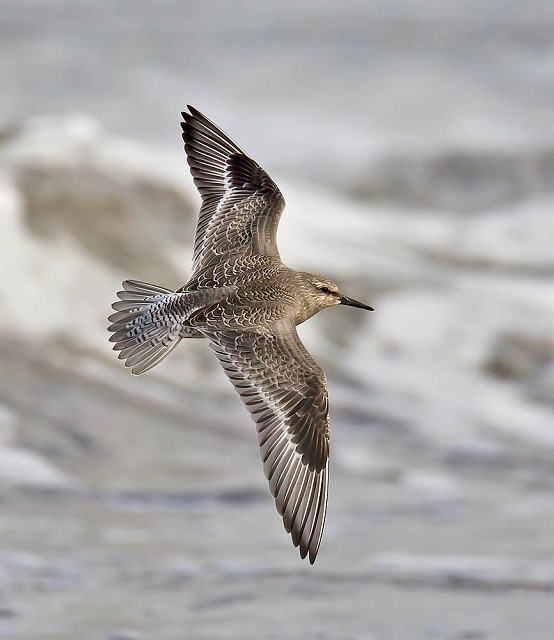 Knot, Balcomie, Fife (Photo: John Anderson)
JH: "It's too easy to overlook the grey waders on the beach, especially the juveniles. Identify it, and move on. But John clearly watches the Knots on his Fife coast, and knows the bird well. I selected this as runner-up simply because it's a classy image: the shades of brown, grey and white produced by nature against a rolling wave. Just take a moment to look closely at its perfection..."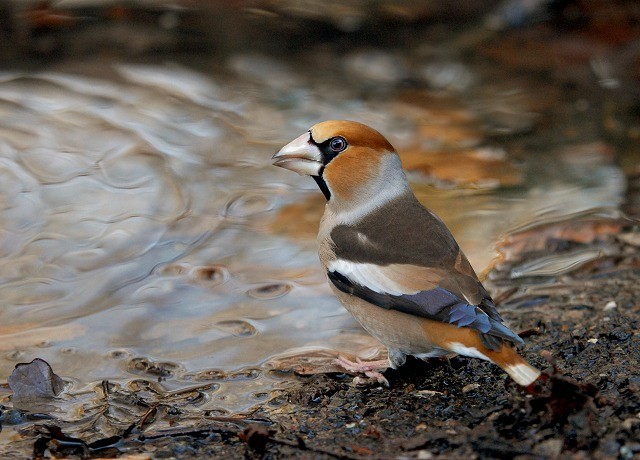 Hawfinch, undisclosed site, Shropshire (Photo: John Robinson)
MT: "The Hawfinch is one of those special birds that deliver on many different levels. John's photograph reveals the Hawfinch to be a stunning bird, with beautiful plumage tones and a piercing gaze that draws your eye to that monster bill. The beauty of its appearance is enhanced by the bird's rather secretive nature and unassuming habits, something that underlines the photographer's patience and skill. John notes that he has had this shot in mind for 50 years and, for me, it was well worth the wait. The colour tones of the finch's plumage are mirrored in the tones of the background: look at the pale chestnut in the water and the purple overtones to the wet foreground, and the composition puts that eye centre stage. The planning and eye for detail that went into getting this shot deserve special credit."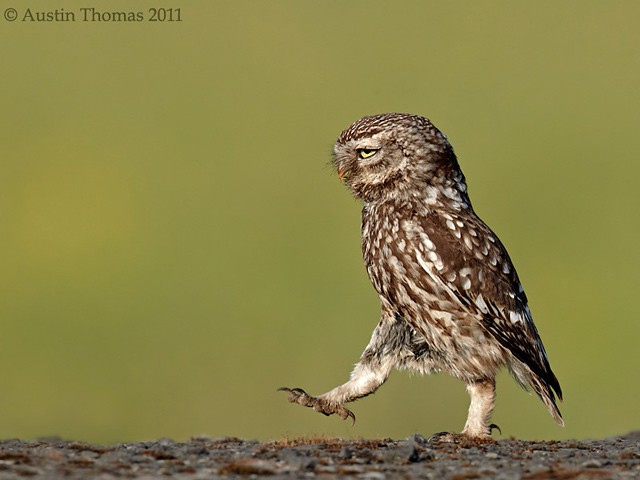 Little Owl, undisclosed site, Lancashire (Photo: Austin Thomas)
MA: "Austin Thomas' humorous image of a Little Owl striding out is the type of photo that leaves you thinking "How did he get that shot?" It's easy to dismiss such results as 'lucky shots', but that's very rarely the case. In fact, readers of Austin's blog were able to follow the whole process behind this image as he described each step in his project to photograph his local owls. Through successive posts, Austin shared details of his attempts to become accepted by the birds, to get better lighting, perches, backgrounds, and so on, even down to making sure the sun was low enough in the sky to get light into the birds' eyes. Photographers are often asked how long it took to get a particular shot. Some will even joke "Around a thousandth of a second", but Austin helps us to appreciate that it can be the result of weeks of concerted effort, not to mention years of developing the required skills."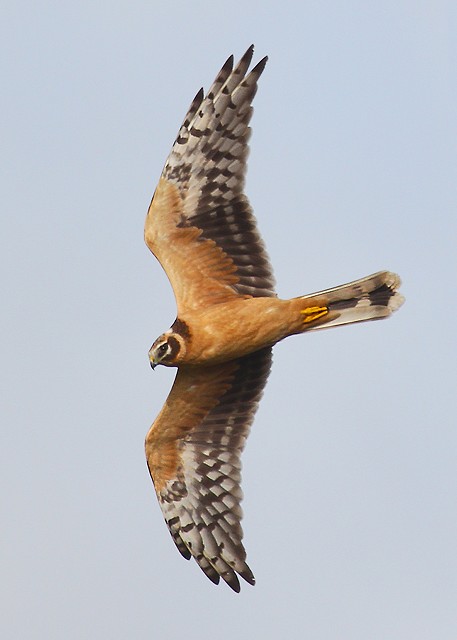 Pallid Harrier, Bogside Flats & Racecourse, Ayrshire (Photo: Chas Moonie)
JH: "Chas describes himself as 'lucky' to get this picture, but surely every POTW involves a degree of luck? In a year when we almost began to believe that Pallid Harriers are regular visitors to our shores, this picture will, I'm sure, be gracing the pages of the local bird report. It's a great image of a harrier, and this captures all the key identification features of Pallid that will ease the record's journey through the BBRC. The peachy warmth of its underparts against a cool blue sky makes for a worthy runner-up."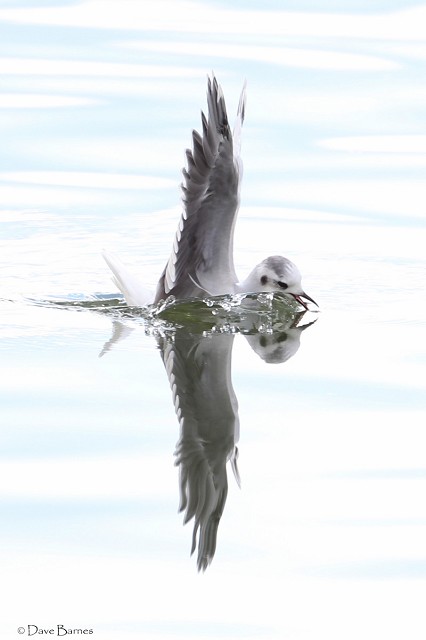 Little Gull, Gailey Reservoirs, Staffordshire (Photo: Dave Barnes)
MT: "This photograph is all about the moment, the bird distorted in a stripped-down image that borders on being a monochrome print. This is bird photography as art rather than reportage, something that can be used to increase engagement with the natural world. You sense that this photograph would engage in a way that a standard portrait shot would not, particularly for a wider audience for whom a gull is a gull is a gull. The Little Gull is a surface feeder, often feeding in a tern-like fashion from the wing, but it will also feed from the surface, occasionally with head or body submerged. Dave's photograph captures the moment when this bird breaks the surface, the reflection of the wing in the mirror-calm water hinting at the action going on below the surface."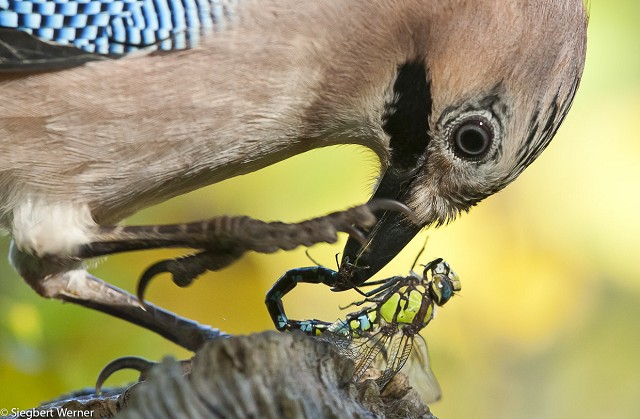 Jay with Southern Hawker, Germany (Photo: Siegbert Werner)
MA: "German bird photographer Siegbert Werner has a talent for creating images that are different enough to stand out from the crowd. His image of a Jay preparing to devour a dragonfly is no exception. Taking advantage of the sluggishness of dragonflies in the early morning chill, this Jay found itself an easy meal. With perfect timing, Siegbert froze the action with the pin-sharp 'faces' of both creatures only millimetres apart and a compelling 'eye-line' connecting predator and prey. The current trend in bird photography is towards more 'environmental' images illustrating birds in their natural settings, but Siegbert shows that, for some situations, there's no substitute for a tight, close-up crop to give the image real impact."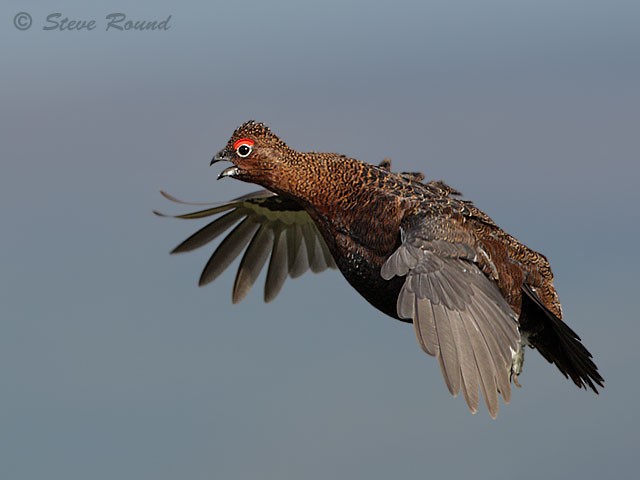 Red Grouse, undisclosed site, North Yorkshire (Photo: Steve Round)
JH: "Regular Iris viewers will know how prolific and expert Steve Round's photographs are. I selected this one as a runner-up because it made me think how many times I've seen this pose from a Red Grouse. And despite spending plenty of time on moorland, I never have. I'm sure Steve must have worked hard for this picture, because Red Grouse either sit tight or explode in a whirr of wings away from you (perhaps because they're normally pursued by fragments of lead?). As a result, you might miss the subtle brown- and black-patterned plumage, the alert crest and the perfect scarlet comb above the eye. But Steve didn't."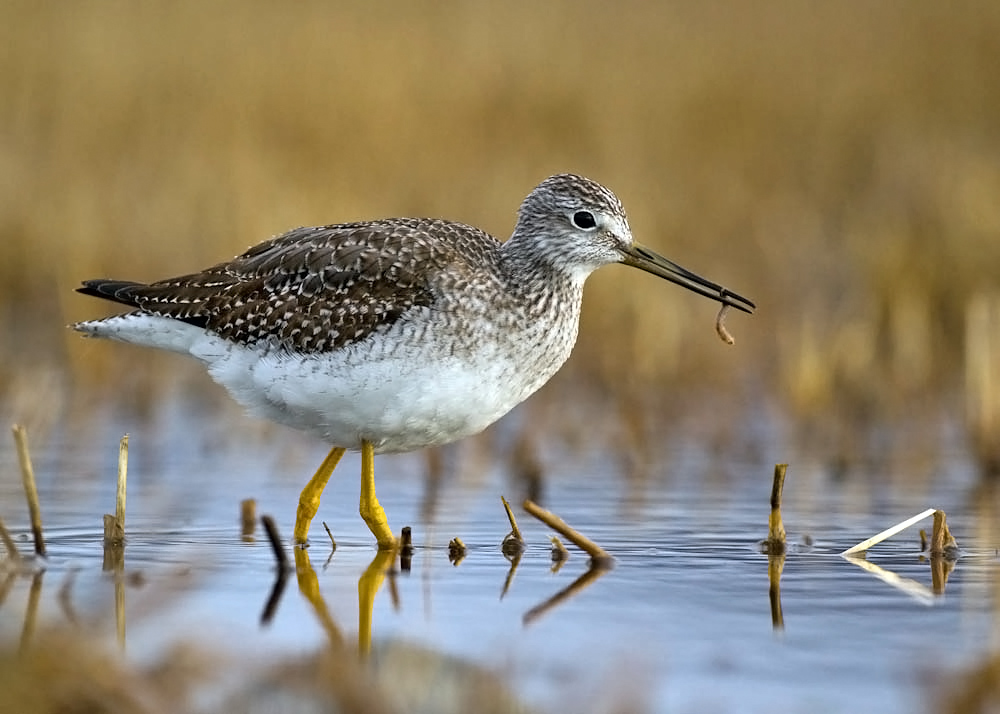 Greater Yellowlegs, Loch Fleet, Highland (Photo: Marcus Conway — ebirder)
MT: "The low angle and soft Highland tones make this a great portrait shot. The fact that the bird is a Greater Yellowlegs is, in many ways, immaterial — but what a bird! Again, this is a shot that underlines the importance of patience: Marcus hung on after others had left to take up an uncomfortable position in the puddle so he could get a low-level shot as the bird came towards him. While you cannot get a sense of the structural size of the bird from this picture, this is the sort of shot that allows you to take in the more subtle details that deliver the identification: the barred flanks and lower breast and the two-toned bill, for example."
All the runners-up are treated to a year's free Iris Pro membership.
Finally a big thank you to everyone who submitted pictures to BirdGuides during 2011, and congratulations to all of those who made Picture of the Week and the "notable" section of the weekly reviews. We love looking at all the photos that arrive; do keep them coming.