Before you scroll down to the winner, we thought we would share some statistics to throw a little light on exactly what an achievement it is to be listed amongst the "notable" photos each week, let alone to be awarded Photo of the Week or make it to the illustrious few that we see below.
As ever, the number, quality and range of photos people uploaded to iris was astounding. During the course of 2009 we accepted 39387 photos (it was 26772 in 2008 and 16786 in 2007) of 1888 species! Every possible aspect of bird photography seems to have been represented: record shots of mega-rarities, portrait photos of more familiar species, some really inventive techniques showing birds in unfamiliar lights, bird-within-landscape photos, and action shots of birds interacting with their surroundings and other species. There's always something exquisite to look at, a shot that makes you chuckle or a photo that makes you think: "I never realised they did that!"
Some species make more popular subjects than others. 2009's favourite species were (with number of uploads):
Common Kingfisher (507)
Barn Owl (485)
Little Egret (477)
Waxwing (470)
Grey Heron (431)
Common Kestrel (394)
Robin (372)
Gannet (361)
Mute Swan (350)
Black-tailed Godwit (330)
This year the judges' deliberations were rather protracted — but a unanimous decision was eventually reached as to their favourite from the photos in contention. The very good people at Stealth Wildlife have donated some of their excellent clothing and beanbags to the winner and top runners-up as well as nominating a special junior prize. The winner will also receive a year's free membership of the BTO, and a goody-bag from the BTO catalogue, and finally all of the photographers mentioned will be treated to a free subscription to Iris Pro.
The Judges
Content continues after advertisements
Graham Appleton
Graham is the new Director of Communications for the BTO, having previously been the Head of Fundraising & Publicity. He is always on the lookout for pictures that tell a story, especially ones that capture jizz or illustrate behaviour. Graham has been a regular contributor to BBC radio natural history programmes during 2008 and wrote a daily diary about the arrival of birds in Iceland during the spring for the World on the Move website. Graham has been a BTO surveyor and ringer for nearly forty years; these days most of his birding is focused on Bird Atlas 2007–11 and on looking for colour-ringed Black-tailed Godwits, in Iceland and the UK.
Julian Hughes
Julian is warden at the RSPB's popular Conwy nature reserve in North Wales, returning to his homeland this year after 18 years in East Anglia. Julian has been a keen birder since the age of 16. Although a decent rarity will still occasionally deprive him of sleep through excessive caffeine consumption, most of his birding is now done in North Wales, both at Conwy and along the coastal headlands such as the Little Orme and Great Orme. He's enjoying getting into unbirded bits of the countryside through BTO Atlas surveys, and is a Council member of the Welsh Ornithological Society.
Mike Atkinson
Mike's twin passions for birds and photography have been with him since his teen years. The advent of digital photography has finally enabled him to combine these passions to create a rich collection of images covering over 200 British species, over 1000 of which are featured on his website. His images have appeared in a wide range of publications, both in print and in electronic media. Since suggesting the initiation of the Photo of the Year contest in 2006, Mike has acted as Photo Editor for BirdGuides, encouraging the development of bird photography through the Reviews of the Week and other activities. Having learnt the art and craft of bird photography the hard way, Mike now enjoys passing on his knowledge to others through tutorial articles, workshops and one-to-one training.
Winner of BirdGuides Photo of the Year 2009
Fighting Pheasants taken by Richard Bedford on 5th April

Pheasant, Cley Marshes NWT, Norfolk (Photo: Richard Bedford)
The judges' comments included:
MA: "Territorial battles between cock Pheasants in springtime can be quite vicious, with fast and furious action that most bird photographers would struggle to follow. For accomplished action photographer Richard Bedford, though, capturing the essence of such events is second nature. In his winning image, the ferocity of the fight is conveyed by the extreme poses of the birds, with wings and claws outstretched and one bird upside down in mid-air, eyes closed to protect against attack. As well as being pin-sharp and perfectly exposed, there is enough foreground and background detail to provide a sense of place, making you feel you're in the midst of the action. Strong diagonals and a tight crop complete the dynamic composition of this outstanding image."
JH: "It might seem odd to select an introduced gamebird as this year's winner, but BirdGuides' POTY is all about capturing a moment in the life of a bird. Richard's shot exceeds this by capturing the momentary ferocity in the life of two males. This isn't a photo he could plan for; it meant being quick on the draw, familiar with his gear and understanding what makes a dramatic composition."
GA: "For me, there is a wonderful richness to this picture; the warm — almost bejewelled — colours of the birds are brought to life by the cold late-winter light on the water's-edge backdrop. The intensity is highlighted by the eye contact between the two birds and the composition of the image. To get all this into a pin-sharp photograph takes a lot of skill and a little luck. The picture would make an interesting and challenging jigsaw."
Richard said:
"I found myself alone for the day in Norfolk, which is rare as I usually spend my time there with friends and other visiting bird photographers. It was quiet at Cley and as I headed to the hides for the afternoon I was not expecting any terrific photo opportunities.
I noticed that two male Pheasants were eye-balling each other from some distance across the open water of the pool in front of Avocet Hide...this went on for some time, each bird gradually and meaningfully stepping closer to the other. I thought confrontation was likely, although after 20 minutes there was a stand-off. Therefore, I moved next door to Dawke's Hide, which was completely devoid of birders and photographers. As I sat down, hide slats still closed, I heard a loud commotion; I immediately realized that the two Pheasants must have finally kicked off. I slowly lifted a slat, and to my joy the birds were going for it right in front me. I pulled off my 500mm prime lens and 1.4x tele-converter with great excitement and put on my 300mm f4 prime lens. The birds were so close I could not get them all in the frame for much of the time while they battled together...such a moment, so close!
Many thanks to BirdGuides for giving me this award, I will treasure it always. Thanks also to my many fellow amateur bird photographers, too many to mention, for their friendship and their equally great images posted here over the years. A great community here, for sure.
Equipment
Camera — Canon EOS–1D Mark II.
Lens — Canon 300mm IS USM f4 prime
Handheld
Settings
Aperture Priority f5.6.
ISO 500.
Shutter speed 1/2500th.
Single point selection in high-speed shooting mode.
Richard wins a Stealth Wildlife photographer's suit, a premier double bean-bag, T-shirt and bobble hat; as well as BTO goodies and a year's membership.
Runners-up

Short-eared Owl, Dunbar, Lothian (Photo: James Wood)
MA: "Some images are exceptional not because of a single compelling element, but because all of their components combine to create a whole that is greater than the sum of the parts. James Wood's portrait of a Short-eared Owl perched on a fence post in Scotland is one such image. A beautiful specimen of a bird in classic pose; a typical setting with natural backdrop; warm, low-altitude sunlight giving even illumination; sharp, engaging eyes with catch-lights and, last but by no means least, perfect colour-complementarity throughout. The overall combination has such harmony that you just don't want to look away."

Puffin, Farne Islands, Northumberland (Photo: Kevin Du Rose)
JH: "In some ways, this is a classic shot, but it doesn't take away from the technique or patience in getting it. The symmetry and focus are near-perfect; the bright orange legs, the airbraking feet, fish-filled bill and the monocolour plumage do the rest. If Kevin was James Cameron, this Puffin would be out of the screen and in your lap."

Common Kestrel, Tenbury Wells, Worcestershire (Photo: Mark Hancox)
GA: "I appreciate pictures that tell stories, which is certainly the case here. To some extent it's Mark's commentary accompanying the shot that makes it. How does the Kestrel get from position A — following the Barn Owl — to position B — successfully flying off with another mouse? I really like the way that the light is caught through the flight feathers and the movement captured in the wing beats."
The top three runners-up win Stealth Wildlife premier double bean bag, a Stealth Wildlife T-shirt and baseball cap.

Greater Spotted Eagle, Qatar (Photo: Dileep Kumar)
MA: "Images featuring birds and their reflections always have particular appeal, especially when the reflection is sharp and distinct. To capture such shots, experienced bird photographers head to locations with shallow water on still days, especially first thing in the morning when the light is soft and the water is at its calmest. This was the approach used by Dileep Kumar when he visited the Abu Nakhla lagoons in Qatar. Most reflection shots feature waders, wildfowl or other aquatic birds, but Dileep was treated to something special when the lagoon received a rare visit by a Greater Spotted Eagle. Capturing this stunning raptor and its reflection in a uniform setting in golden light, then making the most of his shot with good subject placement in a square crop, Dileep has created an aesthetic and memorable image."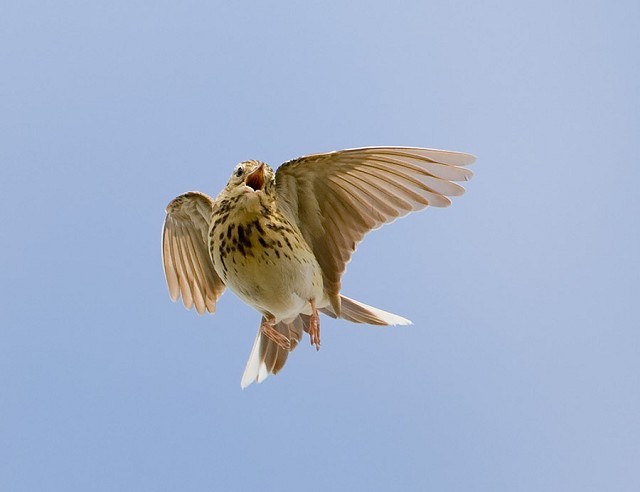 Tree Pipit, Laughton, Lincolnshire (Photo: Graham Catley)
JH: "I have to congratulate Graham for even thinking to take this shot. It's a small brown passerine, with less obvious charisma than some of the other finalists. The image conveys perfectly what Tree Pipits do best in those few weeks of territorial display, and so many wouldn't have tried. I can't remember seeing an aerial Tree Pipit photo as good as this."

Reed Warbler, undisclosed site, Lancashire (Photo: Tom Charles)
GA: "I feel privileged to have trained as a bird ringer, when at school, giving me intimate moments to study birds in detail. Tom has taken the same sort of opportunity, showing us all how a Reed Warbler walks down a reed to take a drink of water. The exact moment when the bill breaks into the mirror of the water has been captured, just before the beak scoops up a measure of water, all the time defying gravity."

Pheasant, Summer Leys LNR, Northamptonshire (Photo: John Betts)
MA: "Light levels in winter in the UK can be so low that some bird photographers just give up and put their gear away until spring. John Betts reminds us what an opportunity they're missing with his superb shot of a flying Pheasant in golden December sunlight. John has frozen the bird in a dramatic alighting pose, perfectly lit and with great eye contact. Beyond its aesthetic value, John's image demonstrates how bird photos can spark important debates, in this case prompting numerous comments about the pros and cons of the game shooting industry. Although most people would appreciate that this is not a clear-cut situation, perhaps we can never reconcile the fact that an image that makes some people appreciate the beauty of nature has others reaching for a shotgun." [Click through to the original image to read the debate.]

Gannet, Ortac, Alderney (Photo: Paul Hillion)
JH: "Anyone who has been on the sea among a flock of plunge-diving Gannets will know why I chose Paul Hillion's photo as a runner-up. A wide-angle lens captures the busyness of the airspace when there's a shoal near the surface, while the rich, powerful blues grabbed my attention. I'm there, on the boat, with the sun on my back."

Lesser Spotted Woodpecker, undisclosed site, Cambridgeshire (Photo: Garth Peacock)
GA: "I have a soft spot for Lesser-spots and this is their time of year. Clear winter light and the texture of the bark set off the delicacy of the bird's features. The bird may look static but that's all part of the 'you cannot see me' defence system. This is a really hard bird to photograph away from a nest site and I am most impressed that Garth has managed to capture the essence of this vanishing woodland specialist."
Junior Prize
Stealth Wildlife have asked us to award a special junior prize this year. We've been receiving some excellent photos from our younger contributors.
Neill Carden of Stealth Wildlife commented: "Stealth Wildlife award a prize to junior photographer Jack Bucknall. Jack has been consistently adding photographs to BirdGuides over the last year and has been improving with every image. Most 14-year-olds might not consider birdwatching and wildlife photography as a hobby, but we realise that juniors are the future birdwatchers and wildlife photographers. Well done Jack, and keep up the good work!".

Jack Bucknall
Jack wins a Stealth Wildlife premier double bean bag, a Stealth Wildlife bobble hat, and a pair of 10 x 50 classic binoculars.
Finally a big thank you to everyone who submitted pictures to BirdGuides during 2009, and congratulations to all of those who made Picture of the Week and the "notable" section of the weekly reviews. We love looking at all the photos that arrive; do keep them coming.