"More Honey Buzzards in a day than pass Falsterbo in a season": a staggering claim but such is the calibre of raptor watching at Batumi. Located in the southwest of Georgia, the area acts as a bottleneck for many species migrating south through the region in autumn — the Black Sea to the west and the Caucasus mountains to the east funnel birds into a narrow coastal flyway that pushes them over the town of Batumi. Peak species day-counts include 90,000 Honey Buzzards, 80,000 Steppe Buzzards, 10,000 Black Kites, close to 3,000 Pallid/Montagu's Harriers, over 500 Aquila eagles (mostly Lesser Spotted with smaller numbers of Steppe, Greater Spotted and Imperial), 500 Booted Eagles, 100 Red-footed Falcons, 500 Rollers, 800 Sparrowhawks, 500 Levant Sparrowhawks, 450 Marsh Harriers...and that's not to mention the thousands of Bee-eaters, Black Storks, Ospreys, and the occasional Oriental Honey Buzzard. Total number of raptors passing the watchpoints in a single day can push 100,000 individuals when conditions are right.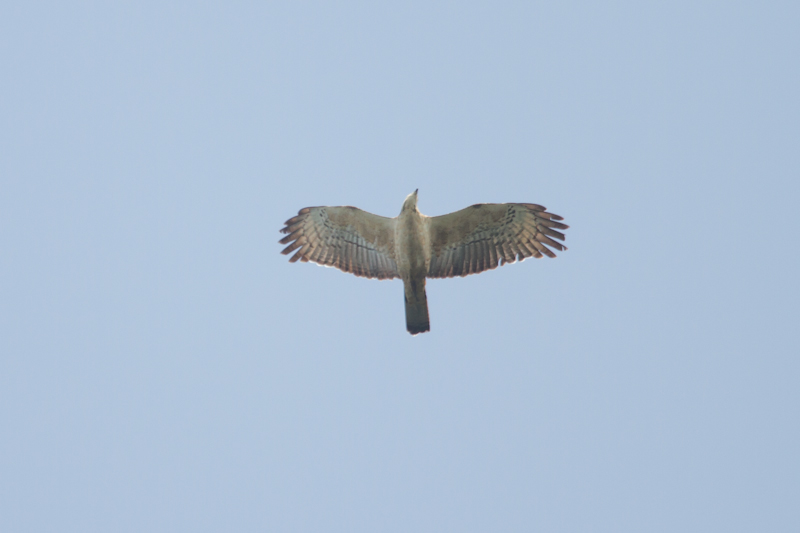 Oriental Honey Buzzard, Georgia (Photo: Jan Baert)
Every year for the last four years, a team of volunteers has spent the autumn manning watchpoints on top of two high peaks north of Batumi. Their reason for being there is twofold: little was known about how many raptors passed through this region before the Batumi Raptor Count (BRC) started; and sadly, like many countries in the region, there is a local culture of hunting that adds to the pressure the migrating raptors already face on their long journey south. These two points are interlinked, since one of BRC's aims is to look into the effects of hunting pressure on the raptor population passing through western Georgia; but BRC is taking a proactive approach, too.
Unlike in countries such as Malta and Cyprus, the hunting community co-operates with BRC and its volunteers — which is great, because it means BRC can work directly with hunters and assess the numbers and species that they're shooting. Some hunters undoubtedly hunt for fun, but the majority of what is shot appears to end up on the table — be that the family's dining table or to feed the captive Sparrowhawks that many hunters keep; the Sparrowhawks are used to hunt Quail and Corncrake, which then go to feed the family. Without condoning their hunting, it's easy to appreciate that, with years of hunting culture and no education to point out the wrongs of their ways, the residents of Batumi can be forgiven for not understanding the impact they were potentially having on the raptor populations. Indeed, they were unaware that the area acted as a bottleneck: as far as they were concerned, this spectacular (and productive) phenomenon was happening across the region and their activities would not change this. That is now beginning to change thanks to education programmes being provided by BRC in Batumi's schools and universities. Residents are also beginning to realise that there may be more valuable ways to exploit the raptor passage, namely ecotourism.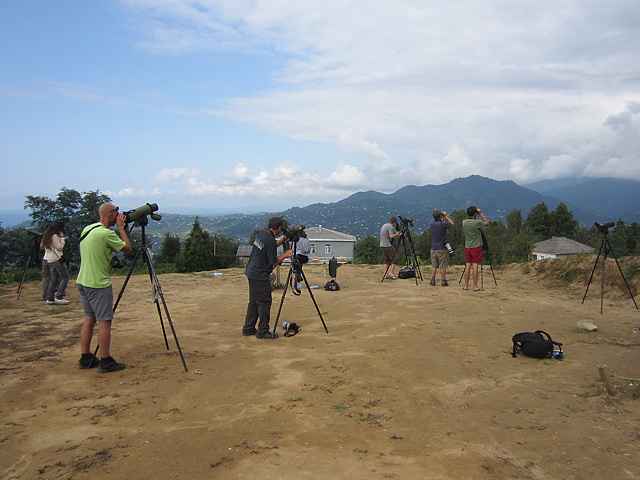 Raptor count station (Photo: Stephen Menzie).
In September 2011 I became one of these ecotourists as I spent just over a week at Batumi. Much of my time there was spent ringing, in an attempt to increase the knowledge of passerines and other small migrants passing through the area to complement the work being done by the raptor counters. Our time in Batumi was, by Batumi standards, extremely quiet. Clear skies and little wind meant that migrants had little need to stop. Nevertheless, we were still lucky enough to catch and ring a considerable number of interesting species: Booted Warbler, Eastern Olivaceous Warbler, Levant Sparrowhawk, Red-breasted Flycatcher and Steppe Grey Shrike. Thrush Nightingales, Red-backed Shrikes and Marsh Warblers were staple species.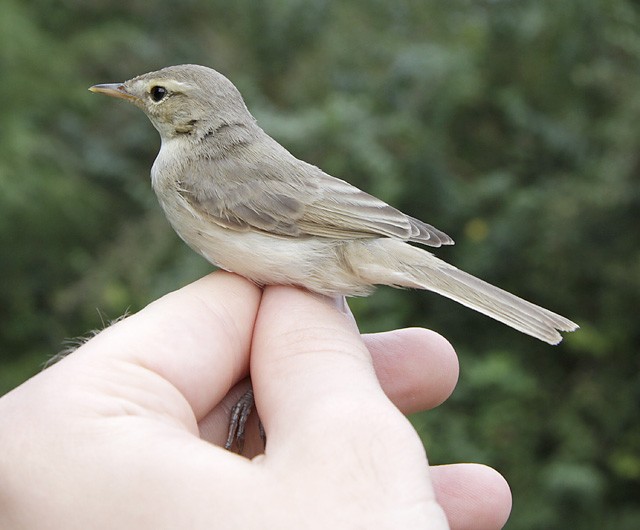 Booted Warbler, Georgia (Photo: Stephen Menzie).
Krüper's Nuthatch bred five minutes' walk from the ringing site, and Yellow-legged, Caspian and Armenian Gulls could be found on the adjacent beach, as could migrant Isabelline Wheatears, Ortolan Buntings, Eastern Stonechats and Yellow Wagtails of assorted breeds. An afternoon trip to the nearby Chorokhi delta added Terek and Broad-billed Sandpiper, Temminck's Stint, Citrine Wagtail and other assorted waterbirds to our list. But it was the raptors from the watchpoint that were, perhaps not surprisingly, the stars of our visit to Batumi.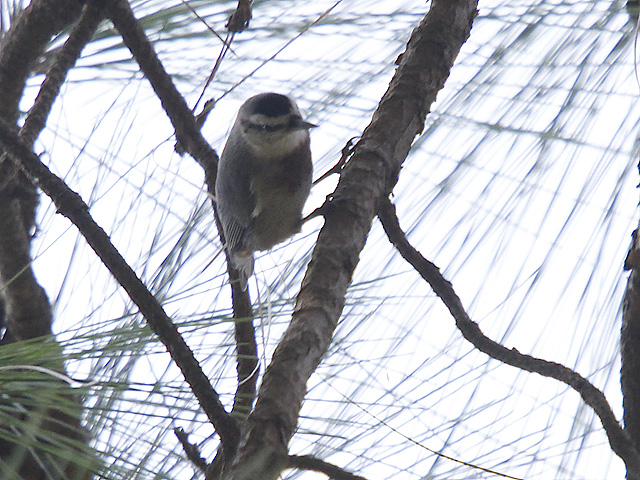 Krüper's Nuthatch, Georgia (Photo: Stephen Menzie)
Raptor passage at the ringing site was limited — a handful of Marsh Harriers and Honey Buzzards, the odd Pallid Harrier, a sprinkling of both sparrowhawks — but we could see in the distance a near-continuous stream of raptors pouring over the hills where we knew the raptor counts were taking place. We closed the nets early and headed inland. On arrival at Sakhalvasho, the village in which we were staying and where one of the raptor count sites was based, we were greeted by thousands of Black Kites and even more Honey Buzzards thermalling above the valley and drifting south over the village — a truly remarkable spectacle. We called in to the house where we were stopping to grab our scopes and head up to the watchpoint at the top of the hill, but, before we'd had chance to leave the house, the family had prepared a meal and the table was laid ready for us to eat. The hospitality in Georgia is on a level I've never experienced before. This was no problem for us, though; the family knew why we were there and had moved the table and chairs onto the garage roof, a perfect raptor-watching viewpoint overlooking the valley. And so we simultaneously tucked into lunch and got to grips with Aquila identification.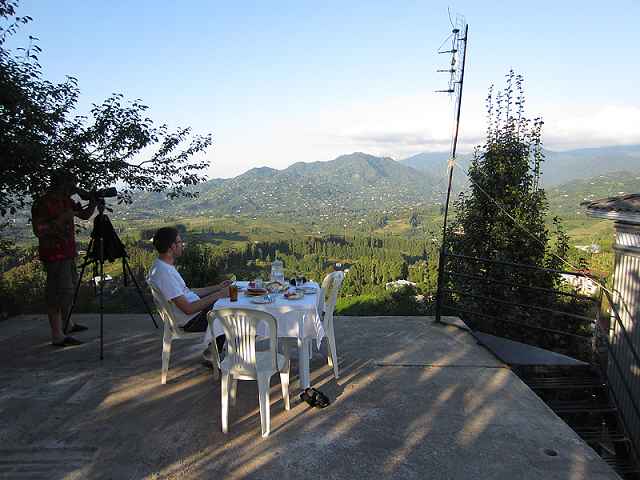 Raptor watching — Batumi style! (Photo: Ross Crates).

Steppe Eagle, Georgia (Photo: Stephen Menzie)
Lesser Spotted Eagles were the commonest that day, with smaller numbers of Steppe Eagles. Booted Eagles, too, gave some stunning close fly-bys. Honey Buzzards and Black Kites predominated. At the second raptor watch the next day, a short drive away, it was Steppe Buzzards that were the dominant species.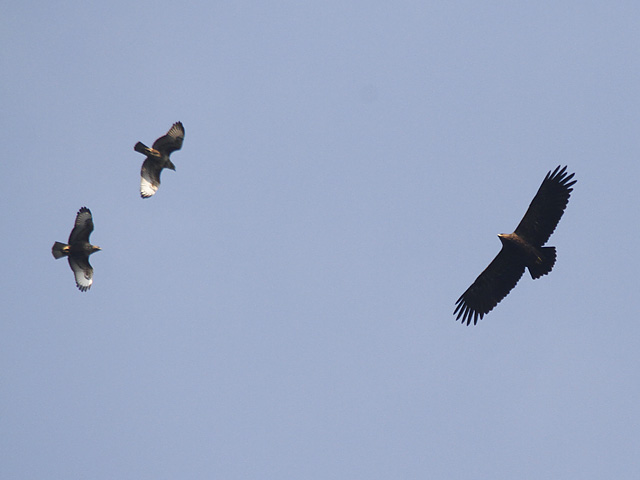 Lesser Spotted Eagle, Georgia (Photo: Stephen Menzie)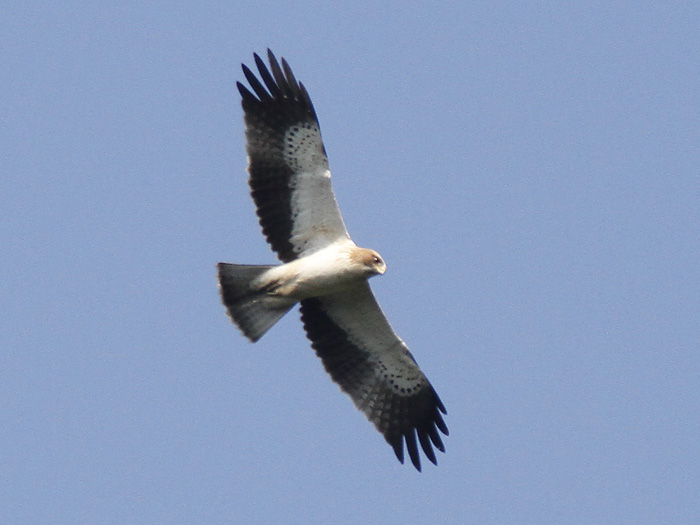 Booted Eagle, Georgia (Photo: Stephen Menzie)
It's easy to overuse superlatives in situations like this, but the number of raptors and the range of species really was breath-taking, awesome, magical, and so on! Accessing this spectacle is perhaps easier than you might imagine. Batumi international airport, with regular flights from Istanbul, is just a short taxi ride away from the raptor watchpoints. In 2012, BRC is celebrating its 5th year and there are several ways you can be involved: as a counter, as an ecotourist, or by attending the first Batumi Bird Festival. If you're interested in visiting Batumi or taking part in the raptor counting, details can be found on the Batumi Raptor Count website.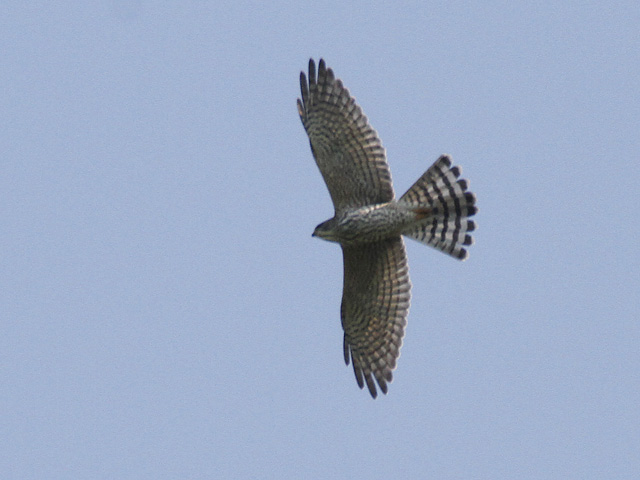 Levant Sparrowhawk, Georgia (Photo: Stephen Menzie)
Visiting as an ecotourist
The BRC works with the local community to organize home stays where visitors are offered accommodation on a full-board basis. The accommodation includes a comfortable private room in a family's house with shared bathroom. The family will prepare breakfast, lunch and dinner for you, at the time you desire. It is also possible to ask for a packed lunch if you are planning on being out all day. During your stay you can attend the BRC count stations (Sakhalvasho, Shuamta) and visit other birding and/or cultural highlights in the region. Your home stay will be located close to one of the count stations, and transport to the other one can be arranged through BRC. They can also assist in organizing trips to some other popular destinations in the region (including Mtirala National Park, Chorokhi Delta, Kobuleti and Kolkheti National Park). Guides will be available from mid-September onwards. Upon arrival, you will receive a Georgian cell phone, which you can use for communication with BRC. Accommodation costs 50 Gerogian Lari (£19 at April 2012 rates) per person per night. More information can be found on the BRC pages.
Taking part in the count
The raptor count runs from August 17th 2012 to October 31st 2012. You should be free to count for a minimum period of 2 weeks — most days will be spent taking part in the standardised raptor counting, though you will have some time off to do as you wish. Counters pay 20 Georgian Lari per person per night (c.£8 at April 2012 rates); accommodation close to the count stations, three meals a day and transport are provided. More information can be found on the BRC pages.