This is the second in a series of articles to highlight some of the remarkable success stories achieved by the RSPB though their work to save some of Britain's rarest birds. Black Grouse are declining in most European countries, but thanks to the efforts of the RSPB this is a trend that has been reversed in England and Wales.
| | |
| --- | --- |
| | |
| Black Grouse: Durham. (Photo: Ian F) | Black Grouse: Durham. (Photo: Bill Baston) |
This splendid species was once widespread, but a decline in numbers has been evident since the early 1900s. This decline has increased since the 1980s, a time when newly-planted forestry started to mature in many Black Grouse strongholds. A survey in 1995/96 found just 6,500 lekking males, most of which were in Scotland.
In order to address the decline it was necessary to identify the causes. To thrive, Black Grouse require a mosaic of habitat, but in recent times their strongholds have become less suitable as our large-scale forestry plantations have matured and farming practice has changed. Other pressures identified as a result of the research include predation, crashing into deer fences and bad weather.
Content continues after advertisements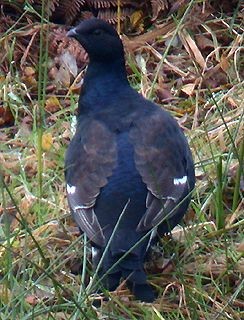 Black Grouse: Clyde. (photo: John Molloy ).
Several Black Grouse projects have been established, and the management work in these areas is based on research undertaken by the RSPB. In partnership with landowners and other organizations, regional projects are testing a mix of management measures aimed at creating land management policies for the future. There are currently four recovery projects, one each in England and Wales and two in Scotland. The Welsh recovery project has yielded an 85% increase in the number of lekking males between 1997 and 2002, whilst the North Pennines project in England has resulted in a 5% increase each year in the number of displaying males. In both of these areas, where the project has not been implemented, then numbers have continued to fall. In Scotland, at the Corrimony reserve in Highland, numbers have increased from 16 lekking males in 1997 to over 35 lekking males since 2001.
For further details of how the work of the RSPB has led to this conservation success story, click here to read a PDF which gives the full story.
If you like this sort of work then please consider donating to, or joining, the RSPB.