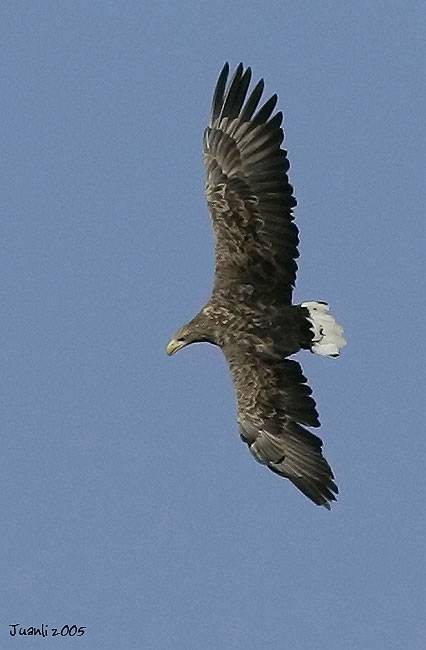 White-tailed Eagle: Yunnan, China (photo: Juanli Sun).
This is the last in a series of articles highlighting some of the remarkable success stories achieved by the RSPB through their work to save some of Britain's rarest birds.
The White-tailed Eagle is our largest bird of prey and has a UK population of 32 territorial pairs. Perhaps as many as 200 pairs once bred in Britain and Ireland. This huge eagle was persecuted to extinction in the UK in the early part of the 19th century: it last bred in England and Wales in the 1830s; Ireland in 1898 and; Scotland in 1916. The last UK-bred bird was shot in Shetland in 1918. Persecution also led to declines in European populations.
In 1959 small-scale attempts were made to introduce birds to Argyll and Fair Isle. A reintroduction scheme brought 82 young birds from Norwegian nests to Rum between 1975 and 1985. The first of these bred in 1983, and the first chick fledged in 1985. A further 58 young Norwegian eagles were released in Scotland between 1993 and 1998.
Although the re-established population on the west coast of Scotland is growing at up to 12% per year, the small population remains vulnerable, albeit self-sustaining, at present. Persecution and egg collecting are the main threats and at least seven birds have been killed illegally since the start of the project and at least four clutches of eggs have been stolen. Pleasingly though, through close working between the RSPB, police and local communities, there have been no nest robberies since 2000. Local communities now see the importance of these fine birds which draw in tourists wanting to see them and through doing so contribute valuable tourist revenue.
For further details of how the work of the RSPB has led to this conservation success story, click here to read a PDF which gives the full story.
If you like this sort of work then please consider donating to, or joining, the RSPB.
Support for PDFs is built into many modern web browsers, but if the above link doesn't work for you, you may need to download Adobe Reader (free download) by clicking the following button:

The re-introduction of White-tailed Eagles was pioneered by Roy Dennis and is now overseen by the Sea Eagle Project Team, jointly chaired by the RSPB and Scottish Natural Heritage.