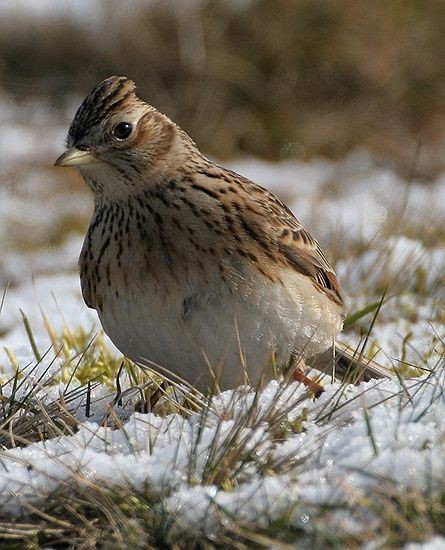 Skylark: (photo: Sean Gray)
This is the tenth in a series of articles highlighting some of the remarkable success stories achieved by the RSPB through their work to save some of Britain's rarest birds.
Skylark is a species that many of us probably take for granted, their songs being such a familiar sound of the countryside. In the UK, over two-thirds of our Skylarks are found on lowland farmland, nearly 40% of these in cereal fields. Cereal farming has changed markedly since the 1950s. In the 1960s, around 80% of the UK's cereals were sown in spring, but by the 1990s, this had dropped to just 20%. Autumn-sown crops provide better yields for the farmer but have adverse effects on the productivity of Skylarks.
Since the early 1980s, the UK Skylark population has dropped by over half, losing a staggering million-and-half pairs. This is because the birds have not been able to breed successfully due to changing farming practices and, in many areas of more intensively-managed farmland, Skylarks have been lost completely. Skylarks have also declined severely in most of western Europe.
Why have Skylarks declined so dramatically? In the 1990s, RSPB research identified a noticeable difference in Skylarks' nesting activity in spring wheat compared to winter wheat. Skylarks in spring-sown crops nest for longer and can raise two or three broods, but in winter crops most stop nesting in late May, raising just one brood, as the crop becomes too tall and dense and stops the birds having easy access to the ground.
Content continues after advertisements
In 1999 the RSPB bought Hope Farm in Cambridgeshire. It is an arable farm and has been used by the RSPB to carry out research into effective wildlife-friendly farming methods. Research there identified Skylark plots as a solution to the problem. These plots are unsown areas four metres by four metres in size within winter cereals, making the crop more attractive to the ground-nesting Skylarks. Skylarks in fields with these plots have a longer breeding season and produce more young than in typical winter cereal fields.
Having demonstrated the effectiveness of this cheap and easy method of helping Skylarks, the RSPB (and SAFFIE – Sustainable Arable Farming For an Improved Environment) has successfully persuaded the Government to reward farmers in England for providing these plots on their farms through their Entry Level Environmental Stewardship Scheme.
Skylark numbers in the UK have stabilised, although they continue to decline in some cereal areas and have yet to recover to former levels. These plots would appear to hold the key to the Skylark's future. If enough farmers introduce these plots then the Skylark population might once again return to the levels enjoyed prior to the intensification of our farming industry.
For further details of how the work of the RSPB has led to this conservation success story, click here to read a PDF which gives the full story.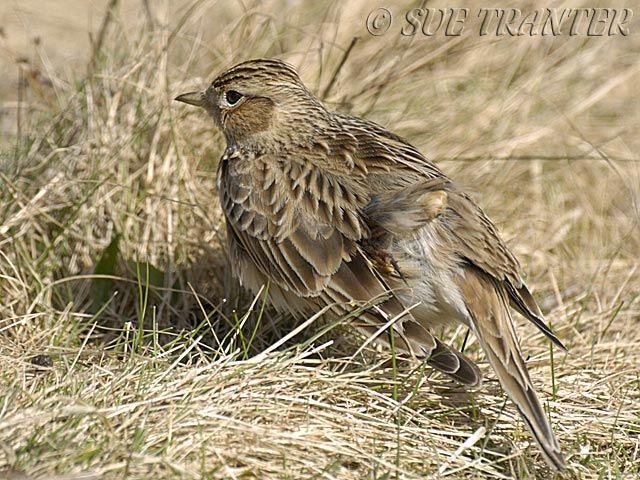 Skylark: (photo: Sue Tranter)
To see more photographs from Sean Gray, go to: http://www.grayimages.co.uk.
To see more photographs from Sue Tranter, go to: http://www.suesbirdphotos.co.uk/.
Support for PDFs is built into many modern web browsers, but if the above link doesn't work for you, you may need to download Adobe Reader (free download) by clicking the following button: