The British Dragonfly Society (BDS) has just chosen this stunning shot as the winner of its Large Red Damselfly photographic competition. The winning entry by Martin Cerný from the Czech Republic will now feature on the front of a BDS citizen science postcard in Scotland. It will be used to promote awareness of dragonflies in Scotland by showing just how beautiful these creatures are. The postcard will also aid the identification of this attractive species. People will be encouraged to submit their sightings of Large Red Damselfly through the BDS online recording system, so adding to our knowledge about the distribution of this species in Scotland.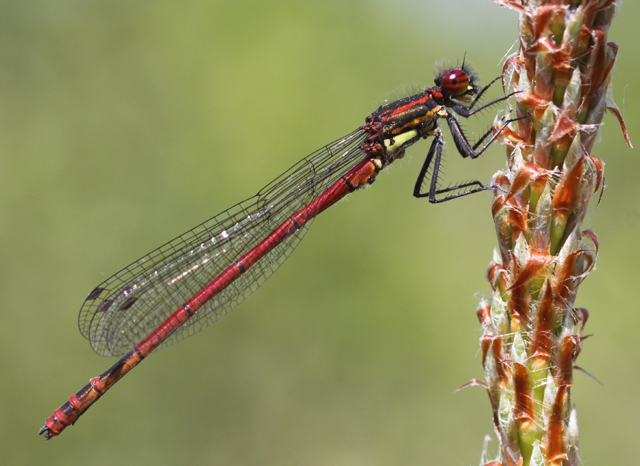 Large Red Damselfly, Priors Hall Quarry, Northamptonshire (Photo: Antony Taylor)
This year's citizen science postcard is the third in a series supported by Scottish Natural Heritage, and the present study will tie in well with the 'Year of Natural Scotland 2013'. Through this survey the BDS will be promoting volunteer involvement in dragonfly recording and encouraging families and individuals to explore the natural heritage of Scotland's wild and beautiful places. Following a fiercely fought competition, with over 50 entries run through the BDS website and the Society's Flickr page, the winning photograph was finally chosen by a panel of dragonfly enthusiasts made up from both BDS staff and volunteers. Claire Install, BDS Conservation Officer, explains "we were looking for a sharp photograph of a male damselfly that would show as many diagnostic features as possible. The winning entry certainly matches our expectations and shows just how striking these fantastic insects can be."
Content continues after advertisements
BDS President, Dr Pam Taylor, says "Large Red Damselflies can be found throughout the UK and are one of the earliest species on the wing each year. We hope that by launching this compelling postcard and promoting online recording, we can persuade people throughout Scotland to go beyond their gardens and into the wider countryside to truly appreciate this wonderful group of colourful insects and their habitats."

Large Red Damselfly, Portsmouth, Hampshire (Photo: Chris Blake)
2013 is the 30th anniversary of the British Dragonfly Society, so it is wonderful for the BDS to be celebrating this momentous milestone at the same time as the wonders of our natural heritage are being celebrated in the Year of Natural Scotland. The BDS Large Red Damselfly postcard will be available at events throughout the summer, including Gardening Scotland in Edinburgh, where the BDS will have a stand in the Living Gardens section of the show. You can also find out more about Large Red Damselflies by visiting the BDS website at www.british-dragonflies.org.uk.