Until mid-September, autumn 2016 had been a source of frustration at Flamborough. A very brief spell of light south-easterly winds in mid-August produced single Greenish and Icterine Warblers, but otherwise relentless westerly winds dominated. While these proved conducive to the arrival of two Pectoral Sandpipers, they were of little use for either seawatching or the arrival of passerines from the east.
However, conditions changed on 14 September, when a low-pressure system tracked across the North Sea and introduced north-westerly winds. Such weather usually produces excellent seawatching, with the potential for passerines to also arrive over the top of such systems. However, in keeping with the autumn's frustration, two days of thick fog precluded observation. Despite this, the first Yellow-browed Warbler was located at Bempton Cliffs RSPB on 15th. The fog finally cleared the following day.
The best seawatching at Flamborough is usually the day after the strongest north-westerly winds as birds start to track back north, so anticipation was high that 17th would be good. So it proved, as flocks of Sooty Shearwaters scythed across the breaking surf from first light. The movement continued until the evening, by which time 1,003 birds had been logged heading north; a 'supporting' cast of two Great Shearwaters, seven Long-tailed Skuas and two Sabine's Gulls were also much appreciated. Winds dropped further on 18th and, although nine Long-tailed Skuas moved north during the morning, attention finally focused on the land, where two Yellow-browed Warblers and a Barred Warbler were discovered.

Over 1,000 Sooty Shearwaters passed Flamborough Head on 17th (Photo: Andrew Steele)
Further scrutiny of the pressure charts on Sunday evening revealed even greater potential, as an area of high pressure developed over Scandinavia and a slow moving front was due to come in from the west. The weather on Monday 19th September consisted of light, variable winds and drizzle; the day's highlight proved to be a co-operative juvenile Dotterel south of the lighthouse. While the latter was an excellent local record, the approach of the front on Tuesday/Wednesday was clearly going to result in more arrivals. From a personal perspective, there was only one problem — I was spending both days in a meeting in Westminster, Central London!
Predictably, passerines started to appear in drizzly conditions and gentle north-westerlies on 20th. Although an ever-rarer Bluethroat provided distraction, it was the multiple arrival of Yellow-browed Warblers that stole the headlines: a record-breaking 32 birds were scattered between Bempton Cliffs RSPB and the outer head, with most along the northern fringe of the recording area. Birds were clearly arriving all day and, with similar conditions persisting overnight, optimism was high that new migrants would be found the following day.
The only question was whether mid-week coverage would do the day justice. In most counties, a site of Flamborough's magnitude would be well covered, but that is seldom the case. Historically, some locals had an 'idiosyncratic' attitude to bird recording and, at times, might not have welcomed visitors as much as they might. Thankfully, a new group of birders are determined to change perceptions. The observatory website is updated daily with sightings, members are linked via WhatsApp so that news can be disseminated in 'real time', and visitors made welcome. Helped by the discovery over the last decade of many twitchable rarities, including two Brown Shrikes, two Brown Flycatchers, an Eastern Olivaceous Warbler and a Crag Martin, there is a growing community spirit; the development of which was ably assisted by the late and sadly missed Martin Garner.
Coverage is also poor because the Yorkshire coast contains the leviathan that is Spurn; without doubt, the best birding site on the mainland and an understandable pull for many. If anyone is in any doubt, please read Andy Roadhouse's truly excellent Birds of Spurn that has just been published. However, these factors mean that only a handful of birders are generally out in the field even a good day. And I could do little to help, cocooned in an office staring at the Thames!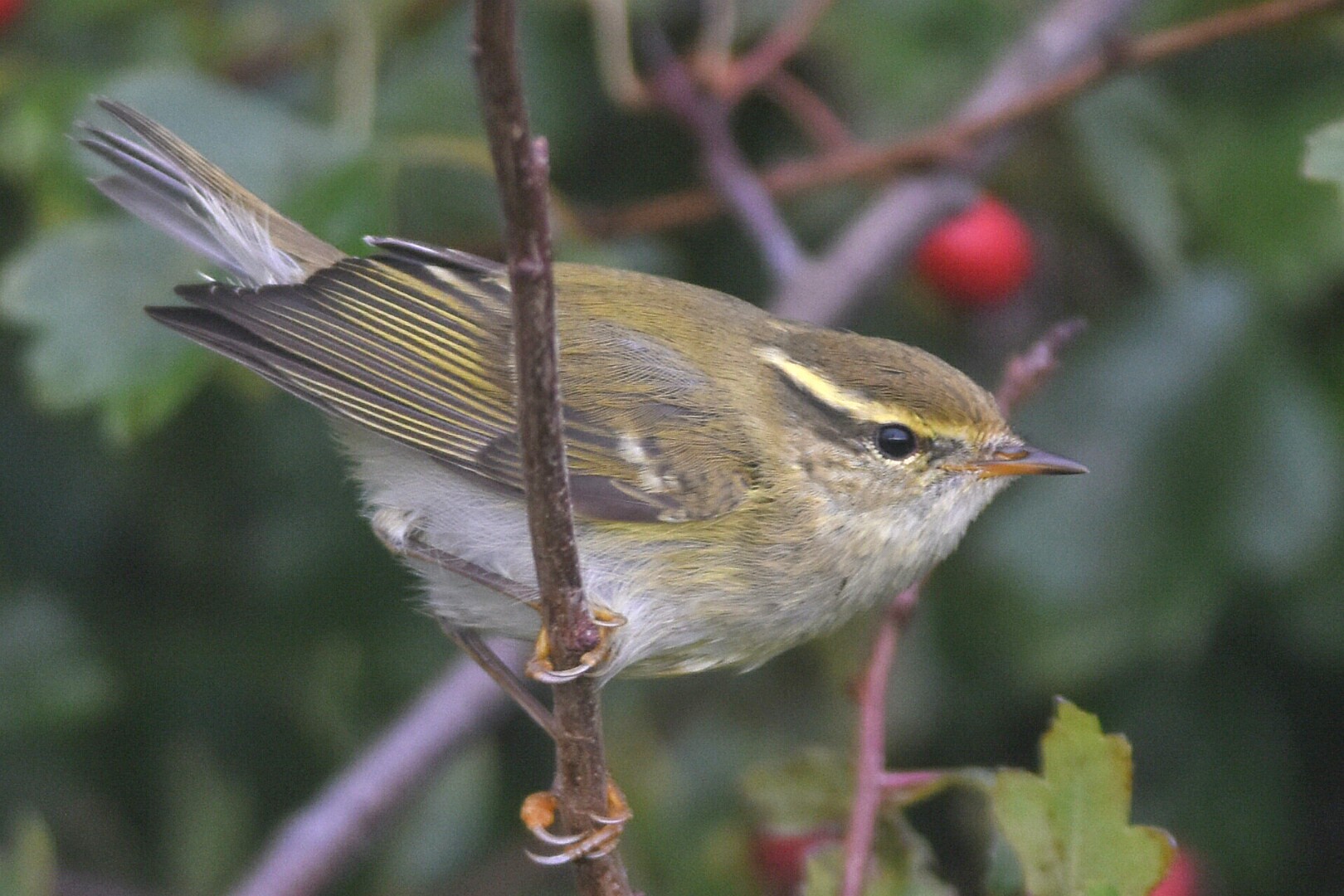 Yellow-browed Warbler, Flamborough Head, 20 September 2016 (Photo: Andy Hood)
By 07:30 on 21st, 12 Yellow-browed Warblers had been located in a concentrated area by the three birders in the field. I checked WhatsApp at 09:00 and they had located another seven. Within minutes, three more had been ringed at Buckton and Bempton Cliffs RSPB had attracted a further four. I was sat in my meeting feeling like I could burst with frustration — while discussing the implications of Brexit on environmental sector funding might be essential, I wanted to be anywhere but central London.
I started to make a note of the numbers of Yellow-broweds at various places — at 11:00 a report of seven in one small gully came in and then a Red-breasted Flycatcher was discovered on the outer head alongside a flock of seven! It was obvious that something monumental was happening. In order to encourage better coverage, I sent a WhatsApp message imploring anyone with a pair of bins to get in the field and count Yellow-broweds as British record numbers were clearly arriving. One birder reported watching three Yellow-broweds in a bush and, when he looked up, a small passerine dropped out of the sky — yet another! By now 25 Yellow-broweds had been discovered on Thornwick camp alone. Keeping a running total, it was obvious which areas were and weren't being checked, so I sent a series of texts to help co-ordinate coverage.

Two of six Yellow-browed Warblers trapped and ringed at Buckton on 21 September (Photo: Mark Thomas)
Messages detailing Sabine's Gull and multiple Long-tailed Skua sightings were almost ignored as more and more reports of Yellow-broweds filtered in. Birds started to appear in gardens by the afternoon and a further nine were located in the South Landing area. By the end of the day, a staggering 139 birds had been discovered, 103 east of Danes Dyke and 36 between Speeton and Bempton Cliffs RSPB. Most wooded areas were covered, although generally only once, while the Dykes themselves weren't checked at all — tens and tens of Yellow-broweds must have been present within the extensive wooded ravine there.
Subsequent studies of weather maps explained this unprecedented event. The southern end of the slow moving front pivoted over Flamborough, with north-north-easterly winds along its leading edge pushing birds towards the headland. The high pressure over southern Norway and Denmark would have encouraged Yellow-broweds to head west, but the majority avoided flying through the front and took the line of least resistance to be deposited at Flamborough. Yellow-broweds leaving northern Norway almost certainly flew over the top of the front, explaining why over 50 arrived on Fair Isle, but there were very few between Cleveland and northern Scotland. While a record-breaking 34 birds were discovered at nearby Filey, the local nature of this event was illustrated by Spurn only recording 15 individuals.
@jrmjones @BirdGuides Zoomed in map as last one was a bit small @Fileybirder @Bucktonbirder @FlamboroughBird @dauurica @EYorksBirdNews pic.twitter.com/KAjwlIEGtf

— Toby Collett (@BoyWonderBirder) September 21, 2016
Above: Animation of the slow-moving front, here at 01:00 on 20th, which funnelled large numbers of Yellow-browed Warblers towards the Flamborough Head area on 20-21 September (Video: Toby Collett)
Hopefully this event will encourage more birders to visit Flamborough, but regardless, it must have been a real treat for those present. I was buzzing by the evening, despite having not seen a single Yellow-browed. I'm also back in London next week, but the forecasted westerly airflow should keep my colleagues safe from being subjected to periodic spells of Anglo-Saxon invective!