On Tuesday 21 August I spent the whole day birding in the Dungeness area, and after successfully connecting with the Wryneck at Galloways, decided to return to the RSPB reserve to enjoy the late afternoon sunlight. Earlier in the day I'd counted a dozen Black Terns from Firth Hide, viewed in less than ideal light. Now, on scanning Burrowes Pit from the RSPB visitor centre, it was soon apparent that the majority of them would be best viewed from Makepeace Hide.
Sitting in the hide with binoculars I scanned through the terns flying over the water, which were now bathed in perfect light. At some distance I focused on two typical juvenile Black Terns, displaying their gleaming white underparts with small dark breast sides and white underwing coverts. As they twisted and turned a third bird made the same twist, and to my surprise I noted a distinctive soft grey-coloured flank panel and duskier underwings.
I reached for my telescope and eventually refound the bird, whereupon I noted the overall darker appearance compared to the nearby juvenile Black Terns. I concentrated on the underparts to check if this was one of the moulting adult summer Black Terns, which had been present too, or an odd first-summer type. I searched and searched for irregular dark blotching but the grey on both sides was consistent, a neat uniform flank panel merging into dark broad breast-side patches with juvenile/winter-type head pattern.
Content continues after advertisements
I was perplexed at the age of this bird, but had no chance confirming it at this distance. If this was a juvenile I needed back-up, as American Black Tern was a real possibility. I phoned Dungeness Bird Observatory warden David Walker and thankfully he arrived some 20 minutes later with his camera. Just before his arrival the bird briefly flew closer and I was convinced I noted some browner fringing to the mantle and scapulars.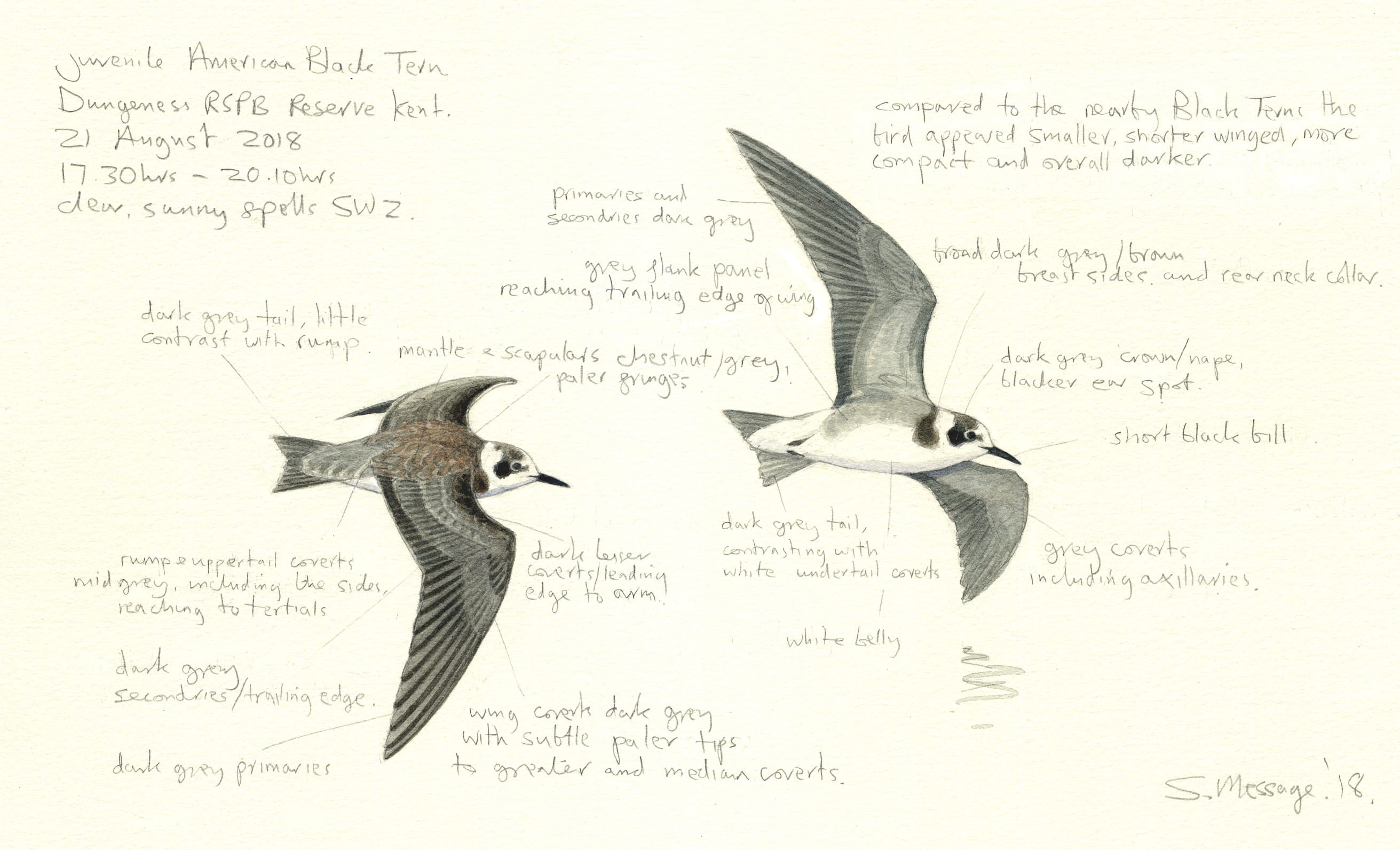 There have been fewer than 15 accepted records of American Black Tern in Britain, and none previously in Kent. These superb sketches point out the key features that distinguished the transatlantic vagrant from the nominate juvenile Black Terns it associated with (Stephen Message/message-wildlife-art.co.uk)
When David joined me in the hide, soon after giving running commentary directions, he successfully captured the correct individual, and the record shots did indeed reveal brown tones to the mantle – pulses were raised as the bird was indeed a juvenile! Watching it through our scopes, we muttered and repeated the features: compact size, dark grey uppertail coverts and rump, extensive white forehead, large dark breast sides, grey flanks and the grey underwing coverts. A quick check of some internet references confirmed our observational comments.
The light was fading fast so it was time to inform the local birders, explaining we had a Black Tern showing all the correct features of juvenile American Black Tern. Those who arrived soon obtained the same distant views and none disagreed with the identification, so I tweeted the news out to the world. With such structural and plumage differences from nominate juvenile Black Tern I will watch with interest if American Black Tern (surinamensis) remains a subspecies.