I was delighted to be told recently that I was to take on a new series of survey sites on the south-east Irish coastline, spanning across counties Wicklow and Wexford. It would make a pleasant change from the inland sites I had been covering through the winter.
My first week was going well and as I was working in and around some prime migration spots, I thought I would like to pop into Cahore Marsh one evening after my survey was done. I reached out to local birders Cian Cardiff and Stephen King who told me exactly where to park, what spots to check and how to get there.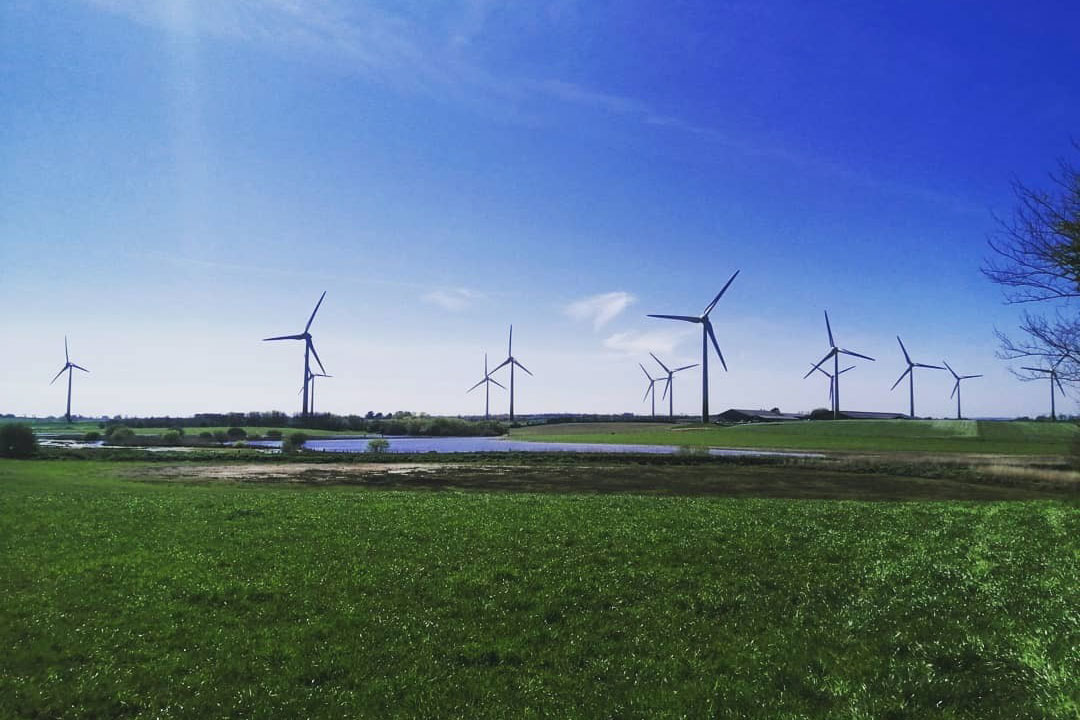 Cahore Marsh, Co Wexford (Cian Cardiff).
I decided I would check it out the following evening as it was just a stone's throw away. Cian jokingly told me "don't find anything too rare", to which I assured him "don't worry – I'll be mostly there for the sounds". This was in fact completely true. Sound-recording is a huge passion of mine and I'm on a mission to record as many species as I can in Ireland. Cian had told me that he had had several Reed Warblers singing there recently. This was a big target of mine. Stephen also told of two Little Ringed Plovers – a rare breeding bird in Ireland and a species I was dreaming of recording here.
I followed Cian and Stephen's directions and found myself parking up at the base of an impressive dune system on the evening of Tuesday 27 April. The dunes seemed to go on for miles north and south and were dotted with stunted blackthorns and pines, which were screaming out for rarities. Beyond a set of stainless steel farm gates, a track runs northwards, parallel to the dunes. On the landward side of the track is a series of marshy pastures which in turn lead to a pristine wetland which sprawled north as far as the eye could see.
I didn't know where to look next. A Common Whitethroat excitedly uttered its erratic tune from a height as it darted skywards from the gorse; a Grasshopper Warbler sheepishly began to test the waters with a short burst of metallic reeling from a patch of brambles; from the reedbed to my left, Sedge and Reed Warblers chattered breathlessly. All of this was melded together by the sound of the Irish Sea hissing along the nearby shoreline to make the perfect soundscape. I couldn't detect a single anthropogenic input. Everything was as it should be.
I was finding things to record all the way along. I explored the site as much as time allowed and decided I would look for Stephen's Little Ringed Plovers. It didn't take me long to find them – they were exactly where he said they were when he first found them, in an area of wet grassland by the side of the track. It looked ideal for lots of things – it wasn't at all deep but had little muddy patches and puddles strewn about.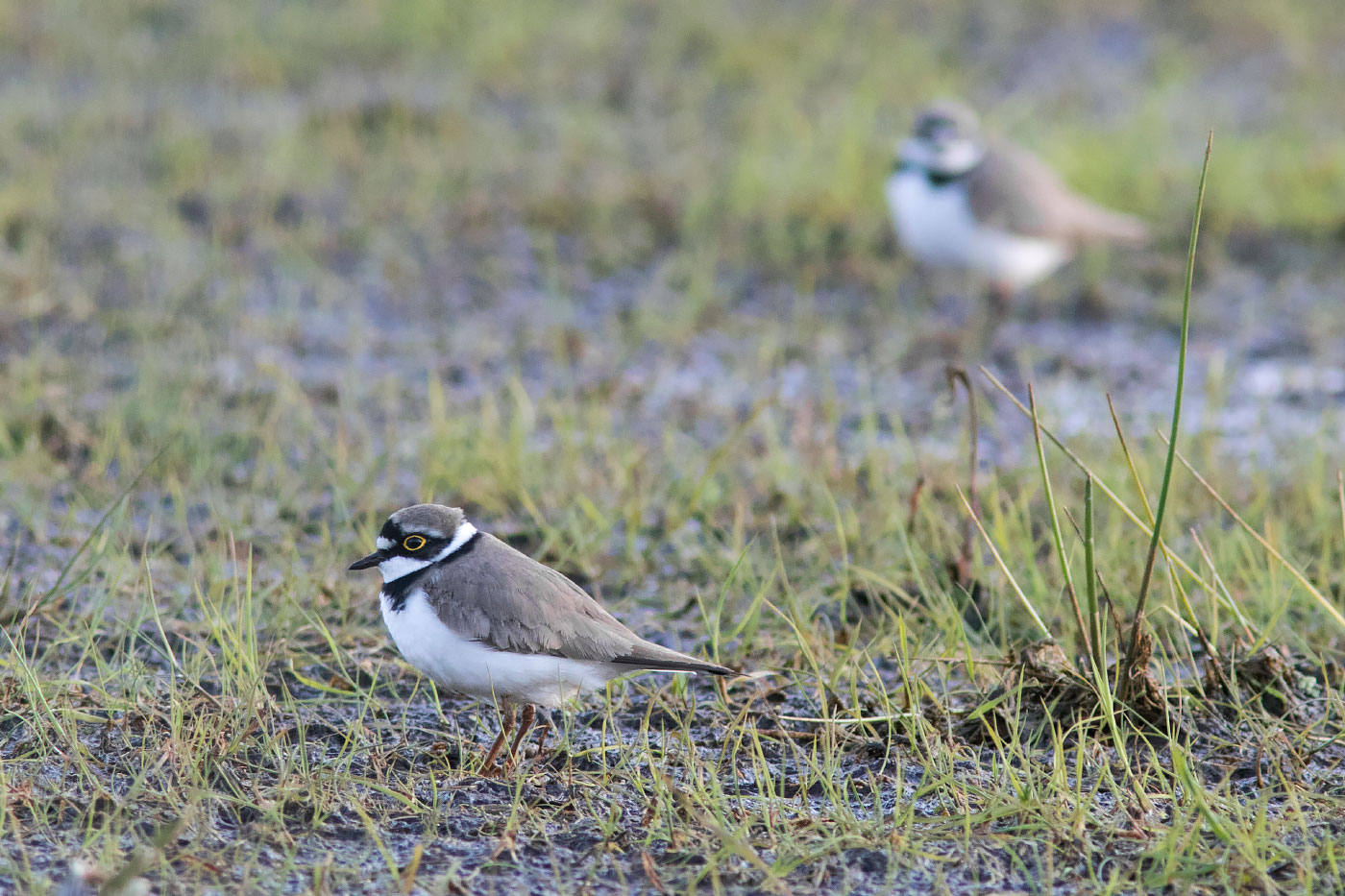 A pair of Little Ringed Plovers, a rare breeding bird in Ireland (Seán Ronayne).
I enjoyed these for some time before I decided to explore a little more. I noticed a track which seemed to head northwards towards some more interesting habitat, so headed that way. A series of close calls suddenly engaged my brain and instantly gave me a rush – Yellow Wagtail, scarce migrant in Ireland and a species I was hoping to record here one day!
This all happened in milliseconds – I looked up and saw three flashes of gorse-yellow as the birds landed directly over my head on some electricity pylons. All I could see were the tails of two bobbing about right above my head. I didn't really know what to do! I only had one SD card which I had been switching between my camera and recorder (long story!). I decided to go with the recorder.
I stood there for what seemed like an eternity and nothing happened. My beck was starting to hurt and my patience were waning so I slowly moved out to get a better angle so I could least admire them in full view and then they flew, calling as they went. My recorder was running and I didn't dare move or take a breath. I was so happy that I had recorded this species at such a close range, in Ireland.
Feeling like the job was done, I felt relaxed and lifted my binoculars to have a look. The birds had landed right next to the Little Ringed Plovers. I quickly scanned: the first bird was a Blue-headed Wagtail – fantastic! The next was a British bird – the expected subspecies in Ireland, but always a good bird to find. I continued scanning until I found the third bird and instantly my binoculars began to tremble: this thing had a jet-black head!
My feeling of calm went out the window and I seemed to lose all sense. My SD card was in the recorder. I fumbled to get it out and into my camera, dropping it on the ground, before trying to put it in backwards. I took a deep breath and got it right finally. I fired off some shots of the bird and panned left and did the same with the Blue-headed. I panned back and that was it – all three birds got up, circled around a few times and flew north!
I didn't get much time to study them or really take much in, but thoughts of Black-headed (feldegg) instantly came to mind. I skimmed through my photos and zoomed in – it definitely had a jet black head but I noticed some white behind the eye. It was then that, deep down inside, I knew that this bird probably wasn't a pure feldegg, even though I really wanted it to be one.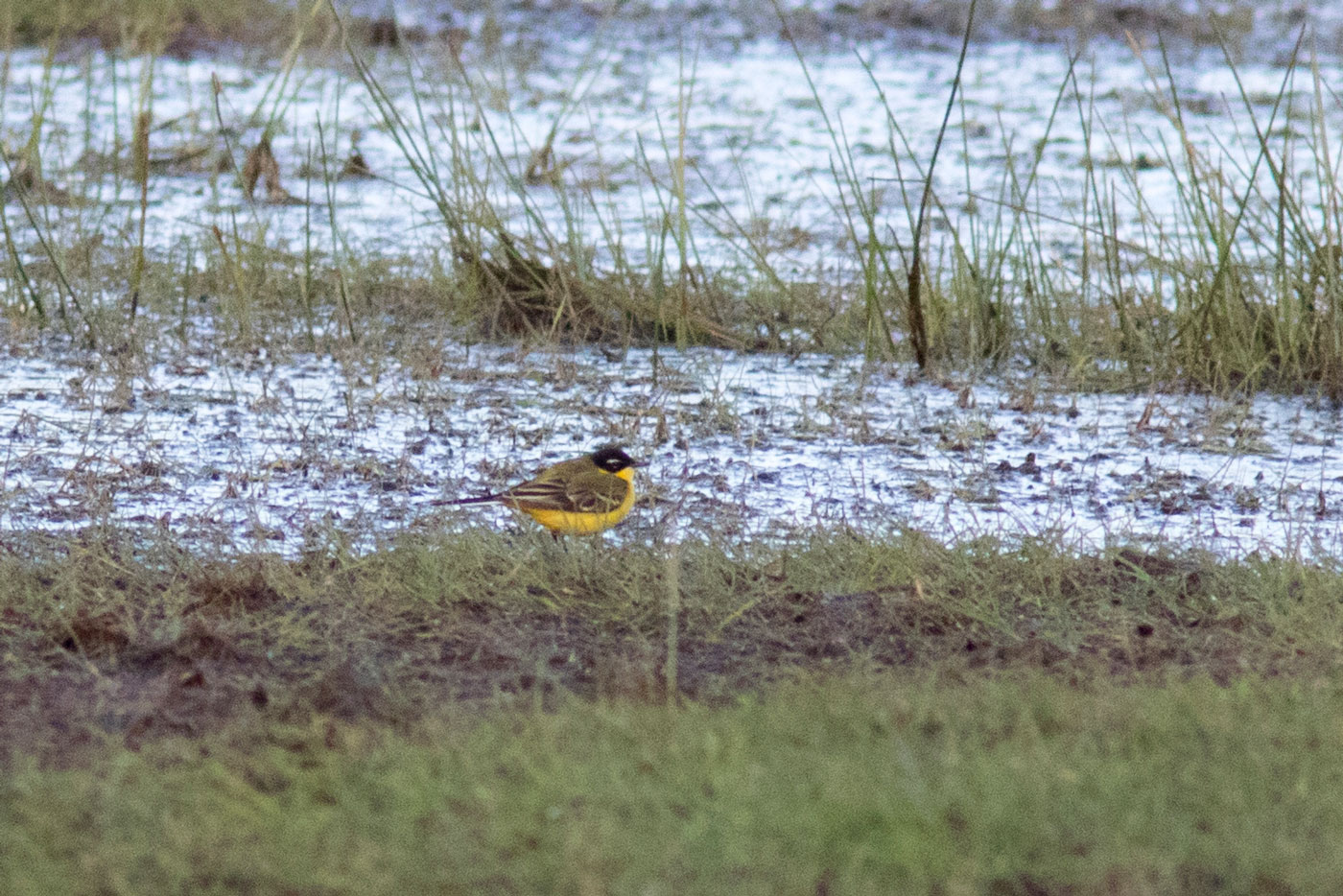 Views on the first day were brief and a little distant, but the white patch around the eye was enough to suggest that this bird was not a pure feldegg (Seán Ronayne).
I made some overly excited phone calls to Cian, Stephen, as well as Harry Husey and Killian Mullarney, who expressed the same thoughts. Regardless of what it was – the bird was a stunner and still a rare beast indeed. I hung around for about an hour, still riding the high – listening to the audio and looking at the photos but the birds never returned and darkness began to fall. That night I assessed photos further and the thoughts of this bird being a feldegg × flava intergrade ('superciliaris') became ever-more apparent. Calls were sent to both Stanislas Wroza and Magnus Robb and the conclusion was that all calls recorded conformed to a north-western taxa (flava/flavissima/thunbergi). This could mean three things: either the 'Black-headed' bird didn't call, didn't give its typical call or it called like a flava-type.
Despite several people trying, the bird was not relocated the following day, but I decided to visit after work anyway to collect an Audiomoth device that I had left running in the hope of picking up the wagtails or any other interesting birds that might have passed through. I also wanted to try for an isolated recording of the bird to be totally sure of what it sounded like.
I came to the wagtail spot and there was no sign, so I decided to sit down and begin uploading my Audiomoth data. I had my head buried in my laptop for some time and when I looked up I got a shock – the wagtail was right in front of me! I reached for my camera and began to fire off some shots – it was totally unphased. I took my fill of photos and then switched to sound recording. The bird was emitting a series of lazy song-like notes for some time before it eventually flew emitting a single clear flight call.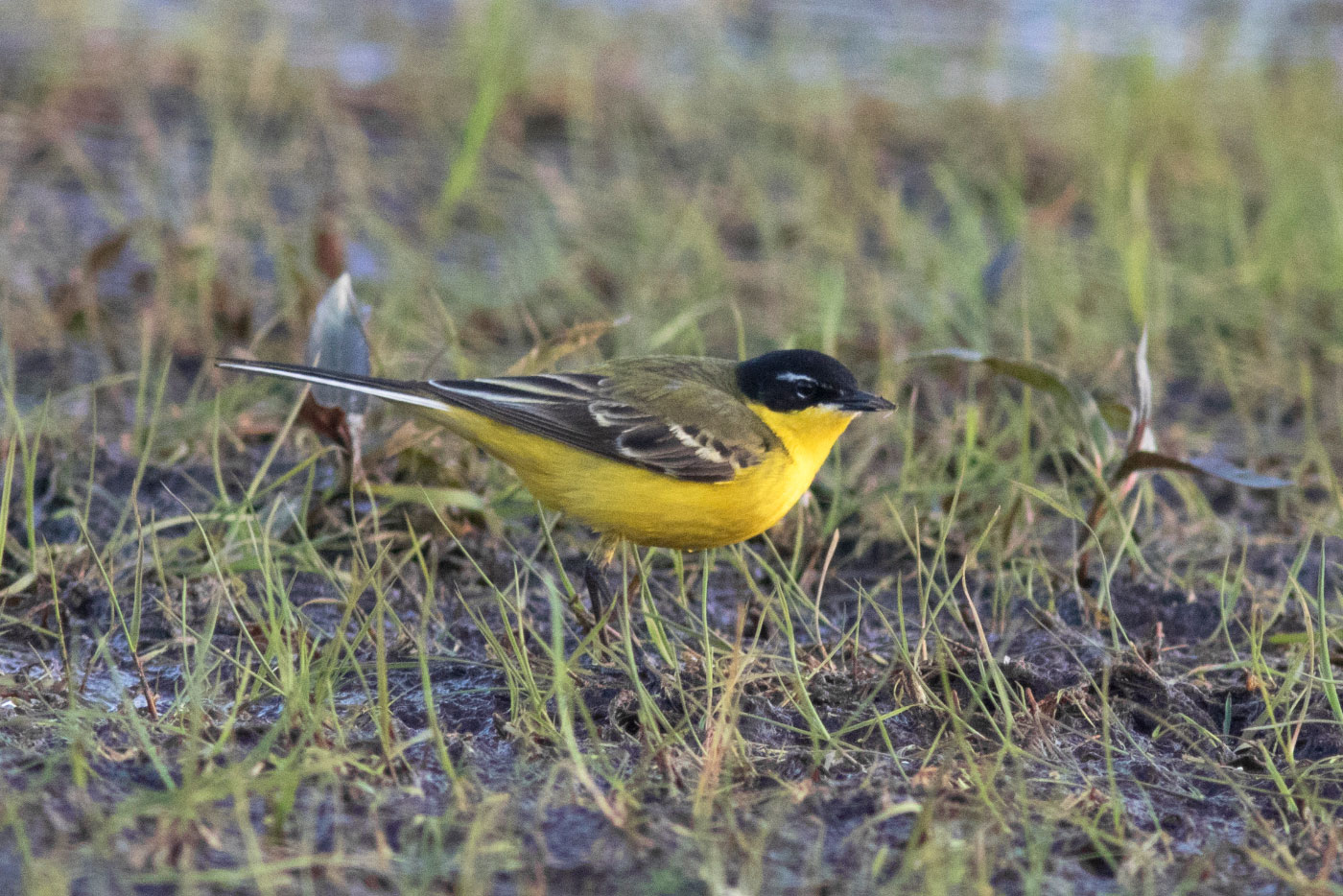 Much closer views showing a ghosted/disjointed supercillium, a white submoustachial stripe and a white lower eyering (Seán Ronayne).
With a combination of prolonged good views and a new set of closer recordings and photos, the identification became clearer, allowing several features to be seen which were not visible in the brief, more distant views from the day before. Initial impressions on the first day were of a blotch of white behind the eyes (reminiscent, vaguely, of Velvet Scoter), but in actual fact, at close quarters, it looked more like a distinct supercilium, particularly to the front of the eye. Of course feldegg does not show such a feature, but flava does. A rather promiment white lower eye-ring was also evident – another flava feature.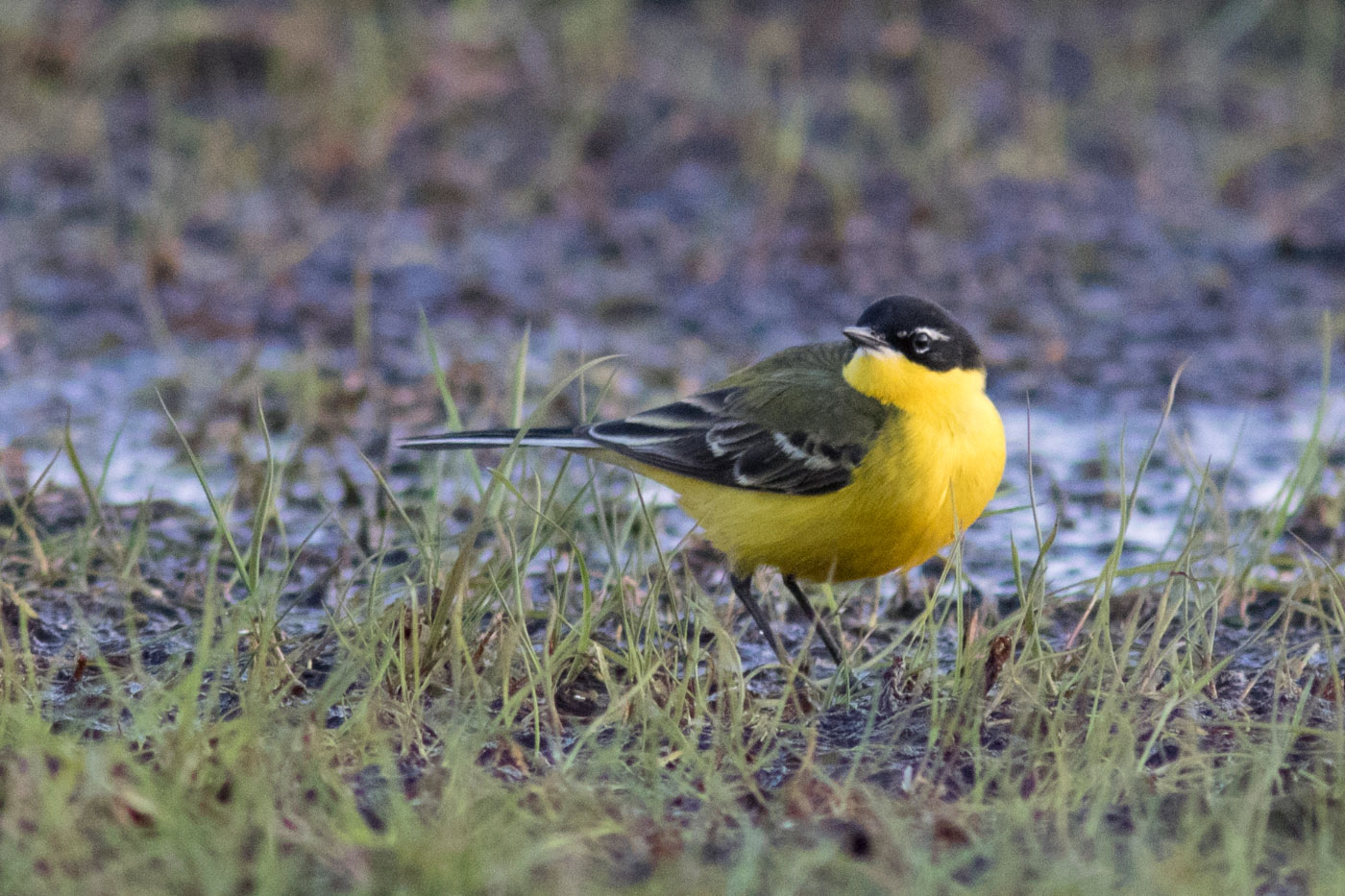 Another view of the striking superciliaris Yellow Wagtail at Cahore Marsh, Co Wexford, on 28 April (Seán Ronayne).
Also, there was a trace of a white submoustachial stripe and various other white flecks and patches including under the bill, again at odds with a pure feldegg. The black on the nape on 'classic' feldegg is usually rather extensive and in this bird that isn't the case.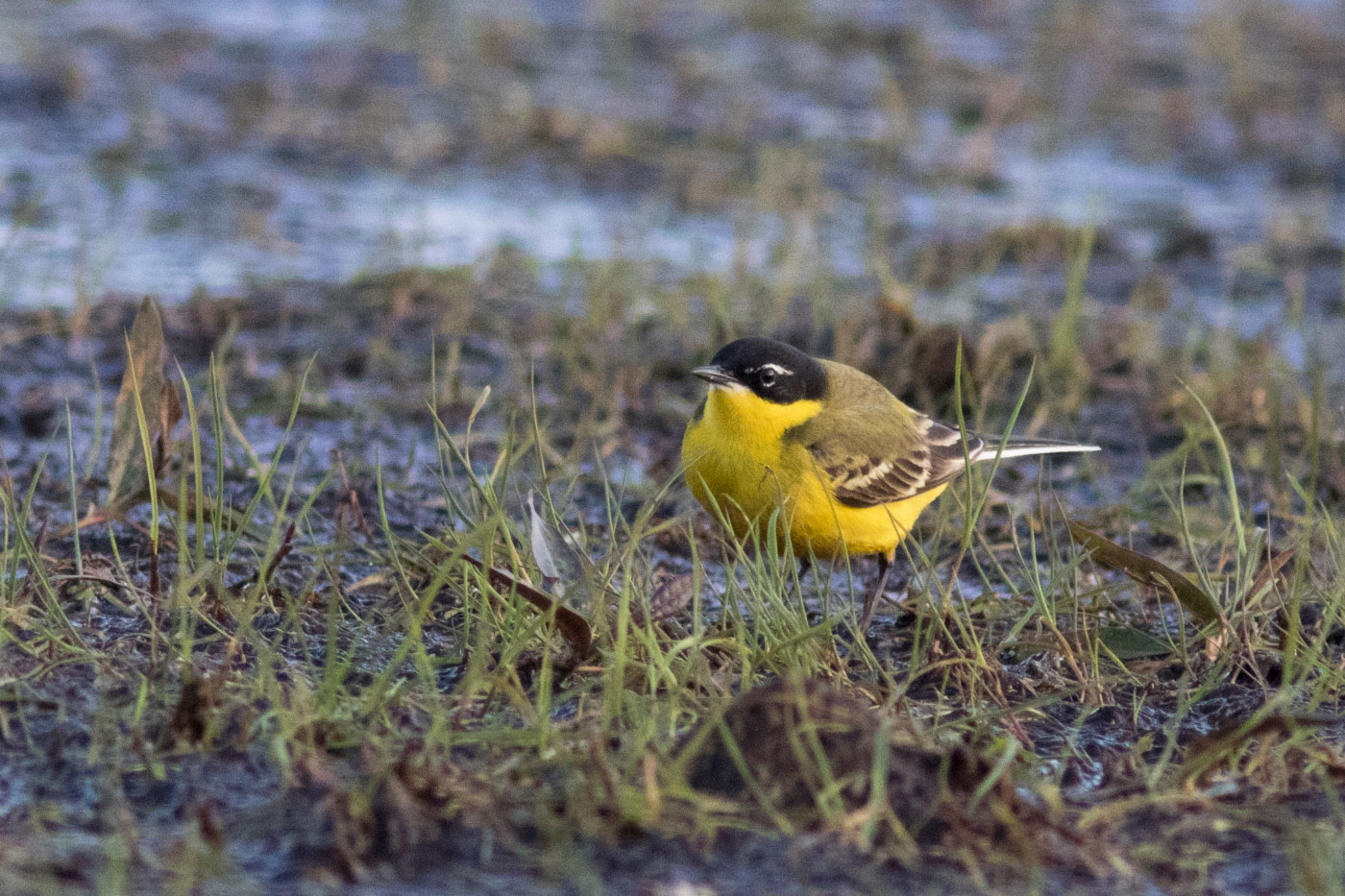 'Superciliaris' Yellow Wagtail showing reduced black on nape (Seán Ronayne).
Having obtained several close recordings of the bird, with no other wagtails present to cause confusion, the calls on the second day did not sound raspy and sounded flat (at least to my learning ear), therefore confirming to a north-west-type vocalisation. Just to be sure, the newer recordings were sent to Stanislas and Magnus, who concurred with my sentiments.
With all this taken into account I think it leaves little doubt that this bird is not a pure feldegg and is almost certainly a so-called 'superciliaris'. I'd like to think it has more feldegg than flava, though, as many online examples of superciliaris have a really prominent superilium.
I sincerely thank everyone for their thoughts and opinions on this beautiful, educational bird. Until the next!