During the 1970s and 80s, the population size of 'European' Roseate Terns was following a downward spiral — though no one knew why. As a result, the RSPB drew up a Species Action Plan that involved an intensive ringing programme, which started in 1991, to try and understand breeding biology and migration. The ringing programme would, in time, encompass all the European breeding sites. These days, the main colonies are found on the Azores, Brittany (N France), Rockabill (Dublin) and Coquet Island (Northumberland), the last being the largest UK colony.

Coquet Island (Photo: Tom Cadwallender).
In the first season, only BTO rings were fitted to chicks, but in 1992 Roseate Tern 'special rings' were introduced for the first time on Coquet Island. The 'special ring' is also metal but a little taller than the BTO ring, stamped with a 4-digit alphanumeric code which is repeated and, very importantly, legible in the field, which has negated the need for recapture. Many of these 'special rings' have now been read at both colonies and elsewhere, which has in turn enabled the life histories of some birds to be revealed. This summer (2013), a ringed Roseate was located well inland in southwest Poland, and represents the third national record. This individual was found to have been ringed on Coquet Island four years ago! Another British-ringed bird was seen in Switzerland in May.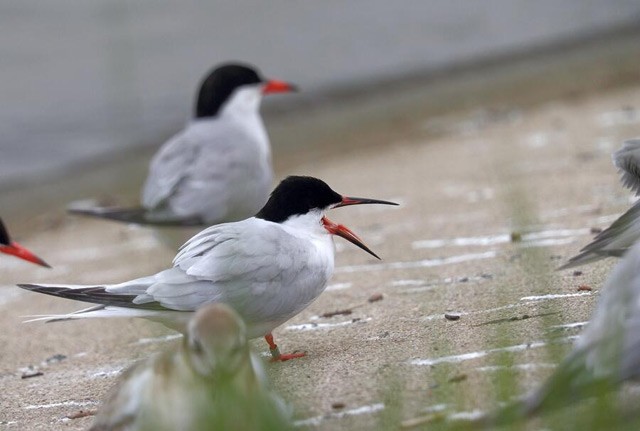 Poland's third Roseate Tern at Mietkowski Reservoir, 12th July 2013 (Photo: Pawel Gebski).

'Special' Roseate Tern rings (Photo: Tom Cadwallender).
Through this ring-read data it is now thought that the European colonies are one metapopulation with a free exchange between colonies, generally with Rockabill acting as the powerhouse. For example, birds ringed on Coquet Island have been found breeding at Rockabill for a couple of years then they will return to the natal site and vice versa1.
When I started ringing on Coquet Island, in 1992, nests were scattered around the edges of the island plateau and loads of time was spent scrutinising nettle-beds and putting hands through Puffin latrines trying to find nests and young. The advent of nest-boxes, an idea imported from the US by way of Rockabill, has made a remarkable difference to the colony. Now each year, almost 200 nest-boxes are placed on 'terraces' overlooking the jetty. Not only do they provide protection against the weather and predation, they also make nest checking and ringing so much easier as we try and keep disturbance to a minimum. This year, 2013, I've reached a milestone myself — I've now ringed over 1,400 Roseates since starting work on the island in 1992!
Content continues after advertisements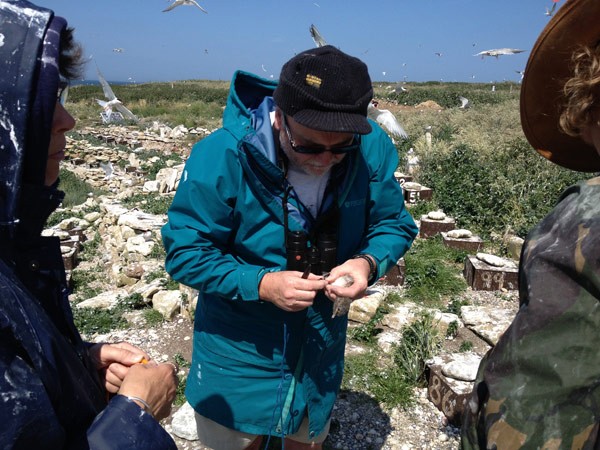 The author ringing a Roseate Tern chick on Coquet Island, summer 2013.
This year the colony has reached 77 pairs, which is a slight increase on recent years. So far, sand eels have been abundant, which has meant that all this year's chicks are fat and healthy — this bodes well for the short-term future at least. Unfortunately the 'improved' fortunes of the Coquet Island colony have not been replicated elsewhere in the UK.
Clutch size is usually two eggs but occasionally one, presumably first-time breeders, with a maximum of three. Occasionally all three eggs will hatch but it's usually two, which provide us with 'A' and 'B' chicks. The eggs are laid separately, which leads to asynchronous hatchings, so we end up with chicks hatching days apart hence a size difference. Chicks can be ringed as quickly as a day after hatching.
Even on an island, the lure of rare eggs attracts collectors and they have been in evidence in recent years. As a consequence, RSPB wardens provide a 24-hour security presence that is combined with CCTV coverage. While no landing is allowed on Coquet Island, viewing Roseate Terns is incredibly easy from the regular boat trips out from Amble. Post-breeding dispersal will soon be well underway along the coast, so please look out for those 'Rosy Special Rings'!
For updates on Roseate Terns and more, you can follow Tom on Twitter: @TomCadwallender.
1Ratcliffe, N., Newton, S., Morrison, P., Merne, O., Cadwallender, T. and Frederiksen, M. 2008. Adult Survival and Breeding Dispersal of Roseate Terns within the Northwest European Metapopulation. Waterbirds, 31(3): 320-329.