After the success of the 2009 trip, the Shetland Nature team were keen to repeat the success in 2010. They certainly achieved this and here's a flavour of the trip over 1st–9th October 2010.
Day One: Saturday 1st October
Having collected our group from the airport and hotel at Sumburgh, we made for nearby Quendale to get a few scarce species under the belt. Bluethroat, Red-breasted Flycatcher and a team-found Yellow-browed Warbler were a good introduction to Shetland birding, and the appearance of a Goldcrest from behind a single thistle illustrated well how the smallest piece of habitat might hold something special.
In very blustery northwesterly wind we headed to the beautifully rugged and exposed Eshaness. On arrival, several groups of birders had failed to locate the Buff-bellied Pipit that day. Applying ourselves, we managed to pick the bird out of the flock of pipits in its favoured field within 20 minutes and eventually got everyone onto this striking individual. The first new bird for our visitors too, and it wasn't even lunchtime! Nearby, two juvenile Buff-breasted Sandpipers and a party of Snow Buntings performed well. Then off to our accommodation and base for the week, Saxa Vord resort in Unst, via stunning landscape and two ferry journeys.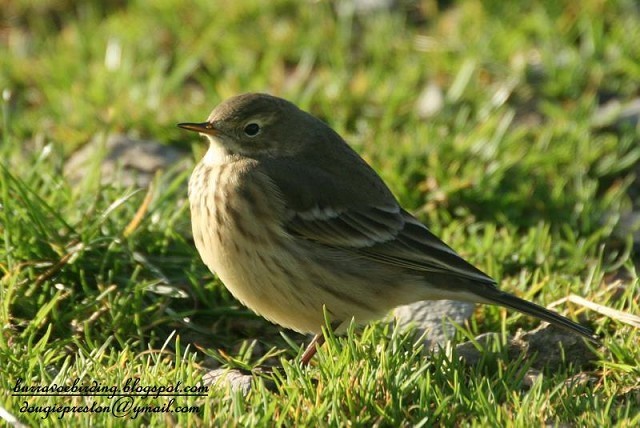 Buff-bellied Pipit, Esha Ness, Mainland, Shetland (Photo: Dougie Preston)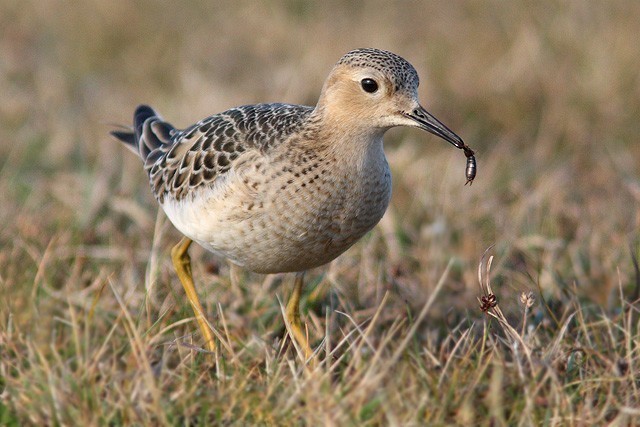 Buff-breasted Sandpiper, Esha Ness, Mainland, Shetland (Photo: David H Hatton)
Content continues after advertisements
Day Two: Sunday 2nd October
A full English breakfast and we were ready to roll, with rare bird hunting beginning in earnest on Unst. Just down the road from Saxa Vord we found the first of two Little Buntings! We also had superb point-blank range views of Hornemann's Arctic Redpoll, up to 20 Greenland Redpolls, a couple of Reed Warblers to spice things up and Common Rosefinch at the day's end — plus a splendid supporting cast of commoner species including 70 Bramblings fresh in and a juvenile Glaucous Gull on Lamba Ness.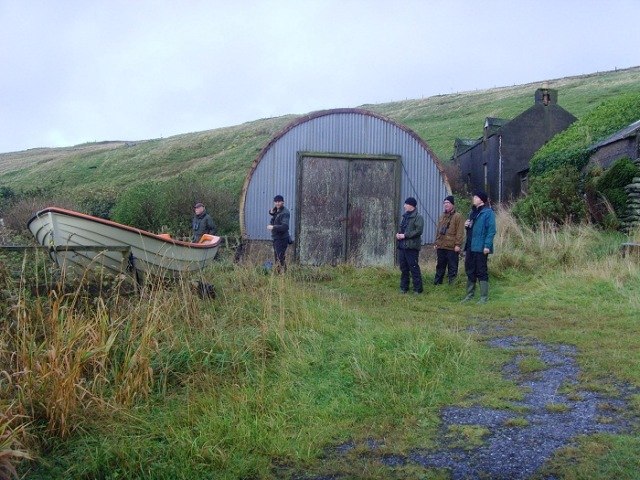 The team begins hunting. Soon after this photo was taken, the first of our two Little Bunting finds flew into a crop field. (Photo: Shetland Nature.)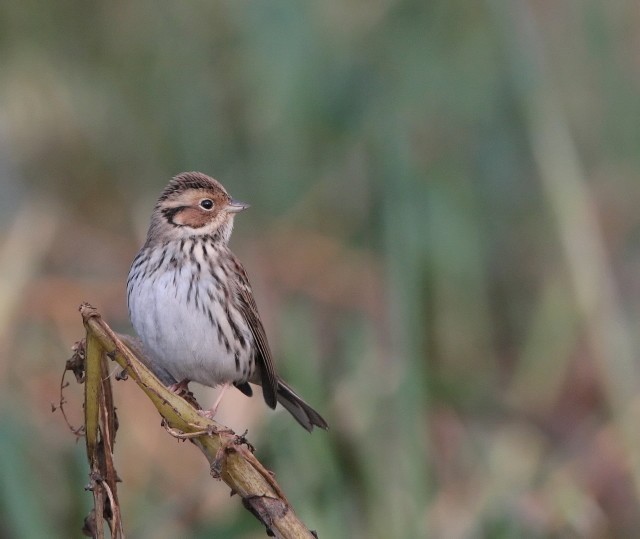 Little Bunting, Norwick, Unst, Shetland (Photo: Robbie Brookes)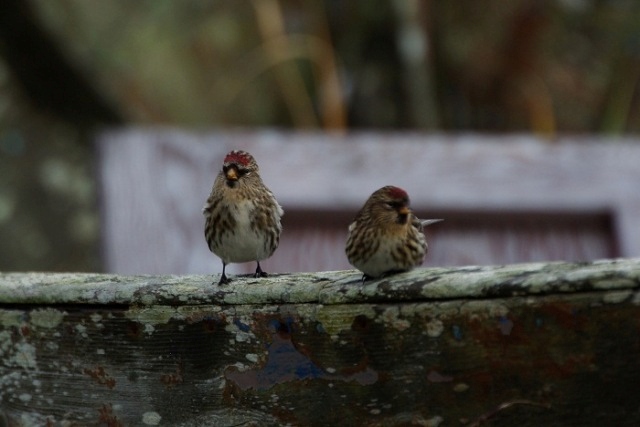 Our first full day on Unst included some great redpoll action, with up to 20 superb Greenland Redpolls. Some sat in the same bush adjacent to Brambling, appearing almost the same size. (Photo: Shetland Nature.)

Hornemann's Arctic Redpoll, Norwick, Unst, Shetland (Photo: Robbie Brookes)
Day Three: Monday 3rd October
With good migrant weather we felt the chunk of our day should be spent on Fetlar. Imagine our utter surprise when during the voyage over, whilst enjoying Northern specialities such as Black Guillemot and Long-tailed Duck, we saw a magnificent sub-adult White-billed Diver not far off the ferry! At first we enjoyed 'on the water' views before it took to the wing, making a jaw-droppingly close fly-past. One group member was so delighted, he was happy to call it a day, and it was only mid-morning! A very unexpected find, and rather unseasonable too —  a good three to four weeks earlier than normal.
Arriving at Aith on Fetlar, having already seen Yellow-browed Warbler and Reed Warbler, the team then engaged in a classic Shetland situation. With less than an hour before our return ferry to Unst we got involved in a jigsaw identification by finding an Acrocephalus warbler which was clearly not 'just a Reed'. Unfortunately the bird remained hidden for most of the time and we left it as an unidentified Acrocephalus, showing features of Blyth's Reed, but Marsh was far from ruled out. Thankfully that was not the end of the story...
Back on Unst, up to five Siberian Chiffchaffs were an education in plumage and calls and there was time for more views of Little Bunting and Hornemann's Arctic Redpoll before settling down to dinner.
Day Four: Tuesday 4th October
With news of a Pallas's Grasshopper Warbler in the South Mainland, along with the possibility of Radde's and Booted Warbler, a day trip to Mainland was planned. Arriving at the site, some excellent photos had just been obtained and the streaky undertail coverts of a Grasshopper Warbler instantly ruled out Pallas's. However, as we stood chatting, news broke that the nearby Booted Warbler at Channerwick had just been re-identified by a Shetland Nature Guide as a Sykes's Warbler!

Sykes's Warbler, Channerwick, Mainland, 4th October 2010. (Photo: Roger Riddington.)
By now, the Shetland Nature team were becoming well trained in flight identification of Locustella, Acrocephalus and Phylloscopus warblers. A Radde's Warbler at Sumburgh showed superbly and hacking back north we jammed a Redstart at the Toft Ferry and a juvenile Black Tern — a rare bird in Shetland — at the Gutcher ferry. All agreed that the birding was outstanding and the scenery stunning — another great day.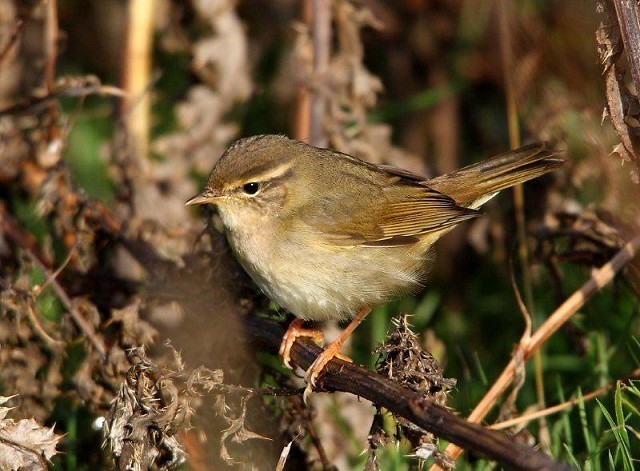 Radde's Warbler, Sumburgh, Mainland, Shetland (Photo: James Wood)
Day Five: Wednesday 5th October
Strong southerly/southeasterly winds made for tough birding. Opting to stay on Unst, we nevertheless saw some good new birds and revisited some old friends: two Little Buntings, loads of Lapland Buntings, a few Snow Buntings, a male Ring Ouzel, Greenland Redpolls in several spots, Hornemann's Redpoll (still looking amazing!), two Yellow-browed Warblers and best of all for the group two adult Greenland White-fronted Geese. This was a new species (depending on your taxonomy!) for most of the group, and one member was on a tick every day so far, so he challenged us to keep it up. Thank goodness for taxonomic shift!
Day Six: Wednesday 6th October 2010
Discussing the day ahead over breakfast, we opted to spend the day on Unst, with Martin informing the group perhaps not to expect too much today in the way of new arrivals, as the winds were coming from the southwest. How wrong could we have been? By the end of the day we had seen our second Sykes's Warbler of the week, identified a Lanceolated Warbler, and had our Fetlar Acrocephalus warbler of three days previously confirmed as a Blyth's Reed. Shetland at its best!

Stunning scenery and amazing birds make for an unforgettable experience. (Photo: Shetland Nature.)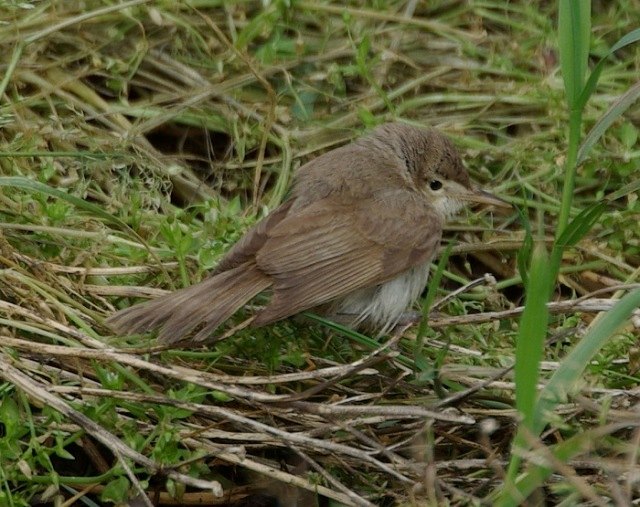 After 110 Snow Buntings at Lamba Ness, Unst, Brydon rang to tell us to get to Fetlar and see this, the group's second Sykes's Warbler in just two days, courtesy of himself and James McCallum. (Photo: Shetland Nature.)

Sykes's Warbler, Tresta, Fetlar, Shetland (Photo: Brydon Thomason)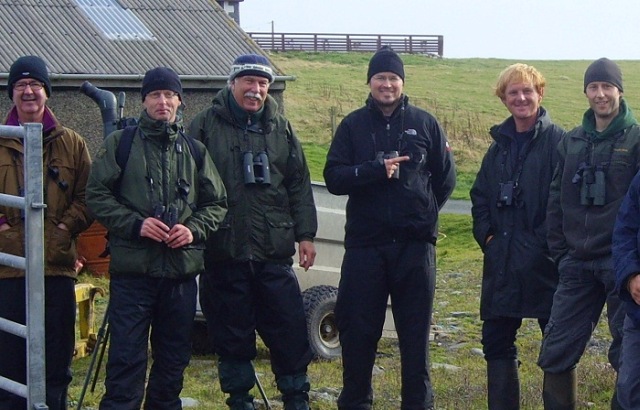 Team Shetland Nature after watching the very obliging Fetlar Sykes's Warbler. Remarkably this was the third Sykes's of the year to be found or identified by a member of the Shetland Nature team! (Photo: Shetland Nature.)

The most northerly house in Britain, at Skaw, Unst. The last BB rarity here was the Moltoni's Warbler in June 2009, but the team's highlight was identifying a Lanceolated Warbler here, despite standing in two hours of pouring rain. A real team effort! (Photo: Shetland Nature.)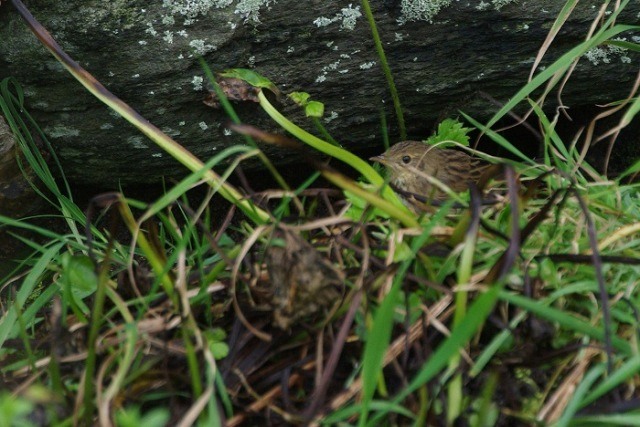 Lanceolated Warbler, Skaw, Unst, 7th October 2010. By the next morning the bird looked much better; dried out, in sunshine and often in the open, all overnight nerves were dispelled and the bird was enjoyed by many visiting birders. (Photo: Martin Garner.)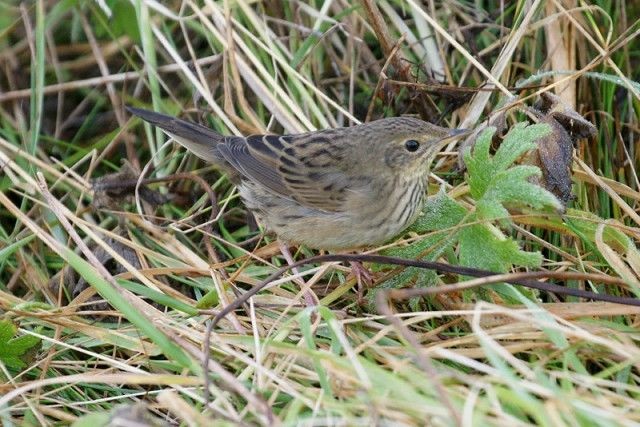 Lanceolated Warbler, Skaw, Unst, Shetland (Photo: Mike Pennington)
Day Seven: Thursday 7th October
Up the next morning, we all agree we wanted to see the Aith Acro again, and properly, for ourselves. We had a little time before the ferry, so headed to Skaw and enjoyed the Lanceolated Warbler in sunshine alongside the delighted twitchers. On route to the ferry, driving through Baltasound, Martin noticed the large form and slightly undulating flight of a 'big finch' flying past the minibus. Pulling over into a lay-by we saw it dive into some garden Rosa rugosa. All jumped out just in time as a Hawfinch exited from the garden and carried on north. One of the group, in view of our island of choice, gave us our own team moniker: UNSToppable!
Arriving on Fetlar, we were delighted to find our Blyth's Reed was still present and thankfully this time was considerably more obliging. First perched out on wall and fence line and then at closer range among the docks, like so many tricky IDs it's so much easier with prolonged views and images to pour over!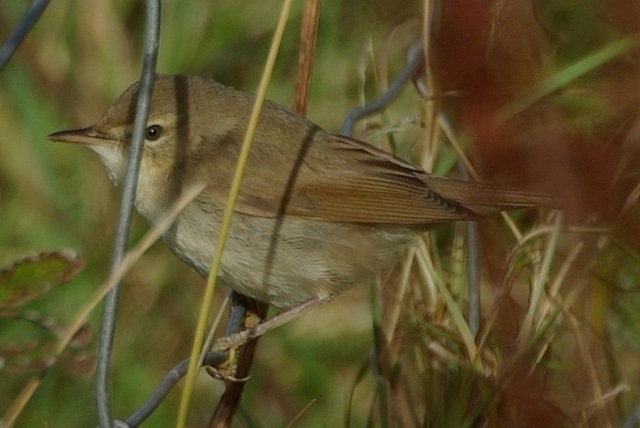 Blyth's Reed Warbler, Aith, Fetlar, 7th October 2010 (photo: Martin Garner).
We then worked a few island hotspots, notching up a young Turtle Dove, several Whinchat and another Yellow-browed Warbler. A late Sand Martin was also a surprise.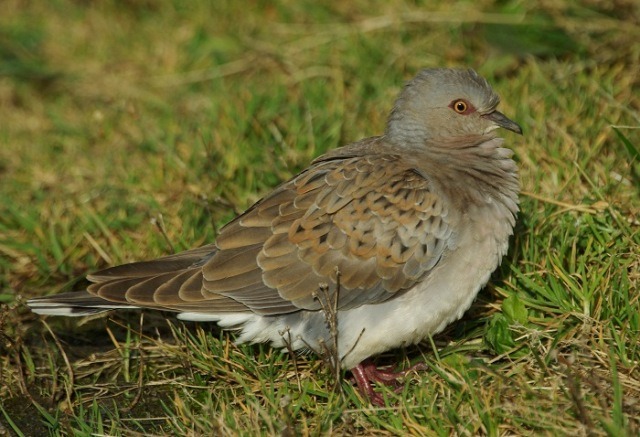 First-year Turtle Dove, Tresta, Fetlar, 7th October 2010 (photo: Martin Garner).
Back on Unst we picked up a Yellow-browed Warbler in flight from the minibus — spicing up the birding — the two Little Buntings, Hornemann's Redpoll and a bunch of Greenland Redpoll at Norwick. As the sun began to set, Paul picked up a calling Richard's Pipit coming up from Norwick beach. Does it ever end?!
Day Eight, Friday 8th October
The last day of our 2010 birding tour, and with winds coming from the southeast we had a feeling there was a treat or two still to come.... We couldn't resist a pre-dawn assault on Skaw and Norwick, checking for visible (and audible) migration. Clearly Bramblings, Siskins and Redwings were on the move and 'new in'. Just offshore the educational duo of juvenile terns — one Common and one Arctic Tern — showed well plus two first-winter Little Gulls. An apparent Black Duck hybrid, which we had glimpsed earlier in the week, flew over Norwick allowing Brydon to capture a couple of record shots.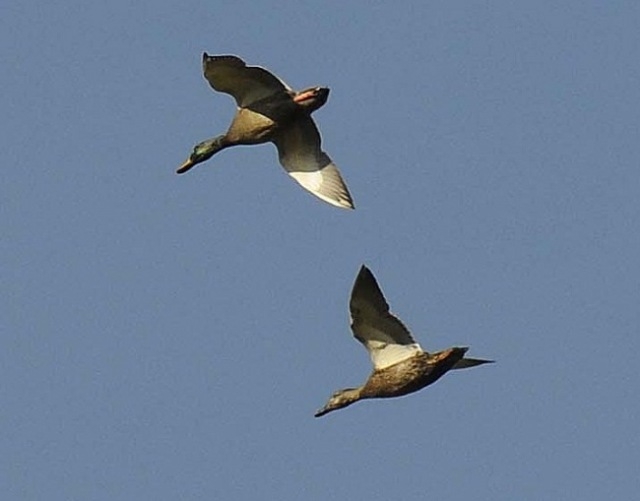 An as yet unidentified dabbling duck, suspected of being a Black Duck × Mallard hybrid, but unresolved. Its double white-barred speculum immediately ruled out the real deal. The presence of a drake Black Duck on the Faeroes in recent years, producing a number of hybrid offspring, may explain our sighting. Norwick, Unst, 8th October 2010. (Photo: Shetland Nature.)
Heading south we had another 'from the van' find as Graham picked up a Barred Warbler along a stone dyke at Haroldswick, just before a phone call with news that a Dusky Warbler had been found at Halligarth. Typically brief initial views of the Dusky Warbler, constantly luring us in with its distinct call, eventually led to an enjoyable encounter, plus two Yellow-broweds and several Swallows over. Whilst searching for Otters, news broke of a Red-flanked Bluetail on south Mainland, so we wasted no time in heading for the ferry.
By the time we had reached the North Mainland there was a choice of two Bluetails, one at Geosetter and one at Tresta. We opted for the Tresta bird (found by the Punkbirders) as it had been found a couple of hours later, so would surely have attracted a smaller crowd — a brilliant choice, as we had the bird to ourselves!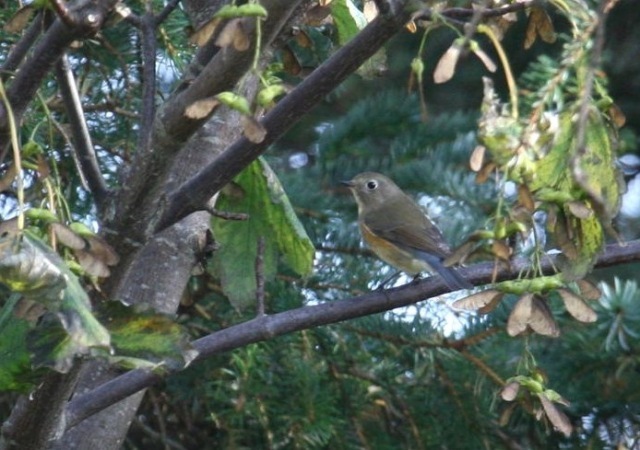 Red-flanked Bluetail, Tresta, West Mainland, 8th October 2010. Not a bad species to finish our 2010 Shetland Autumn Birding trip on and a new bird for most. (Photo: Dan Brown.)
Our week came to an end with warm handshakes, smiles on faces and time to reminisce with delight on the 118 species on the trip list. New birds for everyone and some top-notch scare and rare bird finds as well. The conversation then quickly turned to, "when can we book for next year?"
We predicted that the Sumburgh area was a likely spot for an hour or two's birding before flights home the next morning and hopefully a chance of a Pallas's Warbler, having heard of one on Unst as we left — and that's exactly what happened. Before catching flights everyone enjoyed a carpet of Goldcrests around the Sumburgh hotel, indicating a mini-fall, amongst which was the predicted Pallas's Warbler.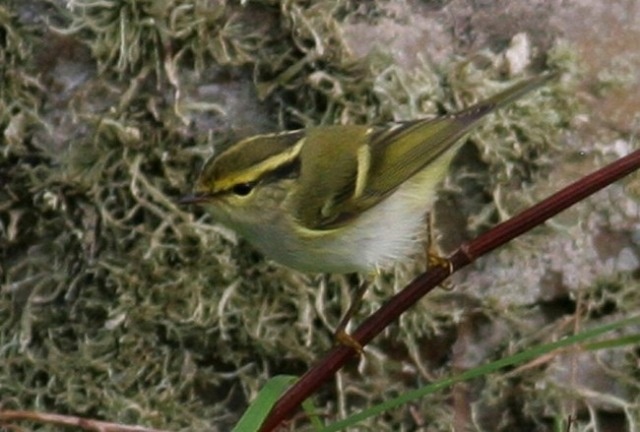 Pallas's Warbler, Sumburgh Farm, 9th October 2010. The one species our tour group thought they had missed. Not so, all members present the next morning, just a short walk from their hotel rooms. Nice finale before flights home. (Photo: Gary Bell.)
Meanwhile, the tour leaders managed a couple of last-day finds for themselves. Martin joined Roger Riddington and Paul Harvey around South Mainland where they notched up not one, but two Olive-backed Pipits, as well as enjoying another Dusky Warbler, two Yellow-broweds and a Red-breasted Flycatcher in the area. Meanwhile, Brydon and James McCallum teamed up again and found a fantastic Pallas's Grasshopper Warbler on Brydon's home island of Fetlar.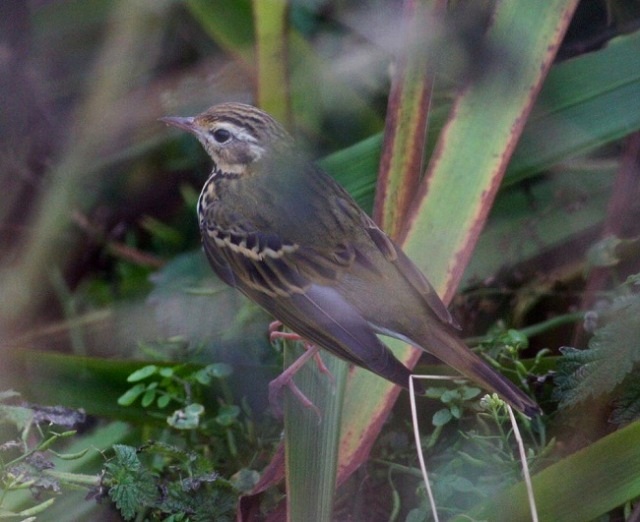 Olive-backed Pipit, Eel burn, 9th October 2010. (Photo: Roger Riddington.)

Pallas's Grasshopper Warbler, Fetlar, Shetland (Photo: Brydon Thomason)
To make 2011 your year of birding discovery and, if recent years are anything to go by, be part of a rarity-finding team, join the team in autumn 2011.

Team Shetland Nature, Autumn Birding 2010, outside the Community Centre on Fetlar. (Photo: Shetland Nature.)