This spring, an estimated 100,000 pairs of Swifts will return from their winter holidays in Africa to grace the skies of Britain, and they will need somewhere to raise a brood of youngsters. Many of these iconic birds will make their way back to the same nest that they have used for several years, but for some the old nest will no longer be available. As we repair our soffits, insulate the loft and replace the old roof with a new one, we block the holes, nooks and crannies that provide Swifts with just what they need to make a home for the summer.
As part of National Nest Box Week (NNBW), 14th–21st February, the British Trust for Ornithology, in partnership with Jacobi Jayne and with support from Swift Conservation, are encouraging people to put up nest boxes for these wonderful birds. Jeff Baker of the BTO said, "The Swift is in trouble. During the last decade we have lost over a quarter of our breeding pairs so now is a good time to try and help this majestic summer visitor before it is too late. By putting up a nest box just under our eaves we can provide the much needed nesting space that has been lost."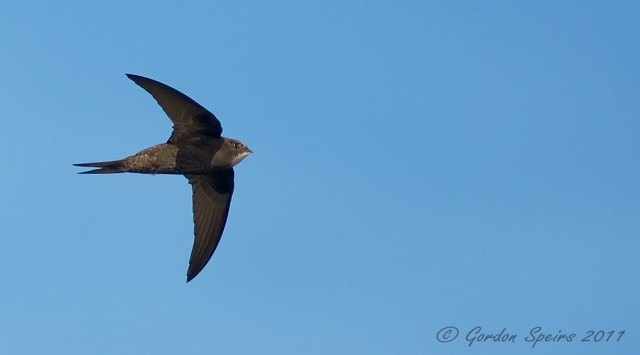 Common Swift, Croxall Lakes, Staffordshire (Photo: Gordon Speirs)
Content continues after advertisements
Edward Mayer of the Swift Conservation advice service commented, "There are many different ways of accommodating Swifts on your property, from purpose-made boxes that fit into a wall, to more traditional wooden boxes that can be fitted close to the roof. There really is a solution for everyone and every Swift, so go on, fit a Swift box this National Nest Box Week! You can find out how to do it at our website, www.swift-conservation.org."
NNBW isn't just about Swifts. Launched on Valentine's Day, it is traditionally the time of year when birds begin to pair up before the breeding season, so now is a great time to put up any nest box in your garden. There are many different types that can be used, from a traditional box with a 25mm hole for Blue Tits and Coal Tits, to one with a 45mm hole for Starlings. For more information, visit the BTO website.