Birdwatch - June 2022
---
Issue Media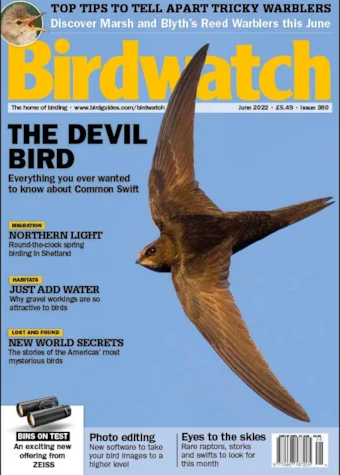 Issue Meta Data
Issue Number:

210

On Sale:

26/05/2022

Digital Edition:

£4.99

Print Edition:

£5.49 (plus postage)
Issue Summary
Common Swift is an iconic summer sight, but how well do you know them? June's Birdwatch takes an in-depth look, while also providing timely ID tips on 'Acros', exploring the potential of Shetland in spring, the Americas' most enigmatic birds and more.
On Sale: 26/05/2022
---
Purchase Options
Print Edition: (plus postage) £5.49
Select Postage
---
Why Not Subscribe?
Ensure you never miss an issue of your favourite birding magazine by taking out a great value subscription.
---
What's in this Issue?
High summer fliers
The sight of a Common Swift scything through the summer sky is an iconic one. But how familiar are we with this species – and why is it declining? David Campbell takes a closer look at this cherished bird.
Shetland in spring
Renowned for its autumn birding, Shetland is far less visited in spring. With its breeding seabirds and waders, plus an impressive track record of producing rare vagrants, Rebecca Nason explains that this time of year shouldn't be overlooked.
Field ID notes: spring 'Acros'
Vincent van der Spek looks at three Acrocephalus warblers and explains how to tell the rare Blyth's Reed from the scarce Marsh and common Reed Warbler, by both plumage and song.
Lost and found: Americas
The Americas are home to some of the world's rarest and most sought-after birds, some of which have seemingly vanished. Daniel Branch takes a look at the birds which have been rediscovered and those that might still be missing in action.
The attraction of extraction
Simon Papps delves into the artificial habitat of gravel pits and their birdlife, from winter wildfowl to migrant waders and breeding warblers.
June's digital edition has lots of bonus content, including:
• Film of singing Blyth's Reed and Marsh Warblers;
• Video of Common Swifts;
• Footage of spring rarities in Shetland;
• Sound recordings and calls of three Acrocephalus warbler species;
• Film of rarities and scarcities from Britain, Ireland and the wider Western Palearctic.