Birdwatch - May 2022
---
Issue Media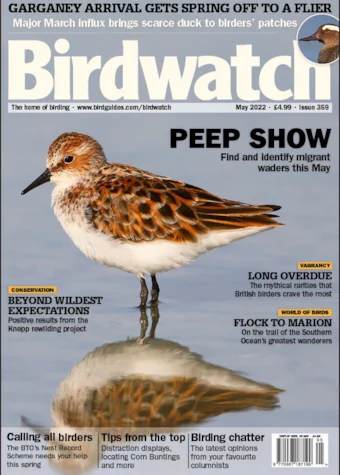 Issue Meta Data
Issue Number:

209

On Sale:

28/04/2022

Digital Edition:

£5.99

Print Edition:

£0.00 (plus postage)
Issue Summary
Which vagrant is most overdue for a reappearance in Britain? May's Birdwatch takes a look at the possibilities, as well as sharing the latest news from the Knepp rewilding project, tips on monitoring nesting birds, finding and identifying waders and much more.
On Sale: 28/04/2022
---
---
Why Not Subscribe?
Ensure you never miss an issue of your favourite birding magazine by taking out a great value subscription.
---
What's in this Issue?
Blasts from the past
Dominic Mitchell concludes his two-part look at Britain's 'lost' rarities with a round-up of the passerine vagrants that light up the archives but have failed to make a reappearance in recent decades.
Beyond wildest expectations
The Knepp Estate in West Sussex is well known for its White Stork reintroduction programme, but it's also one of the most rapidly improving biodiversity hot-spots in Britain and many declining bird species are thriving there.
Field ID notes: spring waders
May is the peak month for the diversity and number of Arctic-bound shorebirds on your patch. Josh Jones provides tips on how to find and identify several species of Calidris sandpipers.
Nest checkers
Lee Barber and Mike Toms of the BTO explain how to hone your nest-finding skills and contribute valuable data to science this spring and summer.
Flock to Marion
Sam Jones was fortunate enough to board a special seabird cruise in the Southern Ocean, and he enjoyed the trip of a lifetime in the process.