Birdwatch - July 2022
---
Issue Media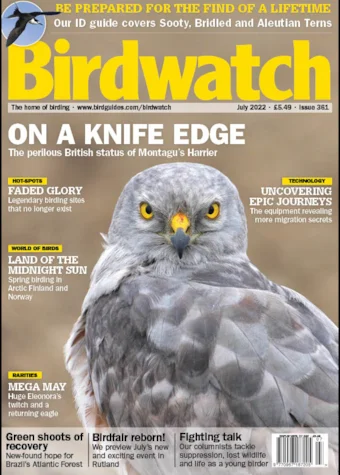 Issue Meta Data
Issue Number:

211

On Sale:

23/06/2022

Digital Edition:

£5.99

Print Edition:

£0.00 (plus postage)
Issue Summary
July's Birdwatch has the latest on the status of the UK's rarest bird of prey, Montagu's Harrier, with ID advice on rare terns, details of a new way to track migrating birds, how Brazil's Atlantic Forest is being saved and a look at some of the greatest birding sites of past days.
On Sale: 23/06/2022
---
---
Why Not Subscribe?
Ensure you never miss an issue of your favourite birding magazine by taking out a great value subscription.
---
What's in this Issue?
The last dance?
Montagu's Harrier is in deep trouble, but can anything be done to save the UK's rarest breeding raptor? RSPB's Mark Thomas takes a closer look.
In times gone by
Look into the rarity archives and many site names will stand out – not least for their absence from today's birding headlines. Richard Bonser reminisces about these 'lost' locations of the past.
Field ID notes: Onychoprion terns
Andy Stoddart gives the low-down on correctly identifying three exciting vagrants to our shores: Sooty, Bridled and Aleutian Terns.
Birds of the midnight sun
Ed Stubbs tells the tale of his recent visit to the iconic European birding region of Lapland and Varanger.
Making tracks
Dr Lucy Mitchell from the UK Motus steering group outline this exciting new tracking system.
Saving the Atlantic Forest
REGUA's Lee Dingain explains how Birdwatch readers can support the World Land Trust's Plant a Tree programme and preserve this unique habitat.