Birdwatch
---
Issue Media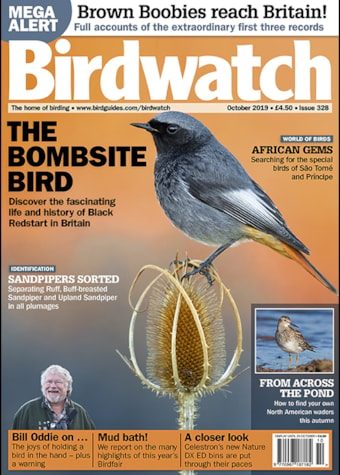 Issue Meta Data
Issue Number:

178

On Sale:

26/09/2019

Digital Edition:

£3.99

Print Edition:

£0.00 (plus postage)
Issue Summary
October 2019 - this issue is only available as a digital edition
On Sale: 26/09/2019
---
---
Why Not Subscribe?
Ensure you never miss an issue of your favourite birding magazine by taking out a great value subscription.
---
What's in this Issue?
Order your copy today and get it delivered for FREE (UK only)!
Mega alert: Brown Boobies reach Britain!
Full accounts of the extraordinary first three records
The bombsite bird
Discover the fascinating life and history of Black Redstart in Britain
Identification: sandpipers sorted
Separating Ruff, Buff-breasted Sandpiper and Upland Sandpiper in all plumages
World of birds: African gems
Searching for the special birds of São Tomé and Príncipe
From across the pond
How to find your own North American waders this autumn
Bill Oddie on …
The joys of holding a bird in the hand – plus a warning
Mud bath!
We report on the many highlights of this year's Birdfair
A closer look
Celestron's new Nature DX ED bins are put through their paces