Birdwatch
---
Issue Media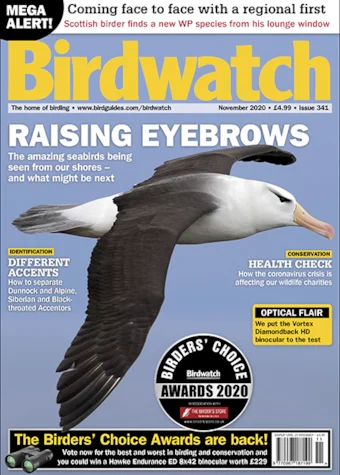 Issue Meta Data
Issue Number:

191

On Sale:

22/10/2020

Digital Edition:

£4.99

Print Edition:

£0.00 (plus postage)
Issue Summary
November 2020: spectacular seabirds, separating Dunnock and Alpine, Siberian and Black-throated Accentors, coronavirus and conservation - our November issue is on sale now!
On Sale: 22/10/2020
---
---
Why Not Subscribe?
Ensure you never miss an issue of your favourite birding magazine by taking out a great value subscription.
---
What's in this Issue?
■ Wandering wayfarers
With the recent remarkable occurrences of seabirds such as White-chinned Petrel and Short-tailed and Flesh-footed Shearwaters in the north-east Atlantic, Dan Brown delves into the origin of these extralimital species and the causes of vagrancy, as well as speculating about potential future arrivals.
■ Siberian, Black-throated and Alpine Accentors and Dunnock
While Dunnock is a familiar bird of the hedgerows, Siberian and Alpine Accentors are mega rare in Britain and Ireland and Black-throated is yet to be recorded here – but has potential. Andy Stoddart provides all the ID information you need to distinguish all four species should you be lucky enough to uncover one in the field.
■ Choice picks
It's time for our annual awards – the Birders' Choice Awards. This is your chance to highlight the best – and worst – in birding and conservation for 2020. This year we've introduced a brand new category: Young Conservationist of the Year, in order to recognise the passion and achievements of the many youngsters out there who are fighting for our environment.
■ Conservation in a post-corona world
It's safe to say that 2020 has been a challenging year, with businesses, organisations and individuals feeling the pinch due to COVID-19. Lucy McRobert takes a look at what the long-term effects for conservation might be, talking to some of the major players in the sector.
Plus: more thought-provoking comment from columnists Dominic Mitchell, Lucy McRobert, Mark Avery and young birder Sorrel Lyall, our latest photo challenge, the team at BirdGuides provides round-ups of September's birding highlights from Britain, Ireland and the wider Western Palearctic, news, views and reviews, and your birding questions answered by our expert panel.