Birdwatch
---
Issue Media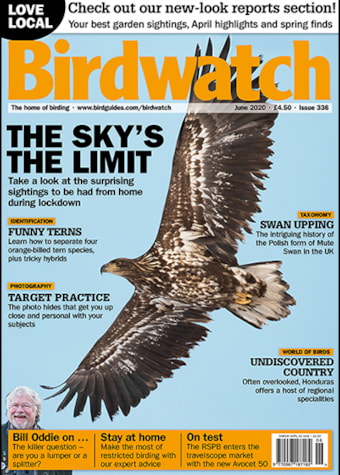 Issue Meta Data
Issue Number:

186

On Sale:

28/05/2020

Digital Edition:

£4.99

Print Edition:

£0.00 (plus postage)
Issue Summary
June 2020
On Sale: 28/05/2020
---
---
Why Not Subscribe?
Ensure you never miss an issue of your favourite birding magazine by taking out a great value subscription.
---
What's in this Issue?
■ Homebound birding
There's no end in sight to the current UK-wide lockdown, but that doesn't mean birding has to stop. While confined to birding in our back gardens or even from a kitchen window, there's still plenty to see. Dan Forder has been intensely watching his immediate surroundings and has turned up an amazing run of sightings. He shares some advice on making the habitats on your doorstep.
■ Good terns
Collectively known as the 'orange-billed terns', Elegant, Lesser Crested and Royal Terns have mega status in the UK, but all these very similar species have been recorded here in summer. The possibility of hybrids further confuses the matter. Pierre-André Crochet has all the identification advice you need to separate these sought-after terns should you be lucky enough to discover one.
■ At the crossroads
Located in the heart of Central America, Honduras provides a meeting point between North and South American birds. Dominic Couzens visited this growing ecotourism destination and discovered a host of spectacular birds and other wildlife.
■ Swan dive
A strikingly pale colour morph of Mute Swan, often referred to as Polish swan, isn't widely recognised by birders. Moss Taylor takes a look at its distribution and status in Britain and Ireland.
Plus: more thought-provoking comment from columnists Dominic Mitchell, Bill Oddie and Mark Avery, young conservationist Mya-Rose Craig on receiving an honorary doctorate from the University of Bristol, Steve Young's latest photo challenge, the best rare and scarce bird round-ups for Britain, Ireland and the wider Western Palearctic from the team at BirdGuides, news, views and reviews, and your birding questions answered by our expert panel.