Birdwatch June 2017
---
Issue Media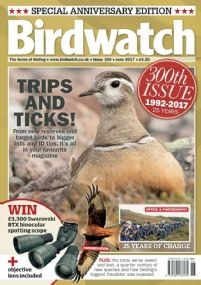 Issue Meta Data
Issue Number:

150

On Sale:

25/05/2017

Digital Edition:

£3.99

Print Edition:

£0.00 (plus postage)
Issue Summary
Now only available digitally
On Sale: 25/05/2017
---
---
Why Not Subscribe?
Ensure you never miss an issue of your favourite birding magazine by taking out a great value subscription.
---
What's in this Issue?
Winners and losers – Those species faring well in the last quarter centru and those in decline or gone, plus the state of our habitats and the big issues conservationalists need to address in future, by Mark Avery.
A brief history of splits and lumps – David Callahan has all you need to know about avian taxonomy, from Sibley and Monroe's ground-breaking new world order of birds to the splits added to the British list since 1992.
Tools of the trade – From the porro-prism binoculars and drawtube scopes of yesteryear to today's gas-filled optics and digital cameras, Mike Alibone and Steve Young outline the huge recent technological advances in birding equipment.