Birdwatch
---
Issue Media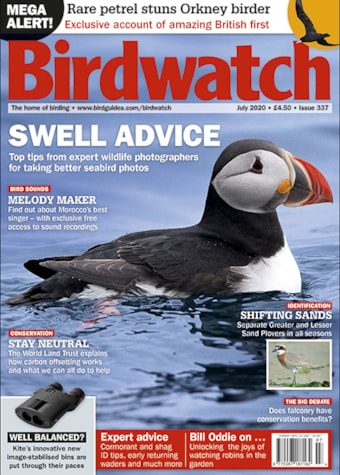 Issue Meta Data
Issue Number:

187

On Sale:

25/06/2020

Digital Edition:

£4.99

Print Edition:

£0.00 (plus postage)
Issue Summary
July 2020 – Morocco's best singer, separating sand plovers, arguments for and against falconry and much more!
On Sale: 25/06/2020
---
---
Why Not Subscribe?
Ensure you never miss an issue of your favourite birding magazine by taking out a great value subscription.
---
What's in this Issue?
■ Maghreb birds
In this very special extract from the new book, Morocco: Sharing the Birds, the Sound Approach team looks at Black-crowned Tchagra. For several decades, Morocco's Oued Massa, south of Agadir along the Atlantic coast, has been a well-known site for the species. Complete with exclusive images and a unique code giving you access to sound recordings of the bird's songs and calls.
■ Head in the sand
Though very rare, both Greater and Lesser Sand Plovers are possible in Britain and Ireland. These two species are very similar in all plumages, with differences in size and structure being the best way to distinguish them. However, this is less helpful with a lone vagrant. Josh Jones provides all the information you need to recognise them in the field should you be lucky enough to come across one.
■ Carbon offsetting
The World Land Trust's Carbon Balanced is an initiative allowing individuals and organisations to neutralise their carbon footprint. But how does this work and what else should we be doing to reduce our impact? Katie Ford-Thomas investigates.
■ Photo finish
Wildlife photography is challenging at the best of times, and even more so from the deck of a boat with fast-moving seabirds as the target. So how do you get great shots? Lucy McRobert shares some top advice from a few of the UK's best bird photographers.
Plus: more thought-provoking comment from columnists Dominic Mitchell, Bill Oddie, Lucy McRobert and Mark Avery, our latest photo challenge, the team at BirdGuides provides round-ups of May's birding highlights and your best garden sightings, news, views and reviews, and your birding questions answered by our expert panel.