Birdwatch August 2017
---
Issue Media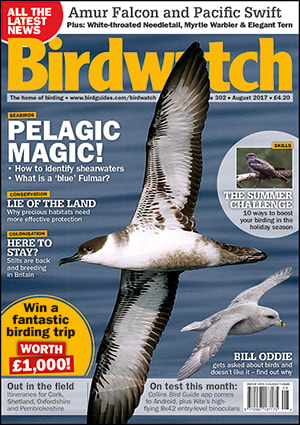 Issue Meta Data
Issue Number:

152

On Sale:

27/07/2017

Digital Edition:

£3.99

Print Edition:

£0.00 (plus postage)
Issue Summary
Digital copy available only
On Sale: 27/07/2017
---
---
Why Not Subscribe?
Ensure you never miss an issue of your favourite birding magazine by taking out a great value subscription.
---
What's in this Issue?
Highlights:
Amur Falcon and Pacific Swift
Plus: White-throated Needletail, Myrtle Warbler & Elegant Tern
Pelagic magic!
• How to identify shearwaters
• What is a 'blue' Fulmar?
Lie of the land
Why precious habitats need more effective protection
Here to stay?
Stilts are back and breeding in Britain
Win a fantastic birding trip WORTH £1,000!
The Summer challenge
10 ways to boost your birding in the holiday season
Bill Oddie
gets asked about birds and doesn't like it – find out why
Out in the field
Itineraries for Cork, Shetland, Oxfordshire and Pembrokeshire
On test this month:
Collins Bird Guide app comes to Android, plus Kite's high-flying 8x42 entry-level binoculars

PLUS! Free Birdfair Programme