Welsh Bird Report 2015
bf5909f2-e07c-4550-9a0e-213eed8c3598
If you want to know the 'big picture' on any bird recorded in Wales during 2015 then (perhaps unsurprisingly) this report is the one for you. This traditional A5-size report, some 224 pages long, is packed with interesting information, with the systematic list alone taking up 195 pages. What is surprising, however, is that the report is a summary of the 12 county/site bird reports already published for 2015 and considering that this summary Welsh report was published in December 2016, is surely a very respectable achievement.
Having recently reviewed the Carmarthenshire and Gwent reports for 2015, I was keen to see how accurate and appropriate the summary Welsh version would be, and I'm pleased to say that it is a very faithful representation.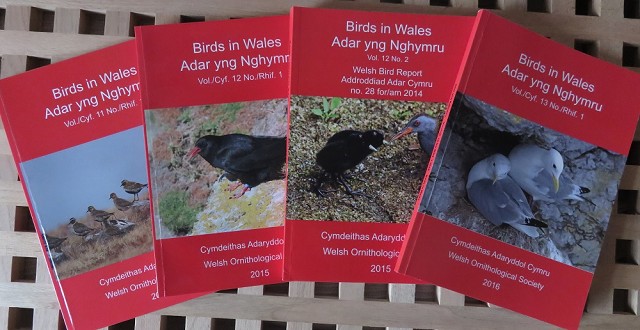 The Welsh Bird Report is printed in the bi-annual journal Birds in Wales each year.
A nice, simple map is usefully placed up front (though I did find the tiny font size a struggle), followed by a brief introduction and acknowledgement piece, and a useful two-page monthly weather summary. Then follows the important species accounts, each of which includes English and Welsh names and a brief status description linked to a code (A-D) which determines the type of summary included e.g. code A = all records included, D = a common species with nothing of note to report (though I could only find five species in this category). A summary of breeding records, large counts and unusual records are included for the vast majority of species. BirdTrack data (number of records, percentage of lists, 1-km squares) is included for all species, while tables showing monthly totals or maxima for each county or key site, early and latest dates for each county and summary breeding data (for example, Chough) are also included. Each species account also includes a summary of the notable records from each county, making this a very valuable record for such a large geographical area.
A bank of eight colour photographs sits in middle of the report, with additional photographs on the front and rear covers; only one of these carries a location and none include a date/month. While such pictures certainly add appeal, I can't judge their relevance to the report and wonder why none of the year's star birds haven't been included.
At the rear is a very readable 17-page ringing report on the more than 50,000 adults and 20,000 pulli ringed in the year. The data for the report has been obtained from the BTO directly and so, while certainly complete, there may be a slight disconnect if the ringer doesn't submit data to the county recorders. for example, see my Gwent 2015 review concerning Pied Flycatcher and Whinchat. However, Peter Howlett has done a fabulous job in condensing this information and extracting an interesting range of ringing recoveries from the vast number available.
Details of where to obtain the supporting county/site bird reports plus County Recorder contact details are also included at the rear. With an ever-changing species order (which follows the British Ornithologists' Union's May 2016) it is extremely pleasing to see a Species Index also included, something which is becoming more commonly found in annual reports.
I also think it would have been interesting to know, early on, how many species were logged in Wales during the year. I counted 287, with two new additions being Cedar Waxwing (for which some remains found) and Cretzschmar's Bunting (alive and well on Bardsey).
Despite my minor niggles, this is a hugely useful source of information and one which has been speedily and accurately put together by a hardworking team of compilers and editors.
Copies cost £12 each, while for £20, membership of the Welsh Ornithological Society brings many other benefits; see details at birdsin.wales/support_wos