Tom Lock Series 2 8×42 and 10×42 binoculars
a48a0680-c52e-4d18-8ed9-e4abe443e7cc
Having been impressed with Opticalia's Tom Lock Series 1 10x42 binocular when I reviewed it last year (Birdwatch 260: 68), I was keen to check out the new Series 2 collection, which became available in August. The Series 2 represents an extension to the range, with both the 8×42 and the 10×42 retailing at £99.95. While the Series 1, priced at just £49.95, was positioned to give the best possible value for money below £50, the Series 2 is significantly 'up-specced' to give the same value for money at just below the £100 price point.
The exterior is different, appearing more rugged, with the polycarbonate body having undergone a redesign which features a smooth bridge and an inset textured area designed to increase grip when in contact with your hands. I found the twist-out, rubber-covered metal eyecups comfortable against my eyes; click-stopping in three positions above the base setting, I was able to see the complete field of view when they were fully extended.
The dioptre, mounted on the right ocular, turns freely and smoothly and is non-locking. The densely stippled metal focusing wheel displays the same smooth mechanics, with just over two anti-clockwise turns taking the focused image from little more than 2 m to infinity. At 129 m at 1,000 m, the field of view on the 8× magnification model is more than acceptable, but at 101 m on the 10× model the difference is noticeable and feels narrow in comparison. I found very little curvature distortion at the field's edge and the image remained very sharp to within approximately 5 per cent of the edge of the field, where it softened a little on both models.
The image quality is exceptionally good, with both binoculars delivering strong, natural colours and a pleasing degree of contrast set within an overall neutral to cold colour rendition. The level of chromatic aberration is lower than you might expect and, while it's still evident to some degree in the centre of the image and more obvious in the outer third, it does not seriously detract from the viewing experience.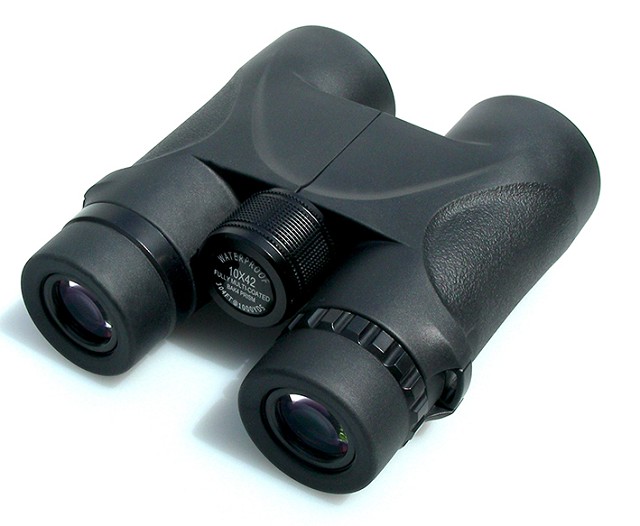 Optalia TL Series 10×42 LR.
Both models deliver a bright image — the 8× magnification binocular understandably more so. Series 2 now includes fully multicoated optics and silver prism coatings, both of which contribute significantly to increased brightness.
Slip-on, tethered objective covers appear to fit reasonably tightly, but still carry the risk of becoming detached in the field. Other accessories in the package include an articulated rainguard, padded neck-strap and a soft, padded carry case.
While the entry level Series 1 binoculars are still available, and reported to be selling well, the two models under review here still represent an exceptional return on investment in terms of 'performance per pound', and both are seriously worthy of consideration if you are contemplating a first-time purchase.
Further information
| | 8×42 | 10×42 |
| --- | --- | --- |
| Price: | £99.95 | £99.95 |
| Size: | 135×124 mm | 135×125 mm |
| Weight: | 670 g | 673 g |
| Field of view at 1,000 m: | 129 m | 101 m |
| Light transmission: | not available | not available |
| Close focus: | 2 m | 2 m |
| Gas-filled: | Yes | Yes |
| Waterproof: | Yes | Yes |
| Guarantee: | Limited lifetime | Limited lifetime |