Tice's Meadow Annual Report 2016
19e50a2f-2a8d-4866-be0a-5a56c12bfffd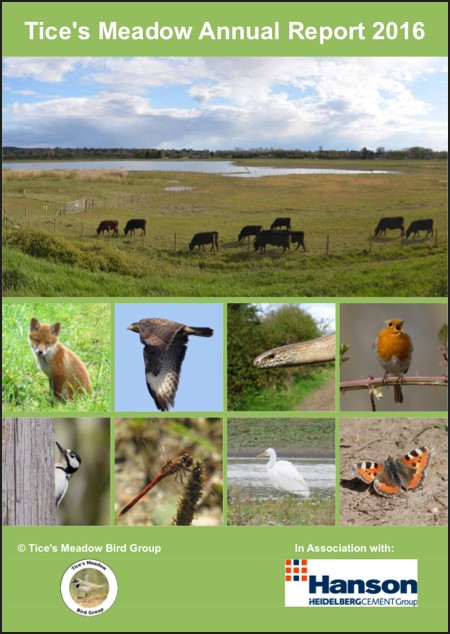 Since the opening of the London Wetland Centre in 2000, the peculiar little land-locked world of Surrey birding was for a long time essentially a campaign between this sparkly new WWT reserve, Beddington sewage farm, Holmethorpe Sand Pits and Walton Reservoirs. With a scene almost governed by sites with controlled access, it is no wonder that Surrey has enjoyed less of a hard-core following than other comparable inland counties. However, a new player has transformed the picture in recent years: Tice's Meadow, on the edge of the village of Badshot Lea and just on the right site of the Hampshire border.
The Tice's Meadow Annual Report 2016 marks a pivotal moment in the conservation of that site, and in its birding and wildlife-recording activities, as it is the first report published by the formally constituted Tice's Meadow Bird Group (TMBG), following three produced in its infancy. As well as being a brilliant place to birdwatch, Tice's is easily viewed at any time by public and permissive footpaths and this has helped build a veritable army of fervent and capable volunteers. Looking through the 2016 Review pages, which also detail water levels and rainfall (decisive factors for breeding and migrant birds at Tice's), it is uplifting to see the impact already achieved by these dedicated individuals through the group's conservation and community engagement activities. It would be great to see more of this detailed in other local bird reports.
Preceding the 2016 Review are 18 pages of Site Overview. This section explains everything one needs to know about Tice's Meadow, including its varied habitats, history and bird group, complete with photographs and maps. A birder's dream, Tice's draws in anything from diving ducks through waders and raptors to passerine migrants, alongside its healthy assemblage of breeding species. The site's birding history only really stretches back to 2004 so it is amazing to see what has happened since, as well as to read about the back-story of the working site.
The majority of the pages are, of course, taken up by the bird report and this is where most people will focus their preliminary flick-through. Opened by a refreshingly concise review of the 2016 in relation to conditions and bird sightings, a systematic list follows and takes one through the monthly maxima or records for each of the 152 species logged in 2016, a mighty total for a 150-acre inland site. Decorated with lots of lovely photographs of common birds and rarer visitors, it also highlights Biodiversity Action Plan species and those listed as Red or Amber in Birds of Conservation Concern 4. Breeding information (unfortunately a little scant but something that is identified as an area to work on) and dates of arrival and departure are held separately in tables at the back of the Bird Report section, along with a detailed ringing report, sightings of hybrids and 'county records' set in 2016 and all time.
The only significant niggle that I have with the report is the apparently conscious decision to dismiss official decisions made by the Surrey Bird Club Records Committee, instead listing a few records not accepted by a self-made but completely unexplained Tice's records committee. Included are two records which were rejected at county-level, including a photographed, rather unconvincing 'Caspian Gull'.
Beyond that, and the occasional strange use of the term 'vagrant', which I've noticed cropping up in other local reports, the entire A4 report is an utter pleasure to look at and read. Indeed, this is all the truer thanks to a fabulous 26-page Wildlife Report section which charts the fortunes of lepidoptera, odonata, mammals, amphibians, reptiles, insects, arachnids and fungi in considerable detail, highlighting the breadth of local expertise. In the back pages, local and county birders will find a fascinating resource in the form of a complete all-time systematic list which provides the record count for all 190 species recorded at the site by the end of 2016, among which are gems such as Britain's eighth Crag Martin (in 2006) and Surrey's record count of Mediterranean Gull at 21 birds.
Local reports should aim for a balance between presenting comprehensive data and creating a publication that is a delight to the eye and to read. Mark Elsoffer, the editor, has done an exquisite job in striking this harmony, a monumental task in itself, and somehow managed to churn the report out within two months of the subject year closing. It's only logical that every Surrey birder gets hold of a copy, while anyone involved in birding or conservation, especially inland, will find hearty inspiration and a smashing read within the pages.
A copy of the report is available to purchase for £15; if you're interested in purchasing one, please email ticesmeadow@hotmail.co.uk. For further details, see www.ticesmeadow.org.