The Crossley ID Guide
e4612c76-d0ac-4f3b-ba36-e83af224d51c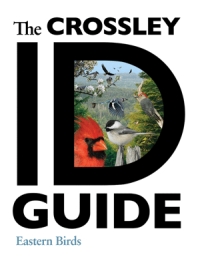 As a general rule, I've never been a fan of photographic guides. There's always been one exception to that rule, though, and that's
The Shorebird Guide
, co-authored by none other than Richard Crossley. I was hopeful, therefore, that Crossley's latest offering — 
The Crossley ID Guide
, covering the birds of the eastern United States — would live up to the expectations set by the previous title.
On first opening the book, you're hit by a multitude of plates packed with an almost overwhelming number of photographs; it takes a minute before you can really start to look in any depth at what the book is offering. A full page is devoted to most species, with some rare or more local species taking half or quarter of a page. A scenic photograph showing typical habitat for each species forms the backdrop for the plates, on top of which are overlaid a large number of photos of the species itself. In the foreground of the plate, labelled images of the main plumages are shown; moving further back into the plate, a selection of images showing the same plumages in a variety of poses and displaying different behaviours are shown. The vast majority of these images are photoshopped onto the background scene, and here is one of my first quibbles with the book. For species where the habitat is typically open and lacking any distance reference points — seabirds, for example — this works well; for species depicted in other habitats, though, this 'cut out and stuck on' effect severely distorts your sense of perception and takes away from one of the book's goals of displaying lifelike scenes.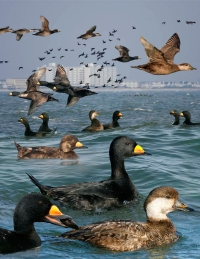 I found navigating around the book wasn't the easiest of tasks either. Species are split up into broad groups that include the bordering-on-oxymoronic 'aerial landbirds' and the slightly vague 'miscellaneous larger landbirds'. Despite this treatment, taxonomic family groupings are still kept together in the arbitrary groupings, which results in the slightly odd placement of phalaropes in 'walking waterbirds' rather than 'swimming waterbirds'. Maps are shown for most species and text summaries, despite being relatively short, highlight the most important features for observation and identification. The addition, and use in the text, of the four-letter 'alpha code' is a nice touch, though for those unfamiliar with the code a degree of cross-referencing might be needed.
Perhaps part of my reluctance to warm to this book is down to the fact I can't quite work out how to use it. It's worth remembering it is definitely not a field guide, not least due to its weight and dimensions. It won't help you identify tricky species with feather-by-feather detail, either. But it does give you a feel for most of the species in an almost subconscious way. Maybe, in that way, this book is better suited to beginners than it is to more experienced birders wishing to further their knowledge of tricky identifications; and the language used in the text certainly wouldn't detract from that, either.
Has The Crossley ID Guide changed my view on photographic guides? Sadly, no. I think it's definitely a bold and thought-provoking move, possibly even in right direction, but I'm afraid, for me at least, it doesn't make the grade. That said, a lot of work has clearly gone into this book and, with an RRP of only £24.95, it will hardly break the bank. I'm quite sure opinion will be split on The Crossley ID Guide and there will be those who'll enjoy browsing through this book, even if I'm not one of them.
544 pages
ISBN: 978-0-691-14778-9
Published by Princeton University Press (2011)