The Birds of Spurn by Andy Roadhouse
0ccf9262-e8b3-4993-bd0a-d5b52e2dc75d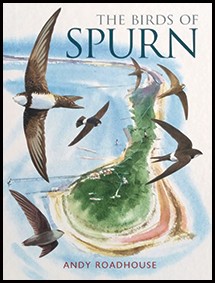 There is no denying Spurn Point's enviable occupation of the Holderness bird funnel and leading line, its exceptional performances in observation and ringing and its admirably regular ornithological output.
The Birds of Spurn
stems from 150 years of local bird history, but harvests particularly the last 70 of wardened observation and ringing. With 388 species recorded by 2014 and birds still moving en masse in several directions, Spurn presents a wonderful theatre of migration. This has now been restaged in a similarly inspiring magnum opus, created by a heroic author, three editors, 20 artists, 89 photographers, about 380 sponsors and a skilled designer. Truly stupendous!
The first 52 pages cover history, ringing, birding aspects (split into 'vis-migging', seawatching and migrant falls), site guide (covering 11 mapped hot-spots) and page layout. These chapters more than complement the Spurn entry in Bird Observatories in Britain and Ireland (2010) and it is good to see former characters like John Cudworth, Barry Spence and the local pub get continuing credits.
The book's main treasure is the species accounts. Occupying 638 pages, these are divided into 12 systematic segments and interspersed by evocative scenes, ringing tallies, telling recovery maps and rarity finders' accounts — plenty of colourful refreshment between the histograms, seasonal maxima counts, statuses of commoner migrants, date ranges and listings of rarities.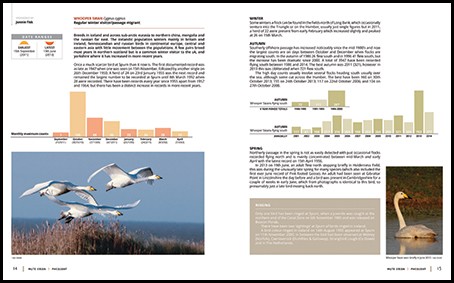 Impressively, more than 95 per cent of the photographs were taken at Spurn; these and the paintings add vibrant life to the book's messages. These feature four British firsts (among 45 county ones), up to 12,000 birds a year ringed and best of all (to me) fascinating occurrence patterns of birds recorded at Spurn. The last display some cheering increases in numbers, but the recent collapse of the Turtle Dove hurts again. Pondering on it and other adverse trends produced my one slight worry about the book: the absence of measured hunting, static watching and ringing effort or so-called 'observer effects'. A future addition?
Once Fair Isle led our bird observatory movement, but now Spurn has stolen a long march on it and the other 'obs' in this benchmark publication. Furthermore, if you become a Friend of Spurn BO, you will get regular updates. The first for 2015 adds three more species; those to come will ensure the book remains relevant. So I applaud Andy Roadhouse and his helpers for a surprisingly beautiful and informative book, whose proceeds will go into observatory funds. John Cordeaux, godfather of English migration studies, will surely tip his ghostly topper to you all. And my bonnet's off too!
The Birds of Spurn by Andy Roadhouse (Spurn Bird Observatory Trust, East Yorkshire, 2016).
703 pages, numerous photos and illustrations.
ISBN 9780956557179. Hbk, £45 + £7.50 p&p.