The Birds of Buckton
3dbcd678-fbe2-427f-b09e-2ae6c066ca7c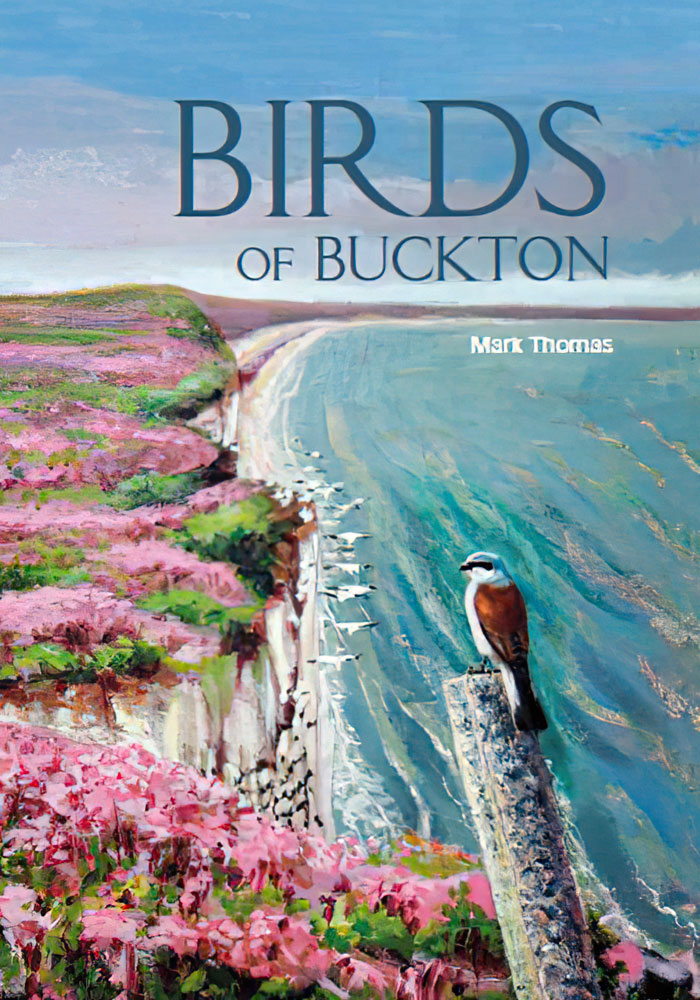 Birds of Buckton by Mark Thomas (self-published, 2022).
Hbk, £30. To order a copy email Mark Thomas.
Buckton will be familiar to many with an interest in rarities or who keep a close eye on the BirdGuides sightings page, with an enviable list of rare vagrants – including a Brown Flycatcher in 2005 and a Green Warbler in 2021.
Birds of Buckton is a labour of love by dedicated patchbirder Mark Thomas, chronicling the last 50 years of birding at the site. Opening with an introduction to the site and key birding places, it is possible to gain an impression a feeling of the habitats within the recording area. The inclusion of What3Words locations for each site is a nice touch and make this an invaluable reference for would-be visitors.
A day-by-day breakdown of key birds follows before the main species accounts, helping to envisage the changing of the seasons, as well as what to keep an eye out for at different times of year. Some 244 species have occurred at Buckton in the last 50 years; the accounts for each and every one are packed full of detail about where and when they were seen. Context is everything – Little Stint is a commoner visitor than Sanderling, with the latter recorded just once! As a sucker for birding stats and facts, I loved delving through these. An index would also have proved useful for navigating directly to a particular species.
It is the accounts of migratory birds that I found most compelling. The striking level of detail attributed to Yellow-browed Warbler, for example, is fascinating, demonstrating its remarkable transformation in status over recent decades, culminating in a count of 14 on one day in 2016.
The book is simply gorgeous to look at, with the illustrators' list a veritable who's who of British bird artists. The Red-backed Shrike by Ed Keeble on the cover is a particular highlight, although every page is peppered with high-quality artwork and photographs. Pleasingly, all images presented within were captured at Buckton, providing a strong visual aid in helping to understand the context of the recording area.
Bird ringing is part and parcel of the Buckton story and it is befitting that it is next on the billing. Between 2001 and 2021, an impressive 13,719 birds were ringed, while a Heligoland trap was constructed in 2011. This has seen a number of foreign controls, which are charmingly displayed and complemented by a map of stand-out examples.
It is unsurprising, therefore, that photos of birds in the hand are dispersed throughout the species accounts, with some worthy of use in a field guide. Most notable was a composite of Eurasian and Northern Treecreepers, placed side-by-side allowing for an excellent comparison between these two forms.
Last but not least are a wonderful series of stories, either reciting memorable birding days or taking the form of finder's accounts. While rarer visitors typically hold the most interest for me, it was equally as pleasing to read about the more unheralded sides of patchbirding – confirming new breeding species, visible migration and the joys of the first returning summer migrants.
Clearly, an incredible amount of research has gone into this book. It is an outstanding piece of literature, worthy of its place as the avian encyclopaedia for this stretch of the East Yorkshire coastline.