The Amazing Story of Montagu's Harrier
18660c6f-a23b-443e-8296-dec986141b60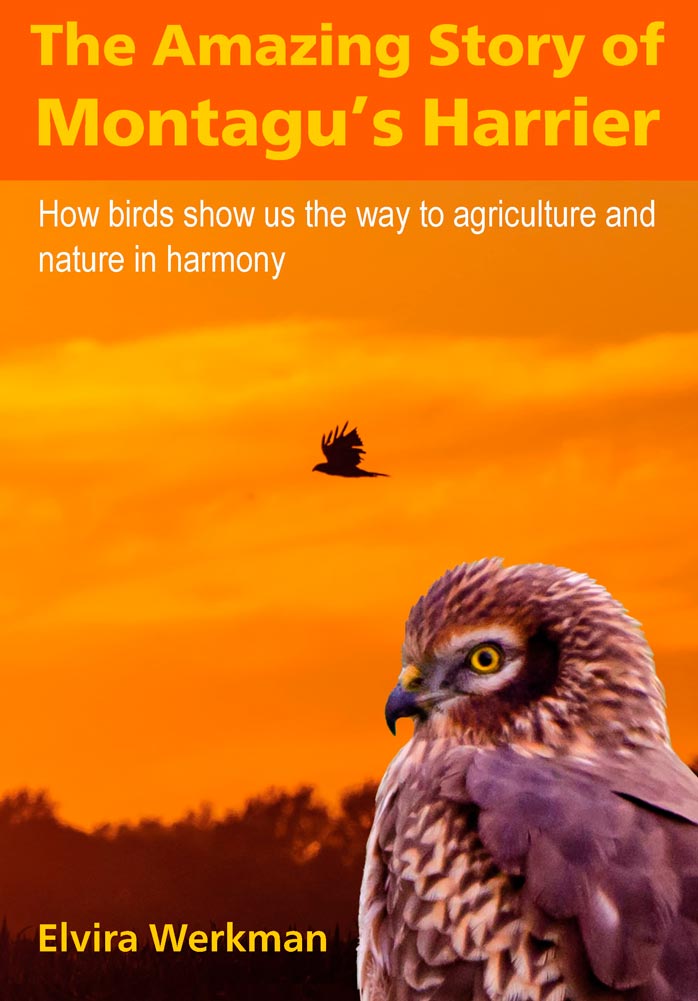 The Amazing Story of Montagu's Harrier by Elvira Werkman (Piranha Publishing, 2021).
250 pages, illustrations, black-and-white photographs.
ISBN 9789090348575.
Available via www.elvirawerkman.nl.
It's not often that a book arrives at home and stands out as a true trailblazer in nature writing. There really aren't that many books on conservation, and I can't think of any as effortlessly engaging as The Amazing Story of Montagu's Harrier.
Elvira Werkman presents the story of Montagu's Harrier conservation in The Netherlands through a journalist's perspective, focusing – naturally, as soon becomes evident – on the work of Dutch conservation stalwart Ben Koks, the charismatic man who started the Dutch Montagu's Harrier Foundation after finding the first crop-nesting birds in the country in 1990. The whole book is based on conversations with Koks, other conservationists and farmers, and on Werkman's own experiences in the field with this endangered bird of prey.
There are occasional hiccups which give away that this book is a translation from an original Dutch edition, but overshadowing these errors is the seamless way that Werkman, an environmental journalist, blends together rich journalistic writing with truly elegant prose. It struck me how powerful this skill is.
The author succeeded in teaching me more than I ever thought I'd know about Montagu's Harriers and their conservation, threaded through a very readable and sometimes emotional narrative made up of real, human stories. I retained far more information and felt much more involved than I would if Werkman had written a drier, more conventional book on harrier conservation.
The easily digested chapters scatter a wealth of information on the species in and between quotations from key fieldworkers, farmers and other stakeholders. Montagu's Harrier has always been a firm favourite among British birders and there's even mention of a tagging trip to the UK, as well as tales from expeditions to the bird's wintering grounds in Africa.
A central theme of the book is agriculture and its relationship not only with Montagu's Harriers, but with all birds and nature in general. Anyone wondering what intensive agriculture means for birds, why Montagu's Harriers now nest almost exclusively in arable fields, or how to engage with farmers to bring fields back to life, would learn a lot from The Amazing Story of Montagu's Harrier.