The 100 Best Birdwatching Sites in India
20d1530f-3e25-4c1a-b449-9e50e678f0bc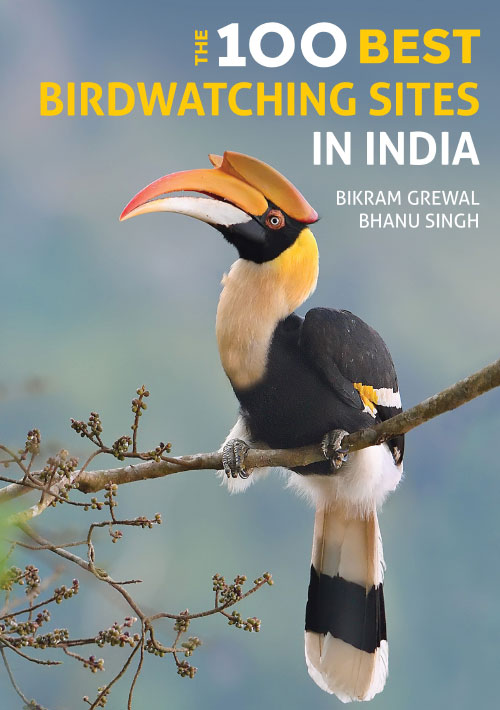 The 100 Best Birdwatching Sites in India by Bikram Grewal and Bhanu Singh (John Beaufoy Publishing, Oxford, 2020).
304 pages.
ISBN 9781912081790. Paperback, £19.99.
India boasts one of the richest and most varied avifaunas in the world. Home to well over 1,000 species, of which about a tenth are found only within its borders, the country is a veritable paradise for any birder.
The reason for this remarkable diversity is in no small part due to its exhaustive range of habitats, encompassing most of the ecosystems to be found on the planet. These include the hot and humid evergreen forests of the north-east and south-west (Western Ghats), the scorching Thar Desert, the high-altitude Himalayas, the Gangetic Plains and everything in between. Then there is the Andaman and Nicobar Islands with their numerous endemics. Narrowing all of this down to 100 birding sites is no small task.
The book opens with brief introductory chapters on India's climate, geography, bird habitats, threats to birds and a glossary of terms. As one might expect, the main meat of the book is made up of the birding sites organised alphabetically by state. Within each chapter, the state is introduced with a simple map with marked sites, as well as succinct subchapters on key birds, climate, access, transportation and logistics, and health and safety, as well as birding highlights.
Further brief sections within the site accounts include an introduction, key facts, birding sites, accommodation and conservation. The volume is bookended by chapters on recommended reading, relevant conservation and birding organisations, and a comprehensive checklist of Indian birds.
The sites themselves are broad and well chosen, though there are some glaring omissions. In Madhya Pradesh, for example, I am surprised that Satpura National Park has been passed over in favour of the national parks of Pench and Panna, especially as Satpura is the only tiger reserve where walking safaris are permitted. Furthermore, every site is afforded two pages, irrespective of its size.
The colour images that feature in the book are excellent, but one does wonder if a few could have been dropped in favour of more text. Further gripes include the archaic use of bird names and mammals (Caracal is listed as Lynx under Ranthambore National Park) and the lack of an index of sites. Regardless, rupee for rupee, this informative and absorbing volume should be included in the luggage of any birder heading to this beautiful and intoxicating country.