Kite SP65 telescope
90f4578a-a839-4b8b-95bf-25fac5bdef72
Making its debut at Birdfair 2018, Kite's new 65 mm telescope has extended the Belgian manufacturer's SP range so that it now includes a compact, lightweight model at the lower end of the price spectrum.

Still a relatively low-key optics provider in Britain, Kite was founded by birders and has been in business since 1984, with most of its manufacturing process being undertaken at its production facility in Japan. Its flagship telescope, the high-quality KSP 80 HD, compares favourably with those similarly sized models from the recognised top-tier brands and it certainly impressed me back in 2011, when I undertook a review (Birdwatch 229: 43).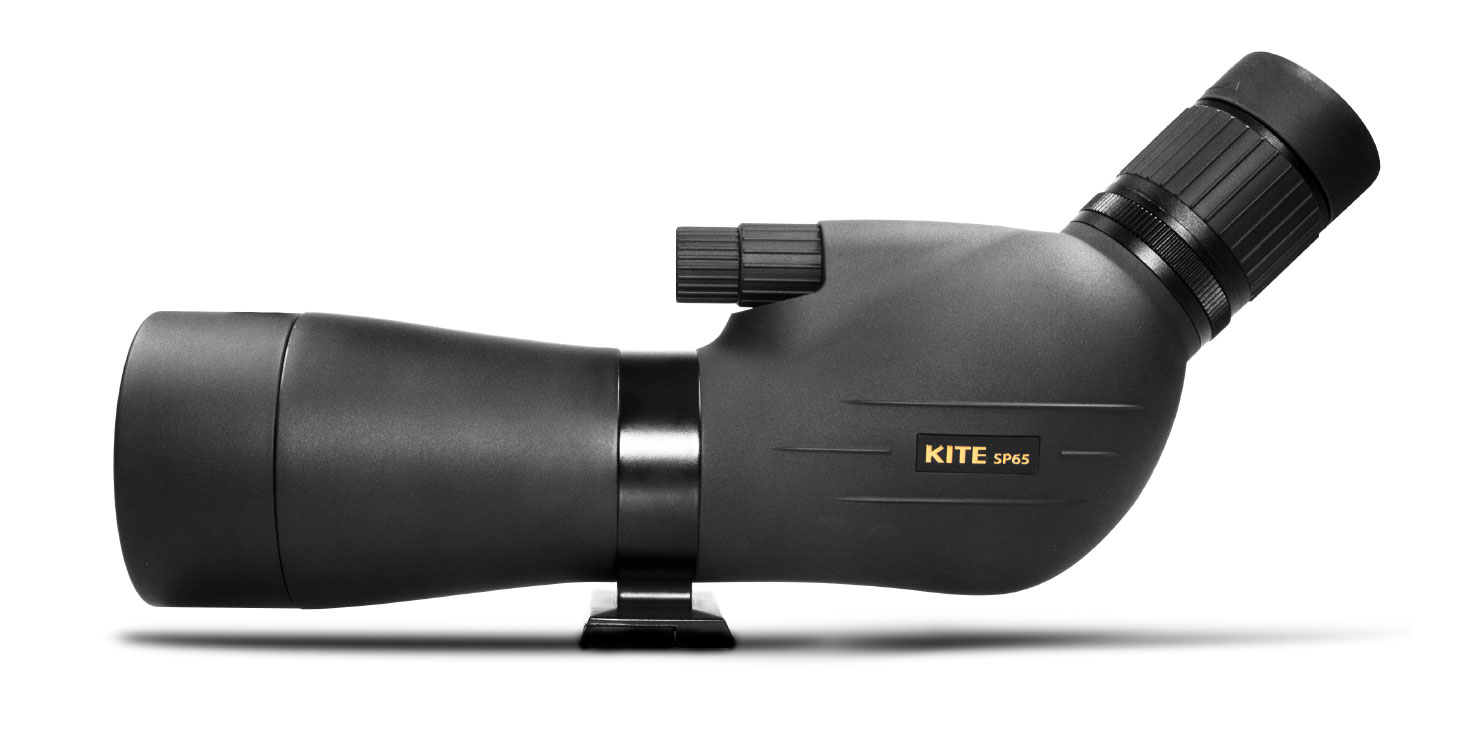 The purpose of the SP 65 is to broaden Kite's offering, enabling it to provide an entry-level, smaller model set to appeal to birders. In this respect it works well. Priced competitively at £499, it seems likely to find its way onto many a shortlist of models to check out.
At a glance, the SP 65 conforms to the popular telescope model – an angled body with a top-mounted dual-focusing knob and the aluminium body protected by smooth rubber armour, finished in charcoal-grey. Subtle ridges on the prism housing surround raised, shiny gold branding and the model number.
Consistent with a slowly increasing number of other brands' models, the scope's tripod foot has been machined to the shape of a Manfrotto 200PL14 plate to dock directly with a range of Manfrotto's tripod heads, thereby eliminating the need to attach a quick-release plate in many instances. It is mounted on a rotating ring, which click-stops in six equidistantly spaced positions, although intermediate positions can also be chosen and secured by the thumb and finger-operated retaining screw.
There is a relatively shallow (42 mm) objective lens hood, which extends and retracts smoothly and easily and accommodates an optional, slip-on tethered lens cap. During field trials it remained in place although, because it is not fixed, there is no way of preventing it becoming accidentally snagged and detached.
The milled, rubber-covered dual-focusing knob turns very smoothly and can be easily operated combining middle and fore-fingers. The fine-tuning element of the system is not too sensitive and I was able to obtain sharp images throughout the scope's magnification range of 17-50x.
Fitting the eyepiece is achieved by simply screwing it into the body and then locking it in position by tightening a ring at its base. It does not work loose and when fitted, the locking ring allows the eyepiece to be rotated in order to place the magnification scale pointer in any chosen position before the zoom is actually used.
The deep, broadly milled zoom ring turns smoothly and offers just the right amount of resistance to prevent the magnification setting becoming displaced. The eyecup extends to three click-lock positions above the base setting; however, I was unable to see the full field of view when it was fully extended, although I don't find this unusual and it appears to be a common trait across many scope eyepieces.
I must confess to being surprised, though, with the image's edge-to-edge sharpness. I expected some peripheral softness but was unable to detect any. The transmitted image comes across as largely colour neutral – perhaps with a slight bluish rendition – but 'natural', although I would have happily accepted just a little more contrast, had it been on offer.
In low light conditions, pre-dusk, for example, the noticeable dip in image brightness at the higher end of the magnification range was only to be expected, but this was, of course, far less evident during normal, daytime viewing. There was some chromatic aberration at the centre of the image, but no more than I would have expected and not enough to cause any serious concern.
The SP 65 is a nicely constructed spotting scope which, at just under £500, appears to offer very good value for money and will surely appeal to anyone setting out on the journey of discovery through the birding optics market. It is not supplied with a stay-on case.
Further info
Price: £499
Magnification: 17-50x
Size: 350 x 180 mm
Weight: 1,250 g
Field of view: 47 to 25 m at 1,000 m
Light transmission: 85%
Close focus: 3.4 m
Gas-filled: yes
Waterproof: yes
Guarantee: 30 years
Verdict
Very impressive edge-to-edge sharpness
Colours largely neutral and natural
Some chromatic aberration in centre of image