Spurn Wildlife 2018
220418a7-ff06-4c81-9074-45a780fe5c0e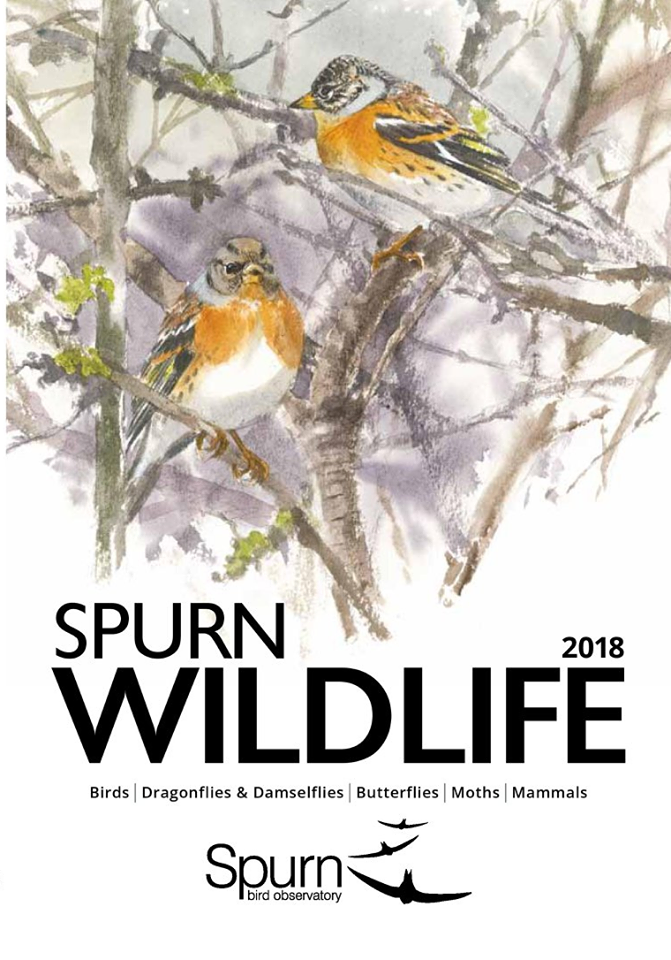 Confession time: I have a deep-rooted jealousy of Spurn. It's accrued over many years of reading about and reporting on its extensive annual totals of rare birds – a jealousy grounded in bird-less days on my patch in Northumberland, only to return home to read of mega movements or ridiculously unseasonal rarities on the peninsula.
When I was 30 pages in and still reading opening statements (seemingly everyone, including the tea lady, wrote an introductory statement) – many of which highlight the same events worded slightly differently – I began to feel like this was payback: I could stick the boot into Spurn. The trouble is that there was another feeling that wafted from the myriad opening statements and that was 'community'.
Here was a group of people wholeheartedly embedded in the traditions of Britain's oldest mainland bird observatory, reviewing the last 12 months, expressing hope for the future, organising and working together to maintain, improve and deliver a fit for purpose bird observatory worthy of the 21st century. It's a community that embraces international co-operation, from funding partnerships such as the EU Life Project to exchanges with overseas observatories – it's an example many outside of birding could do well to follow.
It's a full 50 pages before the annual review starts, but by then I was immersed in this community, not least by the relaxed feel of much of it. The occasional irreverence of youth, the feet on the ground, down to earth, human style, tackling the important stuff from bacon butties at MigFest to bourbon biscuit provision at Beacon Ponds … the connections and mutual respect between all involved, regardless of age, sex or race, was tangible.
The Annual Review is clearly the mainstay of any yearly report. The team at Spurn has managed to inject a freshness in style that adds a distinctly modern feel. Succinct use of statistics, number of species recorded, birds ringed, a running year list total and a systematic format that identifies every scarce species record numerically make the review punchy and precise.
The Review achieves a splendid balance between recording the sightings of the year while at the same time informing and engaging the reader on a bigger timescale, guiding them to see a bigger picture through the contrasting fortunes of Spurn's avian visitors. Many of the insights from Spurn reflect national trends: Common Cuckoo had the poorest annual showing since 2004, while it was the third best year on record for Yellow-legged Gull. It's clear that, as one of the premier migration sites nationally, Spurn is a 'canary in the coalmine' for British birdlife.
Sections on dragonflies, mammals, reptiles, amphibians, butterflies and moths follow the Annual Review. The breadth of coverage is superb and there is something to appeal to almost every niche interest in natural history. To top it off, all of it is accessible and readable.
A 27-page photo gallery supports the Annual Review, filled with character and a good balance between common and rare birds. As someone who has little by way of artistic talent but delights in the personality that permeates field sketches and bird art, Spurn Wildlife was akin to a top-shelf publication in a brown paper wrapper. Sketches and paintings from Tony Disley, Steph Thorpe and Darren Woodhead scattered frequently made page turning a wondrous journey of discovery and the editorial team are to be congratulated on seeing the value and character such work adds to the report.
In the age of the internet, the 140-character soundbite and low attention span that we all suffer from, annual reports can feel rooted in a bygone era. Spurn Wildlife has a style and feel that captures the zeitgeist of a bird observatory that is modern and accessible, but without losing its traditions and roots. The real achievement of the Spurn community is in delivering an annual report that reflects the diversity and complexity of the birds and wildlife, as well as the personality of the people that take the time to record it. It's beautifully modern, unashamedly passionate and suffers from near-perfect delivery. It's done nothing to subdue my envy but everything to increase my respect for the institution of Spurn – buy it, read it and be part of it!
Available to buy via the Spurn Bird Observatory website: shop.spurnbirdobservatory.co.uk/shop/product/Spurn-wildlife-2018