Spurn Wildlife 2016
a942531b-d6cc-4024-8f87-1c5a59eb02a4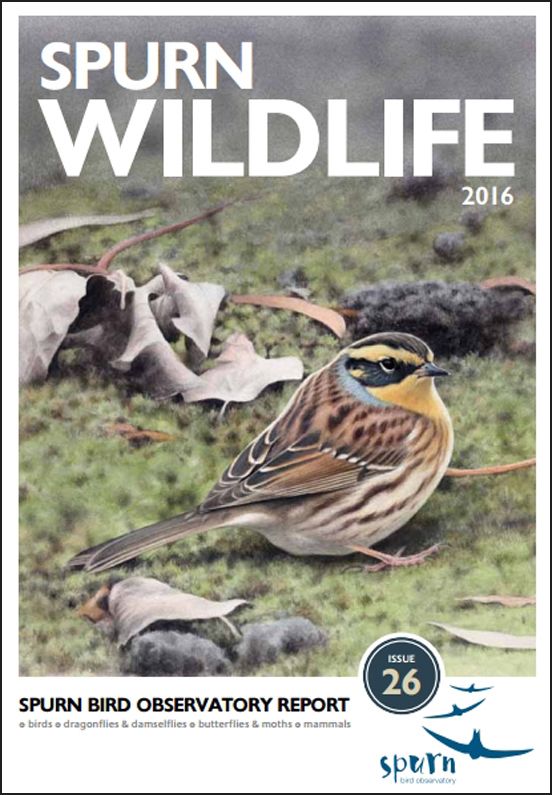 It's fantastic, buy a copy — end of review!
OK, I need to say more. In summary, this is a top class B5-format bird report which oozes quality, from the front cover painting of the Siberian Accentor by Ian Lewington to the fold-out stiffened back cover, which includes a magnificently clear map of the recording area. The content in between is sumptuous and has clearly been put together by a very strong production team of writers, editors, proofreaders, artists, photographers and design & production team, all of whom are supported by around 700 paid-up Friends of Spurn, generous sponsors, a hard-working committee and a very strong wardening team.
As if renovating and opening a new bird observatory building or publishing the Birdwatch/BirdGuides Bird Book of the Year (The Birds of Spurn by Andy Roadhouse) or holding another weekend-long Migration Festival (each of which would be a singularly major challenge in its own right) wasn't enough, the Spurn 'machine' rolls on relentlessly with the publication of the annual bird report in its usual spot around four months into the following year. The team in the 'engine room' certainly have to be respected and admired for their energy.
Spurn is very well known for its rare birds. There was a saying in the early 1980s, coined (I believe) by Mike Clegg on the TV series Clegg's People, who said "everything turns up at Spurn, sooner or later" and 2016 certainly added to that legend, though I suspect no one would have predicted the three 'new' species for the year: Siberian Accentor (attracting 3,000 visitors), Brown Shrike and Pine Bunting. There were also two new subspecies: Eastern Black Redstart and Stejneger's Stonechat.
The year produced a record 270 species for the site. Other seriously good records included Pallid Harrier, two Red-footed Falcons, Kentish Plover, 13 Richard's and five Olive-backed Pipits, Thrush Nightingale, five Red-flanked Bluetails, Isabelline Wheatear, Pallas's Grasshopper, Blyth's Reed, Melodious, Sardinian, two Greenish, 11 Pallas's, 137 Yellow-browed, three Radde's and 10 Dusky Warblers, four Ortolan, a Rustic and 10 Little Buntings. Several more scarce raptors, herons and waders were also present.
This is a bird observatory, not just a place for rare birds, and the daily routines of monitoring visual migration, seawatching, counting wading birds on the Humber, bird ringing and undertaking breeding bird surveys are also clearly apparent in the species accounts and detailed Annual Review, which itself runs to 28 pages. October runs to six pages and reports that 210 species were recorded and 5,146 birds ringed in that month alone. The monthly accounts are especially pleasing on the eye, and include a brief highlights box, the number of species recorded, birds ringed, year list to date and summary passage data by five-day periods, all interspersed with colour photographs; it's well worth a close read when trying to plan a successful visit.
The systematic list complements the Annual Review, which is no surprise given that both were written by Andy Roadhouse. Each species account includes a brief status description and, for the rarities or scarcities, there are numbers showing the total records to date and those in the last two years. The commonly recorded birds are nicely summarised, while rare and scarce sightings are each listed individually, giving absolute clarity for each record. I found it particularly pleasing that falcons, for example, are in their 'traditional' place at the end of the raptor section, reflecting the BOU Checklist (seventh edition, 2006) and thus maintaining some stability and familiarity for readers.
Further sections include an editor's welcome, a message from Mike Dilger (Patron of Spurn BO), a chairman's message, the warden's report, a tribute to Martin Garner, a report on the Migration Festival, input from new global friendships with Cape May and Falsterbo Bird Observatories, more background on the new 'obs' building, breeding Little Terns, a birder profile (Mick Turton), a mouth-watering photo gallery, nine delightful finder's accounts, a 'Focus on Stonechats' piece, a superb ringing report including a partnership on nearby Peregrine Falcons and sections on other fauna and flora.
With 230 pages of inspiring reading, crammed full of magnificent artwork and stunning photographs, Spurn Wildlife is an absolute joy to read. The report costs £16.60 including postage, but for £22 you can become a Friend and receive a copy, enjoy the additional benefits of reduced accommodation costs at the obs and privileged access to a few obs-managed sites.
More information can be found at www.spurnbirdobservatory.co.uk
Footnote: as I was nearing completion of this review I heard the very sad news that Andy Roadhouse had lost his long battle with cancer on 29 April. Having first met Andy as a teenager many years ago, appropriately at Spurn, it was a pleasure to catch up with him again during my occasional visits to the site in recent years. Andy's unstinting work over many years at Spurn leaves a huge legacy which the rest of us can enjoy long into the future. Rest in peace, Andy.