Siberia's Sprite: a history of fascination and desire by Andy Stoddart
f4ef13fe-0176-4647-8835-59ba2cd75f0c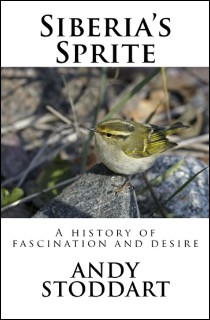 Andy Stoddart's monograph celebrates one of the most beautiful and charming of all Siberian birds — 
Pallas's Warbler
 — a species that also ranks as a firm favourite for many modern-day birders.
While the elegance and beauty of Phylloscopus proregulus is plain to see, the 'seven-striped sprite', as it is fondly referred to by many, also has an extraordinary history that the author has evidently explored in meticulous fashion — and he must be applauded for the level of research that has gone into this work. Though some may find the multitude of dates, names and various other minutiae a little too much at times, there can be no denying its effectiveness at chronologising the species' story from its discovery in Siberia in May 1772 to its contemporary British status, via the first Western Palearctic and British records in 1829 and 1896 respectively.
I finished reading Andy Stoddart's book possessing a new-found wealth of knowledge on the history not only of Pallas's Warbler, but of ornithological exploration in Siberia as a whole. The journeys, work and associated struggles of famous ornithologists of an unrecognisable bygone age really made for a fascinating read which gave the publication's subject a fantastically wholesome context. Tales of scurvy, extreme cold and even death were all sobering reminders of just how much more challenging travel, exploration and discovery were for naturalists in the 18th and 19th centuries.
The book gradually advances through the years, detailing the very first British record (at Cley in October 1896) and looking at the subsequent exponential rise of the species on our shores, before considering the theories and reasons that have led to this rapid change status. Again, this is very well worked and Stoddart's writing style is informative, detailed and enjoyable. Ultimately a definitive explanation for the rise of Pallas's Warbler in autumn remains unforthcoming, something the author concludes with in his final chapter, 'Split Decisions'.
Siberia's Sprite is a self-published title, this fairly apparent by the disappointing reproduction of many of the images and illustrations found within. Though it's lacking aesthetically, that should not detract from the content — which, as a glance at the extensive bibliography will testify, has been expertly researched and produced well.
While something of a niche topic, Siberia's Sprite is a fascinating and educating read that delves much deeper than just its subject species. It explores ornithological progression throughout the ages in one of the world's most enchanting (and least known) wildernesses — Siberia. It also reflects on the rise of birdwatching and the advances of taxonomical nomenclature and illustration to the modern day. This is an absorbing read that I'm sure many keen birders will enjoy, particularly those with a wider interest in the history of ornithology.