Shetland Bird Report 2009
fbfe1998-2268-47e6-a7b1-9d92dcd1bfe4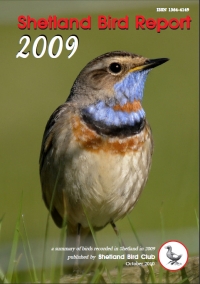 Shetland is, it seems, fast becoming the new Scilly. For many, an October trip north is now a must — and who can blame them, with such a varied and exciting selection of rarities on offer. Of course, there's more to Shetland's birdlife than its autumn waifs and strays, as the
Shetland Bird Report 2009
demonstrates.
It's always odd reading about the status of birds in different areas — sometimes species that are common around your home area are sought-after rarities in other areas. But Shetland takes this to the extreme. In 2009 there were, for example, more records of Red-flanked Bluetail (two) than Coal Tit (one), and Honey Buzzards vastly outnumbered Common Buzzards.
As annual reports go, this has to be one of the best-illustrated around: there's barely a page that doesn't contain at least one photograph. They range from the stunningly beautiful to the truly gripping, and the downright grotesque (check out the Raven with its Puffin-head lunch). The report starts with annual summaries of census results, ringing, and monthly sightings, and concludes with five short but fascinating articles looking at Greylag Geese on the islands and the occurrences of Continental Cormorant, Solitary Sandpiper, Moltoni's Subalpine Warbler and Buff-bellied Pipit.
The Shetland Bird Report 2009 is an excellent read for anyone who has any interest in these fantastic islands and each each report purchased includes a complimentary membership of the Shetland Bird Club for one year.
The Shetland Bird Report 2009 can be purchased for £10 inc. p&p. Please make cheques payable to 'Shetland Bird Club' and send to Hugh Harrop, Shetland Bird Club Sales (Dept BGU), Longhill, Maywick, Shetland ZE2 9JF.