Raptor: a Journey Through Birds by James Macdonald Lockhart
33d4f970-ef3f-4ce9-bebf-0ec20dede874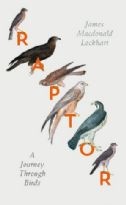 This book deals with 15 species of birds of prey, each in an essay based largely on personal observation, years of familiarity, and visits to likely places to search for the birds. Some are easy, while others, such as
Honey Buzzard
and
Goshawk
, prove more problematic.
The early pages introduce pioneer bird photographers Richard and Cherry Kearton and Seton Gordon, the author's great grandfather (Gordon was a great observer of eagles who wrote many fine books about birds and Scotland; he is a hard act to follow). Soon, however, these are forgotten and there is much more frequent reference to the 19th-century Scottish naturalist William Macgillivray. But it is the birds of prey themselves and their natural habitats — from windswept Orkney moors to wild, remote Welsh valleys and from the Kent marshes to Dorset heaths — that are the real meat of the stories.
The frequent appearance of Macgillivray and his works, even his meetings with local people as he walks hundreds of miles in search of birds, adds a pleasing quirkiness to an already unusual work, beautifully evoking birds and environments. The book has a lot of informative detail within, so that in reading these accounts a good deal of learning about birds and places is inevitable.
Any bird of prey fan, particularly those with an interest in these spectacular birds' changing fortunes over time, will find it irresistible, and it is thoroughly recommended.
Raptor: a Journey Through Birds by James Macdonald Lockhart (HarperCollins, London, 2016)
284 pages, no illustrations.
ISBN 9780007459872.
Hbk, £16.99.
Available from the Birdwatch Bookshop from £15.99.