Vanguard VEO 2 GO 235CB travel tripod
4dfe639b-b2ad-4599-86be-7f076965186e
Vanguard's new travel-focused offering is the VEO 2 GO 235CB, an ultra-light carbon-fibre tripod, which is brilliantly designed for short trips away where packing light is the order of the day.
The tripod itself is well designed and versatile. The five-section legs are enabled by twist locks, which are rubber coated and easy to use. This, combined with the reversible centre column, means that the whole setup folds down to just 325 mm, making it packable even in hand baggage. It only weighs a smidgen over 1 kg, too. There is a plethora of screws and bolts to get your head around at first, but when you do, you quickly realise how clever this piece of kit is.
The material naturally means it weighs very little but retains enough sturdiness to ensure it will serve well for those who own a travel or smaller scope, or a point-and-shoot, bridge or lightweight DSLR camera. I was initially sceptical of how it would hold up to my 65-mm Swarovski scope, especially in wind, but it performed perfectly adequately, especially when the legs weren't extended fully (this requiring crouching down to view, admittedly). However, it's worth saying that a product like this isn't designed for the larger-end telescopes on the market these days, which would be very heavy indeed and likely struggle in windy conditions. It is also not meant to be used with a large telephoto lens.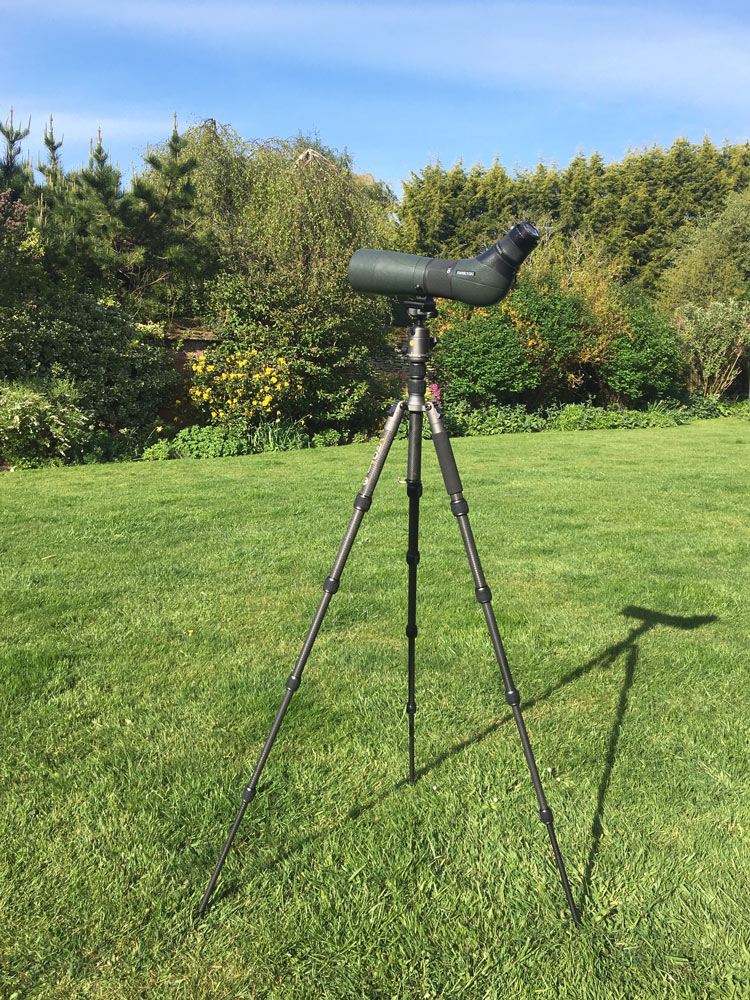 The VEO 2 GO 235CB travel tripod, set up with a 65-mm telescope.
The ball head ensures that the telescope or camera can be manoeuvered with maximum versatility. As someone who normally uses a tripod with a handle, this took a bit of getting used to – but the benefits are clear (not least saving weight and space!). The plate for the head helpfully comes with a 'ring-pull' design, which means you don't have to carry a coin everywhere if you need to unscrew this to replace a telescope with a camera while in the field, or vice versa.
The centre column is removable, and comes with a replacement 'low-angle adapter', designed for photography purposes. For the wildlife enthusiast, this is very handy for various forms of macro photography, especially plants but also insects.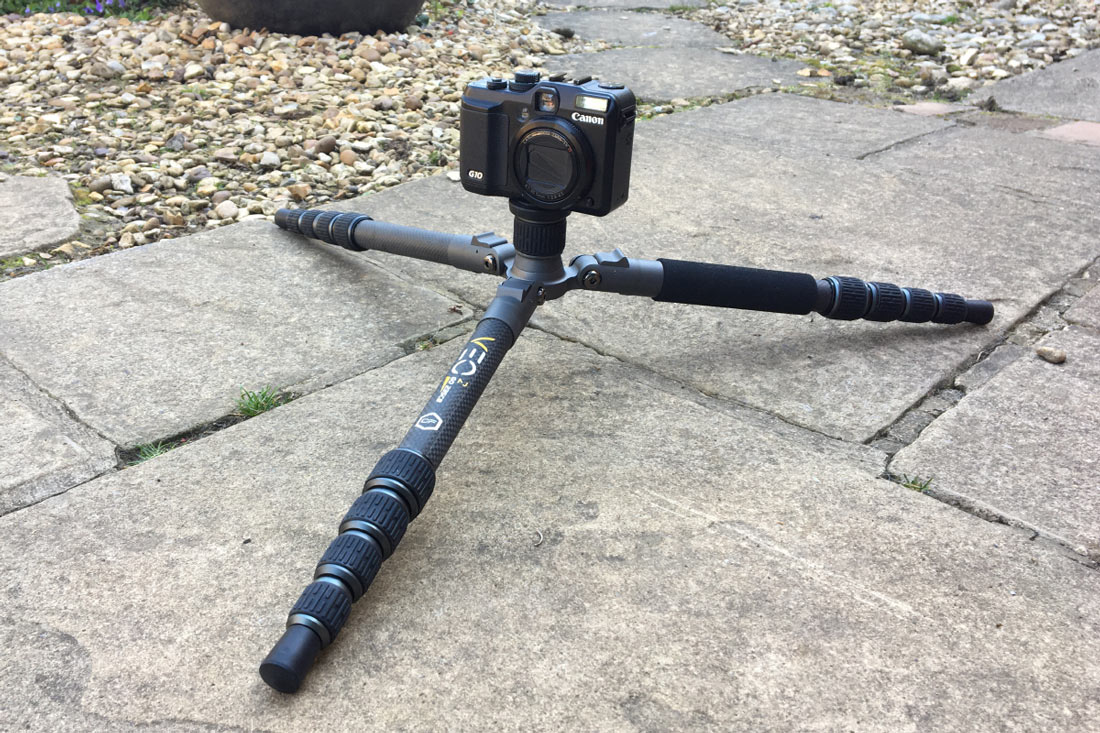 The tripod set with the low-angle adapter attached, ideal for macro-photography involving subjects such as plants.
Replacement feet are also included – you can remove the default rubber feet and swap them for the included metal spikes, which might be beneficial for extra grip in certain terrain.
In summary, this is an excellent product, thoughtfully designed and very much optimised for travelling. In all but the windiest conditions, a light- to medium-weight telescope or camera would be comfortably accommodated. It retails at £179.99, a very fair price for such a handy piece of kit.