Swarovski VPA adapter
484edbfa-52d9-404f-9564-891f52516427
It's exactly 20 years since I first attempted digiscoping. While on an expedition cruise sailing from Kamchatka to Alaska, our group visited Seguam Island, a remote outpost in the Aleutians. We were looking for seabirds and Grey-crowned Rosy Finches, but found something far more unexpected: a vagrant swift.
No swifts breed within a thousand miles of Seguam so documenting it was crucial, and when it went to roost high on a cliff-face I held a camcorder to my scope eyepiece and managed to film it. That very amateur footage captured what could only be a Common Swift, roosting on the wrong continent.
Had I had a piece of kit like Swarovski's VPA adapter, and a phone to go with it, the task would have been a lot easier. Digiscoping was barely in its infancy in 1999, and it's easy to forget how long it has taken for the technology to get to where it's at now. Compact cameras have never been better, but the latest generation of smartphones is also capable of producing outstanding image quality. Correctly matching them to a telescope is key to getting the best results, and this necessitates a well-designed, practical adapter to complete the set-up.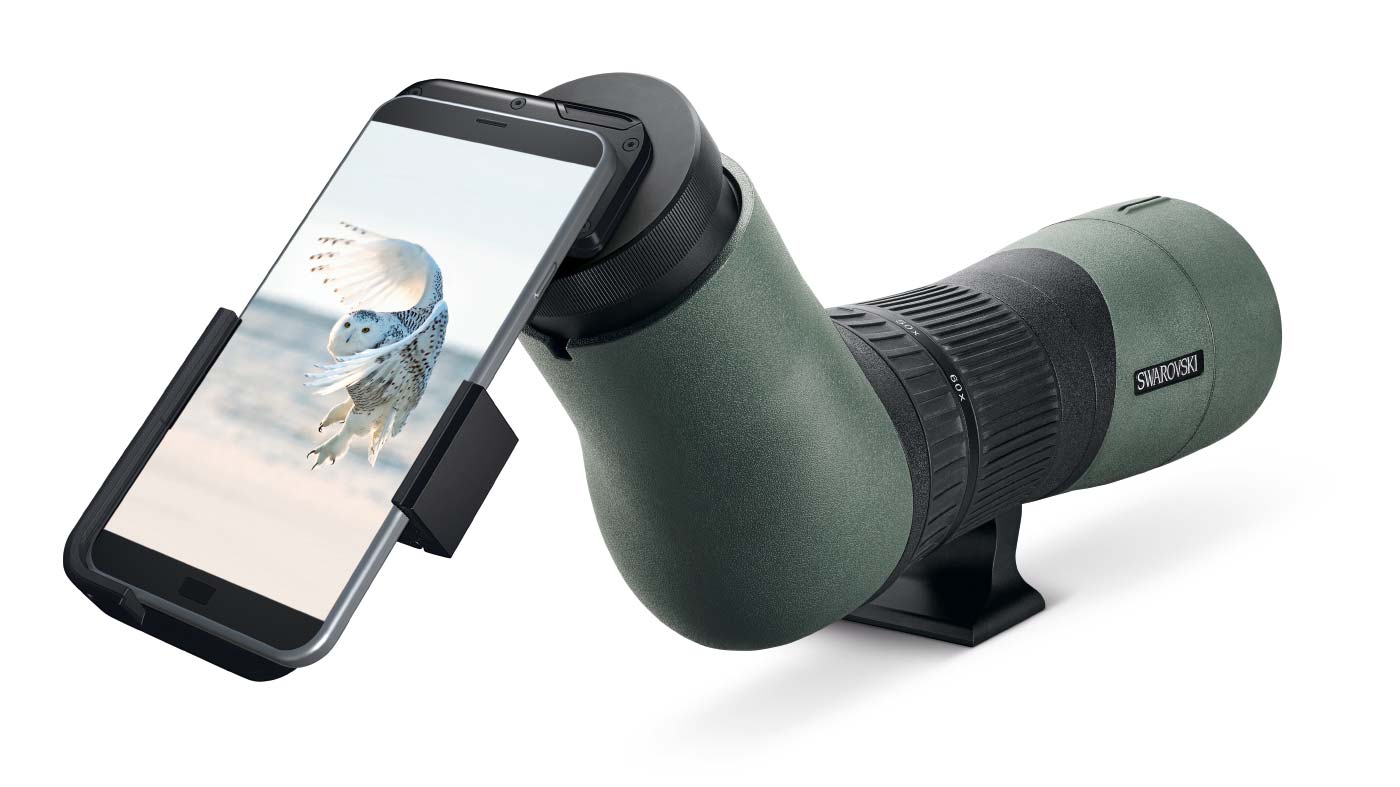 Enter the VPA, or Variable Phone Adapter, the latest addition to Swarovski's extensive digiscoping armoury. As its name suggests, this adapter is designed for use with a wide range of Android and Apple smartphones. Made from toughened plastic, it has a flat surface with subtle ridging for grip, against which the back of the smartphone rests. An adjustable bracket clamps the phone in position laterally, while the top part of the adapter can extend vertically to accommodate taller handsets. The final adjustment involves positioning the adapter ring directly over the phone's camera lens.
Two Swarovski adapter rings are available for use with the VPA: the AR-B for the company's binoculars and the dual-eyepiece BTX telescope, and the AR-S for its ATX and STX telescopes. I tested the VPA and AR-S with ATX 65 mm and 95 mm telescopes, and found the set-up ideal for quick and easy use in the field. It's straightforward getting the hang of coupling the VPA to your phone, but it makes most sense to keep it attached while birding, so that you're ready to clip it onto the scope eyepiece in an instant and start taking photos or videoing – crucial for quickly documenting that wayward migrant or vagrant.

Dominic was able to comfortably phonescope this roosting [[Eurasian Eagle Owl]] (inset) as it sat on a rocky cliff (pictured).
In the 20 years since that first primitive digiscoping effort, my technique has not improved as much as it should have. But there are still times when the long-range power of digiscoping is a better option than trying to photograph birds with a DSLR camera and telephoto lens. Capturing Mediterranean Gulls in a breeding colony without disturbing them and a cliff-nesting Eurasian Eagle Owl on a spring trip overseas are just two recent examples when I have successfully deployed the VPA. On such occasions, this lightweight adapter has proved the perfect accessory to have within easy reach.
Further info
Price: £132 (without adapter ring), £157 (with AR-S adapter ring) or £165 (with AR-B adapter ring)
Length: 143 mm
Width: 86 mm
Weight: 28 mm
Warranty: 2 years