Nikon 28-300 mm f3.5-5.6G ED VR II lens
ea09ce4d-c266-4380-9fb7-145a13352384
Many photographers, myself included, carry a couple of zoom lenses in their camera bag. A 70-300 mm and 18-55 mm are my choices, but the wide optical range covered by this new lens from Nikon, which almost covers that range, means that I could just carry one.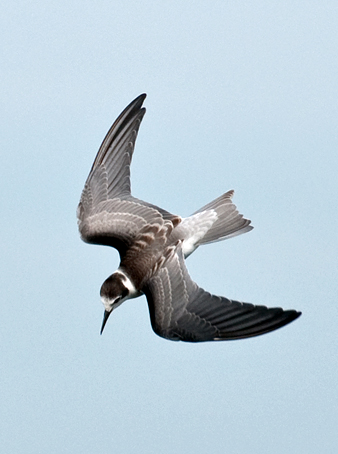 Test shots of this Black Tern gave quite a small image of the bird within the frame, but even cropped this closely, the quality is very good. Photo by Steve Young (www.birdsonfilm.com).
This lens has a 'solid' feel, and it looks as though it would deal with most of the everyday handling that I tend to give my lenses. Despite this, at 800 g it is fairly light considering the focal range, and when at the 28 mm end is very compact and will fit in a coat pocket.

The lens comes with all the features found in the top models such as silent wave (SW) autofocus (AF), second generation vibration reduction (VR II) and a zoom lock if needed. There is also full manual focus if required.

For the purpose of these tests I used my D300 rather than my D3s, feeling that most Birdwatch readers would be more likely to have a mid-price body rather than a top-of-the-range professional model. So, the zoom effectively became a 42-450 mm when taking into account the 1.5x crop factor of the camera.

Keen to see how the lens handled in the field, I headed to Seaforth to test it on a couple of Black Terns. They were typically difficult to photograph, but Nikon's SW AF did as the name suggests – silently locking onto a flying bird with relative ease, considering I was shooting at f5.6 at the 300 mm end of the zoom.

Back at home, I viewed the image at 100 per cent on screen, cropped in on the bird and produced a print. This is asking a lot of a lens and is not really a fair test or what it is meant for, but the image was very acceptable, showing good sharpness for such a big crop.

A couple of days later I spent some time taking shots of Starlings. Bread was thrown and flocks of birds appeared, giving me a chance to use the lens throughout the zoom range, including some images of one bird that perched on my wing mirror. All the images were of a very high standard at all settings, but those taken at the extreme ends of the range, 28 mm and 300 mm, were very good indeed.

For those interested in dragonfly and butterfly photography, the lens focuses to 0.5 m and it could be a useful lens to experiment with. Overall, I was very impressed. Sharpness, contrast and colour rendition were very good throughout the zoom range, the AF was fast for an f5.6 aperture and the VR II system worked well, giving those extra stops that enable faster shutter speeds to be used.

At a competitive retail price of £869.99 (with cheaper deals online), I can see this becoming a very popular model.
Tech spec
Price: £869.99
Size: 83x114.5 mm
Weight: 800 g
Aperture: f3.5-5.6
Close focus: 0.5 m throughout range