Canon EOS R7 digital camera
f8e550a9-c69a-4854-b790-70ed57ea57b7
The wait is over for a cropped-sensor mirrorless camera in Canon's R system line-up. After years of rumours, and many speculating it would never happen, Canon has this summer released the much-anticipated EOS R7.
Like many bird photographers my chosen set-up has been a cropped-sensor (APS-C) DSLR camera. APS-C cameras ultimately lack image quality compared to traditional full-frame cameras but make up for it in price, smaller-sized models and 'reach' from a 1.6x crop factor. For Canon users the most popular model among birders has been the Canon 7D ii, though in my case I have used a similar 70D (now superseded by the 80D and 90D respectively).
Since its release in 2014 the 7D ii has become one of the most successful cameras among bird photographers. However, in recent years with ongoing technological advancement, photographers have been crying out for a successor. In the interim years there has been somewhat of a camera revolution with the march of mirrorless cameras bringing smaller and lighter camera bodies with a host of advantages over traditional DSLR cameras. After the launch of the R system in 2018 Canon had released successful cameras in the R5 and R6, although these are expensive full-frame models and perhaps a league above what aspiring Canon 7D users would be willing to upgrade to.
The R7 was announced by Canon in May 2022. I had been anticipating a price tag north of £2k so was pleasantly surprised by the £1,349 asking price and quickly pre-ordered one. This proved to be a good move as I was near the top of a big waiting list and able to receive my camera on release date.
What initially stood out when I opened the box was that this is a small camera. This could be troublesome for those with larger hands, especially as there is no battery grip available. The different button layout on the back of the camera was very obvious, with a joystick and wheel located at the top of the camera. I thought this was going to be problematic at first but soon got used to the new layout and actually found my thumb would naturally find its way there as I gripped the camera.
The R7 comes with a 32.5 mp cropped sensor, which is a significant upgrade over my 70D as well as the 7D ii, meaning potentially more pixels on the bird. There is a noticeable improvement in image quality over my previous photographs, as well as more room for cropping those distant shots. The R7 is a fast camera, able to shoot at 30 frames per second in electronic mode and 15 fps in mechanical mode – plenty fast enough in my experience for quick-moving birds. In electronic mode I particularly like being able to turn the shutter noise very low or completely off, which is useful when trying not to scare the bird or helping to be less obtrusive in a busy hide. Like all mirrorless cameras the R7 uses an electronic viewfinder, which coming from a DSLR I found a little strange, but overall is very clear and especially helpful when judging the exposure level.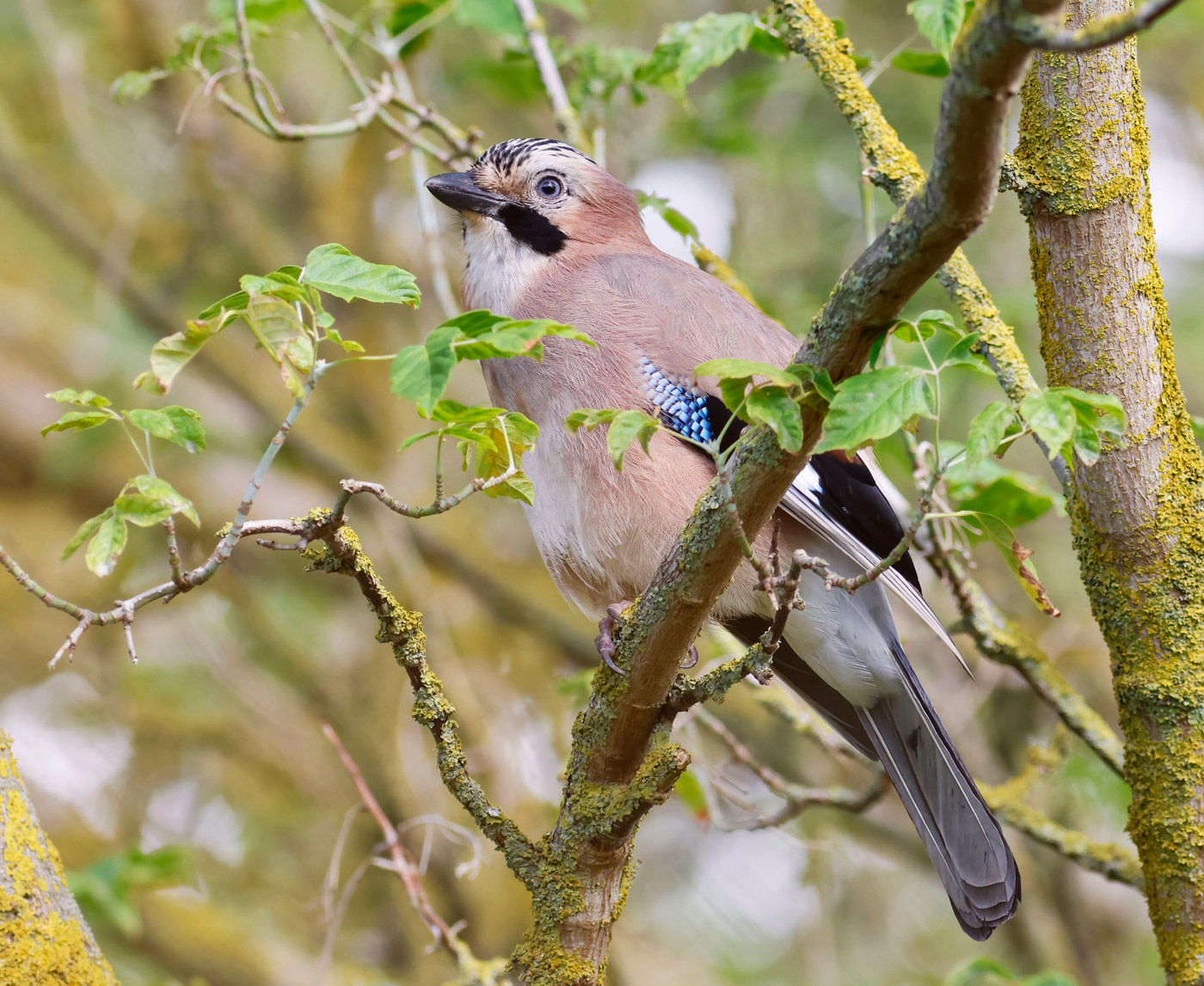 The eye autofocus on the R7 has been very handy for locking on to subjects like this Eurasian Jay (Jon Heath).
One of the drawbacks of the R7 is the buffer size. When shooting in RAW and at 30 fps the buffer is quickly reached, meaning important action can be missed. A workaround is to shoot at a lower frame rate, as well as selecting the CRAW option. I've generally not found it to be a problem and can't say I've missed any shots, though it helps to be selective when taking pictures and not continuously firing the shutter. Noise is also a bit of an issue in low light and this is before using the camera in a dark UK winter. I recommend investing in noise reduction software which really helps to negate the problem.
Where this camera really comes into its own is the autofocus. The R7 comes with animal eye detection and tracking which, if the bird is close enough, locks the focus and tracks onto the bird wonderfully. I've found this results in a much higher 'keeper' rate, far exceeding my old set-up. It also helps when trying to focus on a bird in an unobstructed sky or plain background, though struggles if the bird is distant or the background is cluttered. In my opinion it is imperative to use back-button focus, then you can assign a button for animal eye detect and another for traditional spot focus, making it easy to switch focus options depending on the situation.
A new feature on the R7 is the pre-capture function. When switched on this feature records the frames taken before the shutter is pressed, enabling the photographer to capture previously missed action. It works well when photographing action at a feeder or getting flight shots when waiting for a perched bird to take off. New to me was the focus-bracketing feature, which is really useful with macro photography (as long as the subject is still). This function combines a selected number of shots together in camera with different focus distances. The end result is an image of much greater depth of field with more of the subject in focus.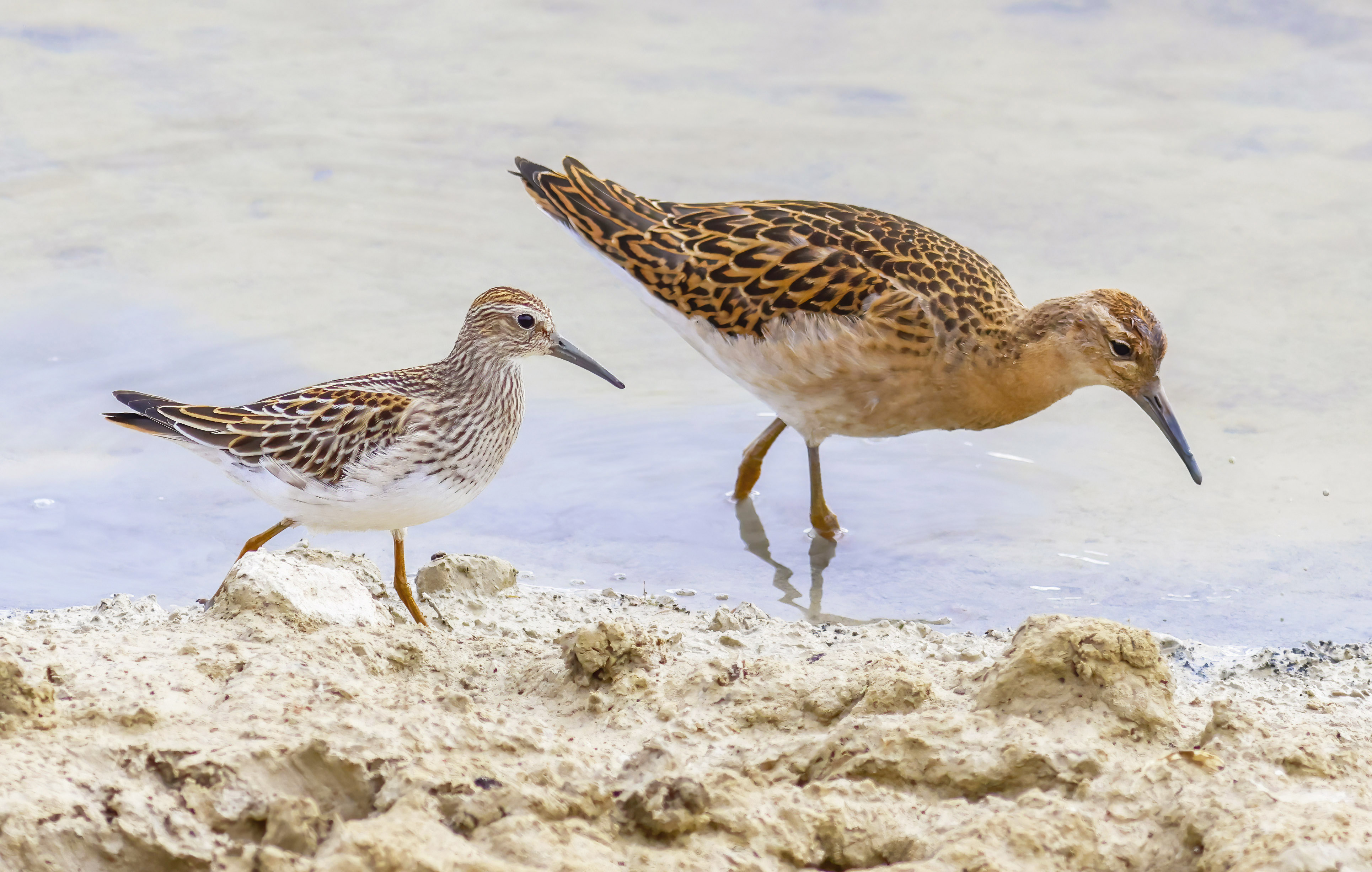 The R7 has produced sharp images of local waders, including this Pectoral Sandpiper (left) and Ruff (Jon Heath).
If you are a 7D ii or 70/80/90D user I think you will find the R7 to be a big step up. The eye-detect autofocus is a game changer, making locking on to your subject so much easier and vastly improving the hit rate of pleasing images. There are always going to be issues with distant birds no matter your set-up, but the R7's 32.5 mp cropped sensor does help – though struggles in low light. With an adaptor the camera works well with my trusty 400 mm F5.6 lens and also gets very good results paired with the popular EF 100-400 mm ii lens. There are now also 'budget' options for RF glass in the new RF 100-400 mm and 800 mm F11 lens; both are sharp lenses and very lightweight. For those willing to fork out the high price, the R7 combined with an RF 100-500 mm seems an excellent set-up in terms of portability, reach and image quality. The Canon R7 is a lot of camera for a reasonable amount of money and those still considering taking a plunge into the world of mirrorless cameras will definitely be tempted.
Further info
Price: £1,349
Size: 132 x 90.5 x 92 mm
Weight: 612 g
Sensor: 32.5 MP APS-C sensor
ISO: 100-32,000
FPS: 15 with mechanical shutter
Storage slots: 2x SD
Other features: 5,915 AF positions, 8K video, WiFi
Warranty: Canon European Warranty System

Verdict
+ An affordable model in Canon's mirrorless line-up
+ Outstanding autofocus and tracking
- Buffer is quickly filled and images noisy in low light